How do you get more interesting and creative images in this lurid party hotspot? Geoff Harris shares some ideas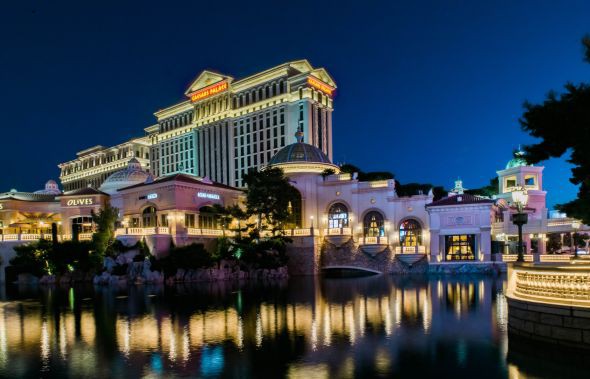 The famous Caesar's Palace on the Strip. All images by Geoff Harris
I'd been to Las Vegas a couple of times before, as a journalist covering a now defunct photography trade show called PMA (Photo Marketing Association), so I knew what to expect on my latest trip in June.
This time around, however, I wanted to be a bit more creative and adventurous with my photography, focusing as much on the people as on the familiar neon acres of Las Vegas Boulevard (aka the Strip) and downtown.
That's the challenge with going to tourist hotspots as a serious photographer. How do you take shots that are a bit different, and reflect your personality and creative interests? Particularly when pretty much everyone around you is taking pictures too?
As soon as you hit Vegas, there's no shortage of subject matter for the curious photographer. It's everything you've read about and more. Big, brash, gaudy, tacky. A vulgar monument to vice, ostentation and conspicuous consumption in the middle of an aloof and serene desert. It's no surprise to learn it was built by gangsters.
Yet there's also something inspiring and even uplifting about Vegas. It works flawlessly, around the clock, and while it sometimes seems that even the dogs expect a tip, the locals are generally cheerful and keen to help. The sheer size and scale of the Vegas machine, kept running in an inhospitable environment by legions of hotel, casino, retail and catering staff, cannot fail to impress.
Timing is everything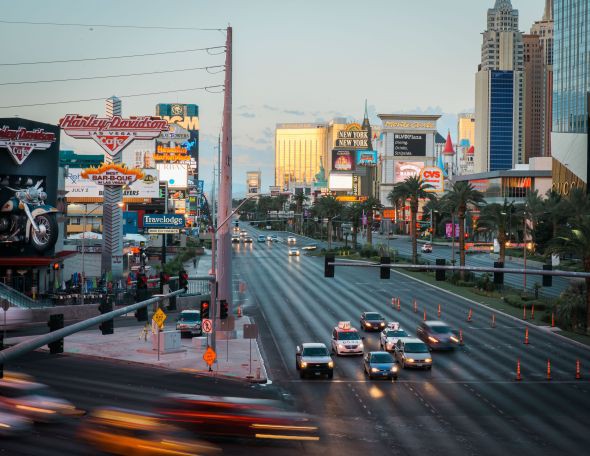 The first stop for many visitors and photographers is the Strip – a big stretch of Las Vegas Boulevard South that's thronged with resort hotels and casinos along its route. You'll find most of the biggest hotels in the world along here, and these glittering caverns also house casinos, concert halls, shopping malls and more. The harsh Nevada sunlight is far from kind to the Strip in the daytime, but like a faded movie star, it scrubs up very well at night.
I found the best times to shoot were early in the morning and dusk. The light is so much better then. Getting up around 5am in the summer to catch the sunrise may be tough after a night of Vegas partying, but it means you can get your photography out of the way if you are there with your partner or friends, and relax for the rest of the day. You just need to remember to put time aside to go out again at dusk.
That's not to say that you can't get good shots in the middle of the day on the Strip; you just need to adapt. I took along an infrared camera, for example. Strong blue skies and strongly defined architecture can look great in infrared, and you can play around with white balance (or black & white) for some cool effects.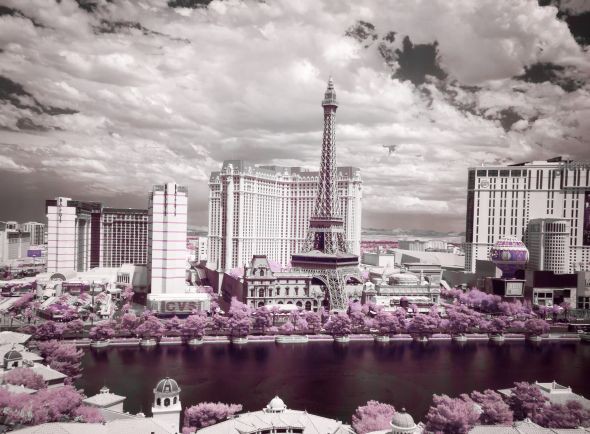 In the casinos and malls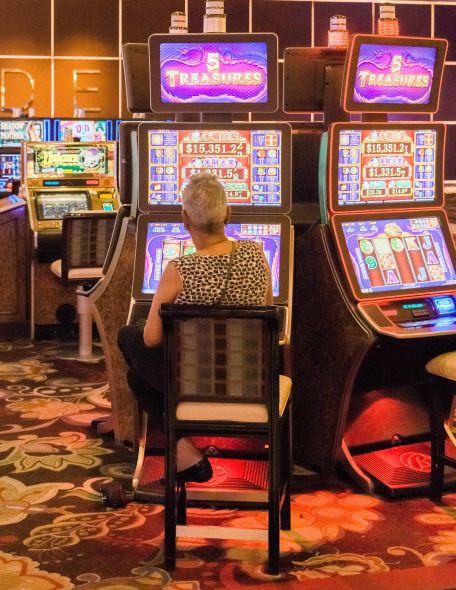 What about shooting inside while the fierce Nevada sun blazes outside? Can you shoot in casinos? Yes and no. It's acceptable to grab a shot of Auntie Irene winning a few bucks, but as a general rule you're not supposed to photograph strangers while they are playing the slots or at the gaming tables.
That said, you can often get away with it if you are quick and discreet. Strolling around the floor with a big SLR and zoom lens will set off the security guards (or paranoid punters), but you're unlikely to attract so much attention if you use a discreet mirrorless camera with a tilting screen.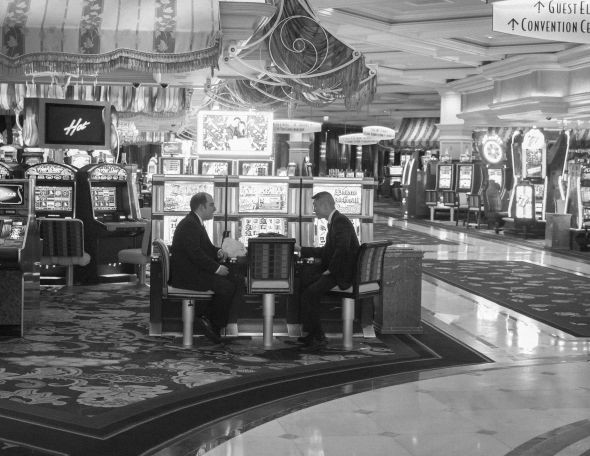 Try getting your partner to sit down at a slot machine and sit next to them as camouflage. If you do get rumbled, apologise – it's often easier to ask for forgiveness than permission – but don't just delete images on the spot. Casino staff can't force you to erase images, even if they do look and sound like Joe Pesci.
The cavernous shopping malls, such as Miracle Mile or the Vegas mall, are also good photographic locations when the sunshine is just too blasty to shoot in. If your camera or lens is image stabilised, try slowing down the shutter speed to record motion-blurred people walking the colourful stores; depending on your lens, you should be able to go as slow as 1/15 sec handheld and still get acceptably sharp backgrounds. Again, a tilting screen helps to avoid attracting unwanted attention.
On the traffic trail
Once dusk approaches, there are some must-take images to tick off your list. The fountains outside the Bellagio hotel, one of the most celebrated lodgings on the Strip, are particularly impressive. In peak tourist season they erupt every half an hour, so make sure you get there early to get a good spot. You can try silhouetting all the other sightseers against the fountains for a more interesting image, too. Also, selecting a slower shutter speed gives some pleasing effects to the fountains, rather than just freezing them.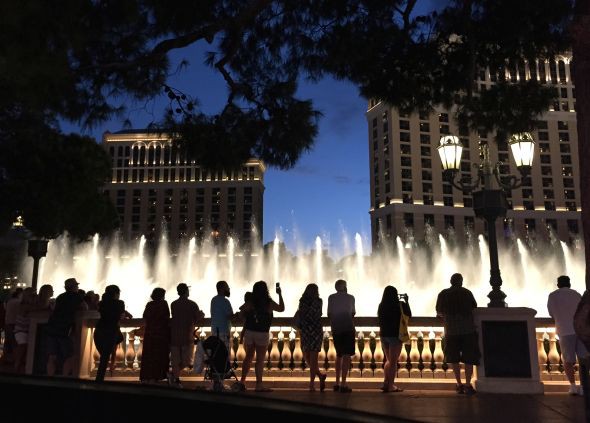 Dusk and early evening is also a good time to take some traffic trail shots, which look great with all that Vegas neon in the background. I found a perfect place was opposite New York, New York, near the Tropicana hotel at the top of the Strip. Here you get the added benefit of cars turning, which makes for more interesting light trials. It's good to keep some dark blue in the sky, so don't leave it too late.
Mount your camera on a tripod, then switch to manual focus so you can carefully control which areas are sharp (autofocus will also struggle in low light). I find it helpful to zoom in to important parts of the background with Live View at 100% so I can check they are in focus. Then, choose a mid-range aperture depending on the light, and keep the ISO low to minimise noise. With very narrow apertures you can actually end up with softer shots, as the light bends.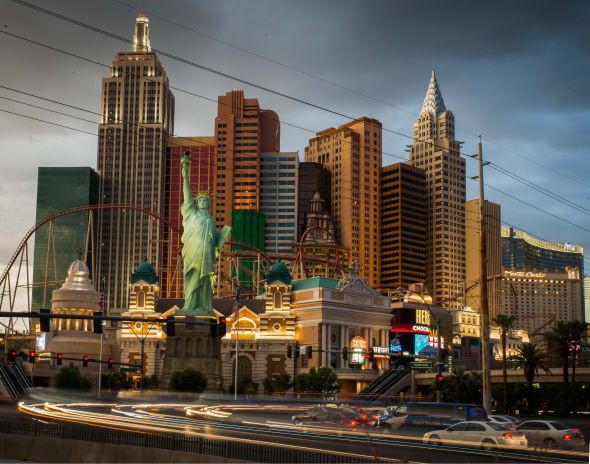 The shutter speed you should choose depends on how fast the traffic is moving, but a couple of seconds or slower usually does the trick. Try narrowing the aperture if you're badly overexposing at slow shutter speeds. Always use a cable release to avoid jogging the camera, and shoot Raw for maximum editing flexibility.
The people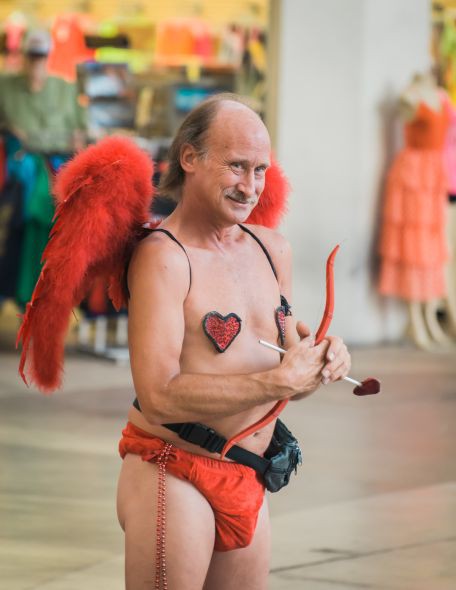 The Strip, fountains and neon are all very well, but you can end up with rather generic images that struggle to stand out from the millions of others on Google. What about the people?
There's a fascinating mix of humanity in Las Vegas, from raucous drinkers, to semi-pro gamblers, to jaded- looking cops, to working girls and more. Part of the reason I love portrait photography is that it forces you to engage with the subject. It's a great way to meet people, and you can come away with some unique shots.
Sure, you can take candid street images and hide behind a long lens, but I prefer there to be some engagement and eye contact between myself and the subject. I met one early morning partygoer who looked fantastic – like a slightly worse-for-wear Daenerys Targaryen from Game of Thrones, with similarly dazzling hair – and she was more than happy to let me take some shots in front of Caesar's Palace after I'd introduced myself.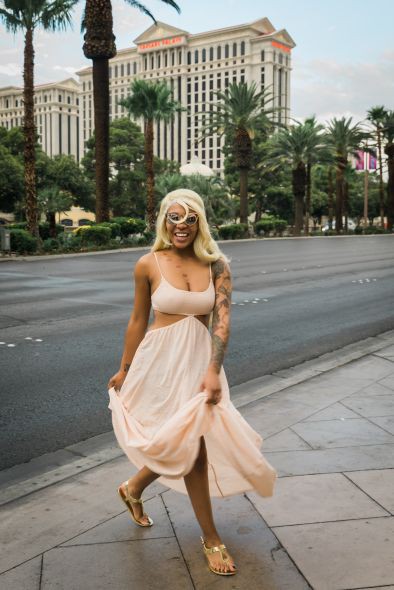 Head downtown
Another great place for people watching is Fremont St., the (relatively) old part of downtown Vegas, located a few miles from the Strip. It's dowdy and downbeat in parts, but Fremont St. in particular has been carefully scrubbed up for tourists, with amazing neon displays and even an overhead zip-line on which people regularly fly past.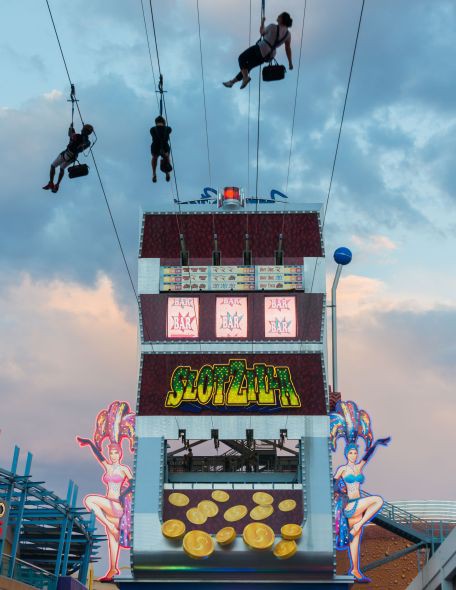 As well as getting standard shots of neon at dusk, try using interesting effects such as zoom burst, where you choose a fairly slow shutter speed (try 1/60th or slower) and then rapidly zoom in and out as you take the shot (it's not a good idea to try this with electronically driven zoom mechanisms, though). Motion-blurring people and panning cars can also work well against the omnipresent neon.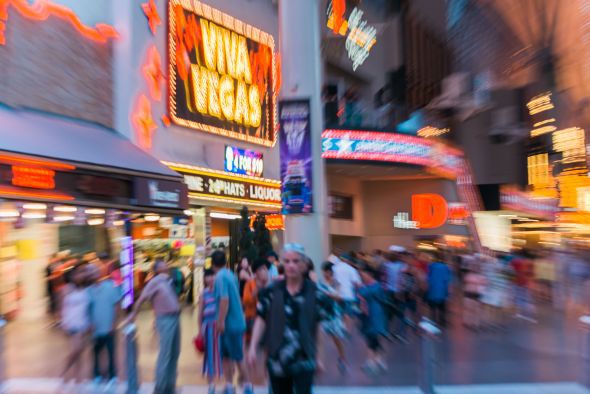 For more conventional portrait shots, you are spoilt for choice downtown. In the space of one evening, I met cowboys, rappers, Vietnam veterans, semi-nude dancers, Elvis impersonators and other eccentrics who defy description. Many of the more oddly dressed characters are regulars who expect get a tip for being photographed, so make some contribution – you'll probably end up with a better shot.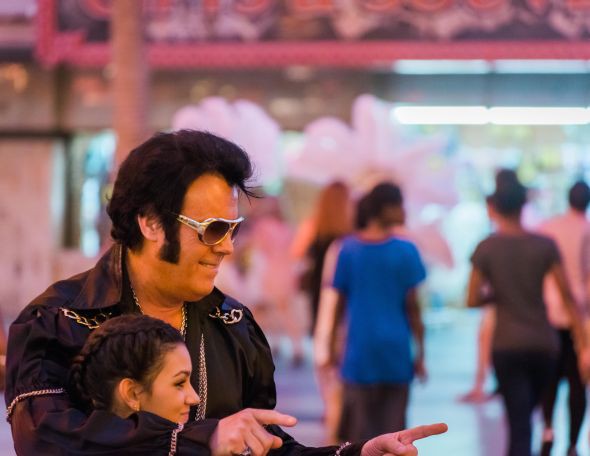 As with all portrait shots, focus carefully on the eyes and try to keep the background uncluttered ; blurring out distractions with a wide aperture can help here, but scan the frame before you press the shutter button and move if necessary.
Finally, a quick word about safety. You're unlikely to get robbed or hassled on the Strip or Fremont St. with so many people around, but be more careful in the side roads and further out downtown. Opportunistic theft is more likely, so keep an eye on any bags left on the sidewalk while you are shooting, and keep your valuables in a bin bag or money-belt.
Be careful when doing traffic trails by busy roads, too. Once you have finished shooting, put your camera away to avoid unwanted attention and don't leave it in a club if you're going drinking!
Geoff's kit:
Nikon D800
Olympus Pen EPL-15 (infrared converted)
Tamron 24-70mm f/2.8 VR
Nikon 70-300mm f/4.5 VR
Nikon 28mm f/2.8
MeFoto Globetrotter travel tripod
About the Author
Geoff is an experienced photography journalist and recently stepped down as editor of Digital Camera, the UK's best-selling photography magazine. He now writes for a range of publications. Geoff is a keen travel and portrait photographer, and a Licentiate of the Royal Photographic Society.
Related articles