LaCie 2big Dock Thunderbolt 3 - 16TB
This product is currently out of stock. Order today and we will place you on a waiting list fulfilled first-come, first-served when stock is received. No payment will be taken until the item is in stock and ready to be despatched.
Full details »
The LaCie 2big Dock Thunderbolt 3 hard drive is all about professionalism and convenience. The premium unit is aimed at those with professional workflows, supporting hardware controlled RAID 0, RAID 1 and even JBOD. The unit uses Seagate IronWolf Pro Enterprise-Class Drives that provide incredible speeds up to a maximum of 490MB/s which in turn can transfer a full hour of 4K footage in as little ... More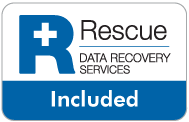 Rescue Data Recovery Included. VIEW
1x LaCie 2big Dock Thunderbolt 3 - 16TB Sorry, there are no more available.
Product Code: 1640518-wex
Manufacturers Part Number: STGB16000400