LaCie 6Big Thunderbolt 3 - 24TB
This product is currently out of stock. Order today and we will place you on a waiting list fulfilled first-come, first-served when stock is received. No payment will be taken until the item is in stock and ready to be despatched.
Full details »
Made up of 6x 4TB 3.5" hard drives that spin at 7200 RPM, the 24TB Thunderbolt 3 LaCie 6Big is a reliable RAID array with Thunderbolt 3 and USB 3.1 connectivity for transfer speeds of up to 40Gb/s (Thunderbolt 3). Positioned in 6 hot-swappable drive bays, the 6 drives can be set in in 0, 1, 5, 6, 10, or 50 RAID configuration. The LaCie 6Big Thunderbolt 3 is ideal for ultra-hi-res camera users. More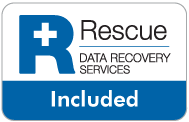 Rescue Data Recovery Included. VIEW
1x LaCie 6Big Thunderbolt 3 - 24TB Sorry, there are no more available.
Product Code: 1620485-wex
Manufacturers Part Number: STFK24000400