The Latest News and Products from BVE 2017
BVE Blackmagic Special Offers
Blackmagic Design Video Assist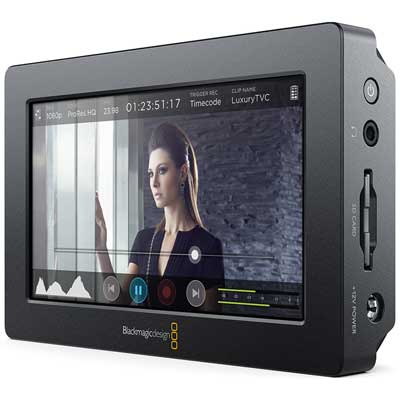 The Blackmagic Video Assist adds professional monitoring and high quality recording to any camera. Its large 5" full resolution HD screen ensures perfect focus and framing, while touchscreen functionality allows settings, histogram, audio meters, timecode display and more. The professional ProRes and DNxHD recorder uses high speed SD cards (not included) and saves files compatible with modern NLE ...
£396.00 View
Blackmagic Design Video Assist 4K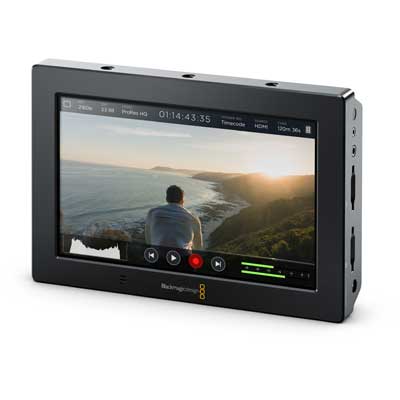 The Video Assist 4K features a 7" high resolution screen, two high speed recorders for non-stop Ultra HD recording, XLR mic inputs and a 1920 x 1200 screen, so you can see a full 16:9 image without the status bar covering the picture. Video Assist 4K features the latest high speed UHS-II SD card recorders and can record 1080 HD as well as Ultra HD up to 2160p30 on low cost, readily available SD ...
£588.00 View
Atomos Shogun Inferno with Full Accessory Kit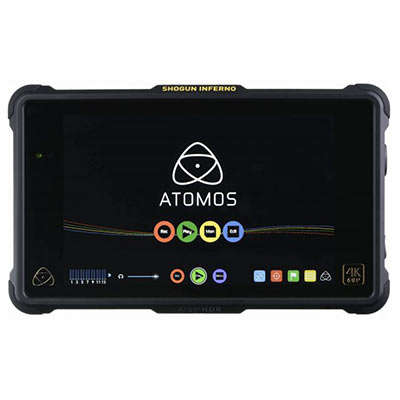 The Shogun Inferno is a 7" 10-bit 1500nit Field Monitor with the AtomHDR engine with the latest recording capability – 4Kp60 over Quad-SDI, along with playback & editing functionality that encourages on set collaboration. This ultra-bright advanced monitor and recorder can record 4K Raw cDNG support up to 30P, 4K Pro Res/Avid DNX from both Video and Raw signals up to 60P, and up to 240FPS in HD.
£1,680.00 View
Sony PXW-FS5 4K Professional Camcorder with RAW Upgrade
Free RAW Upgrade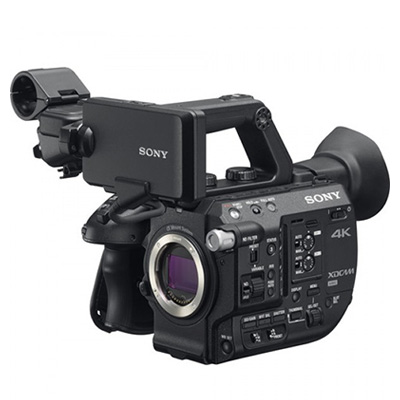 The Sony PXW-FS5 is a professional 4K E-mount camcorder built around a Super 35mm-sized Exmor CMOS sensor to deliver cinematic 4K (3840 x 2160) XAVC recording, Full-HD (1920x1080) and super slow motion. With its built-in electronic variable Neutral Density (ND) filter, users can expand the depth of field and exposure capabilities further from 1/4ND to 1/128ND linearly to create stunning, stand ...
£4,499.00 View
New SmallHD Monitors
SmallHD 503 Ultra Bright Monitor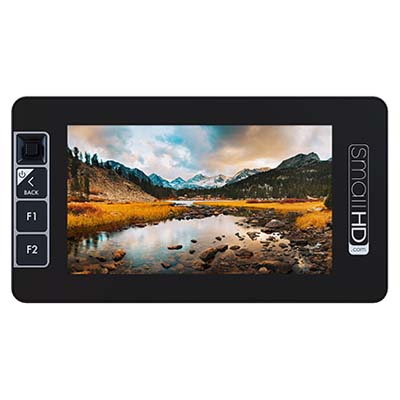 Made from durable milled aluminium, the Small HD 503 UltraBright Monitor features a 5-inch, Full HD IPS LCD display that uses a 2000+ Nit brightness and 441PPi to deliver a rich, detailed image when monitoring your footage, even in daylight. It features a HDR preview tool and has HDSDI and HDMI Input/Output. It's powered via the 12v 2pin LEMO power in connection.
£2,590.00 View
SmallHD 703 Ultra Bright Monitor
The SmallHD 703 Ultra Bright Monitor boasts a 7" Full HD IPS LCD screen with 441PPI pixel density and 2200+Nits brightness. Rugged, lightweight and perfect for outdoor monitoring, the ultra-bright SmallHD 703 features HDMI and SDI inputs/outputs, a 2-pin LEMO in and LEMO auxiliary power out, dual view for A/B camera, and a PageBuilder OS user interface.
£3,090.00 View
SmallHD 702 OLED Monitor
PRE-ORDER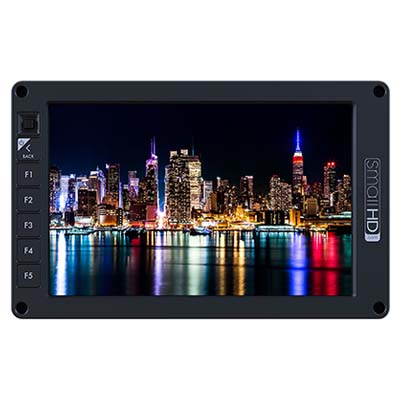 The SmallHD 702 OLED is a 7.7-inch on-camera monitor with beautiful OLED colour, HD waveform and scopes, 3D LUT support and a rugged milled aluminium chassis. With its 1000 NITs of brightness, 1000:1 contrast ratio and Full HD 1920x1080 display, the 702 OLED delivers bright, vivid images and accurate daylight visibility. It also features two integrated battery plates (LP-E6 and Sony NP-F), HD-SDI ...
£1,674.00 View
SmallHD 1703 P3 Studio Monitor
PRE-ORDER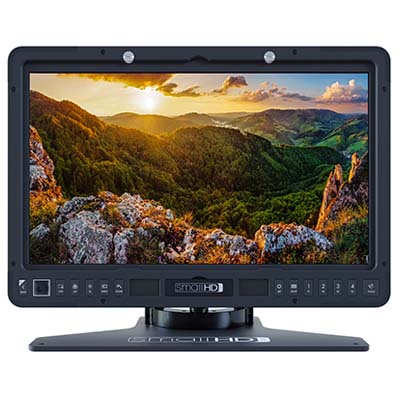 Perfect for on-set monitoring and post production use, the 17-inch SmallHD 1703 P3 Studio Monitor boasts reference grade cinema colour accuracy, delivering 100% coverage of the DCI-P3 colour space. Built to last, the monitor features an aluminium chassis with four-sided rubber protection, a 450 NITs brightness, 1500:1 contrast ratio, 178&deg viewing angle, 8-bit colour depth, and 16:9 1920x1080 ...
£4,193.00 View
Panasonic AG-UX90 UltraHD Camcorder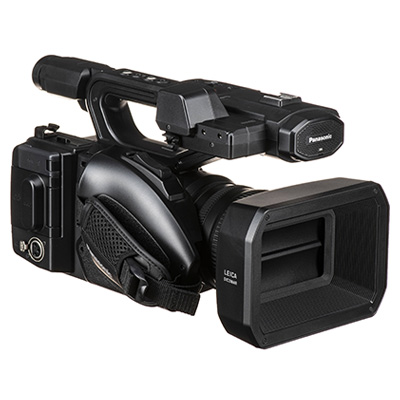 Designed with professional video production in mind, the Panasonic AG-UX90 UltraHD Camcorder features a wide-angle 24.5mm lens with 15x optical zoom. The AG-UX90 supports UHD 30p and FHD 60p recording, and its 1.0-inch sensor provides outstanding depth of field. An Optical Image Stabiliser enables stable handheld shooting, and a Micro Drive Focus Unit offers high-speed autofocus.
£2,320.00 View
Panasonic AG-UX180 UltraHD camcorder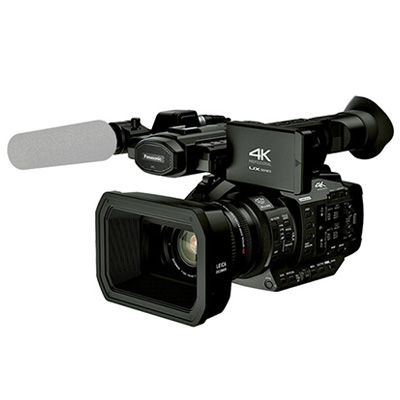 Designed to facilitate the upward shift to 4K for professional image production, the Panasonic AG-UX180 UltraHD camcorder features a wide-angle 24mm lens with 20x optical zoom. It supports 4K 24p, UHD 60p/50p, and FHD 60p/50p recording, and 120fps/100fps HD super slow recording. An Optical Image Stabiliser enables stable handheld shooting, and a Micro Drive Focus Unit offers high-speed auto focus.
£2,934.00 View
Panasonic HC-X1 Professional Camcorder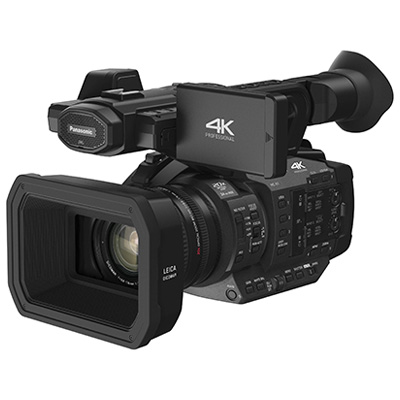 The Panasonic HC-X1 Professional Camcorder, equipped with a wide 24mm lens with optical 20x zoom, features a host of high-end specifications to meet professional 4K video production needs. Its advanced Optical Image Stabiliser and high-speed intelligent AF functions are ideal for professional camera work, and it supports 4K at 24p, UHD at 60/50p, FHD at 60/50p, as well as HD super-slow motion.
£2,389.00 View
*Credit is subject to application and status. Warehouse Express Limited acts as a credit broker and not the lender. Warehouse Express Limited only offers financial products from Barclays Partner Finance. Barclays Partner Finance acts as the lender. Barclays Partner Finance is a trading name of Clydesdale Financial Services Limited, a wholly owned subsidiary of Barclays Bank PLC. Clydesdale Financial Services Limited is authorised and regulated by the Financial Conduct Authority (Financial Services Register number 311753). Registered in England. Registered No 2901725. Registered office: 1 Churchill Place, London, E14 5HP