Whether you're surfing the ocean waves, hiking high up in the mountains or skiing in the Alps, action cameras have become more and more popular with adventurers, photographers and filmmakers alike. They're primarily designed to be easily portable, being both physically small and lightweight in build, so they can be mounted, attached and carried in a number of ways to capture the thrill of the moment. Built with adrenaline junkies in mind, they are generally constructed to survive the toughest of sports and can withstand a variety of extreme weather conditions too.
With more and more companies entering the action camera arena, here's a round-up of four key brands in the market today, so you can find out what each action camera offers, what comes in the box and other accessories available in the system - and we've pulled it all together into an easy comparison chart too.
1. GoPro
GoPro claim to be the world leader in action cameras and there's no doubt at all that they are extremely popular. They originally launched the GoPro HD Hero, which has since been replaced with the new and improved HD2 Hero version.
The system
The HD2 Hero comes in 3 different kit options - all with the HD Hero2 Camera plus these core accessories: Waterproof Housing, HD Skeleton Backdoor, Battery, Cable & Hardware. Where each kit differs is in the additional included accessories, which means choosing one tends to depend on what type of activity you're most likely to be capturing and how you want to mount the camera. The clue is in the title, so it should be fairly simple to pick which is best for your needs: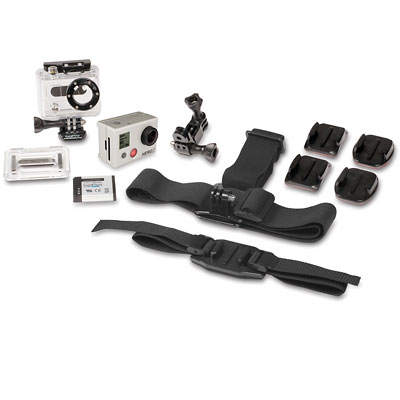 The Outdoor Hero is designed for use in - you guessed it - the outdoors! Whether it's biking, skiing, skating, kayaking or other outdoor activities, this may be the option for you. Additional included accessories in this kit are: Vented Helmet Strap, Head Strap, 2 Curved Surface Adhesive Mounts, 2 Flat Surface Adhesive Mounts & a Three-Way Pivot Arm.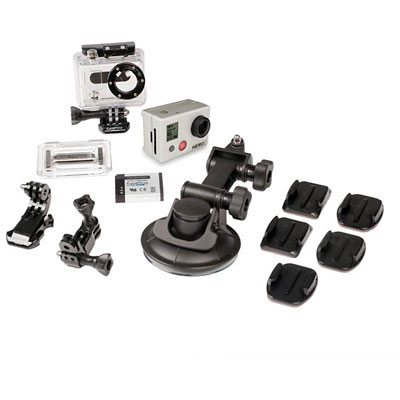 The Motorsports Hero kit is designed for use in a range of motorsport activities and the additional included accessories include: Suction Cup Mount, J-Hook Buckle, 2 Curved Surface Adhesive Mounts, 3 Flat Surface Adhesive Mounts and a Three-Way Pivot Arm.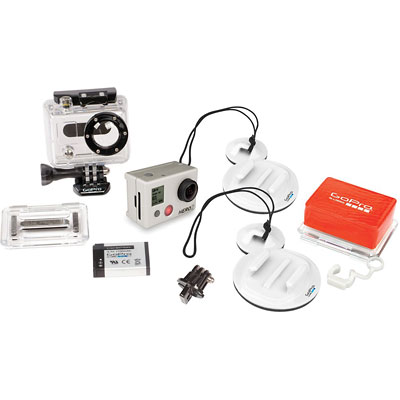 The Surf Hero is designed to be used for water-based sports - whether you're mounting it to your body or a surfboard. Additional accessories in this kit include: 2 Surfboard Mounts, FCS™ Compatible Camera Mount and a Floaty Backdoor.
If you pick up a new action sports hobby along the way, most of the accessories mentioned here are also available separately, so you're by no means limited by the kit you choose to get started with. There's also a huge range of further Mounts and Accessories available in the GoPro range.


2. iON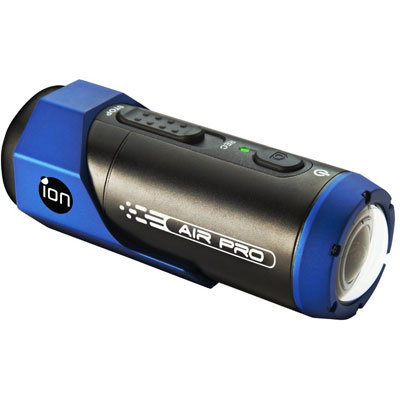 Weighing in at just 130g, the iON camera is a lightweight, cylindrical-shaped action camera that's waterproof to 10m (30ft) straight out of the box, no underwater housing required!
There are 3 models available in the iON range: the Air Pro which is the basic model, the Air Pro Plus which includes both a Bike and Helmet Mount and the Air Pro Plus WiFi, which has the accessories of the Air Pro Plus but also includes the WiFi Podz. You can also update both the Air Pro and Air Pro Plus to make it WiFi compatible by purchasing the Air Pro Connect Kit, which includes the WiFi Podz and a battery booster.


3. Liquid Image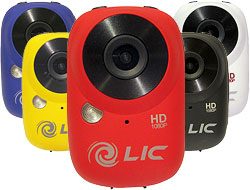 Liquid Image's EGO is one of the smaller action cameras out there, but it packs a lot into a tiny frame. For starters, it's WiFi enabled and equipped with a whopping 12MP camera - the highest resolution of the cameras featured in this post. The EGO's 136 degree wide-angle lens shoots in still and continuous photo mode and is also waterproof down to 3m/10ft straight out of the box.
Also in the box, you'll find a flat surface mount, curved surface mount, 2 extension arms and 3 extra adhesive pads. If they don't suit your action camera mounting needs, there's a range of additional accessories available (coming to Wex very soon).
The built-in WiFi enables control of the HD EGO remotely, which is a great bonus. Alternatively, there's a very small LCD screen and two buttons for on/off and instant setting changes. The rechargeable battery (included) offers up to 130 minutes continuous recording, storing your video and images on a Micro SD card up to 32GB.


4. Sony
Sony's Action Cam is the new kid in town, with the recent launch of the HDR-AS15. Action cameras are small by nature, but this one is particularly low-profile, with it's rectangular shaped measuring in at a mere 24.5mm wide, and it's particularly light too at just 65g. It's also a great choice if you need a camera for water sports (or underwater sports in fact too), as it's waterproof down to 60m (197ft) when inside the included underwater casing. Also included in the box is adhesive mounts to use on both curved and flat surfaces. There's also a Waterproof Head Mount Kit and a Handlebar Mount for the HDR-AS15, both available separately.
The ultra-wide angle Carl Zeiss lens gives a 170-degree field of view and the in-built SteadyShot® image stabilisation technology will deliver smoother footage. The Sony Action Cam does come with a slightly higher price tag than the alternatives, but it boasts some excellent features in an extremely light body.


In comparison: Action Cameras
| | | | | |
| --- | --- | --- | --- | --- |
| | GoPro | iON | Liquid Image | Sony |
| Model | HD2 | Air Pro | EGO | HDR-AS15 |
| Size | 42 x 60x30mm | 37 x 107mm | 40.5 x 30.5 x 63.5mm | 82 x 47 x 24.5mm |
| Weight | 105g | 130g | 90g | 65g |
| HD Video | 1080p | 1080p | 1080p | 1080p |
| Still Image | 11MP | 5MP | 12MP | 2MP |
| Battery Life | 2.5 hours | 2.5 hours | 3 hours | TBC |
| Memory Card | SDHC | MicroSD | MicroSD | MicroSD |
| WiFi? | Kit sold separately | WiFi version | Built-in | Built-in |
| Waterproof? | Yes* | Yes | Yes | Yes* |
| - depth rating | 60m / 197ft | 10m / 30ft | 3m / 10ft | 60m / 197ft |
| Price** | £279.95 | £199.99 | £144.95 | £289 |
*Waterproof with included underwater housing
**Current price as at September 2012, subject to change