Wex Photo Video (UK) Limited Attains ISO 9001 : 2015 Certification

ISO 9001 is recognised worldwide as the international benchmark for quality within an organisation.
By achieving our ISO 9001 certification, Wex Photo Video are able to demonstrate to customers and suppliers that the systems we have in place meet the high standards set out by the International Organisation for Standardisation (ISO).
To gain the ISO 9001 certification, Wex Photo Video had to demonstrate our dedication and commitment to meeting our customers' needs, operating efficient management processes and delivering consistent, good quality products and services.
Each year, an external Audit is carried out by a third party to ensure our systems are maintained and any non-conformances are noted for correction.
Director of Corporate and Professional Services, Stewart Fielder, said: "Providing excellent service and quality product is something that Wex has always been passionate about. We are proud of our ISO accreditation award as it demonstrates our on-going commitment to delivering consistently high standards to our customers."
If you would like to check the validity of our ISO 9001 certification or find out more about the ISO 9001 principles we follow please get in touch today, we would be delighted to speak with you.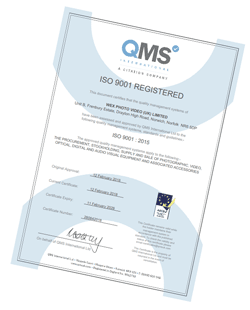 Certificate Number: 280642018