Our guide to picking the perfect camera strap, courtesy of intrepid outdoor photographer Giles Babbidge
When it comes to building up your photo kit, the humble camera strap probably doesn't get much of a look in. After all, what's the fuss? Surely it's just a simple piece of webbing that lets you put your camera conveniently over one shoulder whilst walking around?
Well, you might be surprised at just how far this accessory has come in recent years to make camera carrying more comfortable than it has ever been. Here, I'm going to briefly outline a number of the most popular options currently available, as well as some alternative camera-carrying solutions.
Own-brand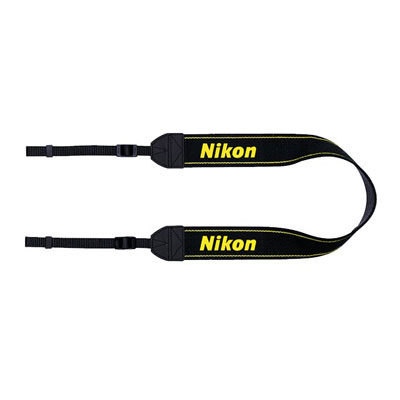 Nikon AN-DC1 Strap
If you want to match your strap to your make of camera, then a branded model is for you. These tend to be fairly standard, general purpose straps – no-frills construction, often with a shoulder-gripping surface on the underside. Typically they'll have a manufacturer name and/or camera model printed on top side (e.g. "Canon" or "Nikon D810") and are a perfect replacement for the strap originally supplied with your camera.
OpTech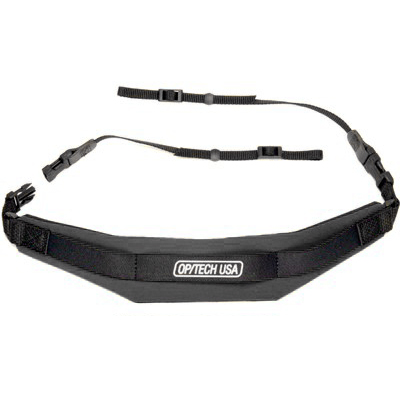 The big selling point of OpTech's straps is their use of durable neoprene and webbing materials, which combine to make them the perfect choice for professional photographers and anyone who regularly carries around heavy camera and long lens combinations. The strap is stretchy neoprene, which makes for a comfortable fit and reduces neck- and shoulder-fatigue.
Various options are available, from the slimmer Fashion and Classic models to the Pro Camera Strap. There are a number of wrist straps, too. The lineup includes a wide range of colours (including camouflage) and features quick-release buckles for easy removal.
BlackRapid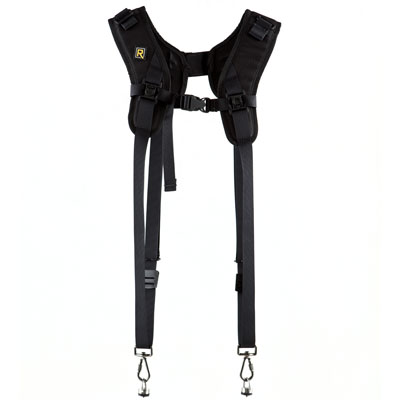 Black Rapid Double (DR-1) Dual Camera Harness
If you regularly photograph events that involve a lot of walking around and the need to bring the camera to your eye quickly, BlackRapid's products are well worth a look, as the firm has long been considered one of the leaders in camera slings and harnesses.
The range is ever-growing, but at its core, features a notable design quirk – that the strap attaches to the bottom of your camera via the tripod thread. This means the camera is suspended upside-down and comes to hand quickly when needed – not to everyone's tastes, perhaps, but it works very well in practice.
If you regularly shoot with two cameras, one over each shoulder, you'll want to take a look at BlackRapid's Duel Camera Harness models. A number of configurations are available including the RS DR-1 and slimmer DR-2; both of these feature two backpack-style straps which can be separated for individual use. For a simpler option, there are also the single-shoulder Yeti and Yeti Slim models. Whichever way you go, these options are great for avoiding the inconvenience of tangled straps when taking pictures under pressure.
Peak Design
Peak Design CapturePRO Camera Clip with PRO Plate
If like me you spend a lot of time taking pictures outdoors, you'll know a camera strap can sometimes be more of a hindrance than a help. For those who need to free up their hands and shoulders until their camera is required, an alternative solution comes in the form of Peak Design's CapturePRO Camera Clip.
Using a quick release plate system, it allows you to conveniently attach your camera to a belt or any strap (such as on a backpack), so it's always at the ready. A lightweight, durable, aluminium construction makes it perfect for withstanding regular, demanding photo trips.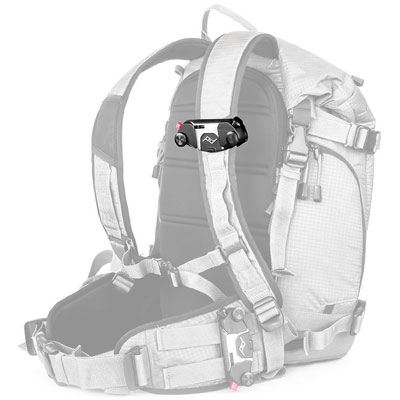 The CapturePRO clip attaches to a backpack strap
For an entry-level version, there's the similar Capture Camera Clip. Much like the CapturePRO, it is designed with great flexibility in mind and can withstand over 200lbs of force.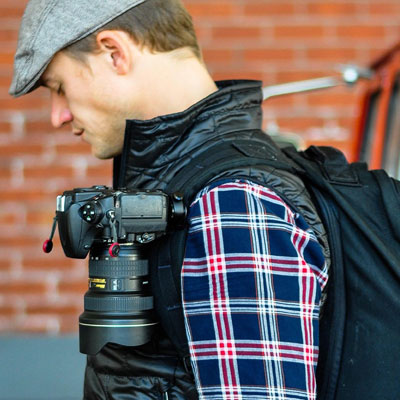 The clip in use
Spider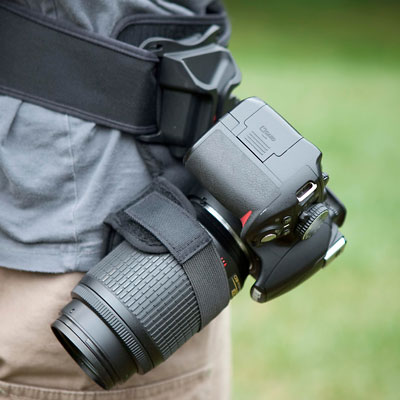 Spider Black Widow Kit
In a similar vein to Peak Design, Spider offers a range of holster-style solutions. They're slightly more bulky than Peak Design's offerings, being centred around a belt arrangement, and there are several comparable options here.
If you want to carry just one camera, the SpiderPro Camera Holster Single Camera System is your best bet and has a locking pin for added security. Again, for those of you who like to photograph events with two cameras at the ready, the SpiderPro Camera Holster Dual Cam System is the answer. A third option to look at might be the Black Widow Kit, which includes holster, pin, belt and pad.
As an added degree of flexibility, Spider also offers a Lowepro Belt Adapter Kit, which allows users to combine their Lowepro Street and Field belt with the SpiderPro Holster.
Other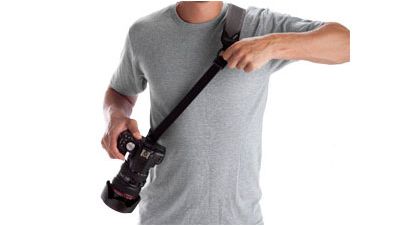 Joby UltraFit Sling Strap for Men
As a final note, a range of similar straps is available from other brands including Manfrotto, Joby and Sun-Sniper. They offer a broad mix, covering many of the features described above.
Choosing the right camera strap for you is much the same as picking the right camera – it should be the best one for your own specific needs. Prices vary and some might be a little overkill, but it is worth giving some thought to what strap you pick, so as to avoid discomfort whilst out taking pictures.
About the Author
Giles Babbidge is a commercial and editorial photographer based in Hampshire. He travels all around the UK and works with a wide range of clients – you can find out more about his day-to-day activities over at his website.
Related articles