Macro photography doesn't need to be expensive. Giles Babbidge runs through the best affordable close-up adapters that can get you started
The world of close-up or macro photography is a fascinating one. Whilst many people immediately think of the natural world – capturing images of bugs, flowers and the like – there are many subjects you can turn your camera towards.
Dedicated macro lenses can often be prohibitively expensive, but cheaper alternatives are available and will allow you to get just as close in order to capture all the detail. In this run-down, I'm going to briefly outline a number of the most popular options that you might like to consider.
Close up filters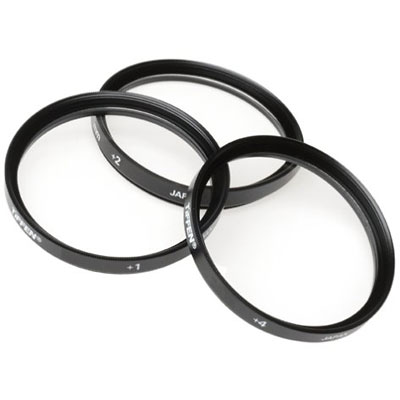 Tiffen 58mm Close Up Set Filter
Just like the regular screw-on filters we are all familiar with, close-up filters attach to the front of the lens. The difference here is that the only effect they have is to allow closer focusing of the lens, working in much the same way as reading glasses do for eyes.
They are available individually or as sets of three (typically in a +1, +2, +3 configuration). Obviously they have the advantage of being small, lightweight and easily portable, but also boast the flexibility of being usable either by themselves or stacked up for maximum effect.
As with all glass accessories that are placed in front of the lens, it's worth taking extra care to keep them nice and clean.
T2 adapters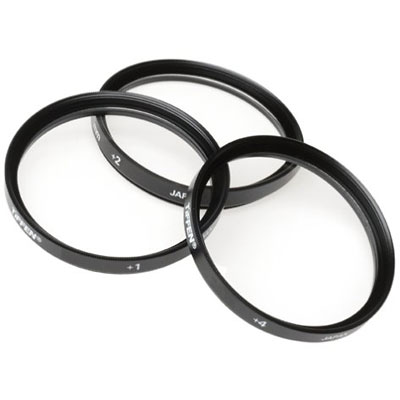 Hama T2 Camera Adapter
One of the cheapest ways to get closer to your subjects is to use a T2 adapter. This is a device featuring an inner 42mm thread, which allows you to connect your camera to a microscope or bellows. It can also be used for spotting scopes too, if you're interested in photographing larger wildlife.
T2 adapters are available for most makes and models of camera, but be sure to pick the one that is suitable for your camera's lens mount (for example, Canon EOS, Sony E-Mount, etc).
Reversing rings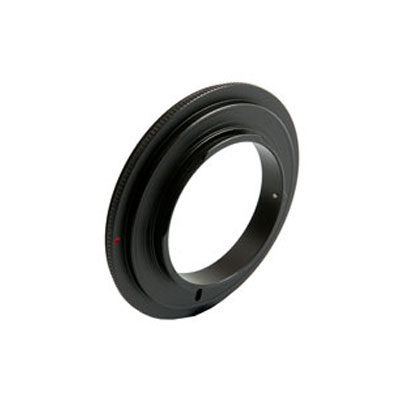 JJC Nikon Fit Reversing Ring 52mm
Reversing rings allow you to mount any brand of lens back-to-front on your camera, giving magnification levels similar to those of dedicated macro lenses. As above, you'll need to pick the right lens mount for your camera, along with the correct filter thread size of the lens you'll be attaching.
Since they are inexpensive, reversing rings are a great way for photographers to test the macro waters without breaking the bank. Care should be taken to keep the rear elements of your lens clean and scratch-free – ideally by keeping its cover on until the very last moment before use and when moving around (especially in the undergrowth!).
Extension tubes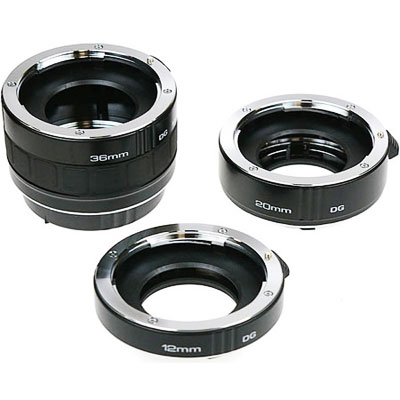 Kenko DG Canon AF Extension Tubes Set
Many of the major manufacturers produce their own extension tubes, specifically designed to work with their cameras and lenses. Whilst these would perhaps the best option to go for, they do often come at a premium. Thankfully, third-party brands produce comparable products that are compatible with the major lens mounts, but at more wallet-friendly prices.
Extension tubes are basically fixed-length, hollow metal tubes. In the same way that close-up filters can be used individually or stacked up, these offer similar versatility. The way they work is to increase the distance between the lens and the camera sensor; this translates to closer focusing distance and an increase in the reproduction ratio.
In comparison to close-up filters, extension tubes are heavier, bulkier and, as you might expect, more expensive. That said, there are no glass elements to worry about damaging, so they are safer in hostile conditions. As an alternative to tubes, bellows work in the same way, but are bulkier still and typically require the use of a tripod to keep everything steady enough for pin-sharp results.
A word of warning – whilst modern-day extension tubes enable perfect coupling with TTL metering and AE systems, autofocus may not be possible, depending on the type of lens being used.
About the Author
Giles Babbidge is a commercial and editorial photographer based in Hampshire. He travels all around the UK and works with a wide range of clients – you can find out more about his day-to-day activities over at his website.
Related articles