What's so special about the Canon EOS 80D? Matt takes a closer look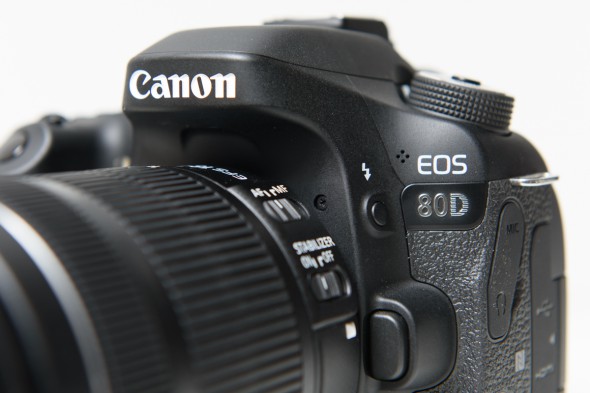 Canon recently refreshed its enthusiast-level DSLR lineup with the EOS 80D, a model that follows a string of successful predecessors. In this article, we take a closer look at what the EOS 80D offers and what's so special about it.
What is the Canon 80D?
The Canon 80D is a mid-range, enthusiast-focused DSLR, and an update to 2013's Canon 70D. It sits just above the more compact Canon 750D and Canon 760D but beneath the more sophisticated EOS 7D Mark II in Canon's APS-C range of cameras.
Like those cameras, it accepts all of Canon's EF lenses, which have been manufactured since the EOS system's inception back in 1987. It's also compatible with all the EF-S lenses designed specifically for APS-C cameras. Between these two lines, and many third-party additions from Sigma, Tamron and others, there should be no issue finding the lenses you want.
This particular range of cameras has been one of the most popular for those looking to step up from more basic models, although many people have also chosen these models as their first DSLR. One key to their appeal for novice users is that they have long provided plenty of growing space as the user gains more confidence and develops his or her technical skills, but have managed to do so at a more attractive price point than their full-frame siblings.
Furthermore, they have also historically offered very respectable continuous shooting rates, a feature that has made them attractive to those capturing sports or other telephoto-based action images. Furthermore, with slightly larger bodies than the triple-digit EOS series, they provide better support for longer and heavier lenses, the kind that would be used for such photography.
Compared with the EOS 70D
Some of the previous updates to this particular line have been relatively modest and evolutionary more than anything else. On the EOS 80D however, Canon has overhauled many of the EOS 70D's key features to make it a much more refined and capable DSLR.
The model arrives, for example, with a newly developed 24.2MP APS-C sensor and DIGIC 6 processor, in contrast to the 20.2MP sensor and DIGIC 5+ processor offered on the EOS 70D. Because of this the upper sensitivity limit now stretches to ISO 16,000, rather than 12,800 on the EOS 70D, with a further extension setting up to an ISO 25,600 equivalent. The camera is also now offered with a new 18-135mm f/3.5-5.6 IS USM kit lens that's said to be speedier in use than the previous STM version.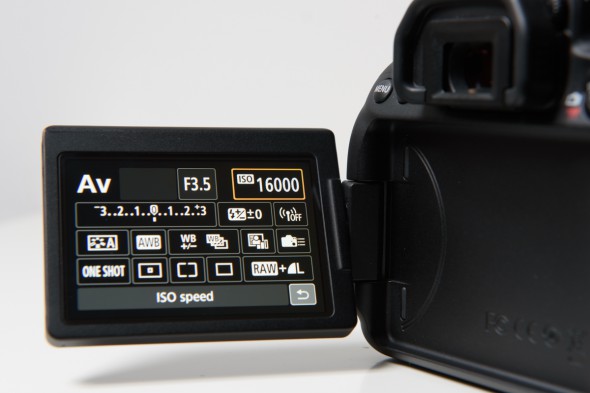 It's possible to push the ISO to shoot in low light
The camera's 7fps burst rate has stayed the same, although burst depth has shot up from 65 JPEGs to 110 JPEGs, or up to 25 Raw files, up from the previous 16. In practice this means you can carry on shooting for longer when using the burst setting, which will no doubt appeal to those specialising in action photography. With video recording, meanwhile, you can now record at up to 50/60fps when shooting video, rather than the 25/30fps limit on the EOS 70D.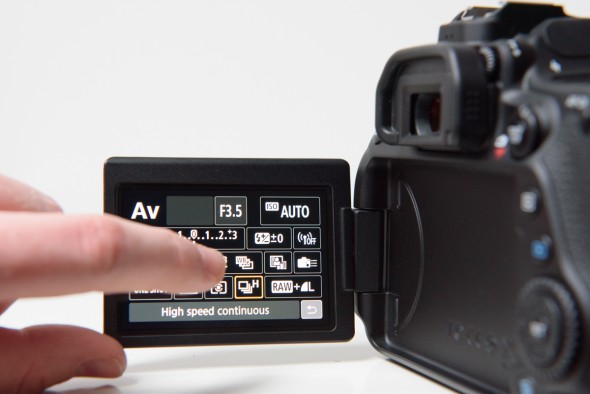 High speed continuous shooting is a boon for action shooters
The changes to the focusing system are also a highlight, with all 45 AF points being cross type for enhanced sensitivity and a middle point sensitive to -3EV (the EOS 70D also featured an all-cross-type array, although there were only 19 points in total). Not only does this system more densely saturate the frame than the EOS 70D's, but it also stretches across a great proportion of it, which is particularly helpful when tracking moving subjects.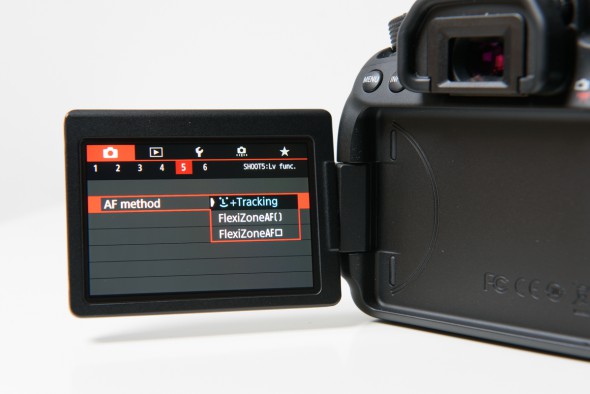 AF tracking modes keep pace with fast movement
The Dual CMOS Pixel AF system has also been tweaked for enhanced sensitivity and allows for all effective pixels to act as both imaging and phase-detect AF pixels at the same time. This means that focus is snappy in live view and when shooting videos, whether you're using focus as standard or continuously for tracking.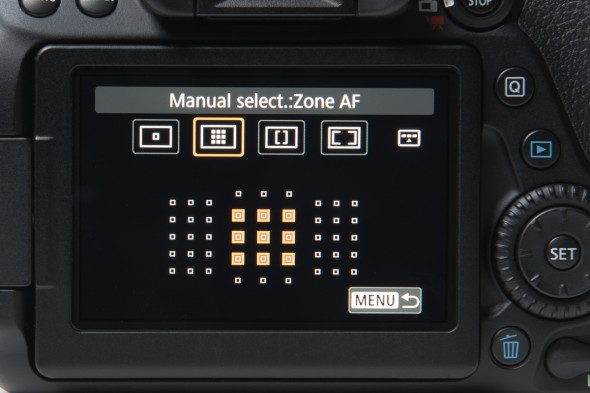 A closer look at the AF system
The EOS 70D offered a viewfinder with around 98% coverage; the one here stretches to approximately 100%. This is great from the perspective of accurate framing as it means you can compose images in the knowledge that what you see through the viewfinder will appear so in the final image. Canon's Intelligent Viewfinder technology has also been revamped for the new model, and provides plenty of additional information via an LCD panel inside the viewfinder, such as electronic leveling, grid marks, warnings when you're shooting in black and white or HDR and much more.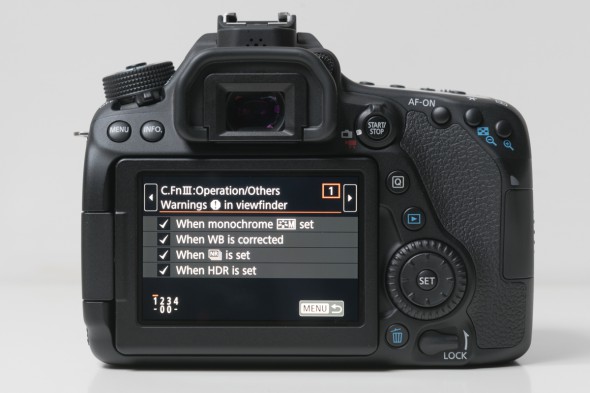 Users can tweak how much information the intelligent viewfinder provides
Some of the other changes are only to be expected, given that they have also featured in the more basic EOS 760D. The Wi-fi functionality originally found on the EOS 70D, for example, in the EOS 80D has now been augmented with the previously seen NFC technology to further ease wireless image sharing, while the addition of the Flicker Detection option, which notices the flickering of fluorescent lighting sources and only captures the image at peak illumination, has also been seen on a number of recent EOS models.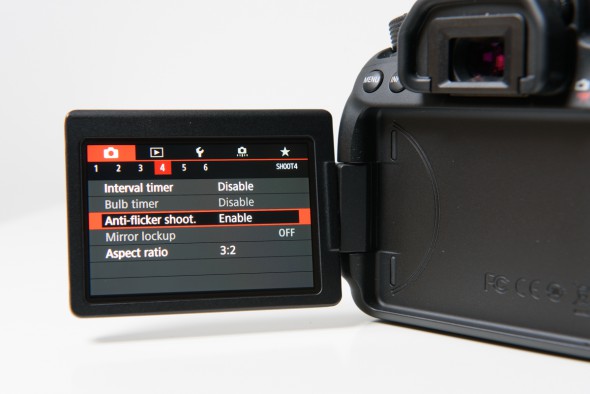 Enable the anti-flicker mode to deal with troublesome intermittent light sources
Which styles of shooting is it most suitable for?
Rather than catering for the needs of one particular type of photographer, Canon has traditionally intended for its double-digit EOS models to be as versatile as possible – and looking through the EOS 80D's spec sheet shows this to still be the case. Here are some examples:
Landscapes and still life:
The camera's 24.2MP sensor suits it to enlargements, although you can also record Raw and JPEG files at lower resolutions where required to save space on your memory card. The high-resolution, articulating screen makes it a great option for any tripod-based work such as still-life, macro and landscapes, and with the further advantage of a touchscreen you can pinpoint exactly where you want it to focus by keying the subject with the finger. Landscape photographers will also welcome the inclusion of the built-in interval timer for the creation of time-lapse footage.
The touchscreen is a useful addition for selecting a precise focal point
Sports/wildlife:
The sensitive focusing system, 7fps burst rate and the now deeper burst depth means that the camera is equally at home in the hands of the action photographer. Furthermore, the fact that it maintains cross-type AF point operation with 27 points at f/8 is excellent news for sports, nature or wildlife photographers intending to use it with teleconverters, where such a combination may reduce the effective aperture to f/5.6 or f/8. The various weather-resistant seals and gaskets around the body also mean that you can continue to shoot outdoors should the weather take a turn for the worse.
Video recording:
Not only does the 80D offer Full HD video recording to 50/60fps (PAL/NTSC), but there are both microphone and headphone ports around the side. This means that you can not only improve on the audio quality of the built-in microphones, but you can also monitor audio levels through headphones via the latter port. The Dual Pixel CMOS AF system allows you to focus with ease on both static and moving subjects, and once again you can simply press the screen when you want it to focus. If you do this during recording the camera will smoothly transition to the selected area, and you can even adjust the speed at which this happens for seamless results.
As an upgrade:
Canon has done very well to make the EOS 80D appeal as a first DSLR for those coming from compacts or more basic compact system cameras. The responsive touchscreen and Dual Pixel CMOS AF system means that it behaves much like these kinds of cameras when it comes to using live view, and those still not entirely confident using semi-manual and manual exposure modes can call on the camera's Auto-oriented options.
The mode dial features several exposure options geared towards less experienced users
There's also a feature guide that explains the purpose of options as they are encountered in the menu, which is great for those still learning what everything does, and those not wanting to spend time in front of a computer processing their images have the option of either applying instant effects using one of the Creative Filters, or alternatively quickly processing their Raw files in camera.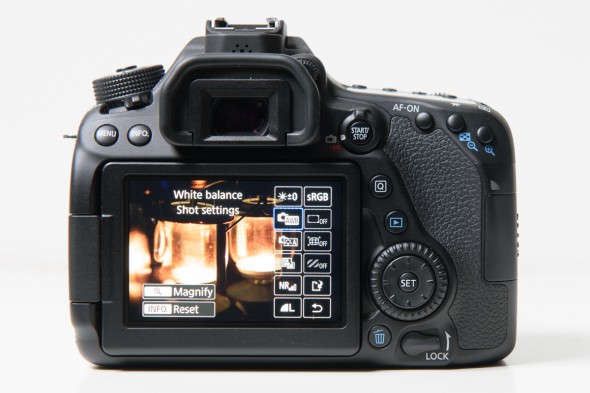 In-camera Raw processing can be done quickly
What about its rivals?
The EOS 80D can currently count a number of other models as rivals. Perhaps its closest competitor is the Nikon D7200, which also features a 24.2MP APS-C sensor, Full HD video recording and both Wi-Fi and NFC. It boasts a fractionally large LCD screen (3.2inches) and a 51-point AF system that's entirely sensitive down to -3EV, although the screen is fixed to the back of the camera and is not touch sensitive.
With its 24.35MP APS-C sensor and a similar price tag, the Pentax K3-II is also likely to be viewed as a rival. It boasts a slightly faster 8.3fps burst rate and has the advantage of built-in image stabilization (which is lens-based on Canon's EOS models), although the 27-point AF system doesn't quite stretch across the same proportion of the frame as the EOS 80D's and the 3.2in LCD on the back neither is neither articulating nor touch sensitive.
While the full-frame Nikon D610 and Canon's own EOS 6D may have a different target user in mind, they are priced similarly enough to the EOS 80D for them to be added to the shortlist of those interested in a model of this class. There are also a handful of capable compact system cameras around the same price point, such as the Sony A6300 and Fujifilm X-Pro2.
Overall, while there are undoubtedly a number of capable rivals to the EOS 80D, many photographers will no doubt be won over by its well-rounded feature set, excellent focusing system, responsive operation and the backing of the expansive EOS system to broaden creative possibilities.
Why should I buy it?
Overall, the Canon EOS 80D builds on an already successful formula with a range of improvements to make it a camera for everyone. Those stepping up from more basic models are likely to be very pleased with the level of control it offers, while those using more advanced cameras such as the EOS 7D Mark II may well consider it as a backup body.
The focusing system is one of its main attractions, and this works brilliantly when shooting conventionally and when using live view or video. It's also welcome to find such a comprehensive level of control over its various options so that it behaves in the manner you require for your specific tasks.
It also handles very well and has plenty of physical controls around the body, and there's plenty of scope for customisation to allow you to tailor it to your style of shooting. The Q menu also provides rapid access to all main shooting options, and this can be operated through the touchscreen for even speedier selection.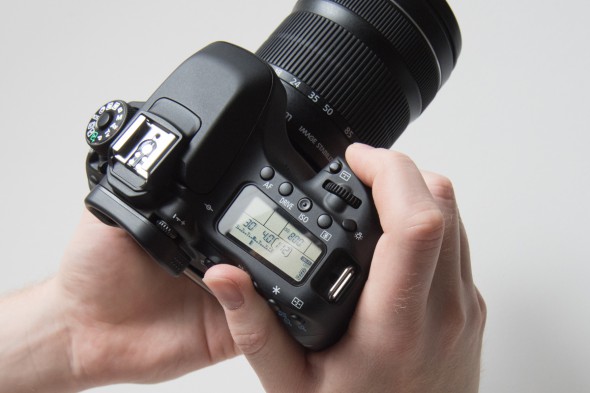 The 80D features Canon's customary well-engineered handling and ergonomics
It's also great to see so much information inside the top-plate LCD screen (pictured below) and the Intelligent Viewfinder, as this allows you to keep an eye on how images and videos are recorded without any effort. The responsive touchscreen, meanwhile, not only simplifies focusing but is also a highly useful feature when selecting options in a hurry, and it remains useful when playing back images or videos.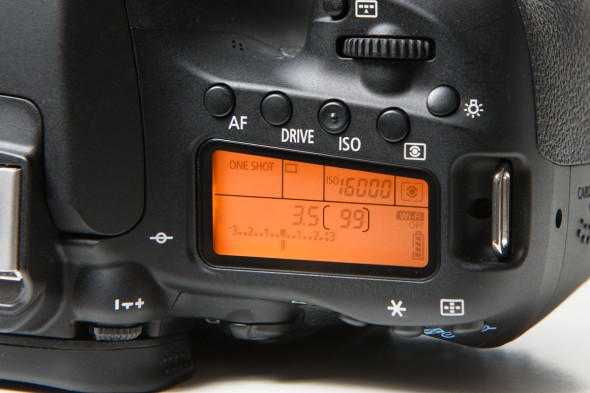 The top plate LCD displays exposure information for quick reference
All in all, it's hard to deny that the EOS 80D is an impressive DSLR for users of all levels.
Related articles