Our Part Exchange service has proved to be a popular way of upgrading to a new camera or lens. In this article, we take a look at everything you need to know when buying and selling a used camera or lens with Wex.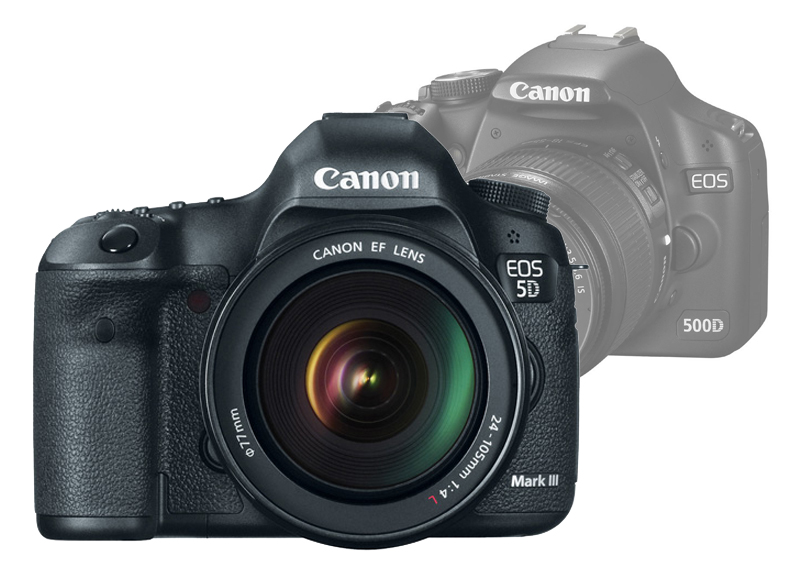 If you're thinking of upgrading to a new DSLR or lens there are a number of ways of going about it. You may choose to buy a brand new model or look towards a used one in a good condition, and if you already have one you may save yourself some money by part exchanging it for either option. So what should you consider when selling your camera or lens?
Selling your camera or lens to Wex
If you have a camera or lens to sell then you'll no doubt want the best price for it possible. There are a number of factors which affect the price you're likely to be offered, and the more you pay attention to these, the better the quote you're likely to receive.
Age
Given how quickly technology changes, it should come as no surprise that newer models are more in demand than older ones. There are, for example, more people searching for used Canon EOS 5D Mark II bodies in a good condition than there are for the previous Canon EOS 5D. Lenses are also superseded by newer versions, although as they are replaced less often they hold their value longer than DSLRs.
Demand
Certain cameras are more in demand than others, particularly full-frame DSLRs. Many people fancy upgrading to a full-frame DSLR from a cropped-sensor camera, and buying a used model makes this more affordable. Landmark cameras such as Canon's EOS 5D Mark II and Nikon's D700 are highly sought after for this reason.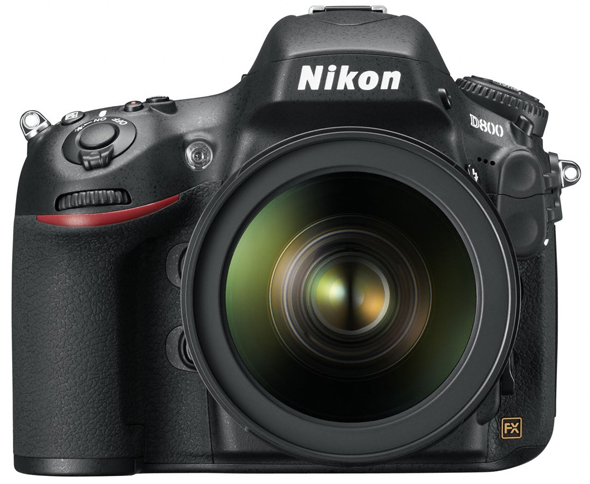 Condition
It should be obvious that the better the condition of a camera or lens, the more you stand to receive for it. Obvious signs of use include marks, scratches and any rubbed-off paint, as well as any parts which may be missing.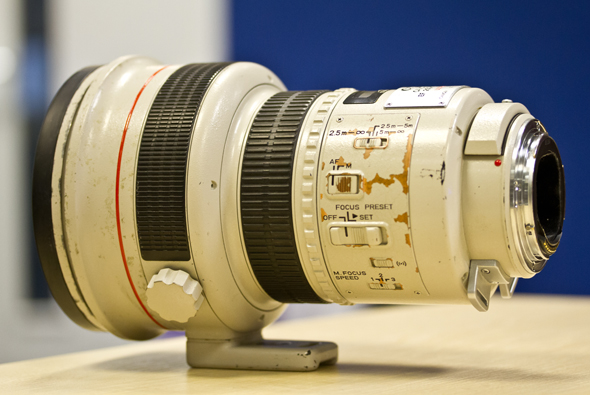 With lenses, important areas are any focus rings and whether they move smoothly (and, in the case of zoom lenses, zoom rings), as well as the operation of the focused-distance window. There may also be dust inside which can be removed with a blower of some sort. Mould, which starts small and eventually grows into spores, may also be an issue; a small torch shined down the rear of the lens can be used to check for either.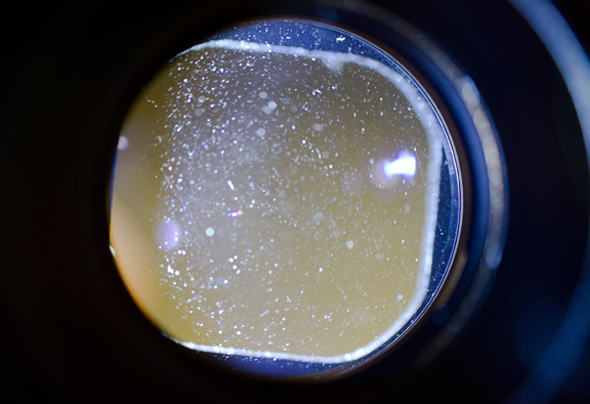 Sensor
One of the most important things to check is your camera's sensor. Dust can easily get onto the filter in front of the sensor when lenses are changed over, and even when a camera has a dust removal mechanism in place it's possible that stubborn particles may remain (and be visible in images).
To check for any dust marks, find an evenly lit background for a test shot. A plain white studio background could work well, or failing that a blue sky. Set the lens to manual focus and defocus the lens completely (we want to see the dust not the subject). As dust is more difficult to spot at wider apertures, set your aperture to around f/22 and fire off a few frames.
Finally, inspect your images in a program that lets you zoom into them to 100%, moving around the scene to inspect all areas. If you don't have a program that let's you do this, you can still check this on the back of your camera's LCD screen by zooming into the image, although quite how well you'll be able to spot any marks depends on the resolution and brightness of your screen.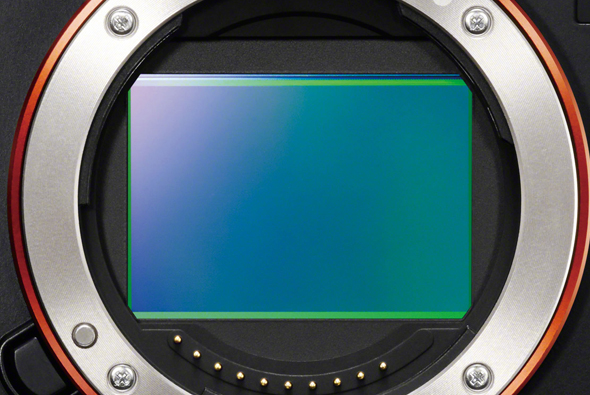 LCD
Your camera's LCD screen can easily pick up marks, fingerprints and scratches. Most marks and scratches can be rubbed off with a gentle polish although it may not be possible to remove scratches. If your camera came with a screen protector of some kind, and you have tended to keep it on the camera, you may not have too many issues here.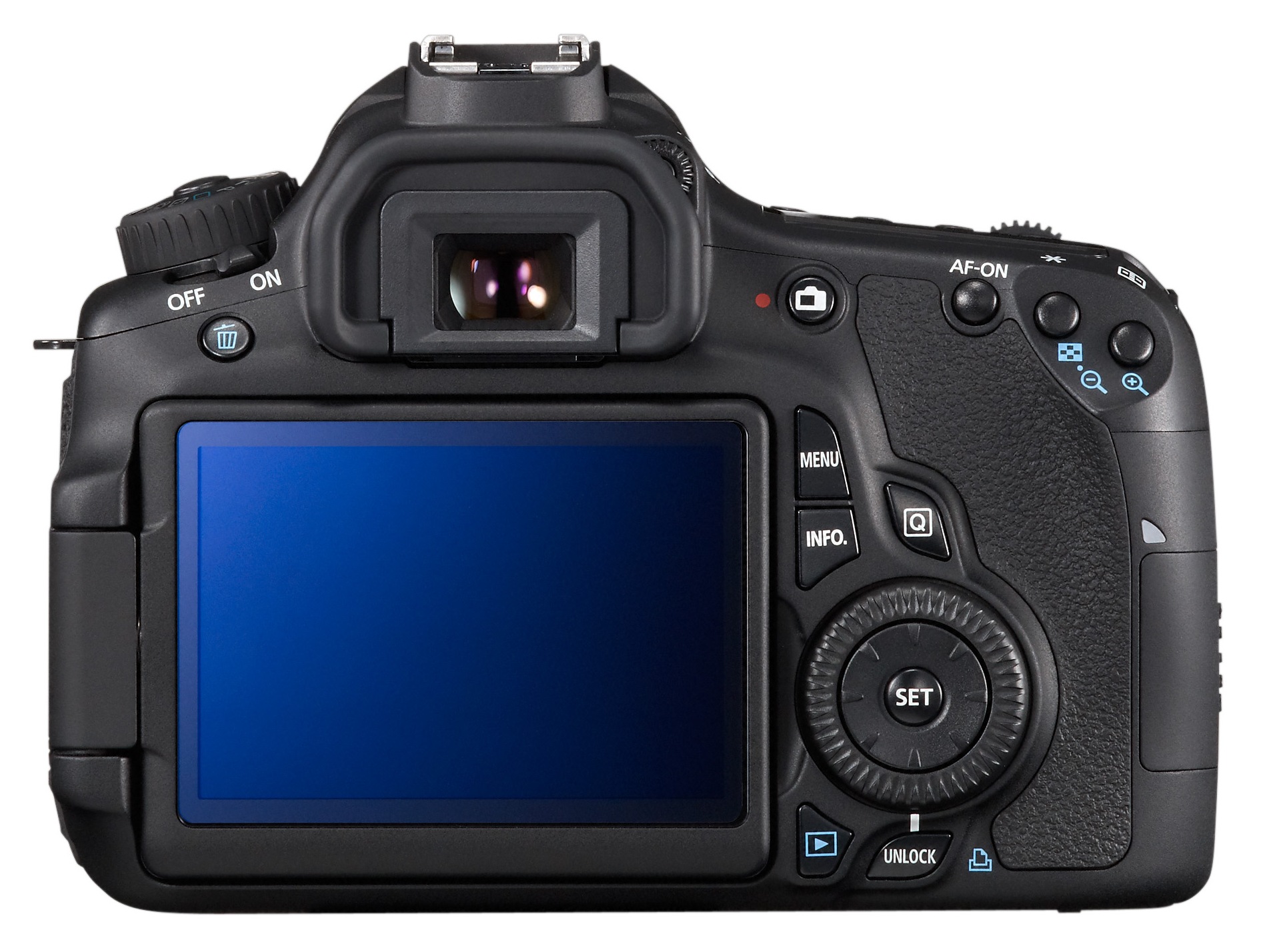 Buying a used camera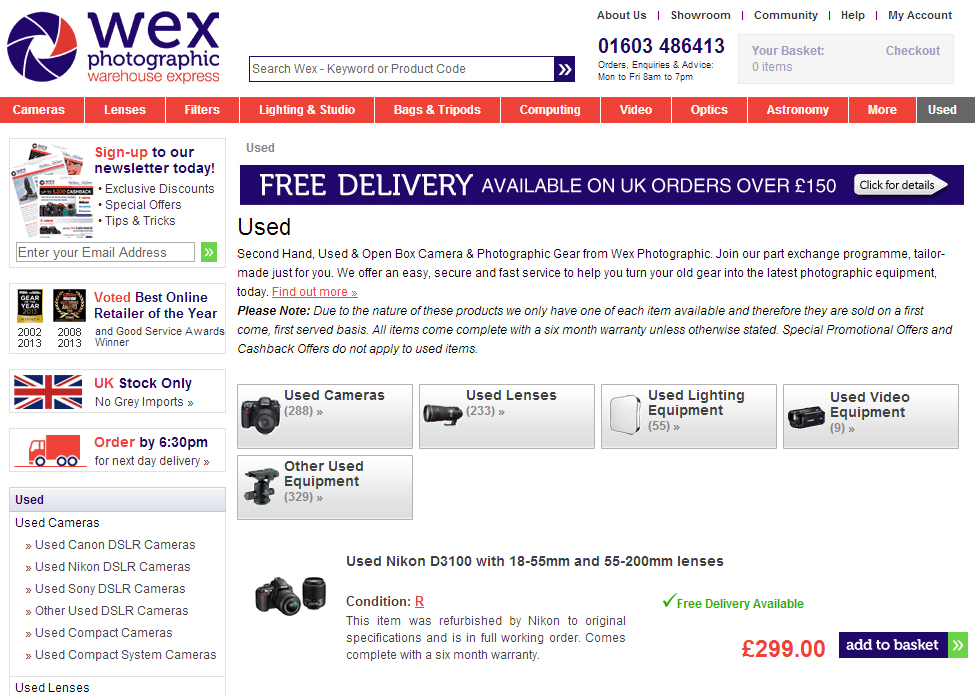 Not only does Wex have a wide range of used equipment available, from camera bodies and lenses to flashguns and smaller accessories, but we've also done all the hard work for you! Every secondhand item we receive is fully inspected, and we clean every sensor as standard to ensure you are buying goods in the best possible condition.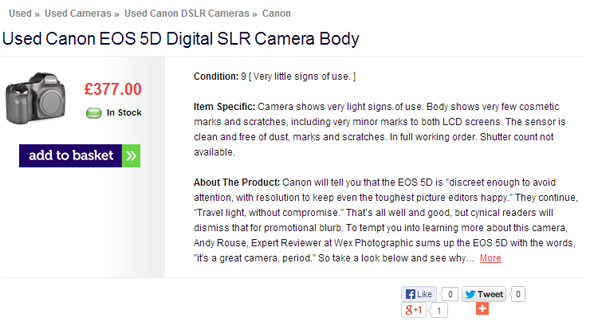 Full descriptions of all used products are given on our website, alongside a numerical score as to its condition. We also have cameras whose boxes have been opened (OB) and refurbished models (R). If you're not satisfied with the condition you can return the item within seven days and claim a refund, providing the item is in the same condition and with any supplied accessories returned with the product. Everything comes with a six-month warranty, so even if your item does develop a manufacturing fault we can have it repaired where possible or get a replacement out to you.
Final tips
There are many ways you can look after your camera and lens to ensure it stays in the best condition.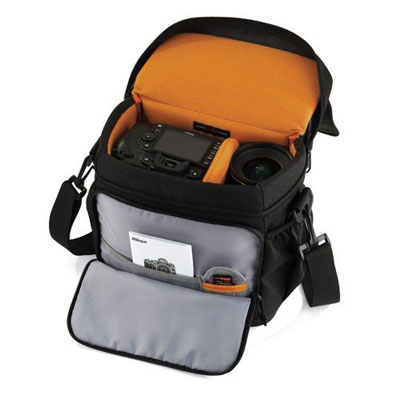 Make sure you choose an appropriate bag when transporting it, one with a soft, gear-friendly lining, and use dividers to segregate your equipment.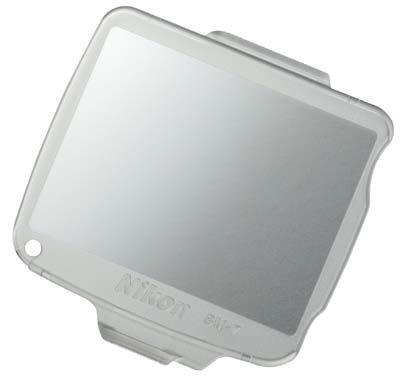 If your camera didn't come with a screen protector for its display, consider investing in one to keep it scratch free.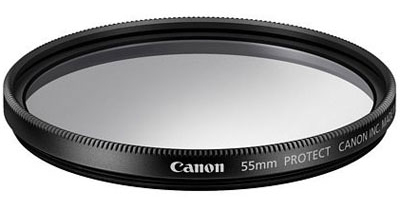 When buying a new lens, consider a clear protective filter to keep the front element free from any damage.

Don't clean your sensor using a contact method unless you're confident you can do so without damaging it. Either look to use a contact-free method, such as the Giottos Rocket Blower, or seek professional advice.

Many cameras with side-articulating displays can have these folded against the body of the camera when not in use. Doing this helps to protect the surface against any damage.
Ready to part-exchange?
If you're thinking about part exchanging your gear the first step is to fill in our quick and easy online form. We'll get a quote back to you within two working days, and if you're happy with this we'll arrange a free collection of your items. If you'd prefer to send the items to us yourself, we'll send you a pre-paid label which will allow you to drop the parcel into any Post Office. Once we have your items we'll inspect them and, providing everything is in order, raise a credit straight to your Wex account within five working days.