Amateur photographer and Wex customer Martin Le-May talks to us about the extraordinary reaction to his image of a weasel riding a woodpecker, as well the gear he uses and what the whole episode has taught him.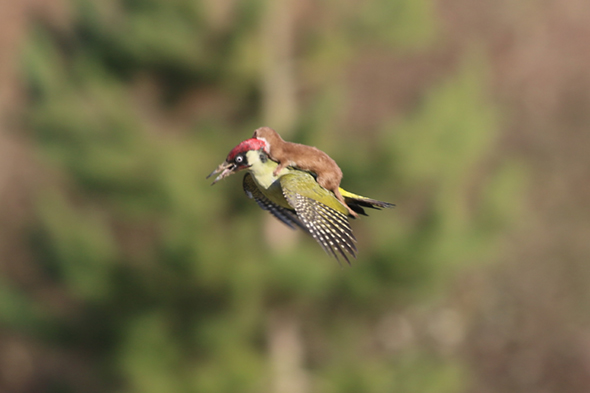 You must have had quite a surreal week…
It's actually quite outstanding how popular this photo is. Last Tuesday I thought it would have died down fairly quickly, maybe by Wednesday or Thursday. You can notice countries suddenly getting hold of it because today I've had a lot of Twitter and Facebook traffic from India, and it happened with Bulgaria the other day. I'm still getting a lot of stuff from the UK – not people noticing it for the first time but just getting round to commenting on it. The original tweet has had over 19 million hits, it's unbelievable – Katy Perry retweeted it, and a guy called Ne-Yo (it had to be explained to me that he was a rapper)! It's not as bad as it was last week but since we've been talking, I've had two emails about it. It's quite crazy – I'm just an ordinary bloke!
It's spawned many amusing parodies too. Do you have any favourites?
The two very early ones I remember were one where someone had put a moving red cape on the weasel and that looked really funny. Also, someone had taken the picture of [Vladimir] Putin on a horse, when he was topless. Obviously because he was riding a horse, to get him to straddle the weasel was, I suspect, quite easy. That was quite a good one.
How many photos did you take of the woodpecker?
That one is the only really decent one. You know what it's like when trying to photograph something moving in the air; even with autofocus you don't always get it entirely focused. I suppose in total there are about a dozen photographs; three of those are of the woodpecker disappearing into the blue sky and three of those are when the woodpecker escaped into a bush, and none of those are particularly good. There are probably four or five where it's on the ground or in the air and it's a bit blurry, and then the one really good one – and even the focus on that is not great!
A lot of people questioned whether the photo was real or Photoshopped. Was that something you expected?
I wasn't expecting it. But fairly early on, when ITV News came round, they asked the same question. I said the only thing I had was other photographs that were very blurry. If you go on the ITV News website, I think they published the other photographs, two with the bird in the air. You can see there's something on its back, but you can't see what it is. A naturalist in the States thought they were fake and actually suggested they look like two stuffed animals. I went back to him with a couple of the other photographs where you can see it's out of focus but you can still see the weasel and the woodpecker in a different position, and he then did Tweet that he thought they were real. So if it's good enough for him, I assume it's good enough for most people!
It's great to hear you're a Wex customer
Absolutely. When I've phoned Wex before for some advice, the customer service guys have been really helpful. They've never tried to pressurise me into buying something but what they have done is given me sufficient information on something I was hoping to buy so I could make a good decision.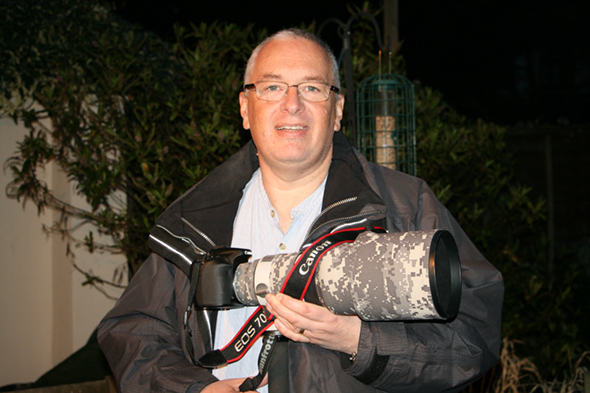 What gear do you own?
I use a Canon EOS 70D and what was a second-hand Canon EF 300mm f/2.8L – that's the one I primarily use for wildlife. I also use a 2x EF Extender, which I bought from Wex.
What's your favourite accessory?
I use a Manfrotto monopod. In fact I use two, and for me they are really good. With some of the other brands' monopods, you may as well be using a piece of spaghetti! I've also got a couple of Manfrotto bags from Wex too, and again I find them really good, particularly the backpack.
What's the next bit of kit you plan on adding to your kit bag?
At some stage I'd love to have a Canon EOS 5D Mark III but it's a case of a) persuading my wife to that and b) saving up enough money to buy one. I bought a [Canon EOS] 400D and my wife uses that with the Canon EF 75-300mm f/4-5.6 – actually, she takes some nice photographs with that. Just before Christmas I bought a Canon EF 100mm f/2.8L IS Macro lens because the other thing I like taking photographs of is flowers and close-ups.
Have you learned anything from this?
Always take your camera with you. I have a little Canon compact and I always carried that to work when I was working in the City because you never know when that picture is going to occur. I think that's the lesson. If you don't buy a ticket, you won't win the raffle.
Related articles