It's week three of our Story Behind the Photo feature, and this time underwater photographers Rob Spray and Dawn Watson are sharing one of their images that features the colour red. Check out the British Heart Foundation's (BHF) Red for Heart photography competition – all you need to do is snap a photo that incorporates the colour red too!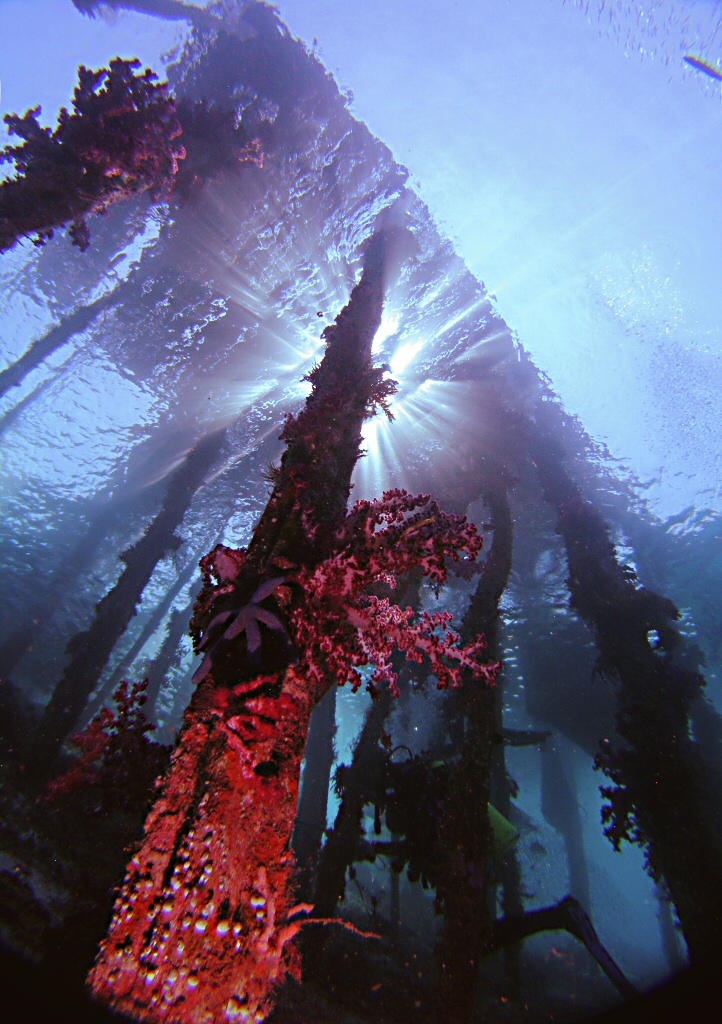 When and where was this photo taken?
The boat jetty on the tiny Indonesian Island of Aer Bore in the Raja Ampat region of Western Papua, in November 2006. This was one of the nice warm trips I enjoyed while I was doing a proper job :-) We hoped this would be more relaxing than our last trip to South east Asia when I was attacked in Thailand and came home with 13 stitches... but that's another story! Raja Ampat (The Four Kings) are islands in the most biodiverse patch of tropical sea imaginable. We travelled from Sulawesi to West Papua through areas which are rarely dived (by any standards) and ended with a period around Cape Kri which has held the record for the most types of fish seen on a dive and has a Manta Ray guarantee!
What kit was used to create this image?
This was our last trip before we went SLR. So this was the swansong of our beloved Olympus C7070WZ compact. Of course it had to be in a waterproof case (the standard Olympus one) and to get the near fisheye view this is taken from I used an additional Inon wide angle wet lens and external underwater flash... oh not forgettig a big boat to get there!
What effect do you think using the colour red has had on this image?
It's easy for underwater scenery to become rather flat and uniformly blue, losing any focal point and lacking structure. The red corals, algae and sponges coat the rough posts of the jetty leading up to the sunburst. As is often the case with clear water, some parts of the picture almost look like surface scenery. In this case the dry looking red post post leads us to the contradictory, clearly watery, surface high above and makes a strong starting point for the viewer to move up to the sunburst.
What do you like about this shot?
The height and structure of the jetty is enhanced by the wide angle lens and the sunburst is breaking beautifully through the planks above the surface. Its an easy photo to read and has unreal height through the ultra clear water together with great surface texture - it's tough to compose underwater and then to shoot into the sun but this worked out really well...what a relief!
What (if anything) would you go back and change if you could take this photo again?
I'd be very happy to go back and try again! If I had my way I'd have placed the divers in the background better or ideally had them gone and replaced with a shoal of shimmering fish. Maybe or maybe not have a face over the edge of the jetty. I wouldn't want to get the picture too busy!

If you missed them, you can find the previous week's Story Behind the Photo posts here:
To find out more about the Red for Heart photography competition visit bhf.org.uk/redphotos
Rob Spray and Dawn Watson are photographers and divers who currently run the Marine Conservation Society's Seasearch project in East Anglia. If you live in or around Norwich, visit Rob's exhibition
Norfolk's Living Sea
, an audio-visual presentation which opens on 15th November 2010.