Ainsley Bennett discovered the possibilities of astrophotography from his home on the Isle of Wight. He tells us the story...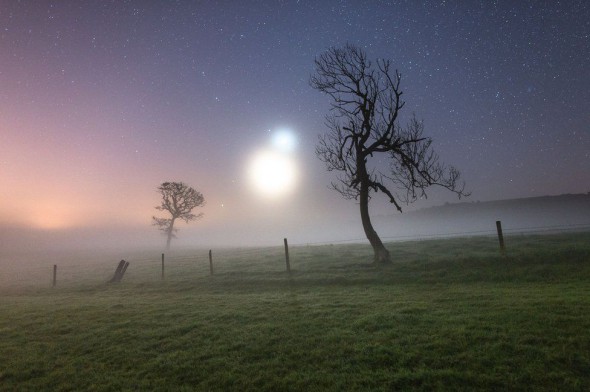 Image by Ainsley Bennett
Photographers know the value of getting up early. The early hours are full of magic, whether it's in the sunrise you expected or the little unexpected details you didn't. When Ainsley Bennett arose one chilly October morning for astrophotographer, he knew that a few planets were coming together in a rare astronomical event, however he didn't know that the image he would shoot that morning would go on to win in the 'Skyscapes' category of the Insight Astronomy Photographer of the Year competition organised by Royal Observatory Greenwich.
A well-deserved win it was too – it's a cracking shot, and we wanted to know more so we got in touch with Ainsley to find out. Read on for the story behind the image...
On astrophotography
"I first picked up a digital SLR at the end of 2012. I've always been fascinated by the night sky – when I first got into photography I started looking around at different things I could do, and I saw an image of the Milky Way and for the first time realised it was possible for me to take something like that from the Isle of Wight, where I live. I hadn't even realised you could take those kinds of images from the UK! And it went from there, really."
On the night of the shoot
"I knew I wanted to capture the crescent moon with Venus. I think Saturn and Mars were below it as well that night, so I knew I wanted to get out and capture it. I knew where I wanted to go – I was on an early shift, starting at six, so I woke up at half past four. I went out and straight away saw that there was this mist, and my immediate thought was 'Oh, this is not going to work out very well at all.' However, it turned out that the mist was what changed the shot into what it is. It turned out to be essential."
"I'd taken a couple of sunrise shots from this location already, so I knew this rough composition – with the trees in the foreground – would work. I didn't have an exact composition though. When I got down there it was dark, so I needed to do several test shots. I did quite a few at different angles before settling on this one."
On kit and post-processing
"I used a Nikon D800, though I've now upgraded to the D810. For this shot I used a Samyang 24mm f/1.4 lens, and that was it, really."
"The image was just processed in Lightroom. It was pretty basic – just brought the lights up on the Curves adjustment, might have dropped the darks a little bit, adjusted contrast, brought the shadows up a little."
About the Photographer
Ainsley Bennett is a landscape and night-sky photographer based on the Isle of Wight. See more of his photography at ainsleybennettphotography.co.uk
Related articles