Professional sports photographer Jesper Gronnemark combines a stunt rider, explosions and Sony's A7R III to startling effect
Photography by Jesper Gronnemark.
Commercial sports photographer Jesper Gronnemark recently set himself a project, to shoot a photo series called '4 Elements'. This was to be a four-part series of on-location shoots, combining athletes with the ancient Greek elements of earth, water, fire and air. The images in this article are from Jesper's explosion project and represent the element of fire. Joining Jesper on the shoot would be world champion stunt rider Mike Jensen. We spoke to Jesper to find out more about the project…
Wex Photo Video: How difficult was it to plan the project?
Jesper Gronnemark: Finding Mike Jensen to help us was relatively easy, with the support of Red Bull. The most difficult part was finding a window where Mike, I and the special effects guys (who created the explosions) could all come together within a suitable window of weather. Being based in Denmark and trying to complete the shoot in December, meant we were getting changeable conditions at best. We had to study the long range forecast, pick a date and hope – the police required 14 days warning due to the explosives involved.
W: Did you only have one chance to get the shot or did you have a rehearsal?
JG: We started out by letting Mike get used to the material he would be riding on. He's used to riding on asphalt and we were shooting in a gravel pit, so he practised as we set up – not that he needed to! Luckily, we were able to have a rehearsal, just so we had an idea of the delay between the effects guys shouting "Go!" to the explosion happening. As the bike couldn't be kept still for too long, we needed to have the best idea of timing possible.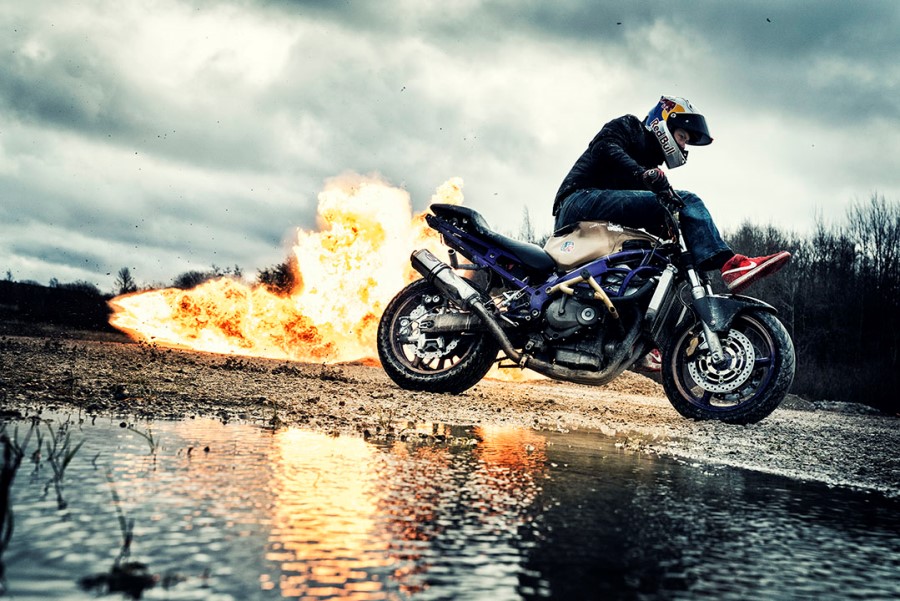 W: Were there any issues you had to work around?
JG: The weather was really the biggest issue. At the beginning of the shoot it really wasn't cooperating with us – the wind distorted the explosions and made them flare out in odd directions. However, we managed to use some large cars (out of shot) to help reduce each gust.
W: What settings and equipment did you use?
JG: When you are trying to capture images like this, in changing weather conditions, it's all about being able to adapt quickly enough to freeze the action. Using high-speed sync flash allowed me to keep my shutter speed high and capture crisp, sharp images. I used Profoto B1X flashes alongside my Sony A7R III. This setup supplied me with incredibly fast autofocus, as well as high-speed continuous shooting of up to 10fps with AF/AE tracking.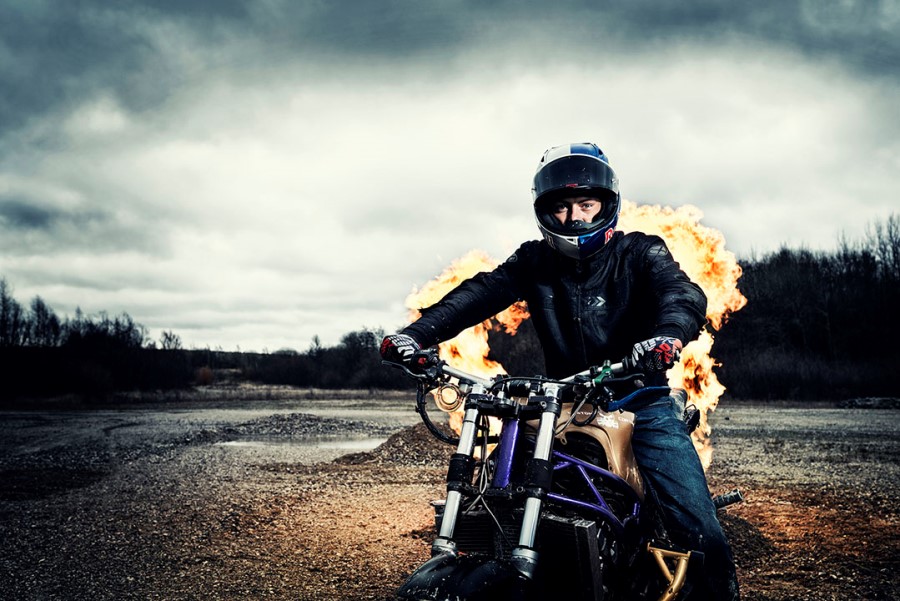 W: The results are fantastic. Do you visualise how the final images will look and did these meet your expectations?
JG: Before shooting a project I always have the images I would like to achieve in my head. Sometimes I can't get what I want and sometimes it goes exactly as I would like. This time we achieved shots that outdid what I wanted, so I was really happy with the results.
To see more of Jesper's stunning work, visit his website.
About the Author
Amy Moore is Wex Photo Video's Content Marketing Manager. She enjoys numerous types of photography, especially landscapes and meteorological photography. Check out her instagram here!
Related images