Wex's Hannah Rooke chats to professional photographer Carolyn Mendelsohn all about her award-winning projects, impostor syndrome and her quest for perfection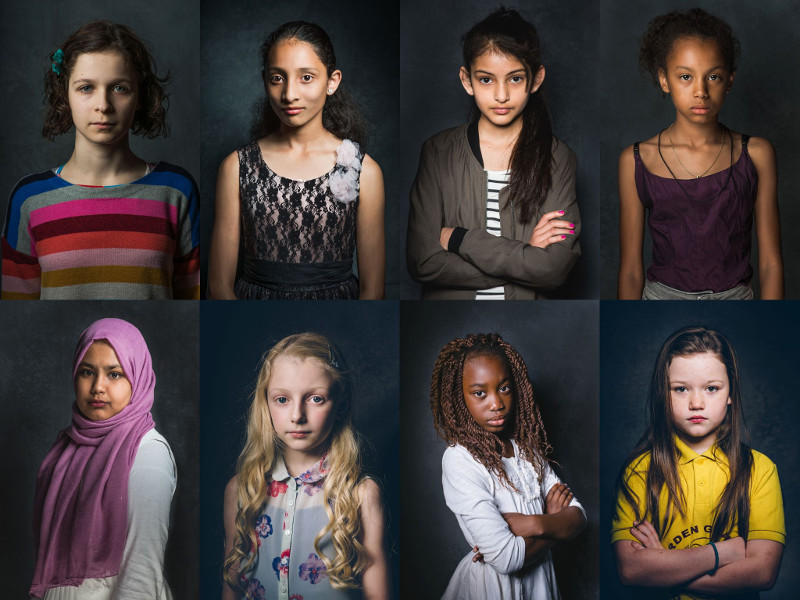 A selection of images from Carolyn Mendelsohn's project 'Being Inbetween'
Some people know what they want to do from an early age. Others fall so seamlessly into their career, it's as if that had been their path all along. For Carolyn Mendelsohn, the dream of being on stage was overshadowed when she found photography was the way she could best express herself creatively.
Since childhood, Carolyn had always loved going to exhibitions, exploring galleries and flicking through photobooks (she tells me she has quite the collection now). She recalls standing for hours in front of a beautiful old framed print of the Black Forest, shrouded in mist, taken by her uncle.
"That image transfixed and transported me into a different and quite magical place. I'd stand in front of it for hours and imagine myself there," she says.
Carolyn's uncle, an RPS fellow, sadly had died many years before, but as a photographer he spent his life travelling around post-war Europe documenting small towns and rural life, and without knowing it, he had a huge influence on Carolyn's future.
Carolyn had never even considered a career in photography. She wanted to be an actor, working in theatre and film but described herself as "stubborn and driven rather than super talented". She studied performing arts before going on to act, direct and make films, and then, without meaning to, she side-stepped into photography and quickly became obsessed with the medium.
"I spent thousands of hours practising and playing with photography. The camera contained possibilities of magic and I realized it would be the perfect tool to realize my creative ideas."
Since then, Carolyn has been unstoppable in the photographic world, earning a respectable name for herself among fans and fellow photographers. But of course, when Carolyn first started to explore photography, she was in the minority, and photography was a man's world.
"It's interesting because I see myself as an artist first and foremost and only remember I'm a 'female photographer' when I go to a convention and stand by a stall and often get ignored or bypassed in favour of a 'bloke' sporting a camera and big lens. I get patronised and explained to a lot and this can be extremely annoying," she says.
Carolyn explains that it's these moments where she realises how alienating it is for potential customers, but she does think things are changing for the better. As far as work and opportunities go, Carolyn hasn't found it any harder being a woman. However, challenges arise when you have a young family and the responsibility of childcare, which often (but not always) falls to the mother.
"I think even if you have all the skills, you have to have a lot of self-belief and if you haven't then you need to bluff. Many women have 'imposter syndrome' and that can hold one back," she says.
Phoenix Women
Despite the difficulties and drawbacks she's faced, Carolyn's career has been exciting, trying and rewarding on so many levels. She jokes that often the most amazing things happen to her when she's wondering if she should give it all up and get a "sensible and steady career".
She's been awarded a gold medal from the Royal Photographic Society International Photography Exhibition 159 and more recently found out she was selected as a winner of Portrait of Britain 2019 for her image 'Phoenix Women – 100 Years On'.
Phoenix Women – 100 Years On
"I wasn't ever expecting to win; in fact I submitted a few portraits, then at the last moment (as in an hour before the competition closed) I entered the Phoenix Women photo. I was absolutely delighted to be told I won, as the shoot was quite complex and involved 32 awesome women. I'm so happy their faces will be seen nationally; it's as much a celebration of them as amazing individuals as it is me the photographer."
Carolyn was commissioned by Art Works Creative in Bradford to recreate a contemporary photograph of the 100-year-old painting from a collection at the Imperial War Museum. The painting by Flora Lions entitled 'Women's Canteen at Phoenix Works' depicts a group of women in the canteen of a munitions factory in Bradford. Carolyn was faced with the challenge of re-imagining the painting as a contemporary photograph.
"It involved an amazing cross-section of Bradford women. From business leaders, to councilors and an MP (the first female leader of Bradford council), to the key players in society: our nurses, bus drivers and police officers. Winning competitions really helps get better exposure. It's an unbelievable feeling bringing an idea to life, exhibiting it public ally and then seeing people respond to your work," says Carolyn.
Being Inbetween
One of Carolyn's most famous bodies of work is her latest project on female adolescence, 'Being Inbetween', which animates that strange limbo age between childhood and your teenage years.
"I was about 11 and I remember spending silly amounts of hours in my room deciding whether to put on a pair of shorts because it was a hot day, and that feeling of self-consciousness that suddenly descended from nowhere," Carolyn recalls. "I remember thinking deeply about the world I lived in and these hopes and fears shaped the adult I was to become."
Having left young childhood behind and balancing on the cusp of adolescence, little comments and criticism left a huge impression on Carolyn. This was the starting point of the series, which became a way to explore the hidden complexity, duality and contradictions that mark this fleeting phase of life.
From this poignant series, Carolyn has met girls from all walks of life with different dreams, personalities, styles and senses of humour. Whilst she loved photographing all the girls in the series, one girl particularly stood out for her.
"I have some stories that stick in my mind – Abigail in particular. Before the portrait sitting, I tell all the girls to choose what they want to wear and how they want to represent themselves. Abi (then aged 10) entered wearing a long dark cloak, dark clothes and a sword. I worried briefly about how I would be able to light her to take her portrait but as soon as this small girl stood in front of the camera she shone!"
Carolyn described her as having regal qualities, and in the interview that followed after, Abi didn't give Carolyn the answers she expected. Abi told Carolyn: "When I am an adult, I want to be an architect, and when I get enough money I will move to Romania and raise wolves."
Abi, aged 10
Abi's image went viral on Buzzfeed and she received positive feedback from across the world. "It gave Abi so much confidence at a time where she was having doubts; she's now 15 and is an amazing music photographer in her own right."
Sometimes keeping up the momentum for an ongoing project isn't easy, and having started 'Being In Between' in 2015, it's been a "long and interesting journey" for Carolyn. Like all things, there have been highs and lows, moments of loss and moments where she found herself inspired once more.
"As I got further into the series, I realised it was becoming more significant as a study of girls of our time in a very interesting and difficult time politically and socially," says Carolyn. "I have been fortunate to have met and received the guidance of curators and photography specialists who have become my mentors. All have encouraged me to keep going and that the project was more interesting because it had more rigor to it."
Silver, aged 11
Eventually the series started to gain more traction reaching global audiences and receiving coverage in magazines and the national news. The feedback was really encouraging and enabled Carolyn to see how valid her initial ideas have become.
"We're currently editing the series at the moment for publication as a book, hopefully happening in the first half of 2020!"
A varied career
When she's not shooting for this ongoing series, Carolyn loves shooting commercial fashion on location. "It's a creative process that I thoroughly enjoy, especially when it involves a fashion story to hold it together." She's also had the good luck of photographing celebrities and famous actors, although she's keeping her favourites under wraps.
No matter what we do and who me meet, we all learn new things about ourselves through the choices we make, and for Carolyn, photography has taught her more about herself than she could've imagined.
"I'm stubborn and tenacious, I don't stop until I have learned as much as possible, got the shot I want or finished the project. I've learned I am driven to pushing my skills as far as I can to achieve an image I'll love."
A self-confessed perfectionist, Carolyn's end goal is always to create a portrait that communicates a story or provides insight into the person she's shooting. Carolyn puts a great emphasis on the relationship between subject and photographer and always tries to make sure the power is shared, and the subject has influence.
Most of Carolyn's work is shot on her trusty Nikon D800 accompanied with either an 85mm f/1.4, a 50mm f/1.4 or a 35mm f.1.4. Carolyn also loves working with film, experimenting with different analogue cameras but always returning to her favoured Hasselblad 500C/M.
Carolyn's career has been colourful, chaotic and connecting, and it's certainly far from over. I asked her where in the world she would shoot if she could choose anywhere, and her reply was a typical selfless Carolyn response.
"I'm not sure where in the world I would like to be specifically but I would to do more socially engaged work, travelling the world, working as a photographer for NGO's and charities so I can give voice to people who are disempowered and to tell their stories. That would appeal to me on all levels."
Carolyn Mendelsohn is a professional photographer and filmmaker. See more of her work and get in touch with her at carolynmendelsohnphoto.com.
Related articles