Ondřej Vachek tells us why every photojournalist should strive to be impartial and how he prepared to document his first conflict
All photography by Ondřej Vachek. Volunteer fighters wait for their medical battle drill to begin, Avdiivka outskirts.
Wex Photo Video's Ondřej Vachek travelled to Ukraine In July to document the ongoing conflict in the country's Donbass region. He was inspired at a young age by coveted documentary photographers such as Sir Don McCullin, Sebastião Salgado and Patrick Chauvel, and their influences are evident in the impartial and candid nature of his work.
Striking imagery is but one of many skills that a successful photojournalist should master. And indeed, Ondřej's trip required months of planning, military-style training, and enough resources to fund transport and protective gear. We sat down with Ondřej in an attempt to capture a tiny glimpse into the life of a frontline photographer…
Ondřej is currently planning to return to Ukraine in 2019, where he will be stationed with a volunteer-run medical group for two weeks. If you would like to provide a donation, or purchase a book or print, visit his Indiegogo page.
Wex Photo Video: Why do you think it's important to document events like this?
Ondřej Vachek: One of the reasons is because people don't know about the conflict. Last week, it was in the news again because of the situation in the Sea of Azov, but so many people didn't know it was going on beforehand. When I wanted to go to Ukraine, my friends were asking if I was going to Kiev on holiday. When I said: 'No, the frontline…' They were shocked to hear there even is one.
I wanted to let people know that this was happening in the 21st century. I don't have a huge following, but the article I wrote was read all over the world. If the few who read it are made aware of the situation, I've achieved what I wanted.
A volunteer fighter stands with his PKM light machine gun.
W: Why did you choose to document the situation specifically by taking photographs?
OV: I've always been interested in war and documentary photography. I read books about photographers such as Sir Don McCullin, Sebastião Salgado or Patrick Chauvel when I was younger. It's what I found important to do. My visit to Ukraine was originally going to be represented solely as a project of pictures – that's the traditional way of doing a photo study – but I didn't think it was saying enough.
During my time at the frontline I found so many stories to cover, so I started writing. The writing adds value to the images. The old adage is that a picture is worth a thousand words and some might say that if it needs explaining, it's not good. But I think that for a situation as complicated as this, the picture on its own doesn't cut it. That said, I don't think the writing would have worked without the pictures.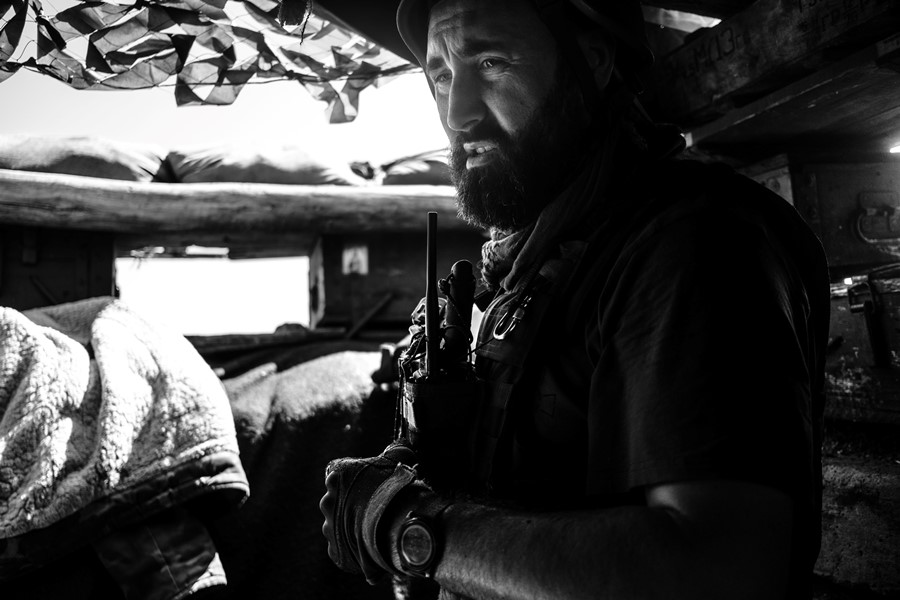 Inside a trench overlooking enemy positions.
W: It looks like you've tried to be as objective as possible. How important is impartiality to you?
OV: I've tried to keep my project impartial and think I succeeded – I haven't leaned towards a particular side. As a journalist you should strive to be impartial, even if it's sometimes impossible. You always affect a situation in some way, just by being there. People behave differently when they know a photographer or journalist is on location with them.
If I had the opportunity, I would gladly photograph the other side of the story too. I actually looked into it and tried to find a way of getting there, but it's not possible for me at the moment.
W: How did you prepare for working in such an unpredictable and potentially hazardous environment?
OV: Next year I won't have a fixer. It will be tough in terms of language, but my native language is pretty similar to Ukrainian and some of the people I'll meet will speak English. Moving around with the fixer was easy as she had a car, but this time I'll have to rely on the groups I'll be embedded with.
In 2017, I attended a conflict photography workshop. It happens every November in Spain and is run by three experienced war photographers and military advisers (some are still active and some are retired). It covers lots of situations: what to do at checkpoints, how to navigate a minefield, how to behave in a firefight and how to treat injuries. They drilled us every single day until we got it etched onto our brains. It's not just about saving yourself; if anything happens you know what to do and are not a liability. You have to be able to help yourself and also others.
We also learned how to differentiate between photographing the real story or propaganda – when things are being intentionally posed. The course even covers how you can help a situation. Just by being a photographer, you can actually stop participants from doing something they might not want the world to see. It's a complicated topic.
There's a handy app too, which monitors what's going on in Ukraine and other areas of unrest elsewhere. It notifies you of small arms fire, rockets, statements from governments and more. I also hired a fixer. She'd been on the job for four years, and had good contacts and awareness. She was very helpful.
A fixer is used to help journalists. They are often relied on for their local knowledge, ability to translate and contacts. Sometimes they can also be used as drivers.
W: Did you find your subjects were wary of your camera?
OV: I was actually involved in a situation where another photographer and I were invited into an underground base. We were allowed to photograph, as long as we avoided tactical maps and computer screens. The other photographer didn't follow these instructions, and a person went through his photos and deleted quite a bit. I quietly snuck out to avoid my camera being searched, even though I didn't photograph any compromising material.
I also took images of a derelict truck that was completely destroyed and was approached by a soldier who thought a tank could be seen in the background of my shot. Our fixer stepped in and the soldier backed off, but told us to be careful when taking photographs so as not to give away any positions. We were only there for a week, and they didn't have time to get used to us. When I go back, they should get used to me more as I'll be there for longer and hopefully it will end up better.
A trench floor is riddled with bullet casings.
W: Can you tell us a little bit more about your new project?
OV: I'll be going back to the same frontline town but this time I won't be stationed with a fighting group specifically; I'll be with a medical group. I'm planning to stay for two weeks and will see how it goes – I will be reliant on them. They are allowing me to come and are happy for me to be there.
The medical unit is run by volunteers and was started by a young woman in her early 20s. They are funded by Ukrainian people who send them donations and equipment. They were able to acquire a modern ambulance, conduct training drills, and teach soldiers how to triage and treat injuries. They're an interesting group of people.
Some of the images you can see on my website are from the battle drills. They fire live ammo into the air, there's pig blood on fake casualties and they have to behave like they're in an actual war zone.
W: Is there a reason why your images are all black and white?
OV: Every time I get asked this, I never know the real answer. I just like black and white. I think colour can be a distraction for me, I'd just rather see the composition, shapes and light. When I feel that some of my images would be better in colour, but I want the whole set to be consistent, I choose to keep them in black and white anyway.
I think I even forget how to edit in colour properly! I set my preview in the viewfinder to black and white, so I can concentrate on the composition rather than the colour. Sometimes, I even feel colour makes things too easy. I've used this analogy before on my blog: If you photograph a woman in a red dress, the red dress will draw the viewer's eye. But in black and white, you have to make the composition work, if you're to draw the viewer's eye to the subject.
Also, my favourite photographers shoot in black and white. It's not that I want to copy them, but it's how I enjoy photography.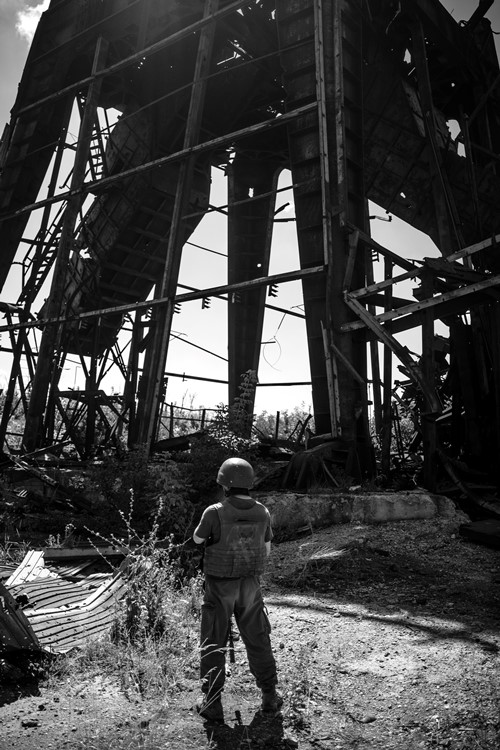 A soldier listens for sounds behind a shelled mine. Enemy positions are as close as 50 metres.
W: How do you keep safe when out in the field?
OV: I research as much as possible. You don't want to go to a foreign country with no idea what's going on. I have insurance too, you can get conflict zone and journalist insurance – they even supply you with a medevac if you get hurt. I also needed a fixer the first time I visited the country. But now I'm going to the same place, I know some people, so I'm not going to need one. That saves money as well. I paid €150.00 per day, which was actually a really good price, so you can imagine how expensive it can get. You also need protective gear (Kevlar vest and helmet) and a trauma aid kit wherever you go, which I bought myself.
W: What gear do you use?
OV: I've photographed with Fujifilm for five years now. I have the Fujifilm X-Pro2 and use the X-T1 as a second body. I also took the Panasonic LUMIX GX9 with me, but I barely used it. This time I'm going to take a 360-degree camera, the Insta360 ONE X. I got it last week and it's surprisingly good, especially for the price. It could get me some interesting footage when we're travelling in the trucks, set up on the car or mounted on my camera for example.
For my next trip I want my kit bag as light as possible: two bodies and three lenses. The Fujifilm 23mm f/2 R WR XF and 35mm f/2 R WR are my go-to lenses. They're weather sealed and can take a knock or two. My X-Pro2 has been dropped and hit so many times; I've even fallen on it with my protective vest on and it still keeps ticking. I also use a 56mm f/1.2 R XF lens that I use for close-ups and low light.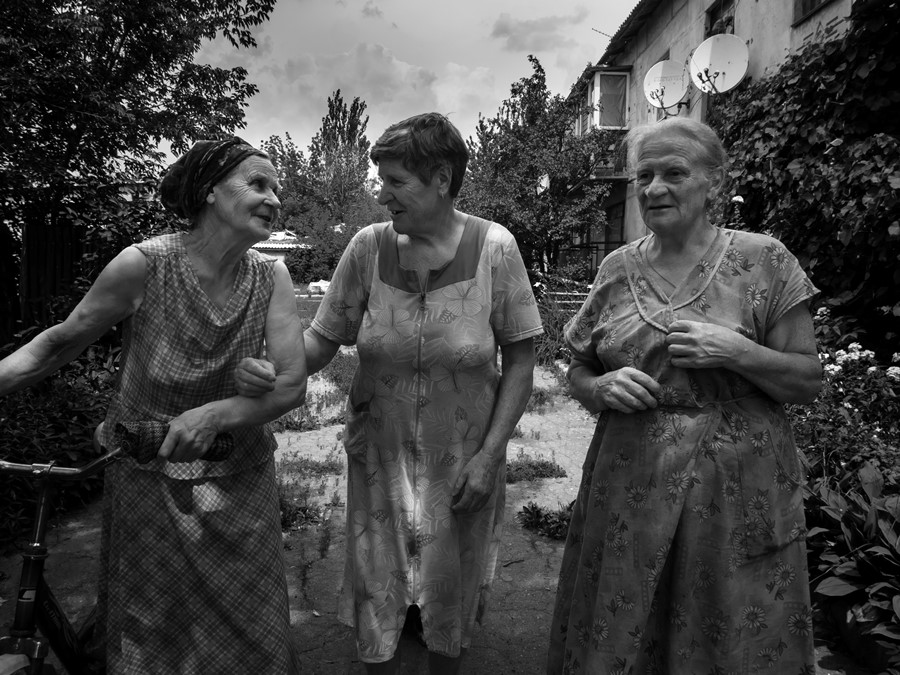 Nadia (80), Masha (66) and Zina (68) live in a shelled out village on the frontline.
W: Do you favour any specific photographic techniques?
OV: I try to be as quiet as possible: a fly on the wall. In terms of technique, I use aperture priority. With my ISO and shutter speed on auto, I don't have to worry about exposure when things happen quickly. The camera's light meter works well and I use exposure compensation to lighten and darken my images on the fly.
I barely manual focus – only when it's really dark – and only use the light that's available. I do own a speedlight, but I doubt I'll take it with me.
I edit on the go with my phone. I don't take a laptop to save weight, so I just use my Samsung Galaxy Note 9 with the Adobe Lightroom CC app, which has the ACROS Fujifilm colour profile. I'll try to make the skin pop using the Red Filter simulation or by playing with the levels, blacks, whites and a little clarity. That's it! I usually expose for the highlights and bring out the shadows later. Recently, I have left my shadows completely black because it makes the images feel more natural.
When you can see the highlights and shadows and there is no black, it can look weird. I do crop from time to time, but not too often and usually only to fix my horizon. I don't try to crop things out and never use cloning or anything similar like that.
Visit Ondřej's website, YouTube channel and Instagram to see more of his work.
Related articles