Canon's new flagship DSLR is here, in plenty of time for the 2020 Olympics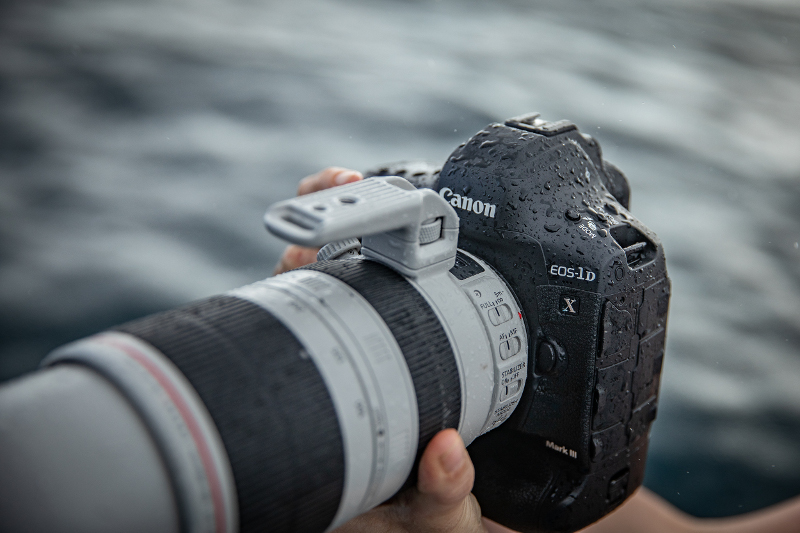 The weatherproof Canon EOS-1DX Mark III, ready for action
Short on time? Click here to skip ahead to our TL;DR (too long; didn't read) section below.
The sports and wildlife-targeted Canon EOS-1DX series has a new addition to the team. The Mark III offers some huge upgrades on its predecessor, as well as being impressive in its own right. The 1DX Mark III shows huge improvements to battery life, processing speed, video specification and the AF system as well many other features. So, what are the headlines?
The body's new design sheds weight, weighing just 1,440g compared to the Mark II's 1,530g. The button layout is virtually identical, so pro photographers won't need to relearn any of their muscle memory; they will be able to pick up and shoot. The rear AF button has been updated to be touch-sensitive, so moving AF points is much simpler and easier than ever before. Speaking of AF…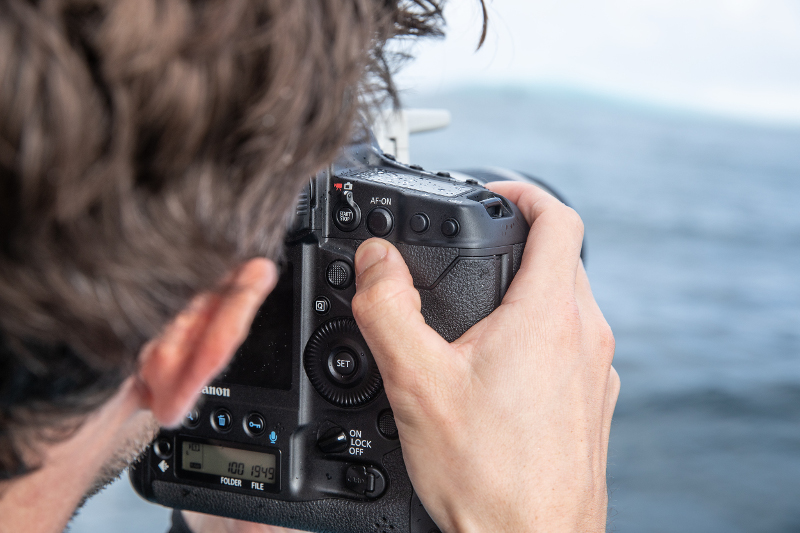 Those used to the EOS-1DX Mark II will find the control layout familiar
Internally a new, higher resolution AF sensor allows for lightning-quick AF speeds, even when shooting difficult moving subjects. Canon has used a system of deep-learning artificial intelligence to ensure the 1DX Mark III can find its target even in challenging conditions. Some examples would be the camera using eye AF when a subject is wearing a motorbike helmet or being able to lock on to a subject that constantly moves in and out of the frame.
One hundred and ninety-one cross type AF points help to make focus tracking as accurate as possible, representing a significant improvement over the Mark II. The AF modes remain the same as those of the Mark II, aside from the addition of 'Auto' mode, which will allow the photographer to put their faith in the Mark III, letting the camera decide the best AF option. We briefly tested this feature, and from a very quick first look, it seemed to work pretty well. We can imagine this will be handy for photographers working a developing or changing scene, maybe in press or during sporting ceremonies. It goes without saying (but we will, just in case) that the 1DX Mark III features Dual Pixel CMOS AF.
You may have noticed, from a quick glance at the specs, the lack of dual processors within the 1DX Mark III. The Mark II contained Dual DIGIC 6+ processors, one specifically working on AF, but the Mark III has just one singular processor, the DIGIC X. However, Canon has assured us that one is enough, with the DIGIC X performing up to 3.1x image processing performance and 380x the computer processing performance in comparison to the Mark II's dual DIGIC 6+. Autofocus is also usable down to -4EV and -6EV in live view, so shooting in low light will be no issue.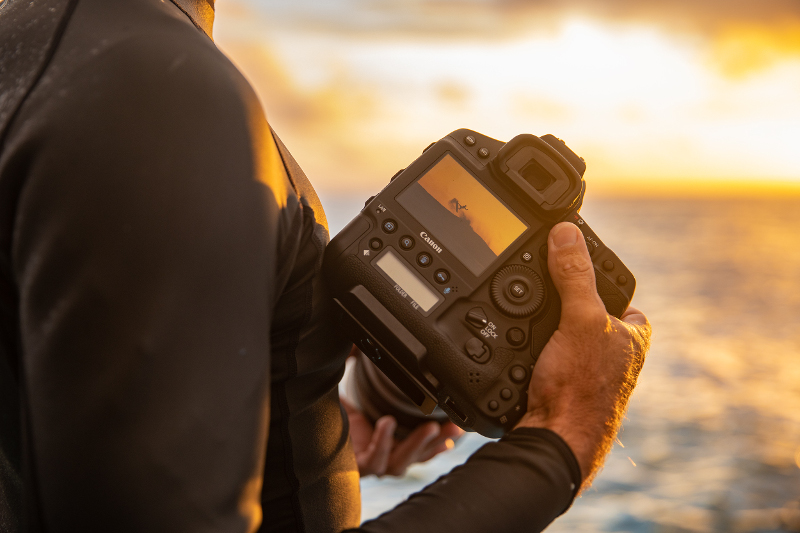 Use the rear LCD to review or compose, as you see fit
In fact, shooting in low light is an area where the 1DX Mark III excels. The 20.1MP full-frame sensor isn't packed too tightly with megapixels, which will help it to avoid noise distortion at high ISO levels. The ISO range sits at 100-102,400 with a native ISO of *******. The expanded range is 50 at the low end and a whopping 819,200 at the top. It's unlikely anyone will be shooting at such a high ISO, but it's there if you need it.
In the heart of the body lies a full-frame 20.1 effective megapixel CMOS sensor – this is a new sensor and not the same as the Mark II (although the pixel count is almost identical). Although there is no jump in resolution, which could be frustrating for some photographers out there, the newly designed sensor, paired with the new high-resolution AF sensor, means the Mark III can capture far greater detail within the images it takes.
Continuous shooting is probably going to be an area that almost every photographer who buys this camera uses. We see a huge jump from the previous 1DX Mark II, with the Mark III being able to shoot up to 16fps, and up to 20fps in live view with AF and AE. The Mark III runs dual CFexpress card slots, and has an up-rated buffer, meaning you can shoot unlimited JPEG files and up to 1000 Raw files, without any loss of performance. Whilst testing the camera we used an empty 128GB CFexpress card to shoot over 3,500 RAW + Large jpeg images and the camera stuttered just twice (it didn't even slow down) – we actually filled the card. This level of speed will allow photographers to make sure they are always able to capture a moment of action, even if they aren't completely sure when the action is happening.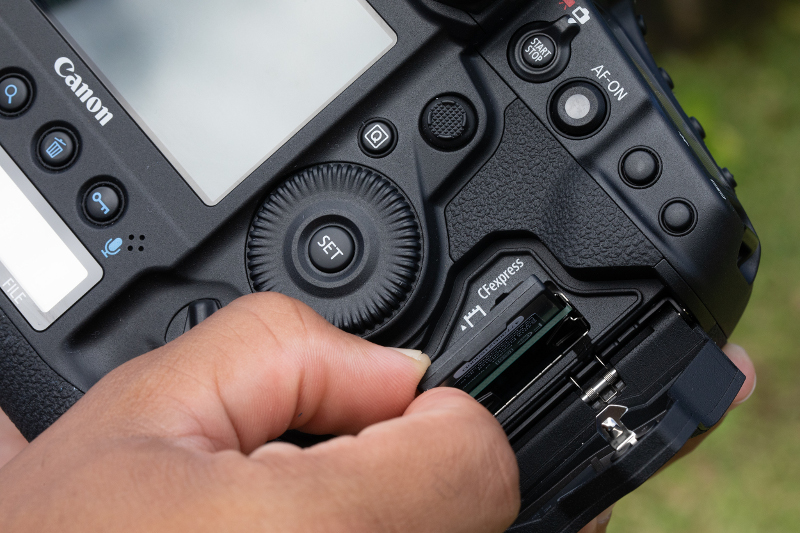 Dual card slots massvely open up possibilities for stills and video
The EOS-1DX Mark III is a true hybrid, with video specification being heavily upgraded. You are able to shoot 5.5K RAW 12-bit up to 60p – internally! You can also shoot 4K DCI at 4:2:2 12-bit in Canon RAW log. In Full HD, 4x slow motion at 120p is available too. Featuring the usual Canon colours and Dual Pixel CMOS AF (not available above 30p), the 1DX Mark III can shoot in h.265 and h.264, and its dual CFExpress card slots allow you to record proxy files to one card and high-res video to the other. As some videographers still prefer shooting in Super 35 format, you can also choose to enter APS-C crop mode, which has the additional benefit of providing extra usability for anybody using prime lenses.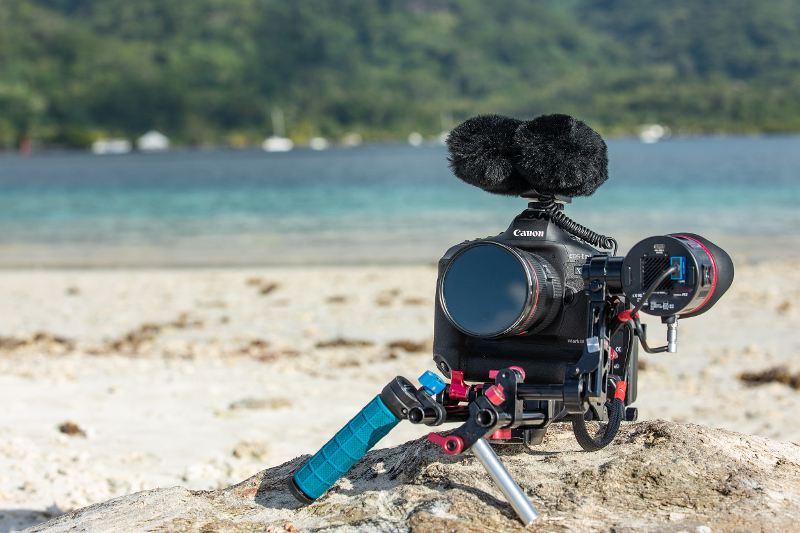 The Mark III fully kitted out for professional video
The battery is the same is the Mark II, the LP-E19, however the battery life has been greatly increased to a CiPA rating of 2,850 (from 1,210). This rating is boosted still further when using continuous burst shooting. We let the shutter off roughly 10,000 times while taking a first look at the camera and lost just one bar of battery. The shutter actuation rating has also been increased from 400,000 to 500,000 – which will be necessary with the incredible continuous shooting capabilities that are now available.
For professionals, a way to share images from a camera quickly is essential. The 1DX Mark III has the ability to shoot in the HEIF (High Efficiency Image Files) format. This is essentially the same as shooting in JPEG, creating a compressed image with the same sort of sizes as a JPEG, but with a much better level data stored. It is worth mentioning that HEIF is a standard format, not Canon-specific, but hasn't been widely adopted the industry like the JPEG has.
To share images, the 1DX Mark III does have Wi-Fi and Bluetooth LE in-built, as well as an ethernet connection with transfer speeds up to twice those of the Mark II. For those wishing to transfer images wirelessly, Canon have developed the WFT-E9, a new wireless file transmitter for the Mark III. Canon are quoting the device as having transfer speeds twice that of the WFT-E8B, up to 867Mbps! For more information visit our website here to see all of the latest information on the new WFT-E9.
Owning a 1DX is all about the necessity of getting a shot. This camera has been designed to get you the shot, no matter what. The autofocus capabilities, the ISO range, the continuous shooting frame rate and buffer size – all of these features help to make the EOS-1DX Mark III a camera that can deliver, time and time again, no matter how challenging the subject or conditions.
Too long; didn't read
Who's it for? This camera is built for professional wildlife, sports and press photographers. However, it is also extremely capable of performing in the pro video field, so will appeal to a large demographic.
What does it compare to? The Nikon D6 and the Sony a9 II.
Why you should care? The 1D series is the standard in professional sports and wildlife. With the impressive new specification of the Mark III for both stills and video, Canon's new flagship camera is a powerhouse that is capable of fulfilling a huge range of applications.
About the Author
Amy Moore is Wex Photo Video's Content Marketing Manager. She enjoys numerous types of photography, especially landscapes and meteorological photography. Check out her instagram here!