Canon has today announced two new handheld camcorders with pro-level specs. Stuart Dennis takes a quick first look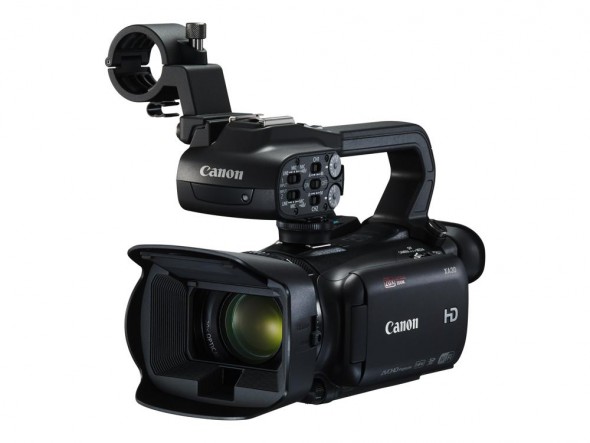 The Canon XA30
Canon's XA range of handheld camcorders has been very popular over the last two years, combining pro-level HD images with lightweight, handheld bodies.
This versatile entry-level range is today expanding with the introduction of the XA30 and XA35 camcorders. Both build on the usability of the XA range and feature:
Wide 26.8mm, f/1.8-2.8 lens, 20x zoom with intelligent 5-axis OIS and Dynamic IS
1/2.84" HD CMOS Pro sensor with improved sensitivity for enhanced low-light performance and lower noise
Wide DR mode (600%) and Highlight Priority mode to maintain highlight and shadow detail for a more natural image
Dual-format recording: Full HD AVCHD (28Mbps) or MP4 (35Mbps) to two SD cards
Detachable handle with professional XLR inputs and built-in IR lamp
77cm (3.5") OLED touchscreen for excellent resolution, contrast and colour reproduction
56-million-dot EVF with 45° tilt for flexible shooting
Fast and slow motion (x2 to x1200) with interval recording in MP4 mode
Built-in dual band Wi-Fi for remote control, file transfer/upload and browser preview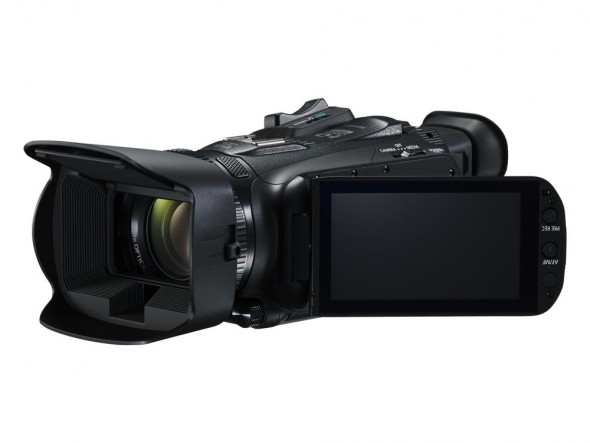 The flip-out LCD
The XA35 adds an HD-SDI output so that you can connect the camera up to a vision mixer, field recorder or monitor.
One of the most interesting new features of the series is the addition of Canon's "Wide DR" picture profile. This expands the dynamic range of the image so you can capture both bright highlight and dark shadow information, ultimately giving you more flexibility in both terms of shooting in challenging lighting conditions and options in post-production. The "Wide DR" profile is present in all of Canon's Cinema EOS range, and it's good to see Canon bringing top-end flexibility into their starter pro-video camera range.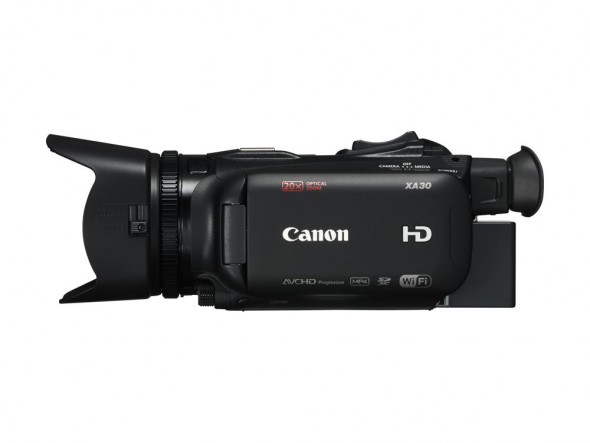 Right-hand side view
Other improvements include enhanced brightness in Infrared mode, and a Highlight Priority mode that results in richer colours and more natural tones in areas of brightness.
Just like their predecessors the XA30 and XA35 have a removable top-handle and XLR section, meaning the camcorder can be stripped down to look more like a consumer model, which is ideal for journalists and filmmakers who sometimes need to appear less conspicuous.
The XA30 and XA35 are expected towards the end of December. They are a great combination of handheld ease-of-use and pro-level features, and are ideal main cameras for event/wedding videographers, lightweight documentary/newsgathering use, internal/corporate pieces. They should also be a great second camera to complement any of Canon's range of larger pro camcorders.
Related articles