Fujifilm's freshly announced X-H1 boasts an inviting roster of new features, but how does it compare to the popular X-T2? Matt Higgs finds out
Today, Fujifilm has announced the X-H1, a camera that will take the helm of its X Series sitting above the existing X-T2 and X-Pro2. The device leads Fujifilm's CSC line-up into uncharted waters, with a DSLR-style form factor and several firsts for the brand; targeted at both stills and video enthusiasts, as well as working pros. In this comparison article, I'll give you the lowdown on the X-H1 and how it compares to its closest sibling, the X-T2.
Fujifilm X-H1 core specifications:
- 24MP X-Trans CMOS III sensor
- X-Processor Pro processing engine
- 5-axis in-body image stabilisation (up to 5.5-stops)
- Highly robust, durable body
- Flicker reduction mode
- New ETERNA film simulation system
- 3in 1,040K-dot rear touch-screen and sub-LCD
- 0.75x 3.69M-dot EVF with 100fps refresh rate
- 4K at 30fps, Full HD at 120fps
- Bluetooth Low Energy and Wi-Fi connectivity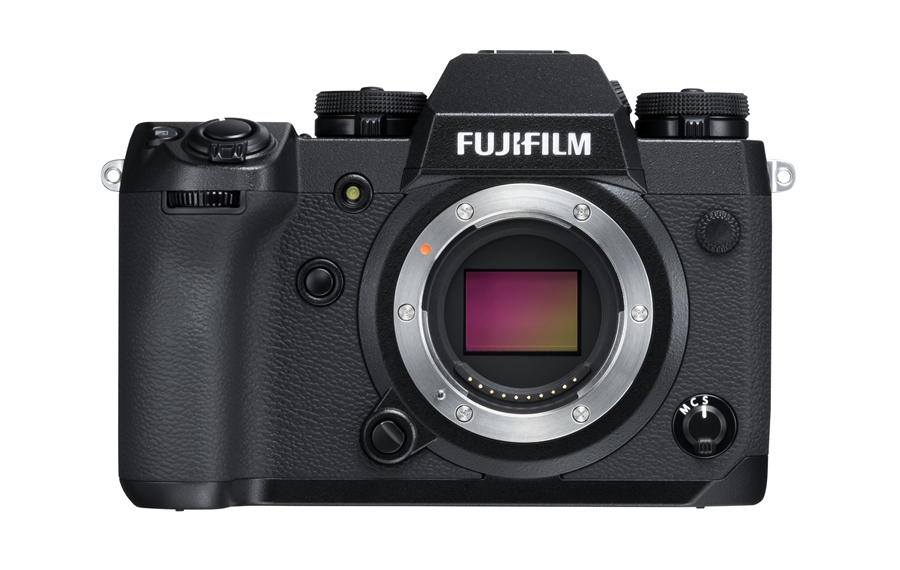 To find out more or to pre-order the Fujifilm X-H1, click here.
Sensor and processor
One of the few areas that remain unchanged between the X-T2 and X-H1 is the sensor and processor both cameras are built around. Once again, the highly regarded 24.3MP APS-C-size X-Trans CMOS III and the X-Processor Pro have been incorporated into this device. While the choice to use the same core components in a new flagship model may surprise some, they remain capable of very impressive image quality — still unrivalled by few other CSCs. Native ISO range remains at 200-12800, with an extended low of 100 and extended high of 51200 available, as offered on the X-T2.
The electronic shutter has a top burst shooting speed of 14fps and the mechanical shutter can reach 8fps. This is the same continuous shooting speed as the X-T2, and although it's not the fastest offered by a CSC, it still remains very competitive and should meet the demands of most sports and wildlife photographers. With a new flicker reduction option, Fujifilm has increased the X-H1's suitability for shooting under artificial lighting; a welcome addition for those photographing sports and events indoors.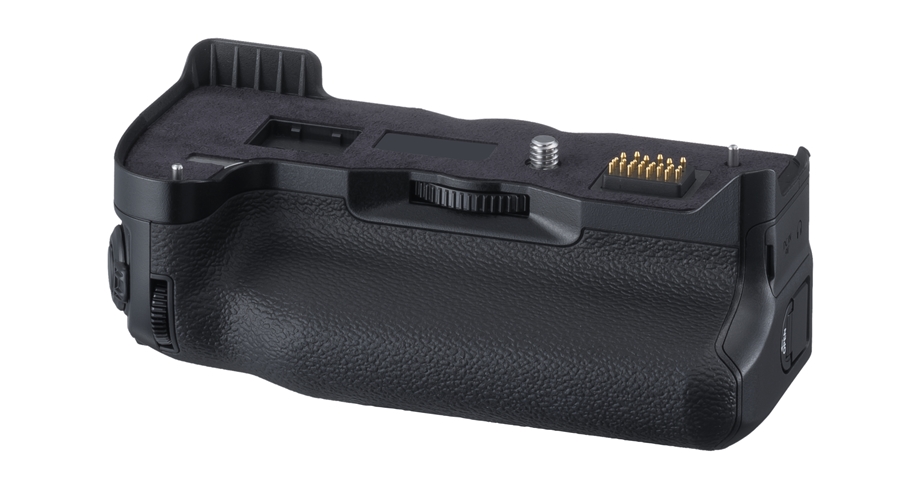 Like the optional power booster grip for the X-T2, the X-H1's grip (the VPB-XH1) increases the camera's performance in a number of areas and features a headphone input. This is an essential purchase for those who want to get the best out of the device, particularly videographers. The grip holds two batteries for an increased 900-shot battery life. It extends the camera's video recording time, decreases its start-up time and enables a faster mechanical burst mode. Battery life without the grip provides 300 shots in standard mode, slightly reduced from the X-T2's 340-shot battery life. The X-H1 has the quietest shutter in the X Series, making it an ideal tool for environments where noise must be kept to a minimum.
Focusing
Fujifilm's Intelligent Hybrid AF that utilises both phase and contrast detection points has been carried over from the X-T2. However, Fujifilm states that it is now much more capable in low light — focusing down to -1EV, as opposed to the X-T2's 0.5EV. The performance of the device's continuous focusing has also been improved over the X-T2, once again, something that will appeal to sports, wildlife and events photographers. Touch focusing can now be operated via the device's rear display, which continues to operate with the camera held to the eye. A focus joystick is also present for speedy control. Focus modes available on the X-H1 include single point, zone, wide/tracking and All.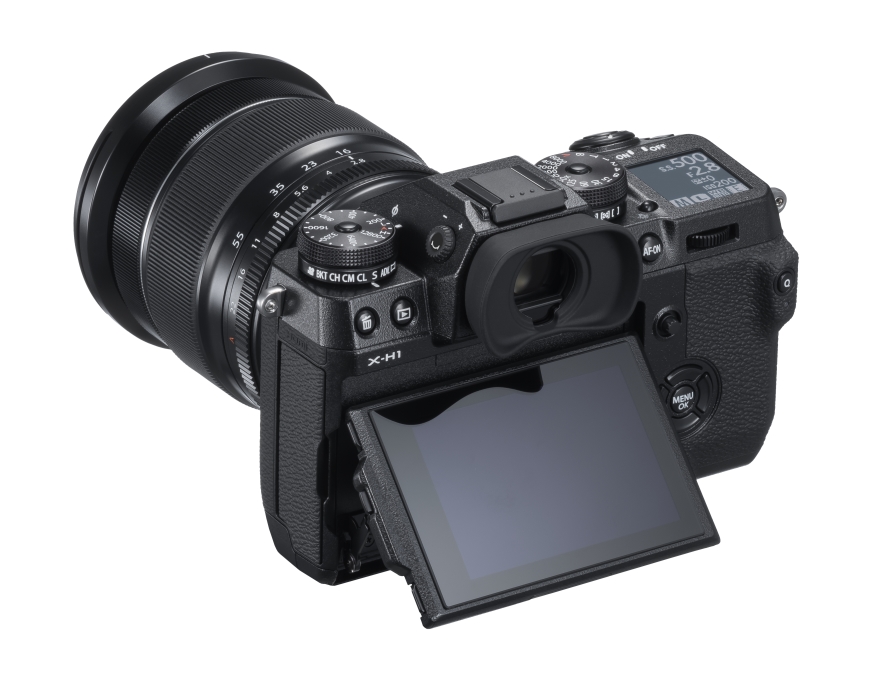 Image stabilisation
The biggest game-changer found in the X-H1 is its in-body image stabilisation system [IBIS], a first on a Fujifilm X Series camera. This is an impressive feat, especially considering that not too long ago the company stated IBIS was not compatible with its XF mount [mentioned here]. This 5-axis system can compensate for up to 5.5-stops of shake with some optics, including the XF35mm f/1.4, and will still achieve a respectable 5-stops with many others.
This enables sharper handheld shots at slower shutter speeds and stabilised video capture. Where possible, the system will utilise in-lens stabilisation first (as this would be optimised for the optic in question), before making use of its sensor-shift to combat additional axis movement. The addition of this feature not only differentiates the X-H1 from the X-T2, but also means that Fujifilm can now go toe-to-toe with competing CSCs that offer IBIS. And for those looking to pair the X-H1 with a telephoto lens, the presence of IBIS could prove invaluable.
Build quality and handling
In terms of its form factor, the X-H1 is a massive departure from previous X Series models. At first glance, it more closely resembles the DSLR-styled GFX 50S than anything else. With a much larger grip and higher mount area rigidity, it's clear that Fujifilm sees this as the model to pair with its larger optics; as such a setup will now feel far more balanced in the hand. A 25% thicker magnesium alloy body and the use of a scratch-resistant finish means this camera should also be able to take even more of a battering than its smaller X Mount siblings (while still maintaining its refined feel and finish).
The camera is also dust- and water-resistant, and can operate in temperatures as low as -10°C. It's a larger device in all dimensions than the X-T2 and weighs 673g, with a battery and memory card; that's 166g heavier than its sibling. If you're looking for a truly compact mirrorless camera, the X-T2 remains the better suited option, but if you're used to handling larger DSLRs, you'll feel right at home with the X-H1.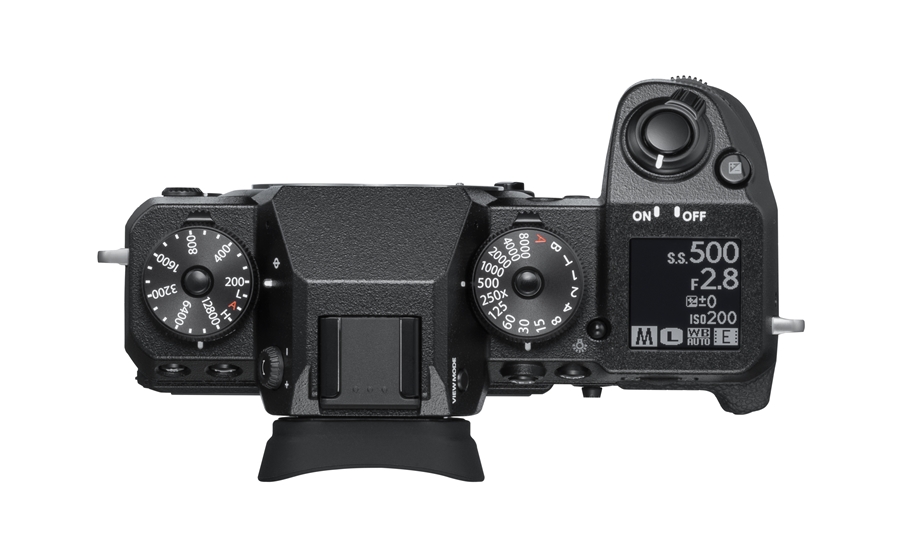 Just like the GFX 50S, the X-H1 sports a sub-LCD. This top panel display conveniently shows important settings and is something that's previously been more commonly found on DSLRs. The camera's 3in, 3-axis, 1.04m-dot rear monitor is the same size and resolution as the X-T2's. However, it's now touch-sensitive too. This enables touch control of focus points, the shutter and the camera's quick menu (not its full menu system). While a 100fps refresh rate and 0.75x magnification are shared by both the X-H1 and X-T2's electronic viewfinders, the X-H1's EVF has a more impressive 3.69m-dot resolution, resulting in a very pleasing user experience. In fact, it's one of the nicest electronic viewfinders I've ever used!
Unsurprisingly, given its similar shape, the X-H1 shares a control layout that's closer to that of the GFX 50S than the X-T2. On top of the camera, an ISO dial sits to the left of the device's hot shoe, with a frame advance switch beneath. A shutter-speed dial sits to the right of the hot shoe, with a metering mode switch below. An exposure compensation button can be found alongside a more sensitive shutter button, while a quick menu key sits on the raised thumb rest. Other controls include front and rear command dials and a standard d-pad. This layout provides the fast and precise control that professional users expect. Like the X-T2, the X-H1 has two memory card slots, and while it too doesn't have an in-built flash, it ships with Fujifilm's self-powered EF-X8 flash unit.
Video and connectivity
While Fujifilm is quick to state that the X-H1 is not aimed at those who consider themselves, purely, videographers, it does provide the best video features of any X Series camera so far. While the X-T2 captured UHD 4K video, internally, at 30fps and 100mbps, the X-H1 is capable of Cinema 4K at 30fps and 200mbps. The camera can now also capture Full HD video at 120fps for super slow-motion and can record F-log, all to an SD card. It also has improved audio recording (48 kHz/24bit).
The device has a 3.5mm input for an external microphone on its side, but as previously stated; the vertical power grip is required for a headphone input for audio monitoring. Fujifilm's popular film simulations can also be used for video, and a new cinema orientated option called ETERNA provides low contrast and saturation, a wide dynamic range, softer shadow range and better tonalities. For creatives regularly tasked with shooting video alongside their stills work, this device could prove a highly adept option.
The X-H1 boasts better connectivity than the X-T2; the camera features Bluetooth Low Energy alongside Wi-Fi (like the X-E3). Once paired with your smartphone, your camera can now stay always connected. This feature allows you to automatically transfer images to a smart device, while maintaining the traditional remote shooting and image viewing functionality, previously offered by Wi-Fi.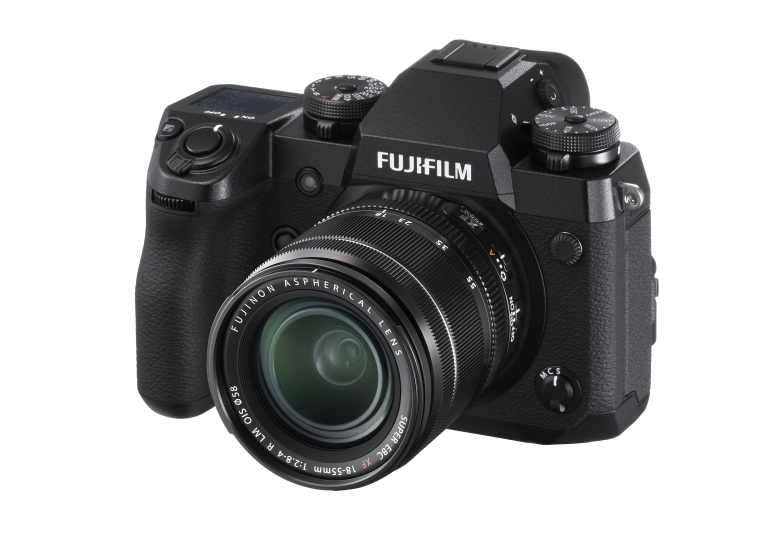 Early verdict
The X-H1 is an extremely interesting device. Those looking for a truly compact mirrorless camera might still plump for the X-T2, but the highly robust and durable X-H1 is sure to please many — especially those used to handling DSLRs. With in-body image stabilisation and the best video features of any X Series camera, the X-H1 will appeal to a new audience, as well as those looking to upgrade. For many wildlife, sports and events shooters, the flagship CSC is primed to become the go-to Fujifilm device and it may even prove a tempting prospect for those who shoot video too. Additional features like Bluetooth Low Energy and improvements to autofocus help to secure the X-H1's status as a worthy flagship.
About the Author
Matt Higgs has worked for Practical Photography and Digital Photo magazines, and his live music images have been featured in numerous respected music publications including Rock Sound, Guitarist, Guitar Techniques and Akustik Gitarre. www.matthiggsphotography.co.uk.
Related articles