NAB 2016 has wrapped for another year. Here are some of the things that stood out for us at world's largest audio/visual tradeshow
Atomos Shogun Inferno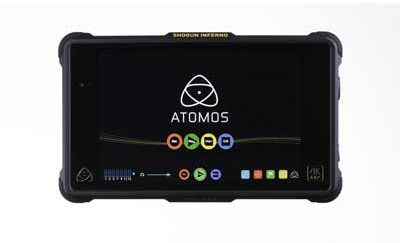 Hot on the heels of the previous HDR-capable Ninja Flame and Shogun Flame recorders comes the announcement of Atomos' new flagship model, the Shogun Inferno. Essentially, this uses all the features of the Shogun Flame (so the Atom HDR engine, 1500 Nit screen etc) and adds Raw recording up to 4K 30P, Pros Res recording in 4K up to 60P, and Pro Res HD up to 240FPS. This recorder is coming towards the end of the summer and will work brilliantly for people wanting to really get the best of camcorders that have a Raw output via 36/6G SDI. And if you're looking for an inexpensive camcorder with a Raw output…
Sony FS5 to get 4K Raw output with firmware upgrade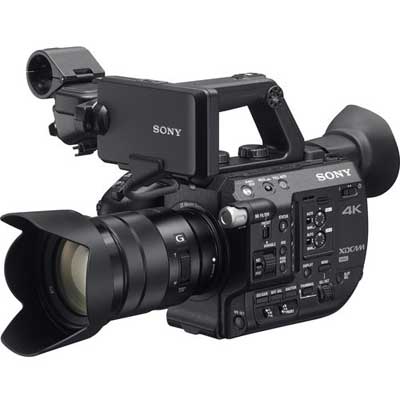 Cameras with Raw output have tended to be the pricier end of the Super 35mm, with the likes of Sony's PL mount "F" series and Canon's C500 being the forerunners to the more modern Sony FS7 and Canon C300 Mk 2. However, Sony's well-priced and featured FS5 camcorder is about the get Raw treatment as well with a chargeable firmware upgrade coming in a month's time that will unleash 4K 30P Raw via the SDI output. For a camcorder under £5K this is pretty special, and it's worth remembering that the 4K Super 35mm sensor in the FS5 is the same as the FS7: A very successful and well-respected camera in broadcast and filmmaking circles. You'll need a 4K Raw recording Field Recorder to accept and decode the output (like the aforementioned Shogun Inferno) and once combined with the FS5 with the Raw update you have yourself a lightweight and affordable cinema-quality acquisition solution. It's incredible leap forward for this compact Super 35mm camcorder and we'll be keeping you posted on when the upgrade is available.
New 4K Panasonic Pro Camcorders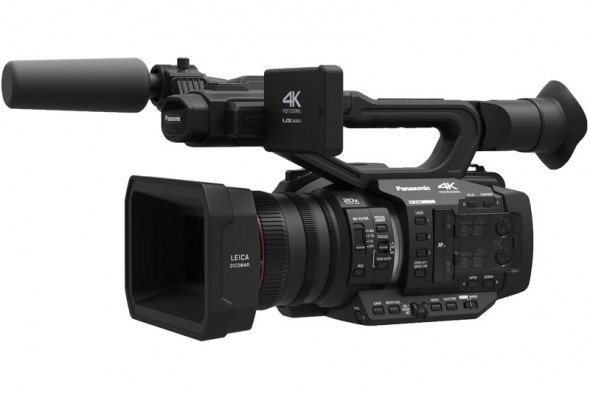 Panasonic have added to their fixed lens 4K offering with two great looking 1" sensor models. The AG-UX90 is the basic model which features a 15x zoom lens and 4K recording up to 30P. Above this is the AG-UX180, a more advanced model with a 20x zoom lens and 4K recording up to 60P. Both of these models sit below the popular Micro Four Thirds sensor sporting DVX-200 and represent the ideal "everyday pro camcorder" choice for videographers shooting events, news and other jobs that suit the traditional fixed-lens camcorder ergonomics. It's interesting that camcorder manufacturers are opting for 1" sensors for fixed-lens 4K acquisition, what with Canon's XC-10 and Sony PXW-X150 employing them as well. It shows that the traditional 1/3" sensors used in HD camcorders of this type are likely too small to acquire 4K resolution effectively, particularly in low light. The move to 1" ought to result in higher image quality and more control over depth of field, and this is a move that should be welcomed.
The AG-UX90 and AG-UX180 are coming in autumn and we'll have confirmed pricing very soon.
Small HD Rugged HDR Field Monitors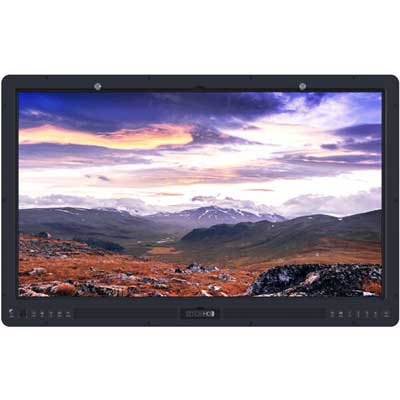 Not to be left behind the high brightness screen stakes, Small HD have gone Big HD with some new larger models designed for use out in the field. New to the range are 17", 24" and 32"HDR-ready models that combine Full HD LCD screens with over a 1000nits of brightness. All the advanced Small HD features we're used to in the 501/502 and 702 monitors are present so waveforms, 3D LUTs via SD card etc. and the units are capable of taking both HD-SDI and HDMI.
The monitors have an ultra-rugged build that Small HD have tested thoroughly. In fact, "tested thoroughly" might be something of an understatement.
Blackmagic Video Assist 4K & URSA Studio Viewfinder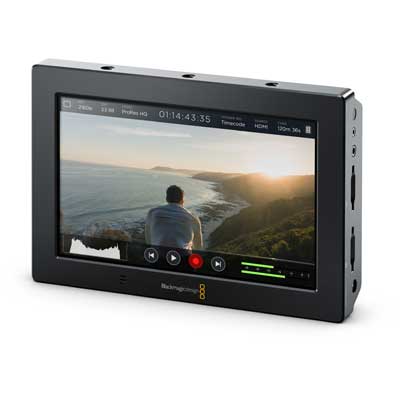 "Budget" and "4K" aren't phrases that usually go together. Or, rather they didn't until Blackmagic got involved and started to build cameras. Following on from the disruptive pricepoints of their 4K camera range (including the Production Camera, Micro Studio Camera 4K and still-to-be-freely-available URSA Mini 4.6K) they have released the View Assist 4K, a 7" LCD Monitor with 4K Pro Res up to 30P recording down to SDXC card media. Although it doesn't have the bitrate capabilities of more expensive Field Recording monitors like the Atomos, it is excellent value at £774. Moreover the 7" screen is a sharp 1920 x 1200 and includes monitor features such as waveforms and guides. Blackmagic are beginning to ship this recording monitor now, so we hope to receive our first stock very soon.
Also new from Blackmagic is the URSA Studio Viewfinder, an easy-to position 7" studio viewfinder designed to work with the USA Mini camcorders.
DJI Matrice 600 Hexocopter with Ronix MX Gimbal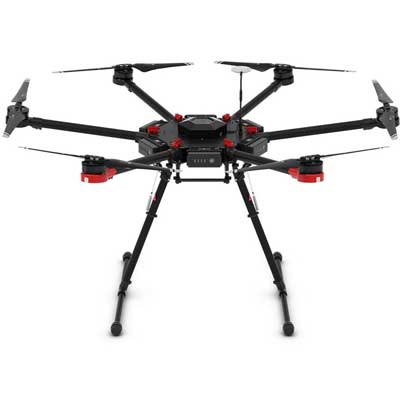 The last few years have been huge for drone and gimbal manufacturer DJI and this NAB they upped their game by upping their payload capacity with new gimbal and hexocopter. First up, the new Ronin MX Gimbal is a new model that can take up to 4.5kg and is suitable for small, boxy cinema cameras such as the Red Epic Dragon and Alexa Mini. Adding to this improved weight capability is a new six bladed drone called the Matrice 600 which can interface perfectly with the Ronin MX Gimbal. As always with DJI, the operation looks pretty user friendly, as is the pricing. For the Ronin MX you're looking at £1359 and the Matrice 600 comes in at £3999. Moreover, they can purchased as a kit for £5099. We'll be getting these in very soon.
Zeiss Batis 18mm f2.8 Lens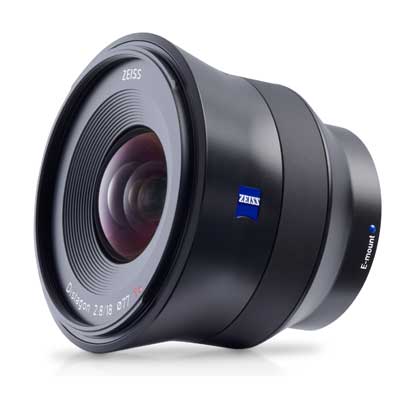 Zeiss have added to their beautiful Sony E-Mount Batis range of lenses with this new fast, wide prime. The Batis range is ideally suited to Sony's class-leading A7R/S II and this new wide lens would work beautifully for timelapse and night sky photography. Furthermore the lens would be a great addition to the filmmaker or videographer using either of the aforementioned mirrorless models in 4K video mode or indeed on an FS5 camcorder. We have the 18mm f2.8 lens available for pre-order and what more you'll be able to see the lens in action at our London Lens Show this coming Saturday: More details on this event can be found here.
Related articles