Nikon has ended weeks of teaser videos by announcing a new FX-format DSLR, the Nikon Df.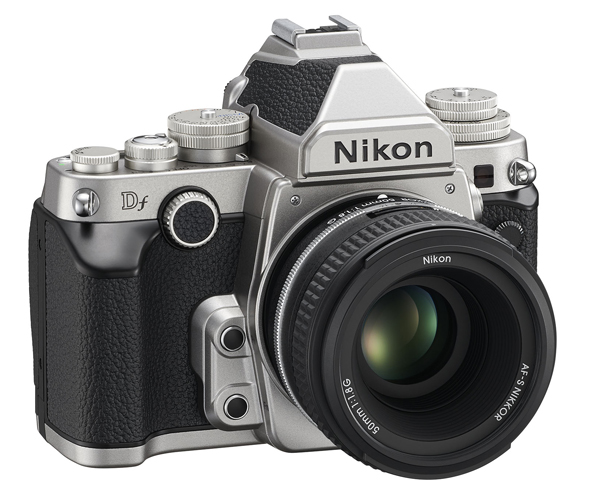 The Nikon Df boasts the same 16.2MP full-frame sensor as the company's existing D4 camera, although it arrives with an analogue-influenced body whose focus on manual control is much stronger than previous Nikon DSLRs.
The top plate, for example, boasts separate dials for regulating shutter speed, sensitivity and exposure compensation, while the angular viewfinder prism also brings it closer to the style of Nikon's F-series models than its more recent DSLRs.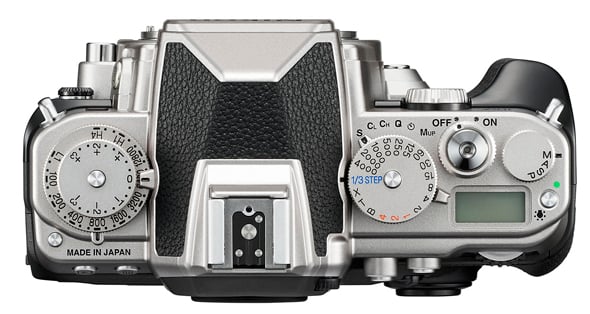 The Df mirrors the D4 in providing a standard sensitivity range of ISO 100-12,800 which can be expanded to equivalent sensitivity settings to ISO 50 and 204,800 – the widest currently available on any DSLR. And, as with the D4, the camera is powered by Nikon's EXPEED 3 processor which allows it to fire continuously at 5.5fps; with a fast memory card in place, Nikon claims the camera will be able to maintain this for up to 100 frames when shooting JPEG images only.
In line with the camera's retro styling, Nikon has equipped the model with a threaded shutter release, as well as a collapsible metering coupling lever which ensures compatibility with older, non-AI lenses. The camera will also mount DX-format lenses, with the DX-crop mode outputting images at a resolution of 6.8MP.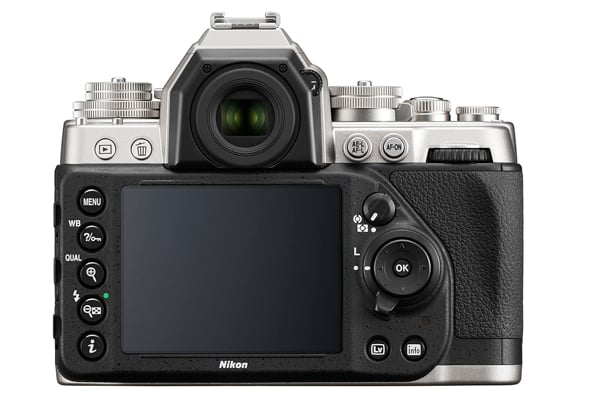 The camera is weather sealed to the same degree as the company's D800 DSLR, with rubber seals used throughout to prevent water and dust incursion. It also boasts a pentaprism viewfinder with approximately 100% coverage, as well as a 3.2in display with a resolution of 921k dots, although one notable omission is video recording, which some may see as unusual move. Nikon says this is deliberate and due to the Df being intended as a camera for "pure" photography rather than anything else.
The Nikon Df will be available in black and silver finishes towards the end of the month, each with a new 50mm f/1.8G kit lens, although you can pre-order the camera today.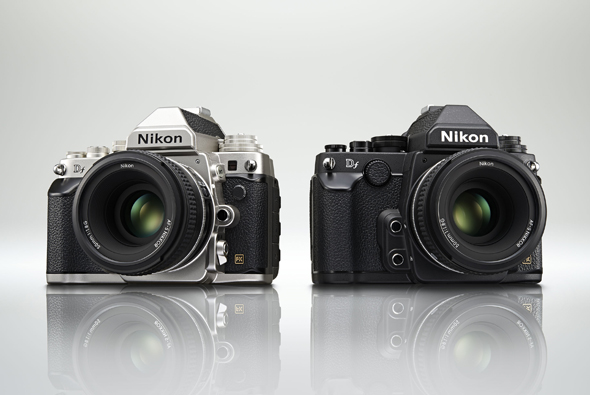 Hands-on review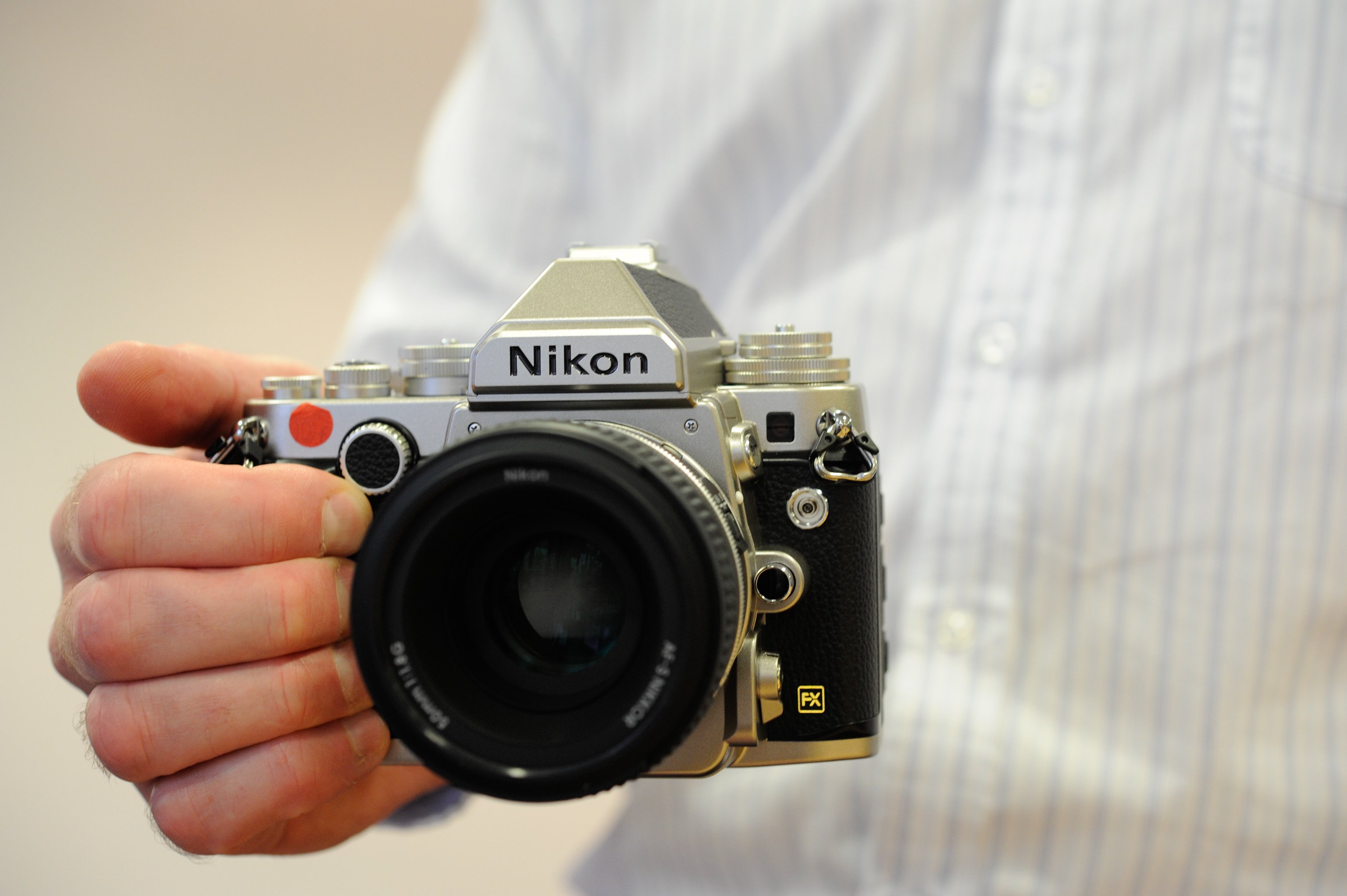 Last week we spent some time with a pre-production sample of the Nikon Df in order to get some first impressions of the new model. As is usually the case in these situations we weren't allowed to take any images with the camera itself, although with the same sensor and processor as the Nikon D4 we can assume that image quality will be on a par with that camera (which is impressive when you consider the price difference between the two).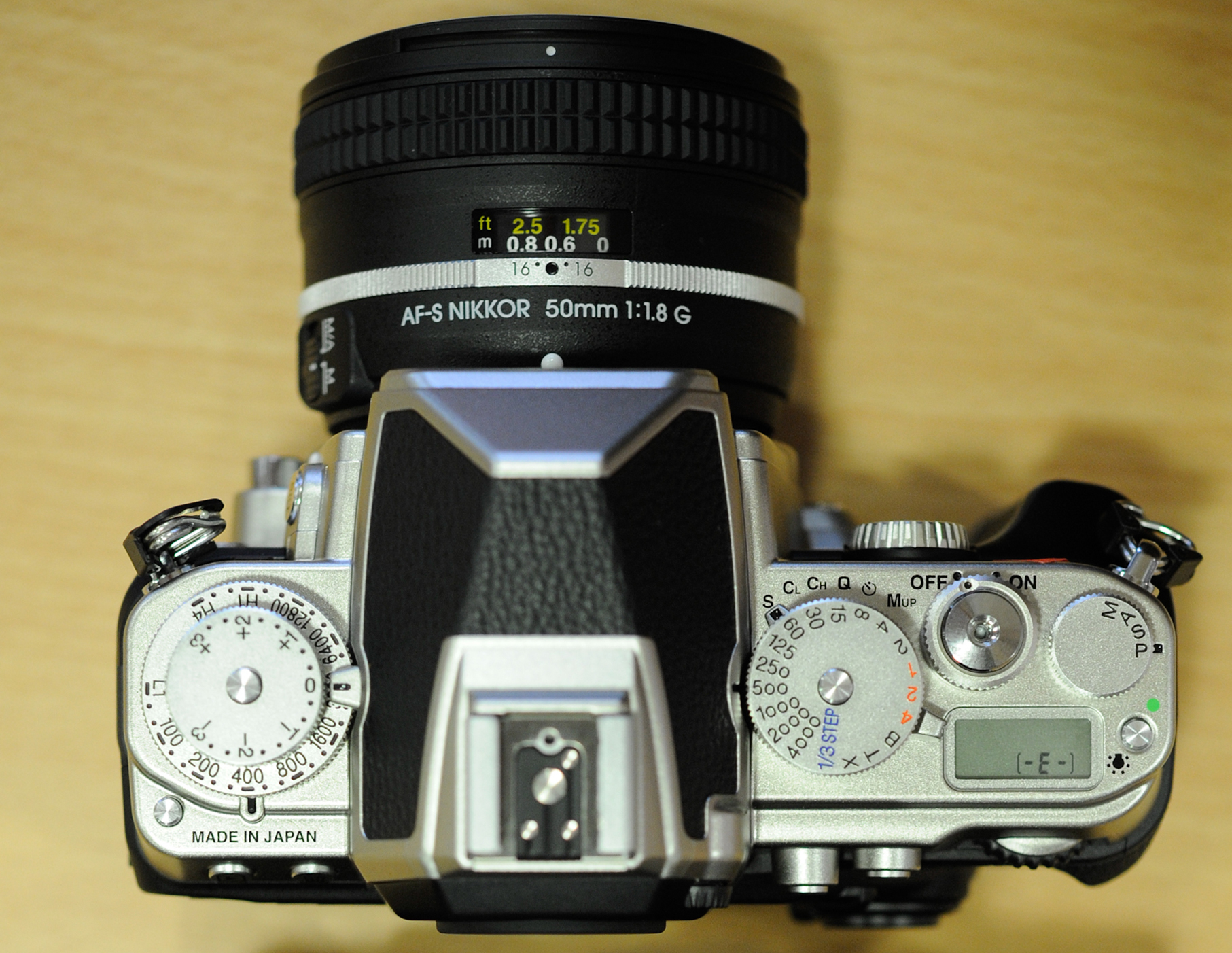 In terms of its design, perhaps the most accurate way to describe the Df is like an amalgamation of the FE2 and D610, with its top plate resembling that of the former model and the back plate being far closer to the latter. The top plate has separate dials for exposure compensation, shutter speed, sensitivity and exposure mode, with a further switch for drive modes beneath the shutter speed dial. Locking buttons are also on hand for each dial, with the exception of the exposure mode dial which instead needs to be lifted up from the top plate before being turned.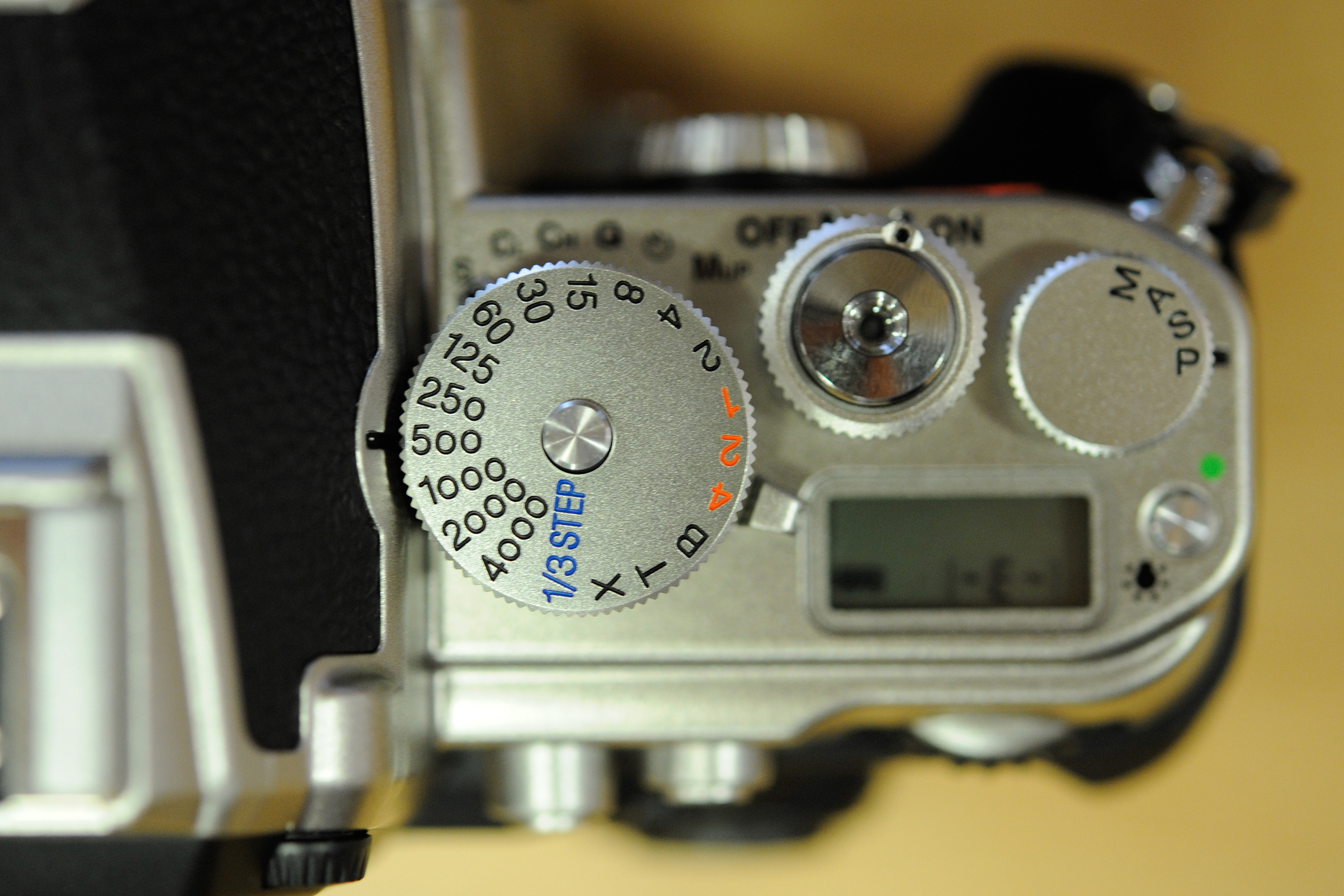 The top plate also bears a small LCD screen which shows basic shooting information, such as shutter speed, aperture, battery life and remaining shots. To the right of it there's a button which activates this screen's lamp and, in line with other recent cameras designed to resemble analogue models, the shutter release button has been threaded to allow the use of traditional cable releases.
At first it feels somewhat unusual to have a threaded, metallic shutter release button on such a camera, particularly if you're used the standard flat plastic alternatives common to other models, although you soon get used to this. A command dial on the front plate underneath this, meanwhile, is used to change aperture; the aperture dial on the new 50mm f/1.8G lens is purely cosmetic and non-functional.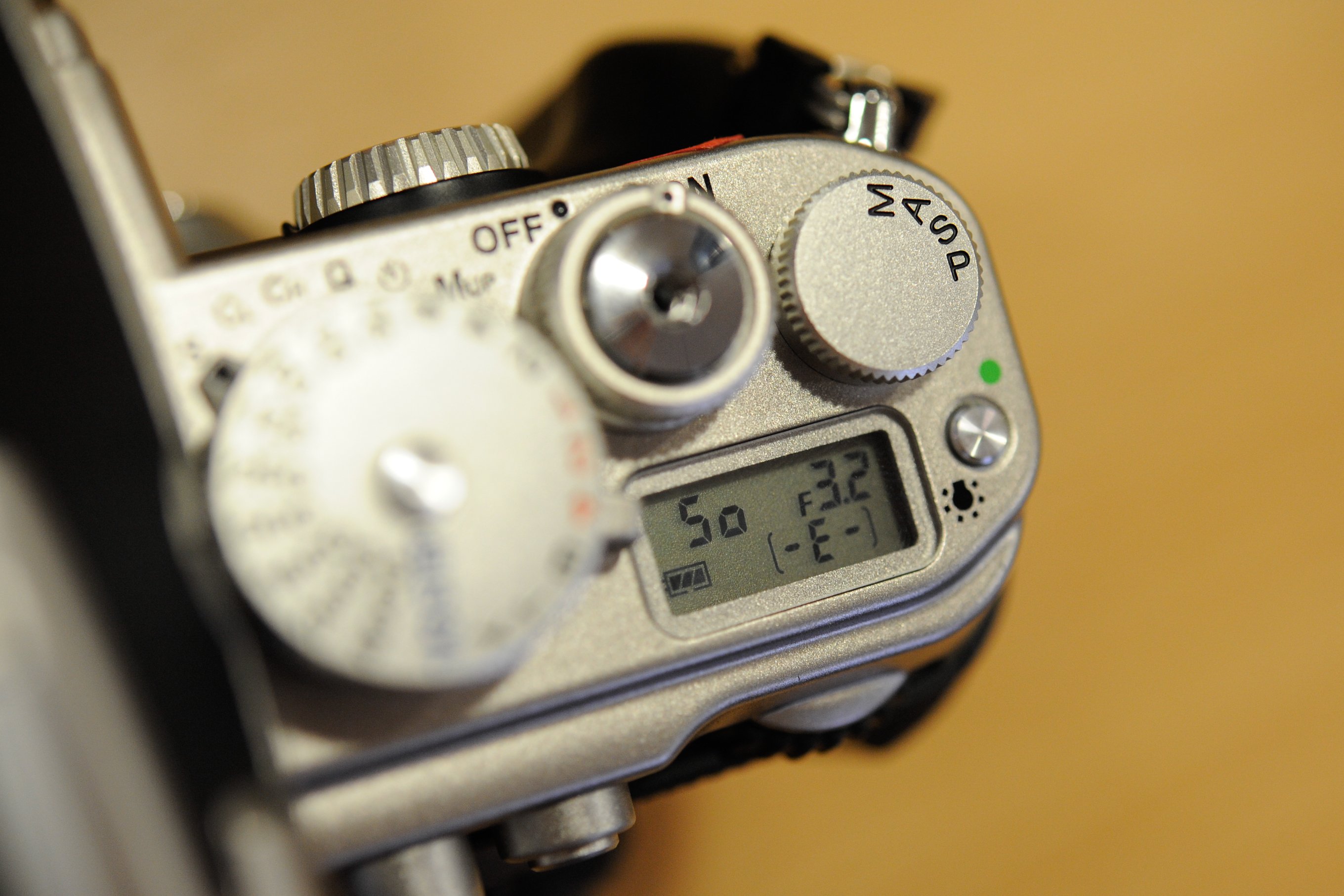 While this LCD is far smaller than similar displays on other DSLRs, it makes sense considering the 'Pure Photography' theme of the model's teaser campaign (a larger display would also require more real estate, which would result in either fewer controls or a larger camera). Sure, you will still naturally use this to check the aperture (unless using lenses with an aperture ring), although you will be able to see the shutter speed, sensitivity and so on on the dials by which you change these settings. In use, it's pleasing to find the camera registering changes made to aperture without any delay, particularly as this is the only dial without physical markings.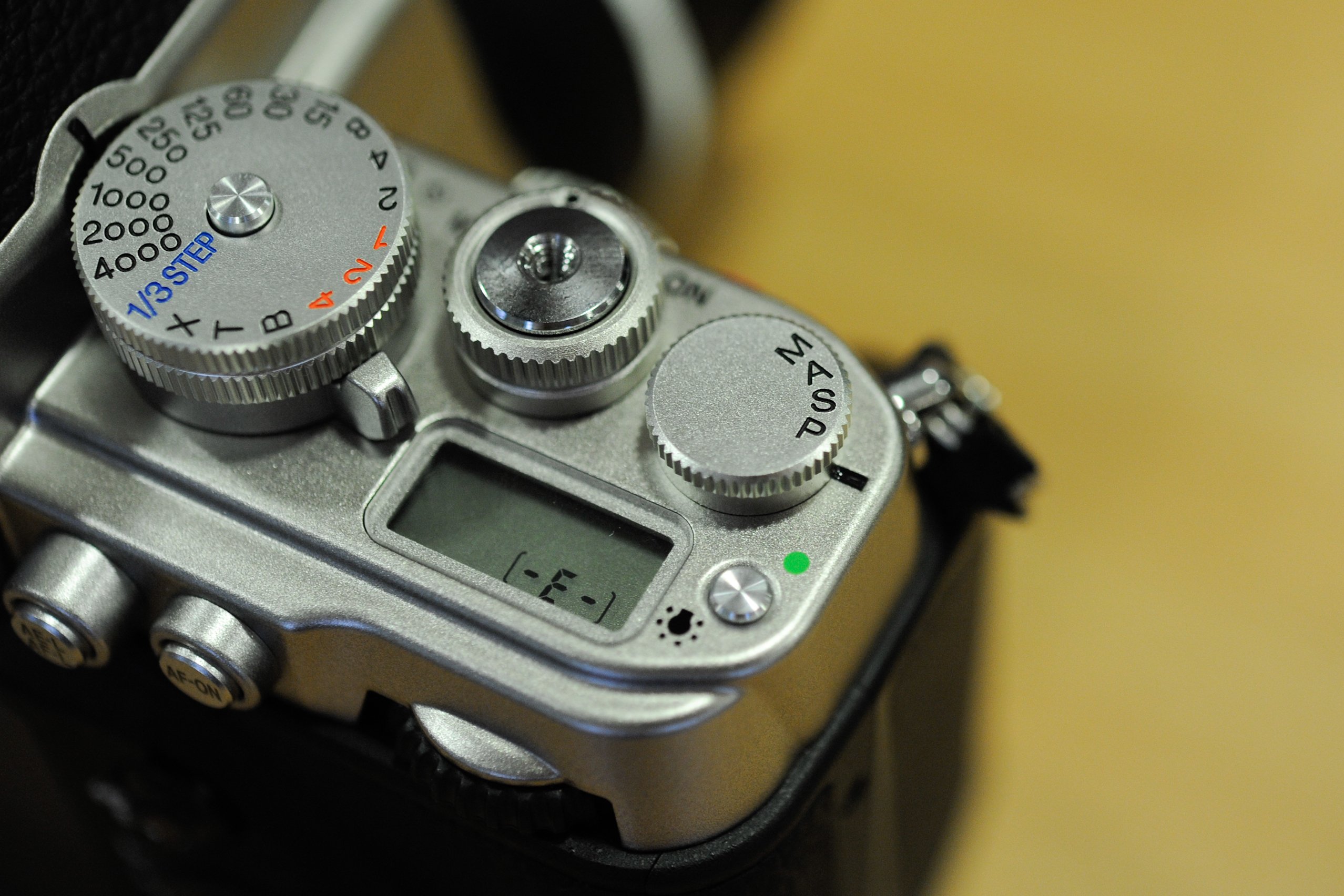 Some may find the exposure mode dial a touch on the small side, and it requires a firm grip to pull it up from the top plate, although as many photographers do not tend to alternate between exposure modes from frame to frame it's debatable whether this is too great an issue. The way in which is has been designed does at least mean that it is highly unlikely to be accidentally knocked out of position when being carried around.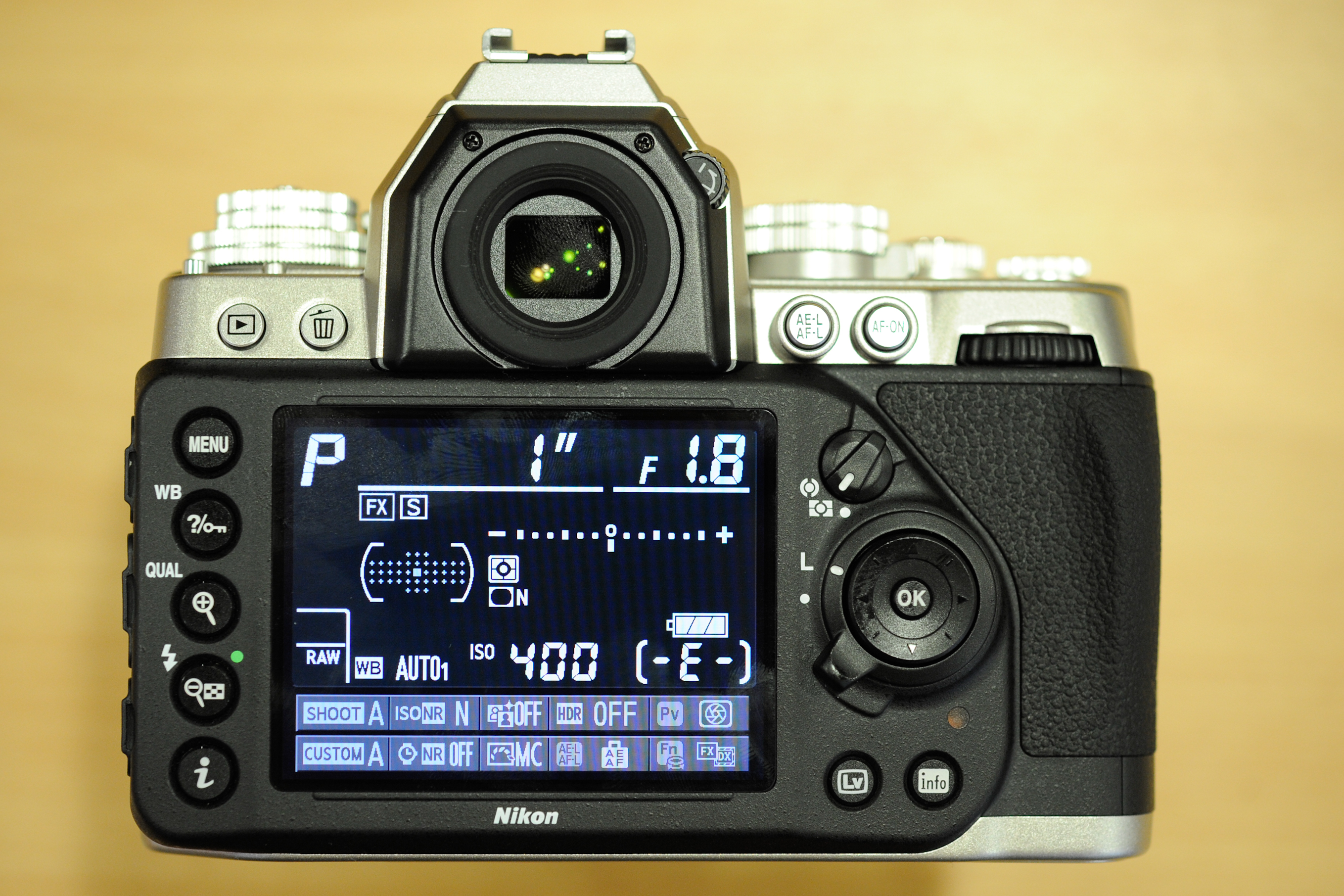 As we would expect, all of the settings viewable on the top plate and many more can be viewed on the Df's rear display, which borrows its graphic user interface (GUI) from Nikon's current DSLRs. This means that it retains the same familiar tabbed structure whereby all settings are sorted into their various sub-menus such as playback, shooting, custom settings and so on.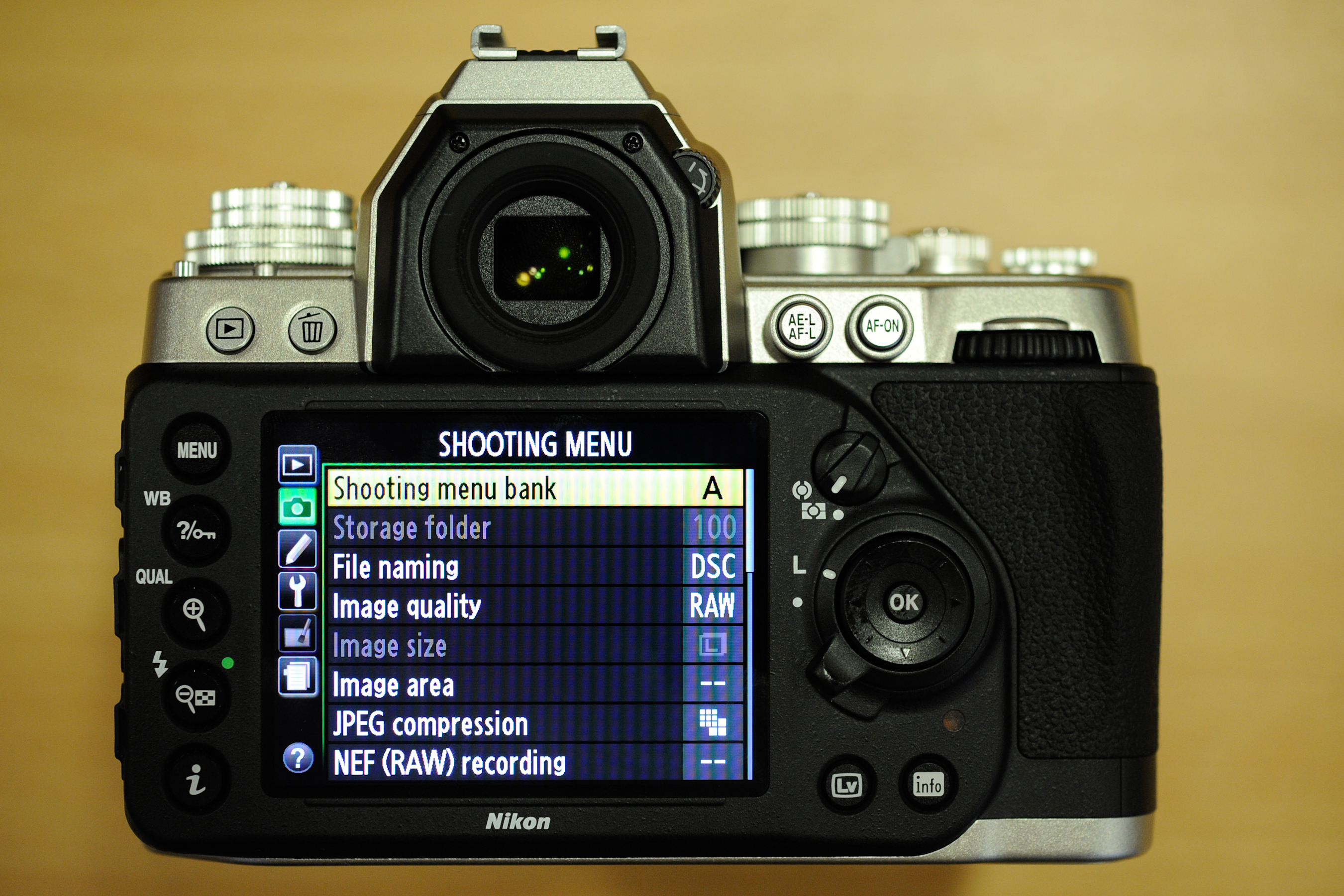 Navigating the menu is simple and just as responsive as on Nikon's other DSLRs, while the lack of an air gap between the screen and the panel covering it has a noticeable effect on its visibility; as with the recent Nikon D610 and D7100 models, it appears to jump out a little further than displays on models from previous generations. The camera appears to focus in good time, and even when using live view brings subjects to focus promptly. There's little surprise with the viewfinder either, being large, bright and clear – exactly what we expect on a camera of the Df's kind.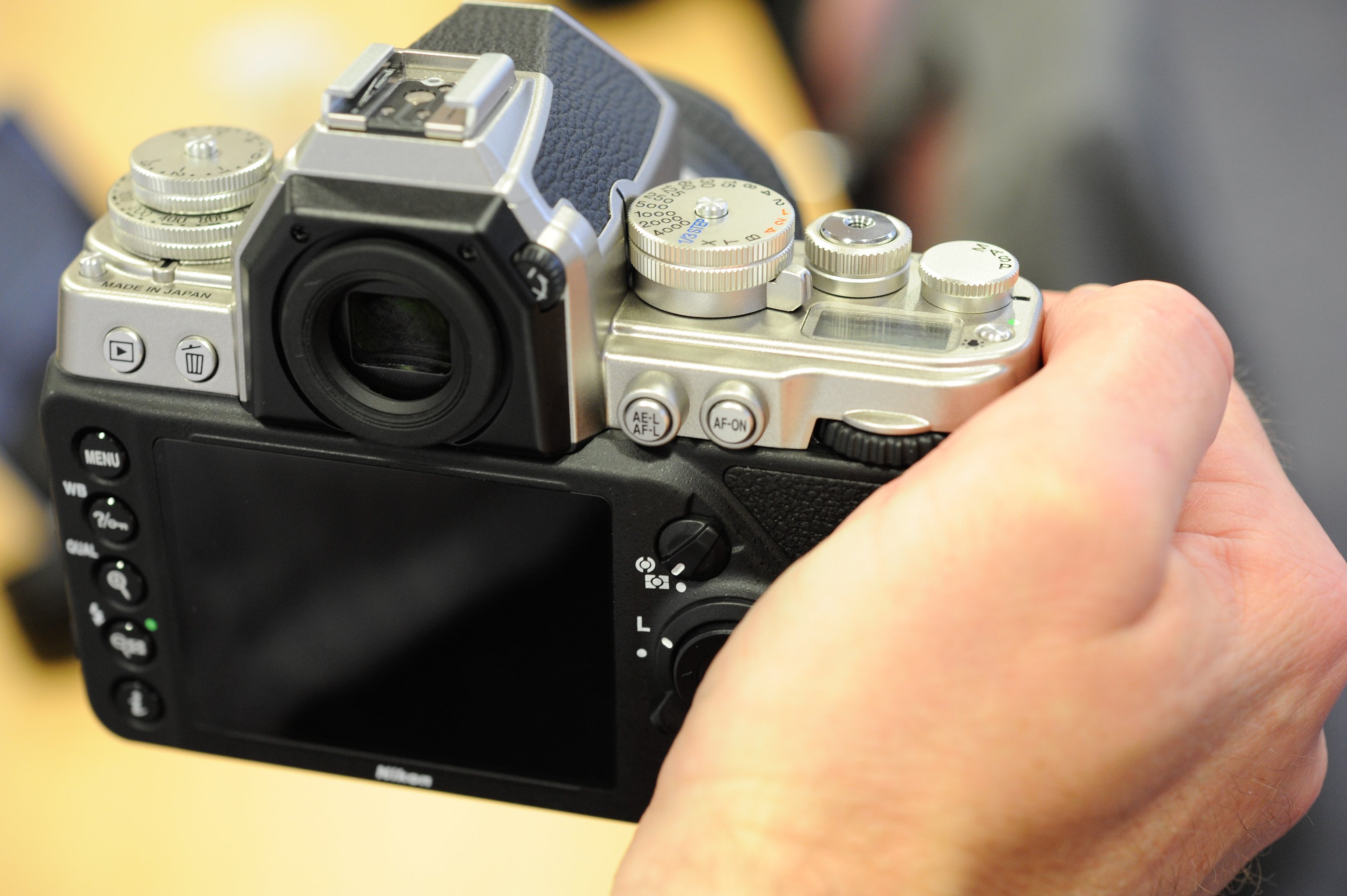 Despite the camera's grip being far less pronounced than on any other Nikon DSLR, it still handles well for a number of reasons. Its depth allows your hand to fit round it and hold it relatively securely, while its light weight also helps (at 710g without its battery and card it's 50g lighter than the Nikon D610). Obviously how light it ends up depends on the lenses with which you plan to use the model, although with the kit lens it doesn't feel weighty at all.
There's no denying that the Nikon Df is an incredibly well-crafted camera, and just the kind of thing many Nikon F-series owners will be drawn to. Up until now manufacturers have reserved their retro stylings for their Compact System Cameras and enthusiast compacts, so its interesting to see certain elements incorporated into the body of a DSLR. This analogue/digital hybrid certainly creates an unusual user experience at first, but as with any camera, these things soon become second nature.
Some may see the omission of video recording as an unusual step while others may prefer that Nikon has chosen to leave this out and instead focus elsewhere. And, although Nikon already has the cheaper full-frame D610 and D800 in its range, the Df has one key advantage in that its sensor has a much broader sensitivity range when its extended range is taken into consideration. This no doubt reflects Nikon's confidence in the camera being used at such settings, so for low-light photographers this would be an interesting alternative to the D4.
Nikon Df specifications:
16.2MP CMOS full-frame sensor
EXPEED 3 procesing engine
ISO 100-12,800 (expandable to ISO 204,800 equivalent)
Pentaprism viewfinder, approx. 100% coverage
3.2in TFT LCD, 921k dots
Weather sealed, magnesium alloy body
5.5fps burst (for up to 100 JPEGs)
Multi-CAM 4800 39-point AF system
710g (without battery or memory card)