Photography has proved more important than ever in this year's Rugby World Cup, with tens of thousands of images submitted and shared across social media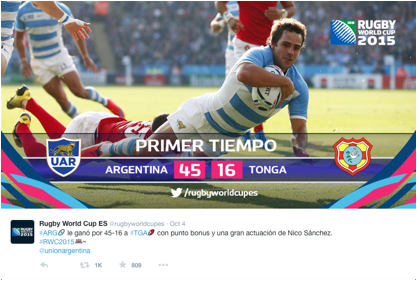 With a stunning underdog victory courtesy of the Japanese, and an ignominious exit courtesy of the English, it's fair to say this Rugby World Cup has already had no shortage of drama.
The best part of all this excitement though? It's all being communicated through photographs. Research into social media habits of Rugby World Cup fans by visual marketing platform Pixleehas confirmed that this has been the most image-heavy tournament in history, as far as social media is concerned.
In the span of just a single week between September 28 and October 5, there were 50,985 photo submissions from 34,045 unique submitters across Instagram and Twitter. The ratio between the two networks was 57% Instagram and 43% Twitter – not all that surprising given that Instagram recently passed Twitter to reach 400 million users.
All in all, in just that one week the rugby conversation reached a staggering 314,852,582 people on social media.
Some of the most popular posts included an Instagram image by @worldrugby showing Australian player Michael Hooper shaking hands with England captain Chris Robshaw following the match that brutally ended England's World Cup dream (we use the term 'popular' loosely there…). The shot garnered more than 24,700 likes.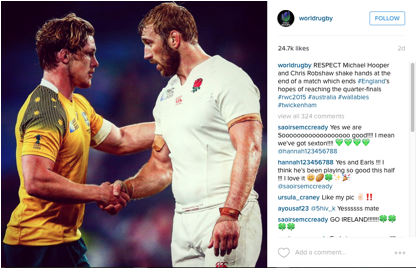 On Twitter, a post by popular content farm The Lad Bible featuring the Japanese team following their shock underdog defeat of two-time winners South Africa gathered more than 1,600 retweets and 2,468 favourites.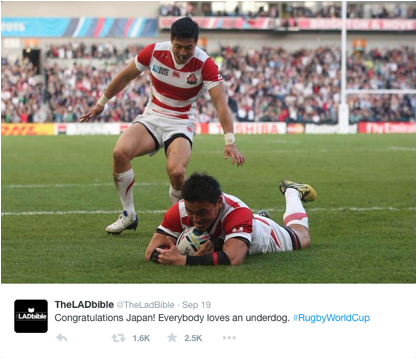 The research also uncovered where in the UK the most rugby-mad posting was coming from. It may not surprise you too much to learn what the number-one city was…
Highest volume of posts by location:
Cardiff
Isleworth
Newcastle
Milton Keynes
Wembley
Richmond
Leicester
From the professional realm too you can find no shortage of fantastic imagery. The Guardian put together a great compilation of memorable images from the pool stages, and Rugby World Cup themselves have been compiling galleries of some great moments from the games and beyond.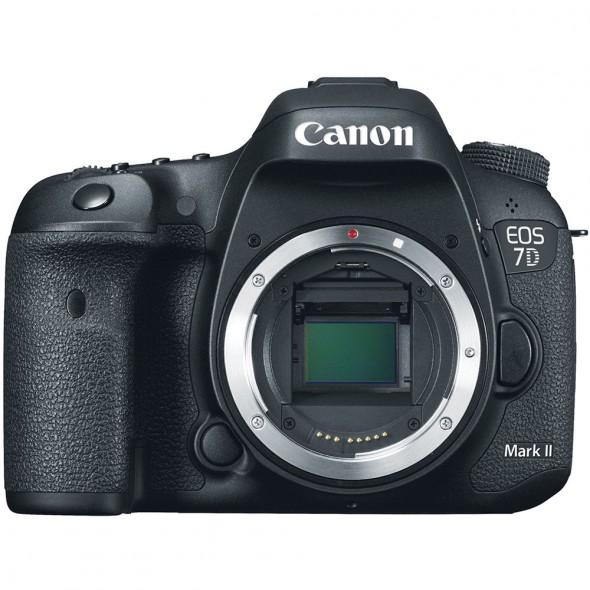 You don't have to own tens of thousands of pounds worth of camera gear to take photos that will earn you tens of thousands of likes and shares on social media. Using a camera like theCanon EOS 7D Mark II paired with a good medium-to-long range zoom lens like the EF 70-200 f4 L IS USM lens is a good place to start.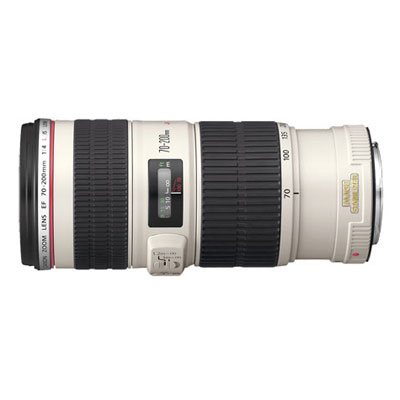 The EOS 7D Mark II has a 20.2-megapixel APS-C sensor armed with a fast 65-point cross-type autofocusing unit, great for locking onto and tracking fast-moving subjects. It's also capable of shooting stills at a speedy 10 frames-per-second so you shouldn't miss a moment. Combined with the EF 70-200 f4 L IS, you'll have a quick, stabilised and compact shooting DSLR system, which is perfect for sports.
Related articles