DJI's one-handed 3-axis gimbal is smaller and lighter than its predecessor, making it an ideal companion for filmmakers on the go
TL:DR: Don't have time to read the article in full? Click here for a quick summary.
Advocates of silky smooth footage rejoice, DJI has today announced a new gimbal for its acclaimed Ronin range. Dubbed the Ronin-SC, this one-handed 3-axis stabiliser seeks to provide a more mobile alternative to the gauntlet laid down by its acclaimed Ronin-S and it's significantly cheaper too!
Although very well-received, the Ronin-S drew criticism for its weight, something DJI has certainly taken on board. The Ronin-SC is around 40% lighter than its older sibling and is also around 38% smaller. It weighs just 1.1kg, which'll make it easier to transport and much more comfortable to use, particularly if your filmmaking pursuits require you to be light on your feet.
ActiveTrack 3.0 and Force Mobile
Perhaps the most exciting new feature is the presence of ActiveTrack 3.0. DJI's subject-tracking technology was first developed for its Phantom 4 drone and has since made its way into the OSMO series of gimbals. However, the SC is the very first Ronin to feature it. Obviously we're eager to try it out for ourselves, but DJI is citing "smooth, precise gimbal movement at all times." We'd expect nothing less.
Another big upgrade is the inclusion of Bluetooth 5.0, allowing the Ronin-SC to feature Force Mobile. Similar to using the Force Pro Gimbal Controller, this allows users to control the gimbal simply by moving their smartphone.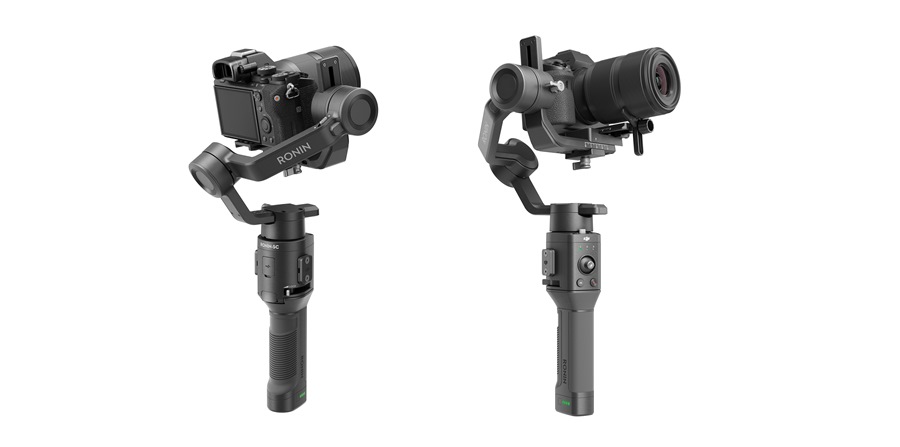 Payload and compatibility
The Ronin-SC has been rated to support a payload of 2kg and has a maximum battery life of 11 hours. The Ronin-S is still ahead in these two areas, boasting a payload of 3.6kg and a battery life of 12 hours. However, some compromises are to be expected considering the major difference in size and weight.
It's also worth noting that the Ronin-S is designed for use with lightweight cinema cameras and bulky DSLRs, while the Ronin-SC is designed for lighter mirrorless systems and therefore lighter payloads. A wide range of mirrorless cameras are compatible, including Sony's A7S II, Nikon's Z 6, Canon's EOS R, Panasonic's GH5S and Fujifilm's X-T3.
The Ronin-SC in motion
Another highlight is Sport Mode. We're expecting silky-smooth shots from the box, but DJI tells us this function "improves the sensitivity of each axis while continuing to maintain stabilization [sic]". This should result in better performance when moving the gimbal at a faster pace, even if that means sudden movements or a change of direction.
As you'd expect from a Ronin gimbal, the SC is packed with DJI's ever-evolving stabilisation technology. Its unlimited yaw axis allows users to perform an infinite 360-degree roll and of course, the elevated payload means the roll axis arm is unobstructed, helping to eliminate the chance of an unwanted jolt.
The one-handed gimbal certainly looks similar to its predecessor (albeit much smaller). The M button, joystick, record button and trigger haven't moved, and the power button is still position far away from the trigger – it needs to be tapped twice to shut down the device – meaning it's almost impossible to power down the gimbal by accident.
Ronin rig
The Ronin-SC ships with several accessories including the BG18 Battery Grip, a tripod and phone holder. The phone holder is a nice addition to have included, since it could easily be sold separately. It allows you to mount your phone on the top or side of the gimbal, for use with ActiveTrack or as an external monitor.
Those looking to further increase the Ronin-SC's usability will be able to dip into DJI's wide range of gimbal accessories, including a Cheese Plate for mounting external accessories and a Command Unit, which controls a variety of settings such as operation modes, remote control settings and motor settings.
Arguably the most interesting accessories are the Focus Motor and Focus Wheel. The two work in unison to allow manual focus control. The Focus Wheel simply plugs into the 8-pin port to the right of the power button and allows the user to manually control focus without upsetting the gimbal's delicate balance.
Other features and the DJI Ronin app
Other useful modes include Panorama, Timelapse, Motionlapse and Motion Control. Motionlapse adds movement to a time-lapse, while Motion Control allows you initiate a predetermined camera movement path. The DJI Ronin App has also been treated to a slight revamp.
DJI tells us it's been improved to provide "an even better user experience". The layout has been changed so preset scenarios are easier to access and anyone unfamiliar with Ronin gimbals can get up to speed almost instantly, thanks to the inclusion of a camera balancing guide and various tutorials.
Too long; didn't read…
Who's it for? The DJI Ronin-SC will appeal to mirrorless filmmakers who want to travel light.
What does it compare to? DJI's existing Ronin-S, which is designed for use with DSLR cameras.
Why should you care? We asked for a lighter one-handed gimbal and DJI has delivered. The reduction is size further improves the gimbal's portability and the presence of ActiveTrack and Focus Mobile elevates its usability to a new level.
Related articles