Ross Double talks about a personal project that's close to his heart, documenting the first punk float at Pride in London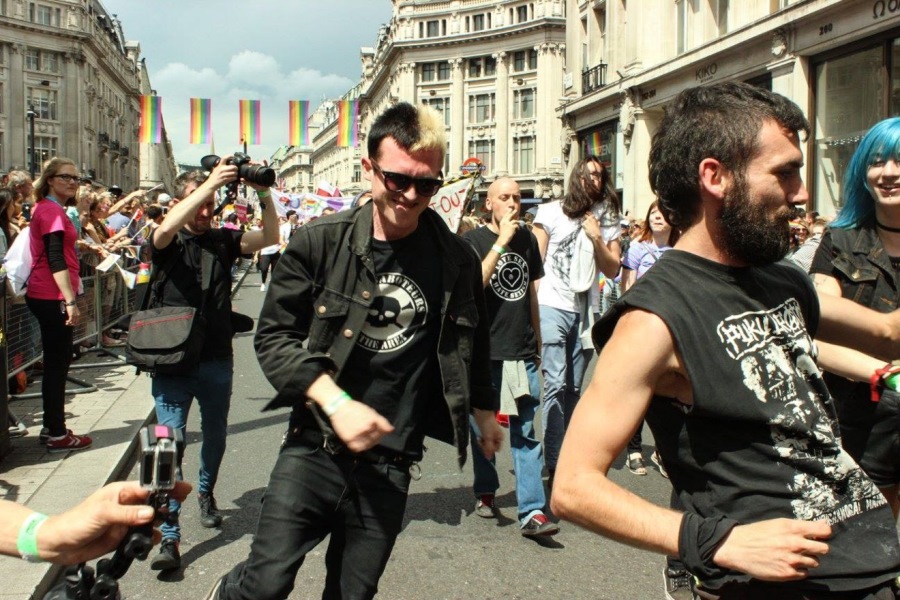 Along with photography, I've always had a passion for music, which has led to a lot of personal projects centring around gigs — the punk scene in London in particular. A couple of years ago, a friend of mine, Kim Ford — who shares my enthusiasm for both music and photography —invited me to help document a live music event, held on a beach next to the river Thames. The event, called Trespass, was about highlighting the increasing privatisation of public space and involved an impromptu set from two bands, on a makeshift stage in the sand.
Recording the event was a steep learning curve, as neither of us had any real filmmaking experience. We originally planned to produce a short three to four minute clip, but were so blown away by the energy and positivity of the event, that we ended up spending a few weeks making a 20 minute short film; to really highlight the message behind the gig. It was quite something to witness hordes of Southbank tourists, peering down at the bands and crowd below. And, with the sun setting behind St Paul's Cathedral as a backdrop, it was a truly inspiring day.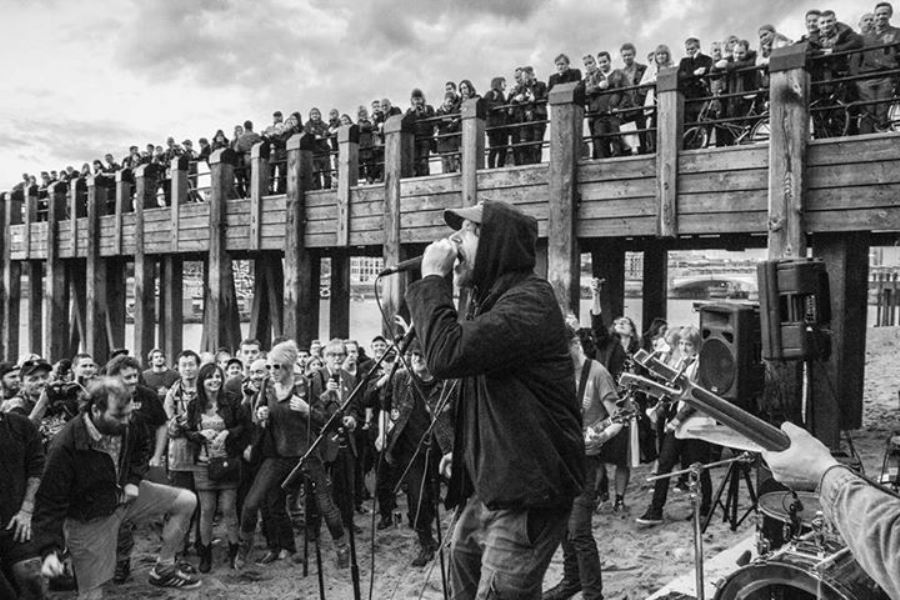 From that moment onward, we started work on various projects, under the name Leaf Films — a documentary on the 21-year career of a local punk band, and a film on the second Trespass event. Then, in the spring of last year, a friend of ours announced that she was planning to run the first ever Punk float (the Pride Punx float) at Pride in London, and we knew it had to be documented.
Punks of Pride in London
Before the event, we began organising interviews with bands and people who were directly involved in the event or the scene. We also interviewed the event organiser, Tali Clarke, who is an awesome filmmaker herself! The idea of the float certainly captured our imagination and that seemed to be the case with everyone we reached out to. One of the many great things about punk rock and the community it creates, is that it feels very connected and close-knit. Most of the interviewees we knew, but others were easy to reach out to and were excited to be involved. We even managed to speak with members of overseas bands, who kindly found the time to speak to us while passing through London on tour.
Finding locations to film was also straightforward. Once they heard about the idea behind our film, T Chances in Tottenham and All Ages Records in Camden were happy for us to use their space out of hours. The attitude we encountered towards the project was overwhelmingly positive. I think the film mirrors the DIY ethic of the float itself and people were behind that.
Filming the float, during the parade itself, was really fun. We tried to cover different angles; one of us on the truck, and two of us with the following crowd and bands on the street. The energy was great to capture, and the reaction from other participants and the crowd was interesting to see. The route of the parade must be two to three miles long, snaking through central London, but it went by in a flash. That said, my body certainly knew I'd been carrying three cameras!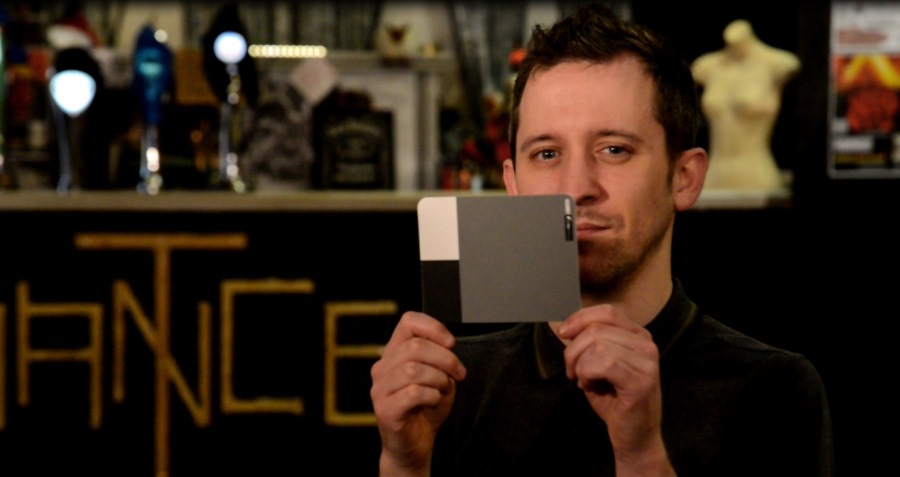 The gear
Working in photographic retail, I spend a lot of time researching and discussing the latest equipment. But, while it's important to use the right equipment for the job, I do believe that when you have a story to tell, getting out there and just doing is key. For the parade itself, we were lucky enough to enlist the help of our friend, Tutek Chech, from Lost Data Productions — he's been filming the London punk scene for years.
We filmed with Nikon DSLRs (D800, D750, D600 and D7000), alongside two GoPro cameras; one static (mounted on the float) and one following the crowd. I also used a DJI Osmo for high framerate/slow motion shots. Most of the interviews were shot outside in natural light, but for others, we used a Limelite Pixel 3-head tungsten kit. Audio was captured using a Sennheiser EW-112P G3 and lavalier microphone, and a Zoom recorder.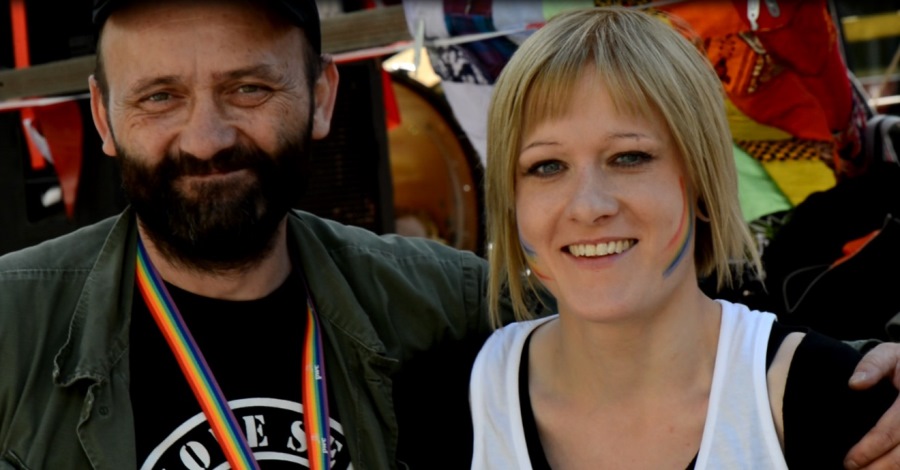 Future projects
We filmed the second Pride Punx float at this year's parade and plan to put together a short clip. It was amazing to see how much the idea has grown in just a year; I think our numbers were at least four times bigger!
Another exciting project coming up very soon, which we hope to document, is the first ever UK tour of a band called Rebel Riot from Yangon, Myanmar. These guys have faced huge adversity, but despite this, have been fighting via their outspoken music and by put their ideals into action by feeding Myanmar's homeless with their Food Not Bombs project. Punk Ethics has successfully crowdfunded the tour, and I think capturing the band's journey to the birthplace of punk is very exciting!
On top of everything else, there's also a band documentary in progress, which we started back in 2015. Finding time for personal projects can be a real challenge, but I think it's absolutely vital! I've worked on freelance projects outside of my full-time job over the years, but nothing can match the excitement of a project that's close to your heart. In fact, there has to be a real belief and passion behind what you're doing, otherwise obstacles such as time or money will be difficult to overcome.
It also helps to be surrounded by hugely talented and creative people — that energy is infectious!
About the Author
Ross Double is a filmmaker and founding member of Leaf Films. He also works for Wex Photo Video. To see more of Ross' work, visit the Leaf Films YouTube channel.
Related articles