Kriss Hampton checks out what he deems to be the one battery pack to rule them all.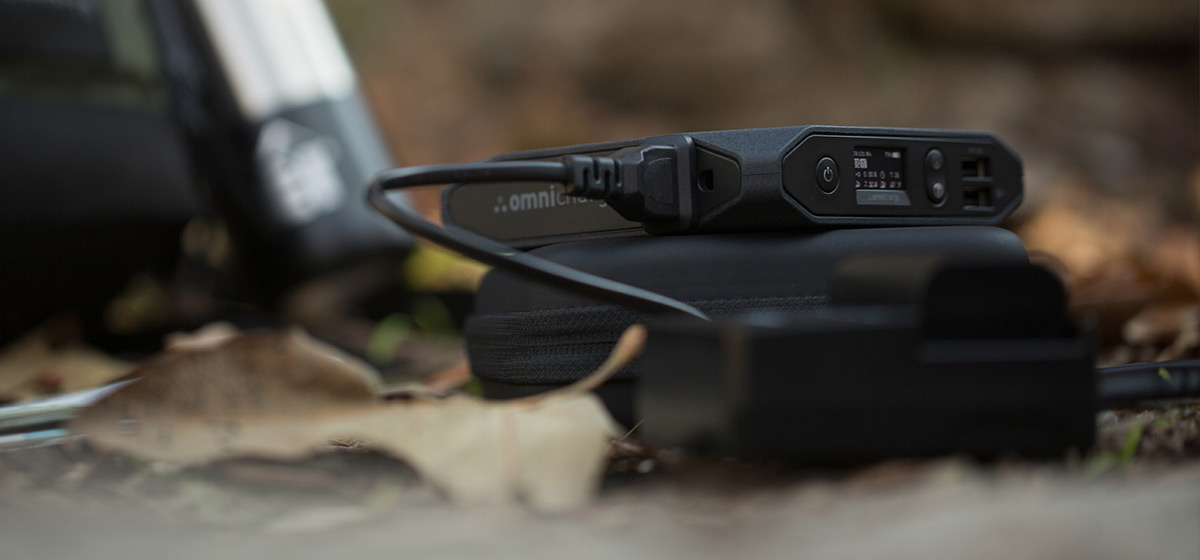 There are many third-party battery and power solutions on the market, most of which have been designed to be used with your camera or accessories – think v-lock batteries with P-Tap connections. However, I've not really come across a universal charger that can power all of the different items that together make up my filmmaking kit. Which brings me to the Omni 20 by Omnicharge, which after using for some time on various projects, I believe is the one portable battery pack to rule them all.
The Omni 20 packs in 20400mAh worth of power, if you need to visualise how big that capacity is, then it's roughly around 20 of the Sony Alpha FW-50 batteries, or if you're used to the bigger Sony BP batteries, its roughly around 4 of the BP-U60s (the medium sized ones of the range). It takes roughly around 2 hours to fully charge the Omni 20, and whilst charging it can of course still output power. All in all, it's plenty of juice to have in your kit bag in a relatively sleek and compact housing.
Now I know that batteries can be somewhat of a dryer topic when it comes to geeking out on the filmmaking gear, but they are of course fundamental to making things work - you're going to be needing power. So before I jump into why I like the Omni 20, first I'll give you the highlights of what I've used this portable battery pack to power, just to give you an idea as to how flexible it is:
Charging multiple Sony A7S batteries simultaneously – and pretty much any other camera batteries I've needed charging.
Powering a Tascam-70D audio recorder
Powering a 15" MacBook Pro and external HDD for editing on a train journey.
Making the classic Dedolight battery powered.
Charging DJI Mavic Pro drone batteries.
Powering a 42inch TV (why not?).
And finally, yet most importantly for me when traveling - charging my iPhone.
I see the Omni 20 as one of the more premium solutions when it comes to portable power packs, but with that, it can deliver the equivalent of mains power and has a whole host of intelligent features. The front of the device houses a small OLED display which will show exactly how much power is going in and out of the pack, as well as estimated run time on its current draw, temperature, and what outputs are active. The whole menu system can be controlled via the three physical buttons on the front of the device. You can see how easy the menu is to navigate in the video below.
Connections
The Omni 20 has four different power outputs for you choose from. There are two USB connections at the front, the top one supports 5V/3A, whilst the bottom one features Quick Charge 3.0 technology. On the left-hand side is a single female two-pin AC socket, so any European devices can plug straight in, and an adapter is provided for UK plugs. A native UK version doesn't seem to be available, which makes sense as I think that in doing so the body of the Omni would be significantly thicker and chunkier.
On the right-hand side, there's a DC barrel port, so you can simply connect the Omni 20 directly to your device without having to use the clunky transformer that's usually midway in the cable (the large plastic block usually halfway on a laptop cable). This cuts down on the number of clunky cables you'd need to be carrying, instead of carrying the weight of the chunky MacBook Pro charger for example why not swap it for the Omni 20, and hey presto you've now not just got a charger, but portable power too.
All that power does inevitably generate some heat in the battery pack; there are some internal fans and vents to the right-hand side of the device to help with dispersing that. On my travels filming the Travel Photography series in India often in, as you can imagine, some uncomfortable temperatures, the Omni 20 did get warm enough so that the fans were audible, but it never got to the point where any heat warnings were displayed on the screen. Often with these types of battery packs, they can get too hot too quickly and automatically shut down to cool off – the Omni 20 seems to regulate its heat very efficiently to ensure no loss of power.
Whilst shooting in India I'd run all my batteries through the Omni 20 with it also being into plugged the mains. Since India seems to have its issues with keeping a constant supply of electricity to buildings, having my batteries charge through the Omni meant that should the power cut out (especially while sleeping), my batteries would still get charged by the Omni's battery, and when the power kicks back in, the Omni will also recharge itself - So, no morning panics about batteries not being charged.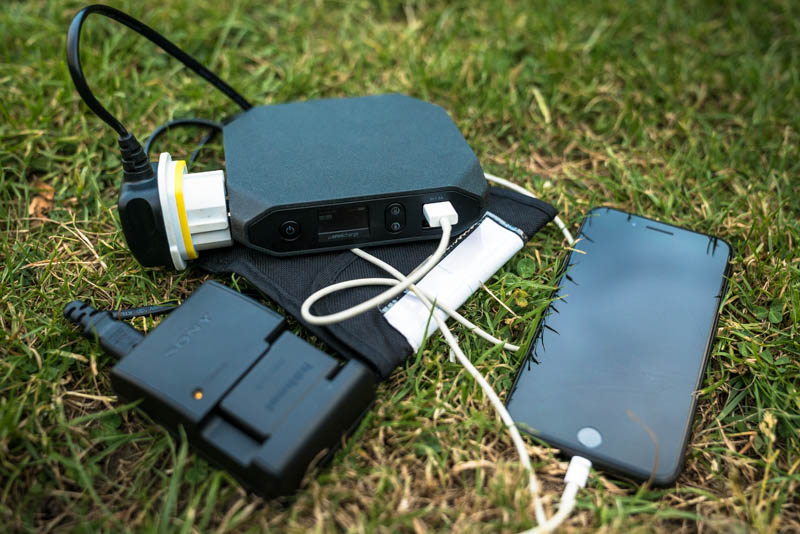 Options
Omnicharge offers the Omni 20 in two flavors, basic and pro. Both look pretty much identical – the main difference is that on the pro model you get one upgraded USB port (with Quick Charge 3.0 technology), and you'll also get the inclusion of Qi wireless charging, which means instead of faffing with your phones charging cable, you can just pop your smartphone on top of the unit and away it charges (providing your smartphone is capable of Qi charging). There's also the USB-C version, that as the name suggests, you get two USB-C ports instead of the mains power output. If you're looking for something more compact than the Omni 20, there is the option to downsize to the Omni 13, with the drawback of less power.
Verdict
For a lot of the corporate projects I work on, I'm a self-shooter, producer, editor, however many names you want to throw at it; I'm the video person. So, when it comes to my kit choices I'm always weighing up the shots I want to achieve and what's the best tool to allow me to do that, but also, how practical it is to use that tool with just a one-person crew. So when it comes to packing batteries, for my cameras, monitors, audio recorders, wireless mics, I'd love to carry much more than what I need for peace of mind, but in certain situations, it's just not feasible. Having a universal power solution such as the Omni means that I can carry fewer native batteries, as I can always have any spares charging. You don't need to have so many with you when you've got the ability to charge the ones you've got, wherever you are.
For travel, I think its one of the best accessories I've got in my arsenal. During a long sleeper train journey in India, I could happily log and make selects on my MacBook Pro running an external HDD. On the same journey I can make sure I've got enough juice in my batteries for the next morning of filming until we get to our accommodation, and of course, charge my iPhone so I'm still connected with the world – all of which can be done simultaneously.
About the Author
Kristian Hampton is Wex Photo Video's Technical Editor for Pro Video. A video specialist who has worked in corporate studios for companies such as Vodafone Group and PwC, as well as working as a freelance grip on various TV productions and features. He also runs Krade Media, providing enterprises with production services. Follow Kristian on twitter @KrissHampton