As we announce the arrival of the Canon C300 Mark III, Stuart Dennis takes a look at the journey Canon's Cinema EOS line has taken to this point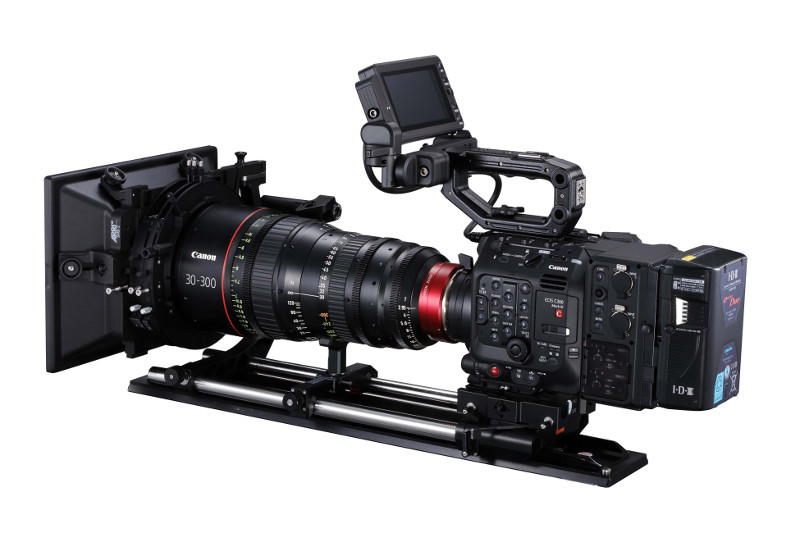 The Cinema EOS C300 Mark III has arrived
Let's go back to 2012 for a moment.
We're two to three years into the "DSLR revolution" and a great many productions have been utilising the good old Canon EOS 5D Mark II or the EOS 7D as a quick and inexpensive means to create more cinematic imagery. The shallow depth of field and rich colour from these DSLRs has become a sought-after look, and with every producer and director falling in love with the aesthetic, every camera operator is having to invest in a DSLR shooting kit to run alongside their usual broadcast camera package.
It's a time where everybody wants the "look", but there are two major problems with the DSLR as an acquisition tool for broadcast television. Firstly, neither the recording format nor the processing in the cameras conform to broadcast specifications (so productions could only technically use the footage for a small percentage of a show) and secondly a DSLR might be ergonomic for a photographer, but it certainly isn't for a camera operator on a full day's television shoot.
What the world desperately needed was a camera that could combine the large-sensor look of the DSLR with a broadcast-quality codec, and do it in a body that more suited to shooting video.
Canon responded with the launch the Cinema EOS range, a range that really began with the EOS C300 Mark I, a camera that shot 50 megabits per second in 8-bit 4:2:2, which was the minimum spec for HD acquisition. It was a serious tool for professional work, and priced as such – those who were hoping for something more in line with the price of DSLR would have to wait for the C100 Mark I a year later – but it was an understandable decision from Canon to make their first Cinema EOS camera a broadcast-spec model. Very quickly, the C300 established itself as the go-to camera for television documentary and actuality productions, and was hugely successful for both owner-operators and the rental market.
Wind forward to 2015: the world is starting to accept and indeed expect 4K footage, and even if broadcast was remaining still very much an HD world, it was increasingly important for Cinema EOS owner-operators be able to offer 4K to clients. Enter the C300 Mark II: a new Cinema EOS model offering 4K 10-bit 4:2:2 up to 30p, plus 12-bit 4:4:4 recording in 2K/HD. Just like the C300 Mark I did in 2012, these new solutions and codec options brought the Cinema EOS line up to the expected broadcast standards for UHD/4K acquisition set out by the EBU. Moreover, these new compressions were ideal for getting the most out of the Canon Log settings that were becoming popular.
Also, something else emerges from this era: we begin to have a concept or understanding of what it means to be a Cinema EOS shooter. The cameras had a gorgeous colour science, with great skin tones, smooth highlights and a fairly filmic grain, but were still handheld bodies rather than a more traditional shoulder-mounted design: This meant the shooters who gravitated to them were more branded-content/short narrative/commercial types of filmmakers, rather than the traditional television camera operator. Moreover, the cameras weren't without their shortcomings: both the Mark I and Mark II failed to include 50p recording as standard in the native resolution, and high-speed framerates remained a glaring blind spot for Canon.
We arrive now at 2020. With 4K now an established standard and the broadcast world unlikely to require anymore more "Ks" for now, where does the C300 go next? Well, to its credit, the professional video world tends not to get caught up in the kinds of resolution race we see over in photography: instead, once a standard is set, we strive to perfect that standard. You'll often hear a cinematographer say that they want "better pixels rather than more pixels", and aside from the odd 6K- or 8K-capable, large-sensor camcorder at the very high end, manufacturers are endeavouring to make good on this request.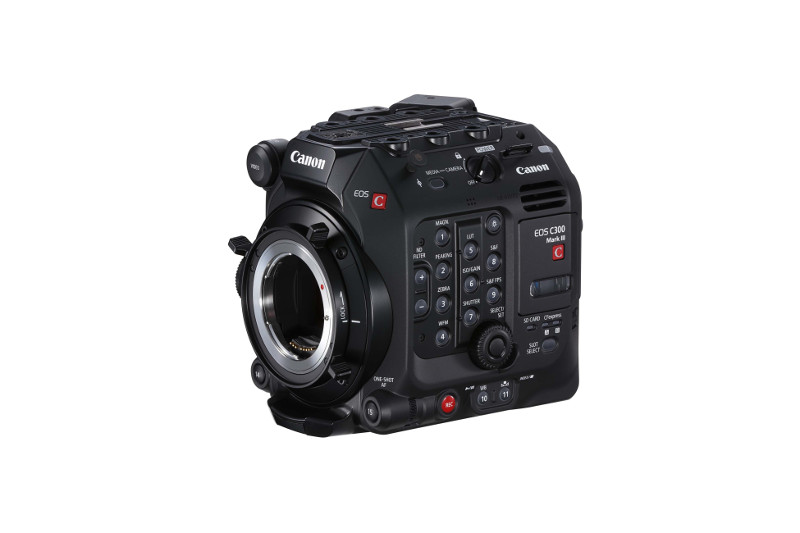 We can now tell you about the C300 Mark III: a camera that takes that original Canon Cinema EOS idea of a fully broadcast-spec'd Super 35mm camcorder suitable for a variety of applications, and perfects it with the best of Canon's recent R&D. Using the same body, layout and accessories as last year's C500 Mark II, but at a lower price and with arguably a far more impressive and useful feature-set, this new Cinema EOS camera keep the "broadcast standard" vibe alive while adding some seriously top-end recording codecs and framerates. Let's look at the stand-out features on this next-generation C300...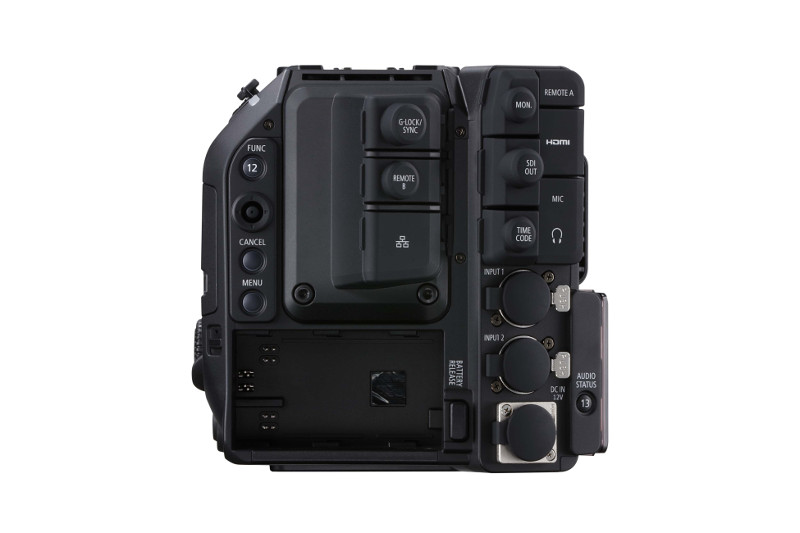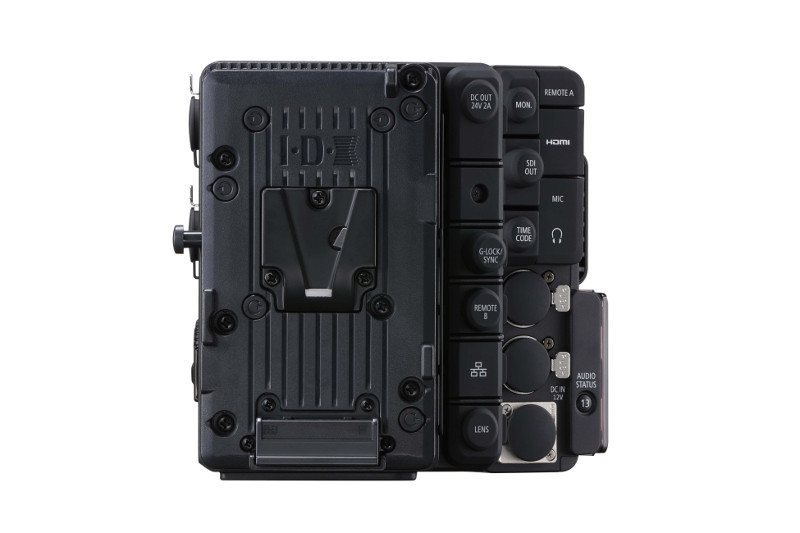 A few close-up looks at the camera
A brand new Super 35mm sensor boasting 16+ stops of dynamic range, thanks to "Dual Gain Output"
Okay, we need to get the techie stuff out the way first. The new sensor uses something called Duel Gain Output – to explain this, let's first refer to the manufacturer's blurb: "The DGO sensor is a newly-developed imaging system that generates HDR video by reading out each pixel with a different gain setting. It combines images using pixels shot with a saturation-prioritising amplifier for bright areas, and a lower-noise noise-prioritising amplifier for darker areas, resulting in a higher dynamic range. It is also compatible with Canon's unique Dual Pixel CMOS AF."
That might sound complicated, but really it's a very technical way of explaining the sensor is generating two images: one prioritising highlight areas and the other prioritising darker areas. This way the camera can achieve 16+ stops of dynamic range. Here's a graphic from Canon themselves to explain:

So what does that mean in practical sense? Well, it ought to mean that we can shoot HDR with vastly reduced noise, even at higher ISOs (within reason of course; higher ISOs will still display higher noise over lower ISOs). For the growing number of productions – particularly for streaming services – that require an HDR workflow, this camera will prove to be the ideal tool. It's worth noting that DGO is not the same as the Dual Native ISO that we see from competitor brands: DGO is available across all ISOs, but for best results they recommend 800 ISO in C-Log 2
Dual Gain Output is automatic and goes on in the background. All you really need to know is that this new sensor produces a wider dynamic range and cleaner images across all ISOs, and that's a great thing. So with that covered, let's move onto the more exciting features that will directly affect what you can shoot…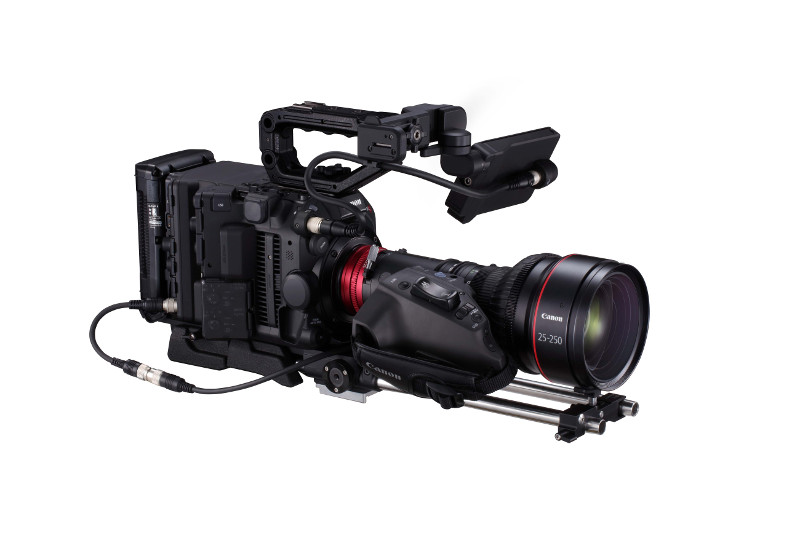 A typical rig setup with monitor, featuring the C300 Mark III
New codecs, new framerates: 50P in 4K… and 120p in 4K RAW!
We all loved the high-quality and efficient XF-AVC codec from the C300 Mark II, and we'd all been really impressed with the Canon Raw Light codec in the EOS C200. The C300 Mark II can record in both formats, and furthermore adds a super-efficient Long GOP version of XF-AVC as well.
The full list of XF-AVC codec and framerate combinations is below, but it's worth highlighting that the C300 Mark III can shoot 4K 50p in the highest setting. That brings the C300 Mark III firmly in line with EBU standards for UHD/4K broadcast, and indeed with popular competitor cameras: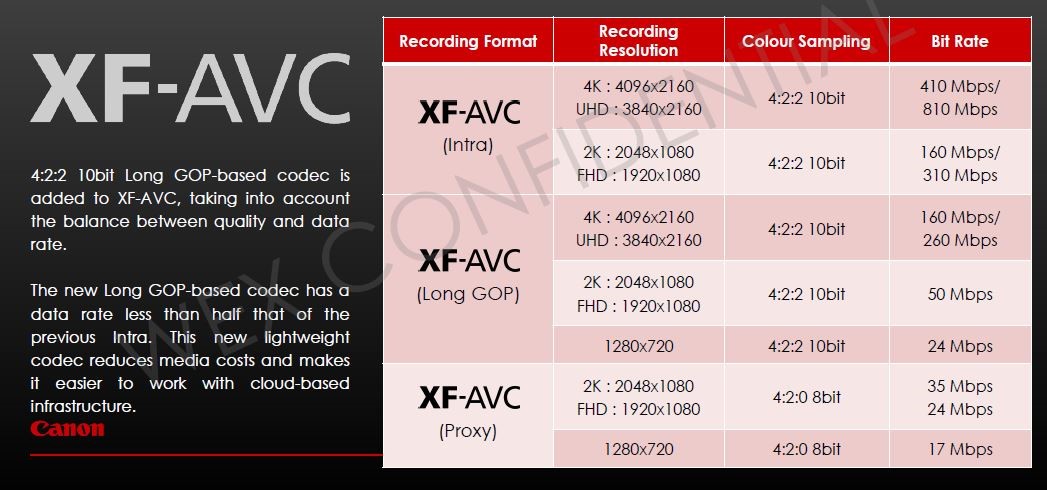 As exciting as the XF-AVC codec options are, surely the main headline from this camera release is that Canon have acknowledged their infamous blind spot for high-speed framerates and have gone all-out: the C300 Mark III gives us 120fps in both an All-I codec and in Canon Raw Light. And that's not all – Canon's industry-leading autofocus now works in the high-speed modes, which is fantastic news for the one-man-band shooter needing get a bit of slo-mo on the fly. This flexibility in framerates is hugely welcome, and I cannot wait to see how Canon owner operators utilise this on commercial shoots. Here's the full list of resolutions and framerates available in high-speed mode: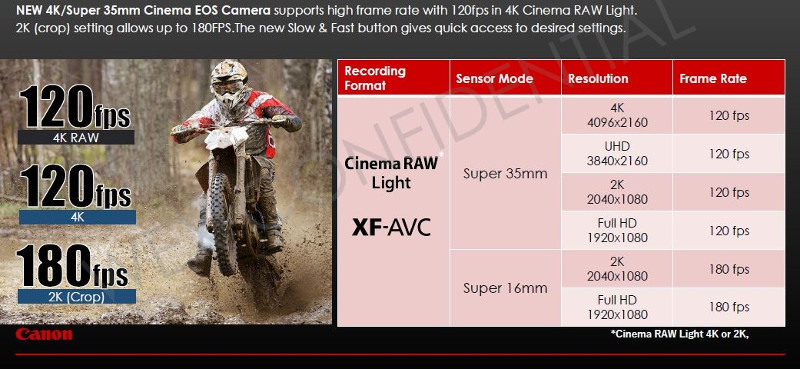 Conclusion
The C300 Mark III brings Canon right up to date with a model that is set to become a standard in broadcast, just like its predecessors. The new high-speed features, flexibility in both low light and HDR, and robust, compact body make this camera feel like to the most comprehensive and perfected Cinema EOS camera so far, and with a feature-set more akin to a £25K camera than a £10k body, I'm sure we'll see this new model establish itself as the go-to for many owner-operators over the next few years.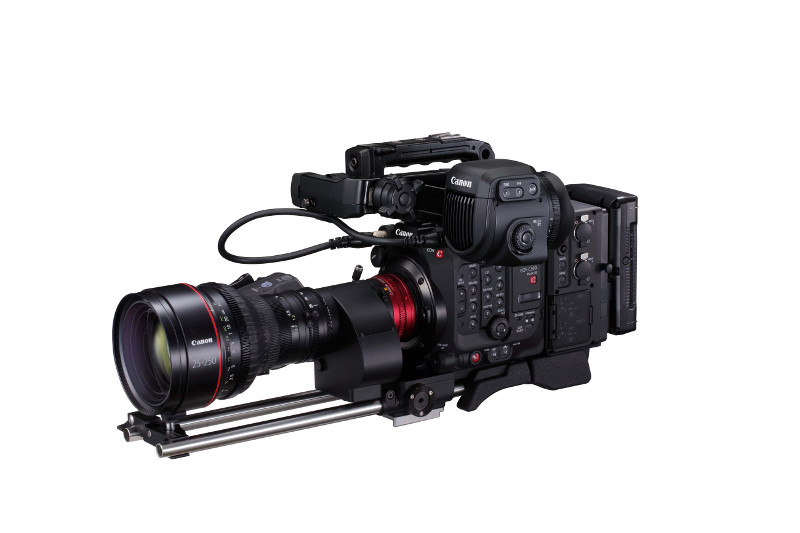 About the Author
Stuart Dennis heads up professional video here at Wex. He has been dealing with the kit requirements of professional filmmakers, camera operators and production companies for 14 years. Find him on Twitter? @Stuart_Dennis
Related articles