Does talk of licensing for wireless radio microphones sound like radio blah, blah? Kriss Hampton breaks down what you need to know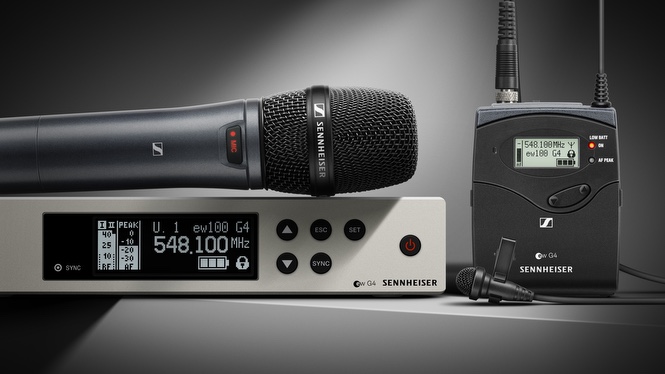 Radio licenses are issued all over the world so that frequencies can be coordinated in a bid to minimize potential interference. Your first step is to decide whether or not you want to pay to use a licensed frequency band or what is essentially a free-for-all license-exempt band. Now, your audio equipment will most likely tap into licensed frequency bands, even if you haven't paid for them. But, if you're found to be using a licensed band without the appropriate license, you could face a fine of up to £5,000 or (worse yet) a prison sentence.
Hopefully that's got your attention, so let's talk about the different licenses and what they mean.
Types of wireless microphone licensing
There are two types of wireless microphone licensing, Ultra High Frequency [UHF] and Very High Frequency [VHF]. Both are licensed on a non-protected basis, meaning you could technically operate on these frequencies illegally without a license (but if caught could face a penalty). These licenses are communally shared within the UK.
UHF or VHF?
First things first, check the operating frequency band of your wireless microphone system(s). This will determine which license will be most applicable. For example, some older systems can only operate under VHF. You can easily check this by looking at the labels on both your microphone and receiver.
UHF: The more popular of the two licenses is often referred to as Channel 38. It falls between the frequencies of 606.500-613.500MHz, and will typically allow you to use up to 10 radio microphones at the same location and time without issue. As there are many variables we can't account for, interference is always possible when using a licensed frequency. However, because you can use any frequency that falls within the band you can simply re-tune within that range until you find a clean, useable frequency (should you encounter any interference).
VHF: VHF has a range of 175.250-209.800MHz, but unlike UHF, is restricted to 15 usable spot frequencies within that band.
Both of these licenses are straightforward to acquire and use, it's simply a one-off payment for a set duration of time. You don't even need to inform the regulator as to which frequencies you'll be using within each of those bands. Touch wood, you shouldn't have to deal with anything regarding frequency licensing or the regulator once you're all set with your license.
The Standard License
Now, should you have a big, high-key event coming up and no longer feel comfortable using the shared licensed spectrums of UHF and VHF, you can minimise the risk of interference by applying for a Standard License. This license not only applies to radio microphones, but also in-ear monitors and wireless cameras. With it, you can solely reserve specific frequencies that you wish to operate on for a set period of time within a specific location. This can be as little as 15 minutes or as long as one year.
This spectrum operates between 470-790MHz and is what we call the interleave spectrum. It literally makes use of the frequency gaps in-between TV channels, often referred to as white space. To purchase a Standard License you need to apply for every individual shoot/event that takes place, with the frequencies that you wish to operate on at that specific location. Because of this, the risk of interference is minimal.
What can I do without a license?
If you do not wish to buy a license and are using equipment that is capable of tuning into 863.100-864.900Mhz, then you can operate within the UHF licence-exempt range, called Channel 70. It's worth noting that this is adjacent to what mobile phones use (800Mhz). Although this is slightly outside of the license-exempt range, there is still a heightened risk of interference. Another drawback when using channel 70 is that it has a limited power of just 10mW for handheld and 50mW for body-worn transmitters. There is also an equivalent VHF license-exempt range that runs from 173.700-175.10MHz.
Finally, there's the generic Wi-Fi band that runs from 2.400-2.4835GHz. This is free to use for all audio equipment below 10mW, but is the most congested of all frequency bands due to most consumer devices operating on it. Also, given that it's a much higher frequency, the operating distance is going to be much less when compared to UHF and VHF. For example, if you queue outside of a nightclub or gig venue, you'll likely hear thumping low-frequency sounds, while the higher-frequency sounds from the rest of the ensemble are hard to make out. This is because lower frequencies can easily diffract around objects.
What if my audio equipment exceeds 10mW?
If your audio equipment exceeds 10mW of power (or 50mW if body-worn) but doesn't exceed 1W, then you will need to have a license that permits the use of high-powered links that sit within Channel 38. There are two specific channels, which can be used, 606.700MHz and 607.000MHz. It's worth noting that you're not covered to access these high-powered links with a UK Wireless Microphone License for Channel 38. For the most part, if you're just using standard wireless radio microphone systems for video, such as a Sennheiser's AVX systems, you'll be completely fine.
How do I buy a license?
You've come this far and now understand why you may need or indeed want a license, but how do you go about obtaining one? Thankfully, it's super straightforward. Simply head over to the Ofcom website where you can apply and pay online for any of the licenses. For access to UHF/Channel 38, the cost is £85 per year (there is a slight discount if you opt for a two-year license at £155). VHF is the same price as UHF's standard yearly cost (there is no additional discount).
What happens after I get a license?
Well that's it – you're all good to go. Of course, interference-free transmission can never be 100% guaranteed as there are many variables at play (literally anything that emits a wireless signal or anything that's going to get in the way of one). Licensing is all about trying to minimize that risk, which is especially important for us professionals. If you're licensed and you do encounter interference then Ofcom can provide you with technical support and advice on how to quickly resolve the situation.
About the Author
Kristian Hampton is Wex Photo Video's Technical Editor for Pro Video. A video specialist who has worked in corporate studios for companies such as Vodafone Group and PwC, as well as working as a freelance grip on various TV productions and features. He also runs Krade Media, providing enterprises with production services. Follow Kristian on twitter @KrissHampton
Related articles