Canon announces two new DSLRs – Matt Higgs takes a look in our Canon EOS 800D and 77D first look review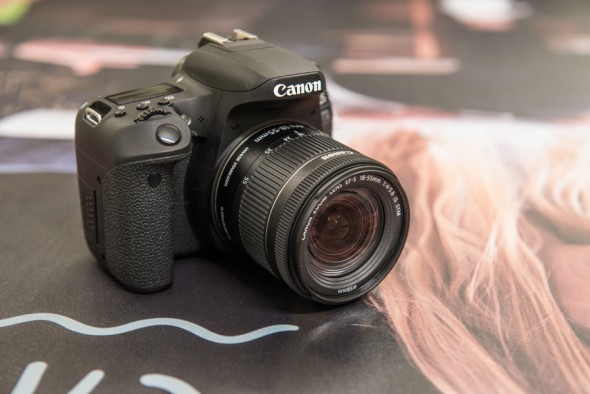 Up close and personal with the Canon EOS 77D
At a glance:
24.2MP APS-C-size CMOS sensor
DIGIC 7 processor
EF/EF-S lens mount
45-point phase-detection AF system
100-25,600 native ISO range
1/4000-30sec mechanical shutter
6fps burst shooting
Full HD video recording at 60fps
Pentamirror viewfinder with 95% coverage of the frame
3-inch 1,040K-dot rear vari-angle touchscreen
Wi-Fi, NFC and Bluetooth connectivity
600-shot battery life
Canon has today announced two additions to its EOS DSLR lineup – the EOS 800D and the EOS 77D. As the two cameras are very similar, we're going to look principally at the 800D for simplicity's sake, before giving a brief overview of the differences between the two.
Launched with the strapline of "Next-generation DSLR technology, made simple", the Canon EOS 800D sits just above the EOS 750D, and below the EOS 77D which boasts the same general spec but with a more advanced control setup (but again, more on that shortly).
An advanced-beginner camera, the EOS 800D is designed to take many of the most exciting features from higher-level Canon models, and place them into a package that's better suited for those just starting to get to grips with DSLR shooting.
Unlike the 760D (which is being discontinued) or the 77D, this slightly more affordable unit has no setting display on its top panel and no quick-control dial on its rear. We take our first look at it…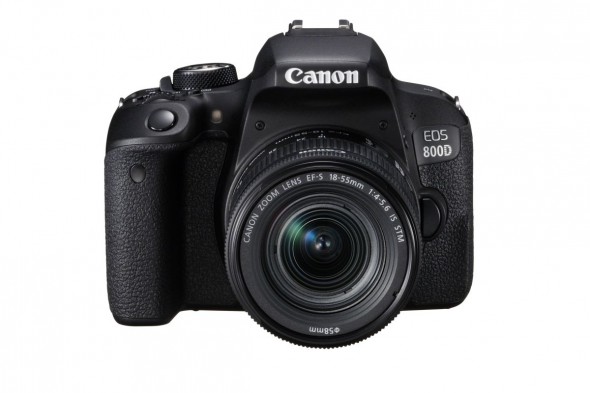 Sensor, processor and shutter
At 24.2MP the APS-C-sized sensor at the centre of the 800D matches the resolution of that found in the 750D, but is part of a new generation of Canon CMOS sensors that promises better performance in low light and in high-contrast situations.
This sensor is paired with a DIGIC 7 processor, a newer chip than that fitted in the enthusiast-geared 80D. This combination provides a boosted native ISO range of 100-25,600 and a top burst shooting rate of 6fps – just one frame-per-second less than the 80D, and one frame faster than that provided by the 750D.
An electronically controlled focal-plane shutter means that this device can capture exposure-metered images at shutter speeds of between 1/4000-30sec, while a Bulb setting for longer exposures is also available.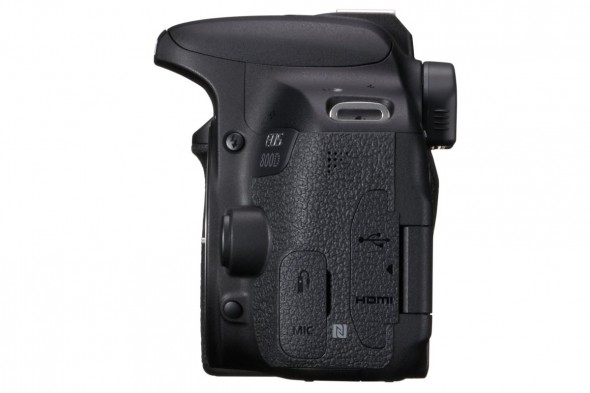 Autofocus
One of the greatest improvements touted by this device is the adoption of Canon's Dual Pixel CMOS AF system, something that was only previously available in the brand's enthusiast-level models and higher.
This well-respected focusing system features 45 focus points, all of which are the most accurate cross-type (in comparison, the 760D only had 19 cross-type points). With an operating range of -3 to 18EV, this system should also perform notably faster and more accurately in low light than both the 750D and 760D.
Twenty-seven of the camera's available focus points continue to operate at f/8 too, something that will please those looking to make use of teleconverters, while the central focus point is a dual cross-type, making it especially accurate.
According to Canon, this system is "The world's quickest Live View AF system focusing in as little as 0.3sec." This means that it should be blisteringly quick when recording video as well as stills.
Video
The 800D can shoot Full HD video at 60fps, recording for up to 29mins 59secs in the H264. Intra frame format. Sound recording levels can be manually adjusted by the camera's user, while a 3.5mm input on the side of the camera allows the device to be used with an external mic for improved audio quality. Thanks to 5-axis sensor-based image stabilisation, it's possible to easily produce pro-looking shake-free footage.
Viewfinder and monitor
Providing 95% coverage of the frame, the 800D has an optical pentamirror viewfinder that features a dioptre for optical adjustment and a magnification of 0.82x. Matched with this viewfinder is a 3-inch 1,040K-dot Clear View II touchscreen – this vari-angle display can be easily tilted for comfortable use at high and low shooting angles, as well as flipped around entirely to protect it from damage when not in use.
Other features
Alongside the now fairly standard presence of Wi-Fi and NFC, this camera features the addition of always-on Bluetooth, which helps to take the stress out of repeated connection establishment.
These connectivity options allow the fast transfer of files from the EOS 800D to a smart device, and remote control of shooting. The built-in flash has a guide number of 12 (ISO 100/metres), while the 800D's battery life is 600 shots from fully-charged.
Handling
Keeping its control layout almost identical to that of the 750D, the 800D is designed to be easy to use and unintimidating for those new to handling a DSLR. With an intuitive navigation system and quick menu option, it won't be difficult to master the art of selecting your preferred settings.
There's also the option to use a new guided menu system, which provides descriptive and visual aids to help users quickly understand the effect of settings on the images they will produce.
More advanced customisation of handling hasn't been forgotten though, with the operation of 15 controls easily adjustable. With a raised front grip and textured thumb rest, the camera sits ergonomically in the hand, despite measuring a reserved 131 x 100 x 76mm and weighing a mere 532g (including battery and memory card).
Manufactured from polycarbonate resin and glass fibre, the 800D is not weather-sealed or built to the same premium standard as some of Canon's more advanced models – however, it does still feel extremely durable.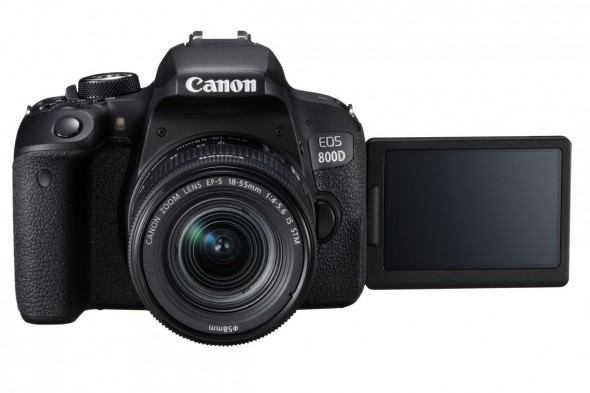 Verdict
With a vastly improved autofocus system, enhanced connectivity options, increased ISO range and boosted burst shooting speed, the 800D is a step up from the 750D and is eminently worthy of your attention.
Released in tandem with the similarly specced 77D, this device will be sure to appeal to those who value high-quality images and a reliable performance, but who don't need the more in-depth control layout of its sibling. Whether as an upgrade from an older Canon model, or your first entry into the EOS family, it won't disappoint.
Canon EOS 800D versus 77D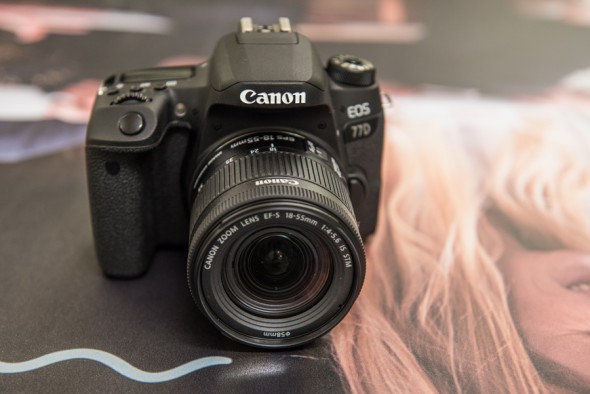 The principal differences between the EOS 800D and the more advanced EOS 77D are in the handling. Both sport the same sensor/processor combination, however the 77D comes packing an additional top LCD screen for quick settings readouts. The top control dial has been moved in order to accommodate this.

The 800D (left) and the 77D (right)
The EOS 77D also features an additional rear control dial, which can provide a degree of tactile thumb-control for different settings depending on the user's preference.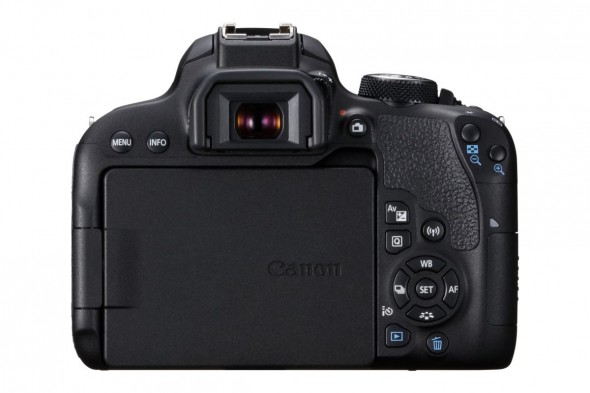 The rear of the EOS 800D...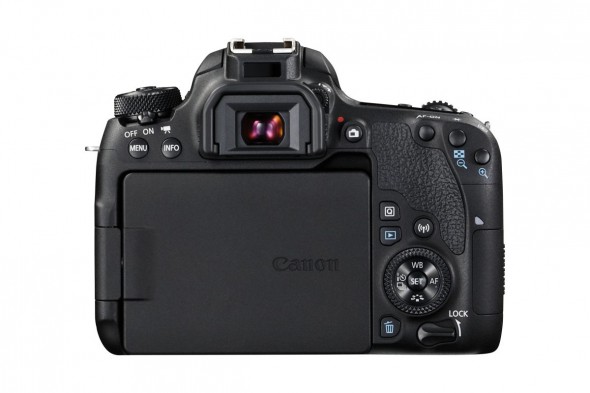 The rear of the EOS 77D – note the additional dial at the bottom right
About the Author
Matt Higgs has worked for Practical Photography and Digital Photo magazines, and his live music images have been featured in numerous respected music publications including Rock Sound, Guitarist, Guitar Techniques and Akustik Gitarre. www.matthiggsphotography.co.uk.
Related articles
<