With a one-inch sensor, Wi-Fi, NFC and a touch-sensitive screen, the G7 X is a serious contender in the competitive premium compact-camera market. Amy Davies takes it for a test drive.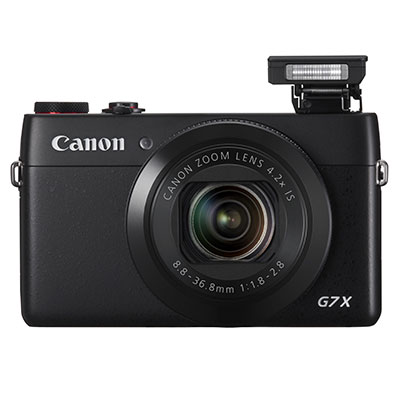 There was a time when Canon was synonymous with the premium compact category, its much lauded G series being the go-to choice for enthusiast photographers wanting a high-quality pocket-friendly camera.
However, in recent times, Canon has seen competition increase substantially as the lower end of the compact market declines thanks to the rise of the smartphone.
Perhaps the biggest example of this success is the Sony RX100 range, now on its fourth iteration. With one-inch sensors and a range of other interesting features, these premium compact cameras made the likes of Canon's G16 look a little less appealing.
However, the Canon G7 X and the new G3 X have stepped forward in an attempt to put Canon's name firmly back in the premium compact frame.
Key Features
The 1.0 inch 20.2 million pixel sensor is three times larger (in physical size) than the 1/1.7 inch type sensor as found in previous generation G series cameras (excluding the G1 X and G1 X Mark II, which have much larger sensors). It's also in-line, both in terms of pixel count and physical size, as the Sony RX100 range.
The larger sensor is joined by a DIGIC 6 image processor – that's Canon's top-of-the-range processor and should help with low-light shooting. There's a 4.2x optical zoom lens that covers a 35mm equivalent range of roughly 24-100mm and has an aperture range from f/1.8 at the wide angle of the lens to a still impressive f/2.8 at the telephoto end. These wide apertures should also help when shooting under low light.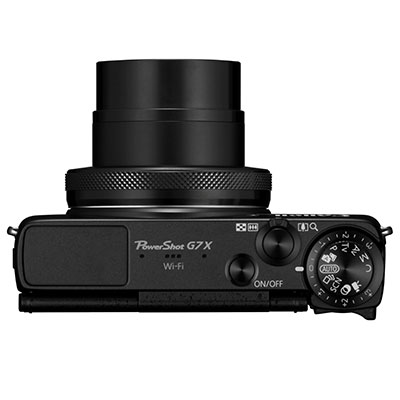 Manual control is included, along with semi-automatic shooting modes. It's also possible to shoot in Raw format. Full 1080p video recording at 60p is available, plus a range of automatic and scene modes are provided.
The G7 X features Wi-Fi and NFC connectivity, giving you the opportunity to remotely control the camera from a smartphone or tablet, as well as transfer images for quick sharing to social-networking sites and so on.
There's no viewfinder provided with the camera, and it's also worth pointing out there's no hot shoe for the addition of an external device. There is, however, a tilting, three-inch 1,040,000-dot touch-sensitive screen, which can face all the way to the front (but can't tilt downwards).
Design and Handling
It's fair to say that previous G series compact cameras have suffered from a slight utilitarian look, but the G7 X has a sleek and stylish appearance that is pretty pleasing to the eye.
A fairly chunky camera as far as compact cameras go, the G7 x might still fit inside a reasonably large trouser pocket, and would certainly fit in an average jacket pocket.
In terms of buttons and dials, it's a fairly minimalist approach, while still offering enough to allow for quick access to some of camera's key controls. On top of the camera is a mode dial for quickly choosing an exposure mode. Here you'll find aperture priority (Av), shutter priority (Tv), Program (P) and Manual (M) mode. There's also Auto, Hybrid Auto (which creates a two second video clip along with every shot taken to produce a montage at the end of the day), Creative Shot mode, Scene Mode, Filter mode and video record mode.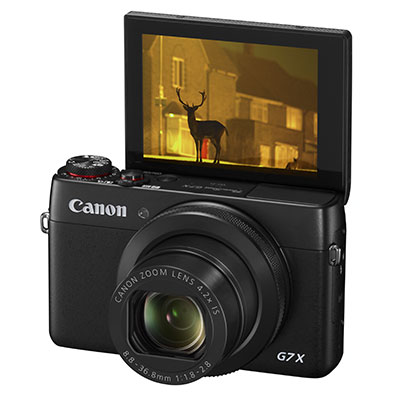 Directly underneath the mode dial – and easily reachable by the thumb and forefinger when holding the camera in your right hand – is an exposure-compensation dial, which can be used when shooting in semi-automatic and automatic modes. It's a reasonably stiff dial so you shouldn't be able to knock it out of place accidentally.
Also on the top plate is the on/off switch, zoom rocker, shutter-release button and the in-built flash, which is activated by a small switch on the side of the camera.
The back of the camera should be familiar with anybody who has used a Canon compact before, especially one from the G series. A rotating dial doubles up as a four-way navigational pad, with each direction serving a specific purpose: left controls the type of functioning; up, the drive mode; right, flash mode; and down, the display mode. The dial itself is used when in Manual mode to set shutter speed, and also for scrolling through various menu options.
To access the most commonly used settings on the camera, you can press the function button in the middle of the scrolling dial pad. Here you'll find parameters such as sensitivity (ISO), white balance, metering mode and so on. Use the up and down buttons to navigate to the setting you want to change, then either the right and left buttons or the scrolling dial to make a change as required.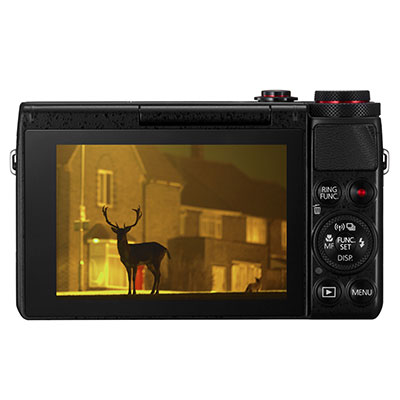 The other buttons on the back of the camera are a dedicated video-record button, a menu button and a playback button. There's also a button that allows you to change the function of the ring around the base of the camera's lens. Depending on which shooting mode you're in, the ring will have a default function – such as altering aperture when in aperture-priority mode – but it can be set to control a number of other functions, including white balance, manual focus and sensitivity.
Using the ring will feel very natural to enthusiast photographers. It's not too stiff and not too flexible, while it also makes a click as you turn through the settings, which is handy to help you know that a setting has been changed.
The majority of the back of the camera is taken up by the large three-inch screen. You can use this to control some aspects of camera operation too, such as setting the autofocus point and, if you like, you can also set it to fire off the shutter from a touch once focus has been achieved.
In order to connect the G7 X to your smartphone or tablet, you have a couple of options. A button on the side of the camera can be pressed to activate the Wi-Fi connection, and you simply connect to the camera via your smartphone or tablet by entering the Wi-Fi code and launching the Canon Camera Window app. If, on the other hand, you have an NFC-enabled device, simply touch the two together at the relevant points and a connection will be formed automatically. The first time you do this, the free Camera Window app will be prompted as a download, but after that the app should start automatically.
There's not a great degree of control afforded by the app – you can only really extend the lens or fire off the shutter release, but it's still handy to have for group portraits or certain awkward angles.
Performance
The general operation speed of the G7 X is fantastic, with the DIGIC 6 processor keeping things nice and speedy.
Autofocusing speeds are quick and generally accurate in the majority of instances – there can be times when using the macro focusing results in a false positive though (indicating that focus has been achieved when it hasn't), meaning you might need to force it to refocus from time to time.
Otherwise, when focus is achieved, you can get very close when using macro mode to produce lovely detailed images. As light levels drop, so does the speed of focusing, but it's still pretty good in all but the very darkest of conditions.
Image Quality
Directly from the camera, images are bright and punchy, displaying the typical Canon warmth for which the manufacturer's cameras have come to be known.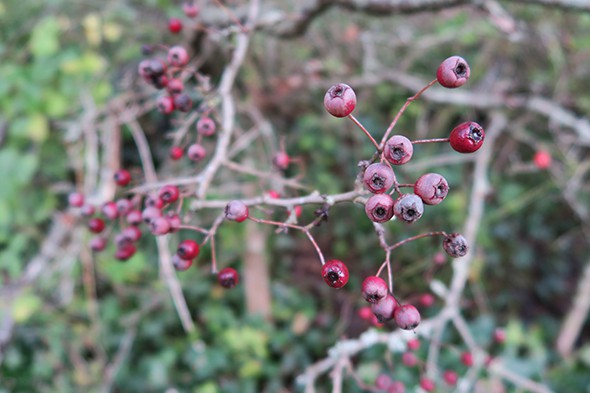 Detail is also rendered well, and we can see by looking at images at 100% that sharpness is maintained well throughout the scene – it drops a little at the corners but that is not something that should be particularly apparent at normal viewing and web sizes.
With its 9-blade aperture, the G7 X's lens is able to render out-of-focus areas beautifully well, too, especially when shooting at wide apertures such as f/1.8.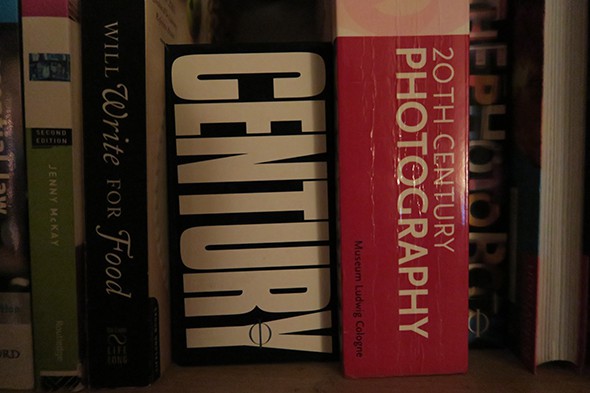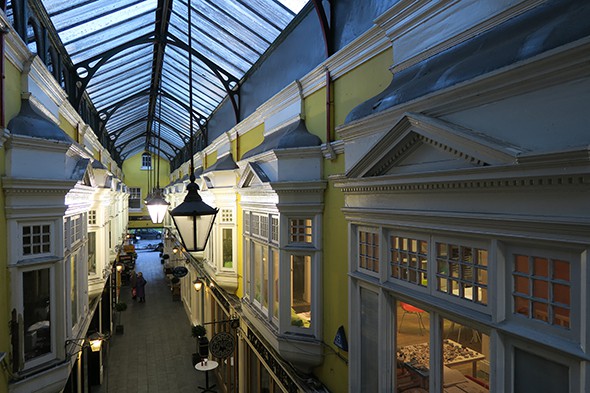 In low-light conditions, shooting at high sensitivities, the G7 X copes well. If you look at images at 100%, you start to see noise becoming visible from around ISO 400, rising as you go through the sensitivity range. But at normal viewing and printing sizes, noise levels are acceptable, right the way up to ISO 6400 – even at 12,800, if printing fairly small (7×5 inches for example). There's a good compromise between noise reduction and detail rendered, but shooting in Raw format gives you the opportunity to strike the balance that you prefer. To process the camera's Raw files, you can use Canon's Digital Photo Professional or third-party options, such as DxO.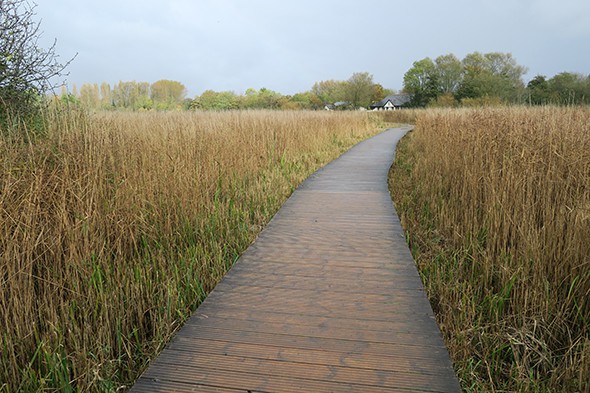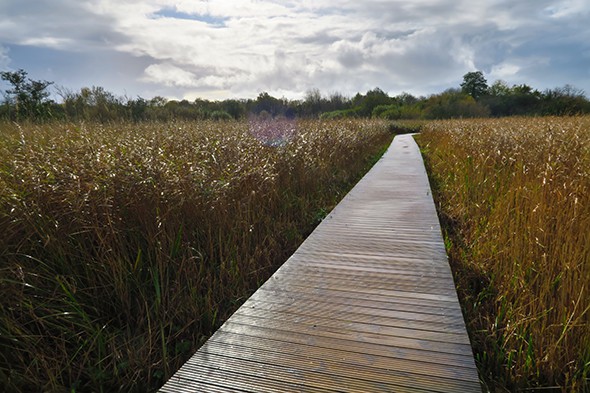 Overall, the camera's evaluative (all-purpose) metering system copes well to produce accurate exposures, but you might find that you need to dial in some exposure compensation if you place the autofocus point over a particularly high or low contrast area of the scene. Automatic white balance also copes admirably well, erring ever so slightly towards a warm tone under artificial lighting, which can be easily remedied with a custom white-balance setting if needed.
Different digital filters are fun to experiment with, but it's a shame not to be able to use some of the better ones from the Creative Shot mode in a mode that gives you more control. As it is, you'll be left with five random crops and filter effects, some of which you'll probably like, and others you may very well hate. Still, it's fun for experimentation. For a little more control, you can use the dedicated filters mode, but personally I find these to be a little dated and could do with an update from Canon.
Verdict
The premium compact camera market is very crowded at the moment, and it seems like there's something to suit pretty much every photographer's needs. It's great to see Canon returning to brilliance in its G range with the G7 X, and those who are looking for superb image quality and great features in something very small and light are unlikely to be disappointed by what this camera has to offer.
It's a shame there's no hot shoe or inbuilt viewfinder – this is one area in particular where the rival Sony RX100 III beats the Canon, but for those who are loyal to the Canon brand, this is an excellent choice.
Pros:
Touch-sensitive, tilting, high-resolution screen
Large sensor
Inbuilt Wi-Fi and NFC
Lens with a maximum aperture of f/1.8
Manual control
Raw shooting
Cons:
No built-in viewfinder
Occasional false positives when macro shooting
Digital filters starting to look a bit dated
Canon G7 X: Key Specifications
1.0-inch type, 20.2 million pixel sensor
24-100mm 35mm equivalent focal length range, f/1.8-2.8
ISO 125 – 12800
DIGIC 6 image processor
Full HD (1080p) video recording at 60p
31-point, Face Detection or Touch AF with Object and Face Select and Track.
No inbuilt viewfinder; no hot shoe for attaching accessories.
Tilting, 3 inch (7.5 cm) sRGB PureColor II G Touchscreen LCD, approx 1,040,000 dots.
6.5fps continuous shooting for up to 692 frames
Approx 304g (including battery and memory card)
103 x 60.4 x 40.4mm
About the Author
Amy Davies is a technical journalist and photographer who has been reviewing cameras and other photographic equipment for the past five years. Her work has appeared in Digital Camera and N-Photo magazines as well as on Techradar. You can find out more about Amy and her work on her website.