You've probably seen instant camera printers around but how do they actually perform and are they more than just a novelty item? Then again, could all instant cameras be classified as novelty items? To see the quality of Instax Mini Link Smartphone Printer; how intuitive the mini Link app is and whether or not the printer is fun to use we took it to a local, Norwich bar and a quaint little café in Ely.
Fujifilm Instax Link Instant Printer - Dusky Pink
The Fujifilm Instax Link Instant Printer is a compact and elegant printer. It will seamlessly connect up to your smartphone and using the fun and intuitive app, you're able to easily pick and edit your favourite images. The printer will then take the images you choose and produce high-quality and crisp credit card-sized prints. You'll be able to forever keep those special moments in time as a physical photo that holds more meaning than just the digital image. The Instax Link also has some great creative modes, perfect for sharing with your friends and family.
£99.99 View
The printer is completely controlled via the free-to-download mini Link app; available for both Apple and Android devices. The premise is quite simple – snap a photo, open the app, hit print. In that aspect, the whole process is as intuitive as it gets. So how's the image quality? We used an iPhone to take the below picture. The one on the left is the 'raw' image; whereas, the one on the right has been edited in VSCO with the C1 filter. The goal was to see how flat images compare to high-contrast and high-saturation images when printed.



Original photograph vs VSCO C1 filter edit
The app offers the standard three in-app filters including Bright, Sepia and Black & White. Below you can see how these compare to each other. I tested these filters on the original photograph and I must say, it is not worth editing your images before printing them. The flat image is better simply because the developed photograph will have much more contrast. By adding contrast while editing, you will make the image even darker and therefore less clear - unless this is the look you're going for. I do like the in-app filters. I think that the Bright filter is my favourite for this particular print. Depending on the subject of your photo, you can also use the Sepia filter for a spooky or vintage shot. I don't think it works well in this example, however. The Black & White filter I have a small problem with - it has a bit of a green tint to it. I would not advise you to edit the photo B&W on your phone and then open it in the app to print. Simply use the in-app filter and cut out the unnecessary middleman. They turn out pretty much exactly the same so you might as well ditch VSCO for this one.
Comparison of in-app filters
Next, I wanted to test how the high-contrast VSCO edit would do. As predicted, it is not as sharp as the original image. I do prefer the saturation on this one - gives it more of a 'grunge' look. For good measure, I then applied the in-app B&W filter. Again, the raw image is much sharper but if you are going for that 90s band look, up the saturation and contrast on your phone before printing it from the app.


Printed VSCO edit using C1 filter vs Edited photo with an in-app filter added
The printer is advertised as a social product – the intent is to share it with friends. The idea is cute and definitely relatable to my generation. As much of a 21st-century problem this is, we've all argued over a Polaroid or an Instax. Who gets to keep this tangible reminder of a fun night out or a trip with the gang? With the re-print option, you can print as many copies of one photo as you need so that everyone gets to have a keepsake. I've spoken before about the added meaning of physical photographs as we live in an oversaturated, digital world. True the picture you take is on your phone, but it holds a different, more sentimental value when it becomes that nostalgic instant print.


Examples of Collages
The creative folk at Fujifilm added a bunch of fun app functions you can play around with. Collages are my personal favourite since I scrapbook a lot. For me, they serve as a neat little summary of whatever has happened on that day which you can put into your diary or, erm… scrapbook. The app is chock-full of different layouts for you to try out. The party print function is also a nice addition. Your companions can contribute to the collage by secretly throwing their images into the mix. The resulting print is a surprise for all.


Examples of Frames
There are quite a few frame designs that you can add to your prints, albeit these could've been done a little more imaginatively - I'm nitpicking here so brace yourself. You have the standard angel wings, texts and frames - great. The thing is, they are useless for most photographs and feel like you're about to ruin your precious print with unnecessary clutter. For the majority of my photographs, I couldn't fit them in as they obscured the faces of the people in them and no, you can't resize or change the position of the frame. You can; however, reposition your photo to fit the frame. I'd much rather have the option of making the frame match the picture as you can do with a lot of Instagram story add-ons. I must say that I like the idea of adding 'Thank You' text – there are different frame styles with a few variations in typeface – to your print and giving it to someone. That might be one redeeming feature of the frames that, at least, I can get on board with.


Test and re-print functionality
Another fun function to explore with your friends is the match test. Above I have also included an example of a re-print. My friends liked the idea of 'perfecting' their pictures on their smartphone before printing them. For them it is a benefit, making them want to use it over the Instax Mini camera. I'm the opposite. I appreciate organic errors in photographs; to me, they are not an inconvenience but something to be celebrated. You capture the moment as it happens, there's more truth to it – it's more spontaneous like life. Saying that I can see why having more control over your print is appealing. You're not wasting film on a potentially unflattering photograph or one with poor composition. I can imagine a decent number of people who, when on holiday or just having a fun night/day out, might not want to switch between their phone and a camera. Having the option to print an Instax after the fun is over as a physical memento is fantastic.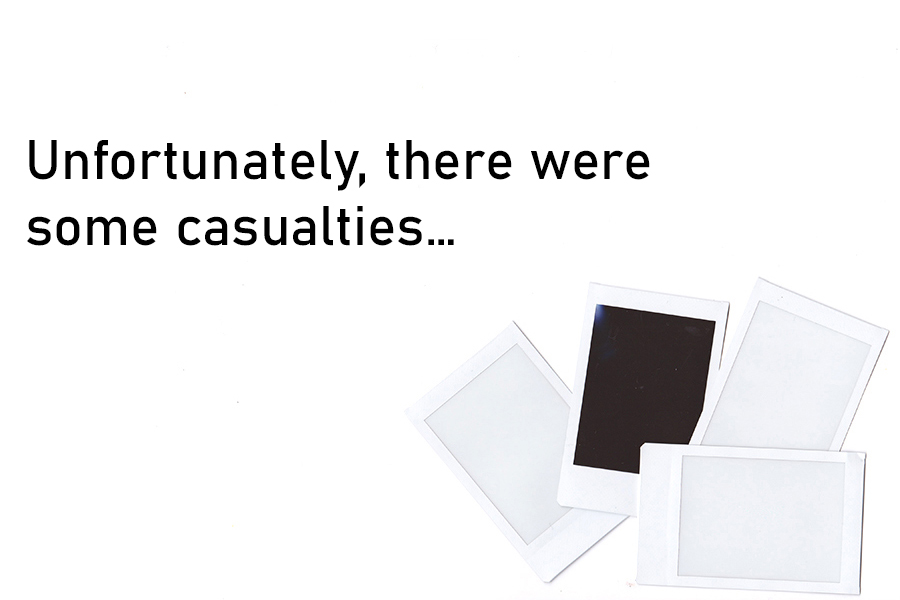 Yes, some comrades have fallen. There is a very small learning curve when it comes to loading the film. Even if the printer is off, as soon as you load the cartage it prints the protective layer. The printer does this automatically EVERY SINGLE TIME. This is not a problem for most people; however, if you're like me and want to switch between the macaron and the black film frames, depending on the situation, you will waste it. The printer is going to develop the Instax as soon as you close the lid. Instax mini film comes up at £8.99 per single pack of 10 and wasting that by accident is annoying, to say the least. Just be aware of it.
What sells the printer to me is the selection of film frames – macaron being my absolute favourite. Check out some of the packs below:
Fujifilm Instax Mini Macaron Deco Film
A sharp, credit card-sized, daylight-balanced ISO 800 film made for use in Instax Mini Series Cameras. Recognised for its excellent colour reproduction, the film has a glossy finish and is an excellent choice for general use, portraiture or even with electronic flash. It's also a fun film to use - easy to load, shoot and best of all - no wasted time at the lab wondering how your images came out.
£8.99 View
Fujifilm Instax Mini Black Frame Film
Make your instant photos even more fun with the Fujifilm Instax Mini Black Frame Film. Each pack contains 10 sheets for taking credit card size photos. Now you can choose from a huge range of coloured and patterned borders for your photos. For use with Fujifilm's instax Mini cameras and Share SP-1/SP- 2 printers.
£8.99 View
Fujifilm Instax Mini Colour Photo Film 20 Shot
The Fujifilm Instax Mini Colour Photo Film includes 20 sheets of wallet-sized instant film. Instax Mini film (for use in all the Instax mini cameras) comes in a handy cartridge, giving stunning-quality instant images that fit into a purse, wallet or mini photoframe. Film size: 54 (W) x 86 (H) mm. Picture size: 46 (W) x 62 (H) mm.
£14.99 View
So, what are my final thoughts on the Fujifilm Instax Mini Link Smartphone Printer? Despite a few tiny faults, I think that this is a fun product. It lives up to its claims of being a social printer, it's simple and intuitive to use, plus tangible mementoes are always great. Whenever there is 'too much' of something, such as the digital, there will always be a push back against it. I think this is why single-use cameras, Polaroid, Instax and printers such as this one are selling. To answer the question of whether or not it is more than just a novelty item – it is not. That doesn't make it any less fun and there is definitely a market for it. I recommend trying it out for yourself.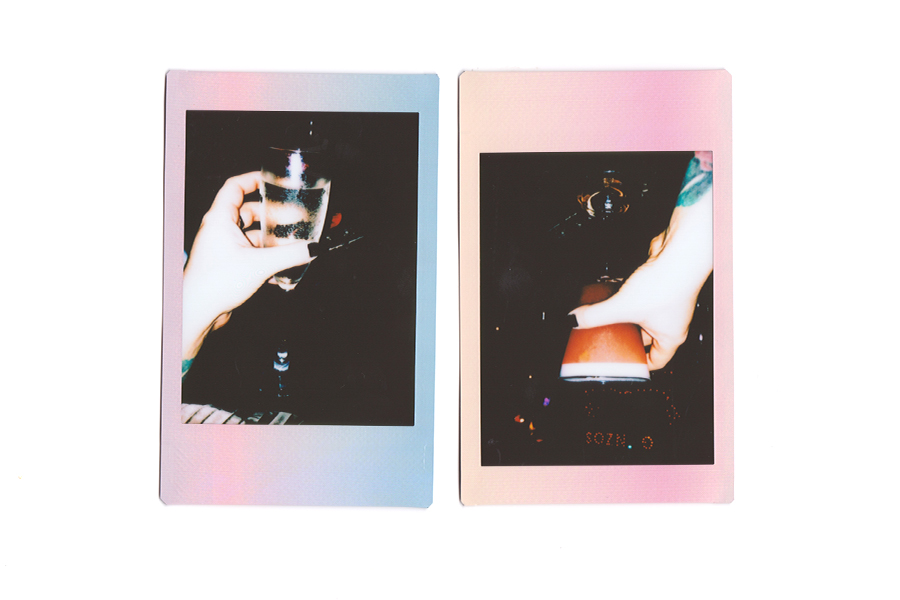 About the Author
Patrycja Reimus is a Norwich based horror artist and an award-winning filmmaker. She is also our Technical Copywriter who frequently enjoys writing for our blog. For more information about her work please visit patrycja-reimus.squarespace.com. You can also follow her wonderfully weird and obscene imagery on Instagram @reimuspati_art or stalk her personal life @patrycja_reimus.