The new Lensbaby Velvet 56 arms portrait and macro photographers with something a little different from the norm. We take it for a spin in our review.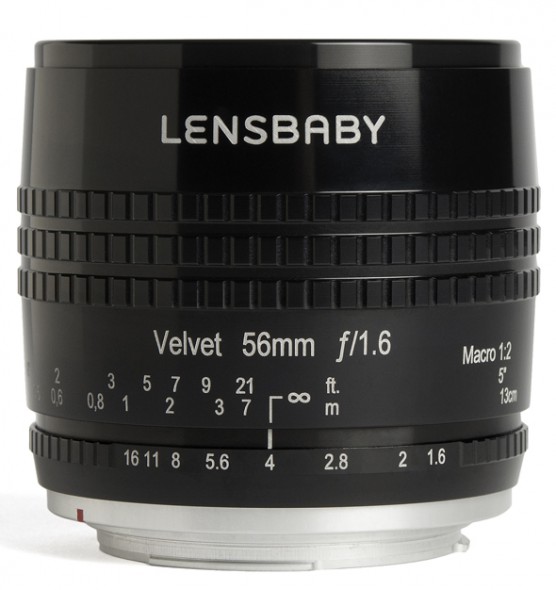 Since 2004, Lensbaby has been encouraging photographers to "see in a new way" with its variety of unconventional optics and accessories. Last year marked a slight change in direction with the smartphone-specific LM-10 Sweet Spot lens, and now the company has shifted its focus back to the DSLR user with the Velvet 56.
The Velvet 56 blends the company's trademark trippy image quality with a streamlined metal body, in contrast to the largely plastic constructions of its siblings. In many ways this is Lensbaby's closest match to a conventional DSLR optic to date, with physical focus and aperture rings and none of the squeezing, shifting or aperture-disc swapping associated with other models. We take a closer look at what's new and how it performs in our full review.
Features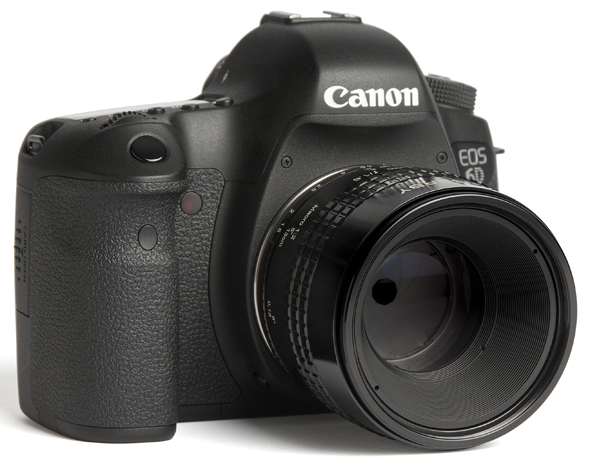 As its name suggests, the Velvet 56 offers a focal length of 56mm (and around 84-90mm on cropped-sensor bodies, in 35mm terms), making it suitable for a range of subjects such as still life and portraiture. Those specialising in the latter will be pleased to discover its maximum aperture of f/1.6 for particularly shallow depth of field, although this lends itself to a raft of other subjects.
The lens's barrel states 1:2 macro capabilities, which means it's been engineered to focus close enough to reproduce subjects at a half their actual size on a sensor. In practical terms, this is a working distance (i.e. distance from the front element to the subject) of 13cm, which is significantly shorter than other lenses of this focal length. While it's not a 'true' macro lens with a 1:1 magnification ratio, it should focus close enough to be used for the same purposes.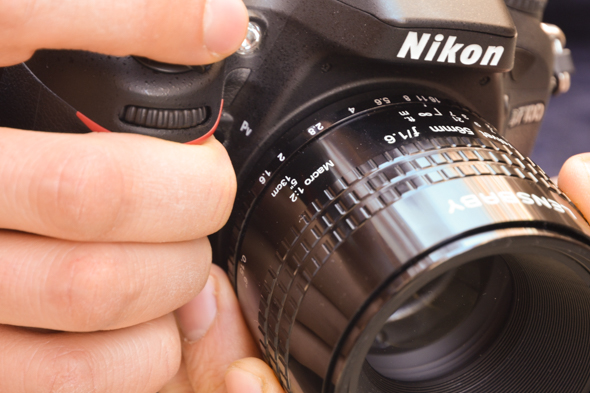 Focus itself is fully manual; there's no AF motor inside the lens and no contacts at its rear to communicate with the camera. This also means that aperture control is confined to the barrel rather than any command dials on the host camera and, as a result, aperture information is not stored in any image metadata. The lens can have its aperture adjusted between f/1.6 and f/16, in full-stop increments between the f/2-16 range, while a 62mm thread around its front allows for filters to be mounted.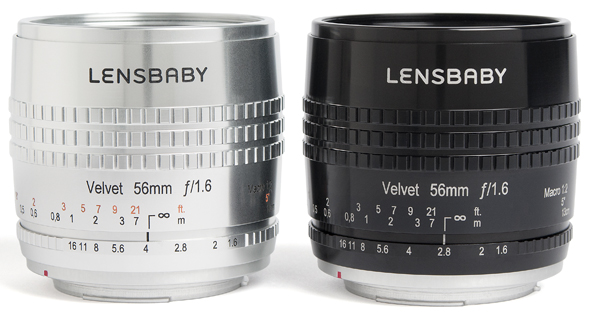 The lens will be available in Canon EF, Nikon F, Sony A and Pentax K fittings, with a black version available in all four and a silver version for the first two. Aside from its finish, the silver version also differentiates itself from its black counterpart by having its aperture and focus marking engraved into the barrel itself.
Design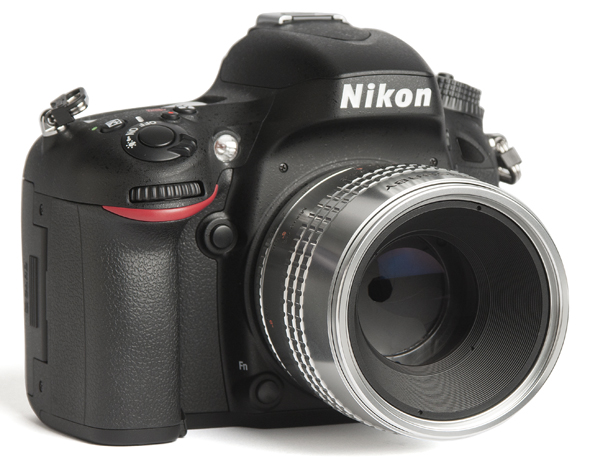 Lensbaby states that the Velvet 56 "evokes the image style and construction quality of classic portrait lenses of the mid-20th century". The lens's shallow but freely moving aperture ring is positioned right at its rear, with focus distances marked in front of these in both feet and metres. In front of this lies a triplet of textured rings; these act as the focusing dial, although the entire outer barrel moves when this is turned, extending the inner barrel as the lens reaches closer focusing distances. The only other feature is the red mounting marker on its rear.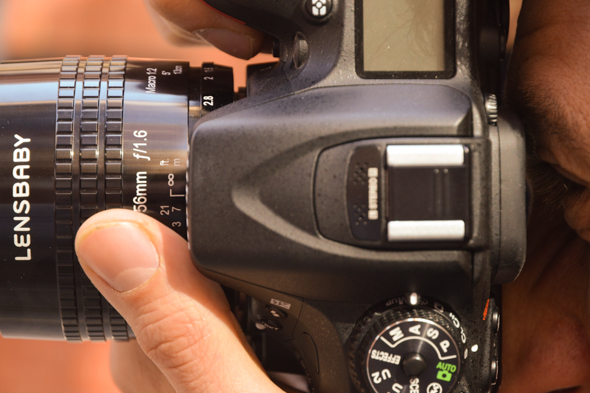 Depending on the camera you're using, the lens's aperture ring may be partially obscured by the overhang of your camera's flash – and with no electronic communication with the camera, aperture won't be displayed in your viewfinder, rear display or top-plate LCD (if your camera has one). In practice, this just means you need to tilt the camera slightly further back to see which aperture you're currently using, although adjusting aperture 'blind' is likely to become second nature once you've familiarized yourself with the eight stops available.
Performance
The first thing to do its to set the camera to its Manual or Aperture-Priority mode, whichever allows you to shoot without a recognised lens. Depending on your camera, you may need to elect the option to shoot without a lens through the menu system.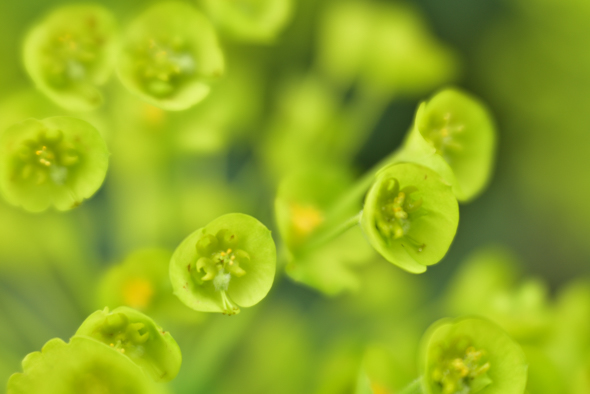 The camera you use should still meter light coming through the lens to guide you as to an appropriate exposure, although you need to achieve this by adjusting the shutter speed (and ISO if required) yourself. If using live view or a camera with an electronic viewfinder, you can also use the histogram to guide you to the correct exposure. Those not used to shooting in a fully manual mode may find this process a little tricky at first, but it does get easier over time.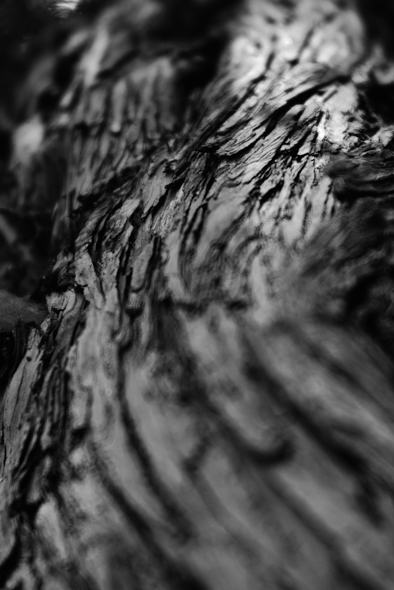 As it is possible to achieve particularly shallow depth of field, it's imperative that your diopter is set correctly if you're to be able to accurately assess focus through a viewfinder. Of course, you may prefer to use live view, in which case you can zoom into the image to check whether focused areas are indeed in focus and adjust accordingly. This is more accurate and particularly useful when shooting in conjunction with a tripod.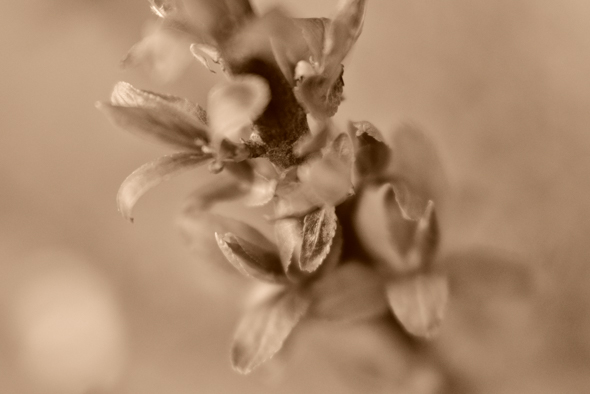 In its stowed position the lens is focused to infinity; the outer barrel requires a full revolution to move through its entire focusing range. The size of the ring and its stiffness means that this is something of a slow process, although for a manual-focus macro lens this is probably a good thing as it means focus can be very finely adjusted for precision. It does, however, also make the lens less suitable for more spontaneous types of photography, particularly those in which focus may need to be frequently shifted between its two extremes.
Image Quality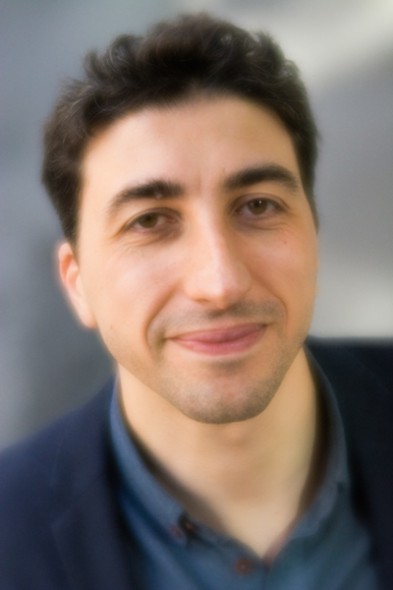 Users of previous Lensbaby products will be familiar with the effects produced by the Velvet 56, although there are differences. For instance, there's no way to shift the so-called sweet spot (the point at which details appear sharp) or to tilt the lens for even greater blur. The blur you get is largely a product of the aperture you choose.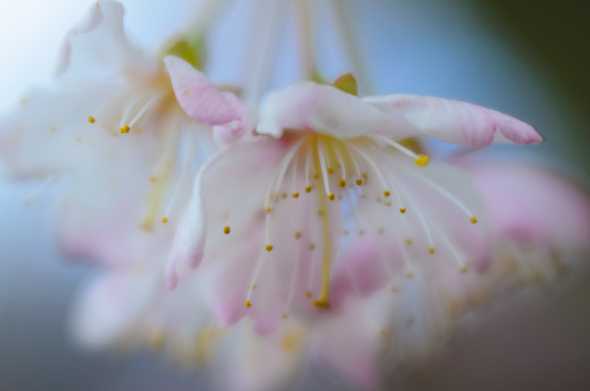 At the lens's widest aperture of f/1.6, images take on a soft, dream-like effect (above), which makes it a good match for natural subjects such as people and flowers. Upon first use, it can be difficult to achieve accurate focus when using the lens this wide open as the depth of field is so shallow (and, of course, there is no autofocus to rely on), although this is also true of other lenses with such a wide maximum aperture.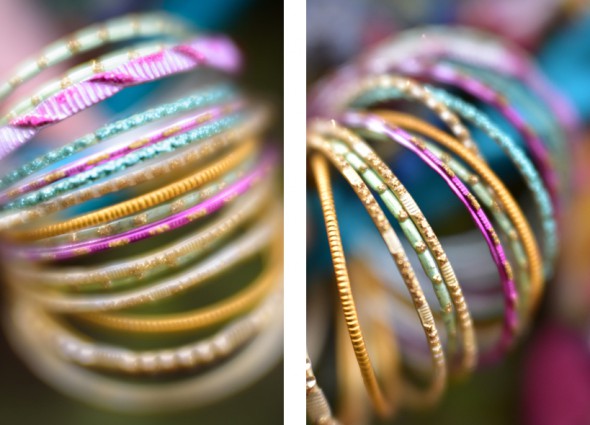 The dream-like effects achievable at f/1.6 (above left) can be lessened where required by stopping down the lens a to f/2.8 (right) or smaller. What happens here is that closing down the aperture lessens the effects of spherical aberration – the cause of the softness on this and other wide-aperture lenses – where light rays passing through the peripheries of the lens come to focus sooner than those closer to the optical axis. This is particularly useful when shooting bright subjects, as highlight details can easily bleed out and rob subjects of defining details.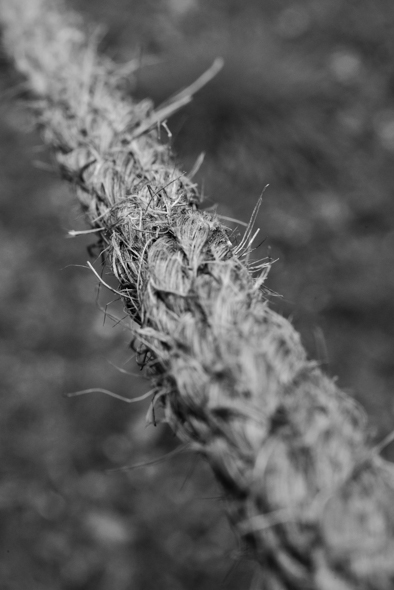 Once stopped down a little, central sharpness is impressive. Images captured between f/2.8-4 manage to combine a sharp centre with the trademark peripheral blur, and if you position yourself close to the subject with a more distant background you can combine the blur with shallow depth-of-field for an even more pronounced effect.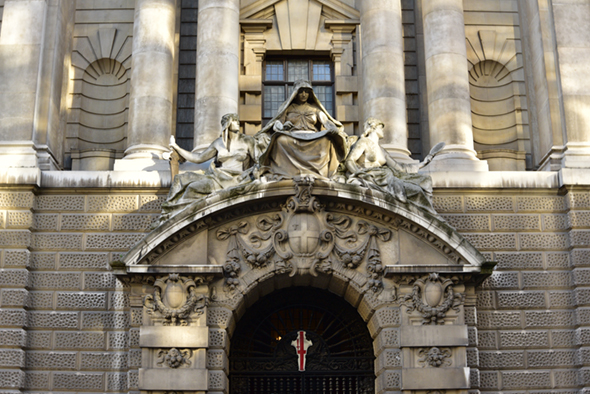 Of course, while the lens holds most of its charms at the wider end of its aperture scale, stopping down improves definition across the frame. There is still plenty of detail at the smallest aperture of f/16 (above), which makes the lens more suitable for everyday subjects such as cityscapes, where you may not necessarily want the softness common to wider apertures. There is a little corner softness here too, although this won't be visible if using the lens on a cropped-sensor body. Slight barrel distortion can also be observed, although this would only be an issue for subjects with defined, linear details.
Conclusion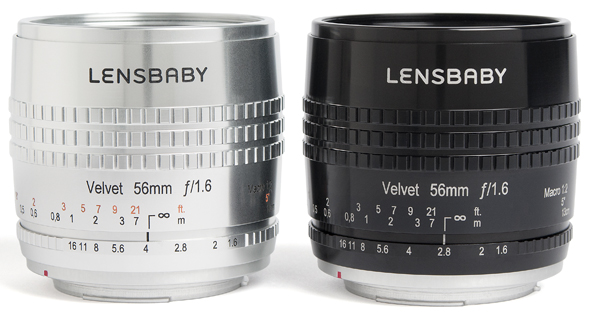 It's great to see Lensbaby venture in a slightly different direction with the Velvet 56. While the wide-aperture softness and strong corner blur perfectly suit portraits and nature shots, sharpness once stopped down is very good (and where the lens does fall down a little, it's only in areas that are unlikely to be of concern to the average Velvet user). Its close-focusing capabilities significantly broaden its appeal, particularly to those wanting to employ it for more abstract images, and while it's unlikely to be adopted for everyday purposes, creative photographers who embrace its charms are likely to get a lot of pleasure from it.
Pros
Dream-like softness works brilliantly for certain subjects
Sturdy build quality
Very good central sharpness once stopped down
Excellent combination of focal length, maximum aperture and price
Cons
Slow focus adjustment makes it less suitable for more spontaneous captures
Some barrel distortion and corner softness
Minimum aperture of f/16 may be limiting
Related articles