Headlining with 4K video and 4K Photo options, the Panasonic Lumix DMC-G7 is also the company's prime camera for the creative enthusiast photographer. Damien Demolder takes a first look at a pre-production model to inspect the new features.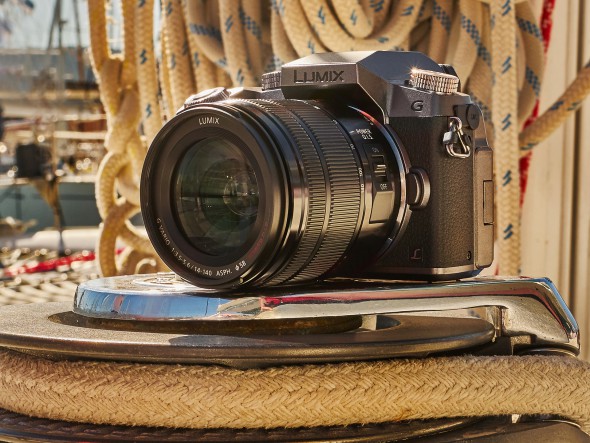 Panasonic's new Lumix G7 is the sixth camera in the G series that sits somewhere beneath the top-end GH cameras and above the GF models. The Lumix G1 was the first of Panasonic's Micro Four Thirds cameras, and indeed the first ever Micro Four Thirds camera, so although the brand has moved and evolved a good deal since that launch in 2008, the G-series models might be considered the artery that runs through the whole system.
They can, however, sometimes feel as though they fall between the two stools of the beginner's entry camera and the more advanced video-centric top flight. In truth though, they take on the useful role of presenting some of the best technology from the more expensive range and placing it in a more affordable body. The DMC-G7 is something of a mini DMC-GH4, in that it offers many of the features that camera has become well known for, and at the same time is a step up from the flat-topped DMC-GX7 as its feature-set is more modern and more mature.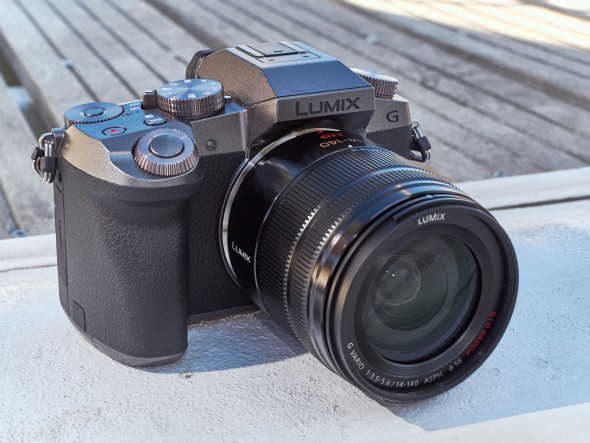 Although the video and motion-capture capabilities of the G7 are impressive, it is useful to understand that video is only a part of what the camera can do, and that beneath all that Panasonic has produced a very capable stills camera aimed at the enthusiast photographer who wants complete control over the way pictures are made. The sensor is the same unit that proved itself in the company's Lumix GX7, and is in fact the better of the Lumix sensors for stills photography. We still have 16 million pixels, but Panasonic has brought its control system right up to date with new features, a new look and significant handling improvements over previous G-series cameras.
Handling and control layout
The DMC-G7 has taken on a somewhat more angular design in this incarnation, abandoning the rounded curved form of the G6 for straighter lines and a harder profile. The flash housing has sharp corners that might suggest a more serious camera to some, and which is a little more retro looking than previous models.
The hand grip is accentuated and feels comfortable to hold, giving fingers plenty to wrap around for a secure fit. Although it looks solid enough, the camera is surprisingly lightweight. It doesn't have the GH4's metal body, but its plastic shell feels firm, well put together and durable. While the body dimensions preclude the G7 from the pocket-camera category, they make it a much more comfortable workmate for some of the company's larger lenses.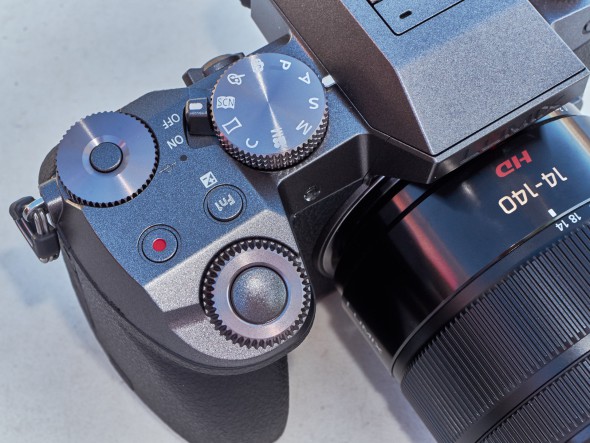 The new 14-140mm zoom that comes as a kit option looks very much at home on the body, but those who would prefer the bulkier Panasonic 12-35mm f2.8 Lumix G X Vario ASPH Power O.I.S. and Panasonic 35-100mm f2.8 LUMIX G X VARIO POWER O.I.S. upgrade options will find that they physically pair with great harmony. I also spent some time with the Panasonic 42.5mm F1.2 ASPH Leica DG Nocticron O.I.S. lens attached and, despite being one of Panasonic's largest and heaviest lenses, the setup was perfectly balanced. The larger form factor than the GX7 and GM5 is an important differentiator for the G7, as it makes it a better fit for the larger lenses that look less at home with the miniature series.
The new EVF is very much a part of that form factor too, and provides a large porthole view that is well guarded against reflections by a comfortable rubber viewing hood. Its size lets us know it's an important part of the camera, and Panasonic's effort in adding resolution and clarity to the screen has produced a very clear and useable viewfinder. It responds quickly and displays motion smoothly and without delay, and is a very comfortable alternative to the rear screen.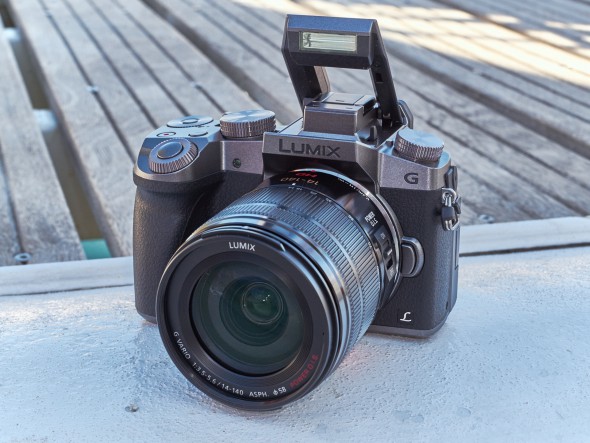 The pop-up flash is equipped with a new big button to activate it, and it stands about as high as it can above the lens axis to provide a reasonable modelling effect. The surprisingly extensive flash controls of GX7 and GH4 are all included, so we have built-in wireless controls of individual slave guns as well as groups, with the choice of the built-in flash providing light in the image or just triggering the off-camera flashes with TTL or manual direction from the camera. In my brief use of these functions the flash worked very well on its own and when accompanied by a Metz Mecablitz 26 AF-1.
There are two main control wheels on the top plate for adjusting aperture and shutter speeds, as well as any of the features you select in the menu system. These click round to make dramatic changes easier as scrolling from one end of an ISO range to the other can be done very quickly. They are very well placed too, falling exactly where they should be under the first finger and thumb of the right gripping hand. A new mode dial on the left of the top plate gives us direct access to shooting modes, including drive (8fps), self-timer, bracketing and the 4K Photo features.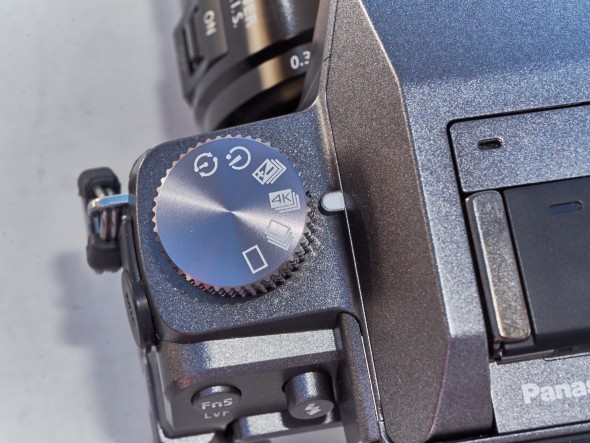 There's a host of function buttons dotted around the camera that are assigned default functions, but all of these can be reassigned according to what features you need to access most often. The most useful addition is the button in the middle of the rear top-plate control wheel, which provides direct access to 13 different features. We can also customise the functions of the two top-plate wheels to suit our working methods.
Features that now appear for assigning to custom buttons include a silent mode, highlight and shadow curve controls, flash adjustments and the range of 4K Photo modes. In all, this makes for a much more fluid experience once you get used to the camera. I found this saved me a great deal of menu searching, as I spent ten minutes at the beginning of the day setting up the camera to work the way I like to shoot.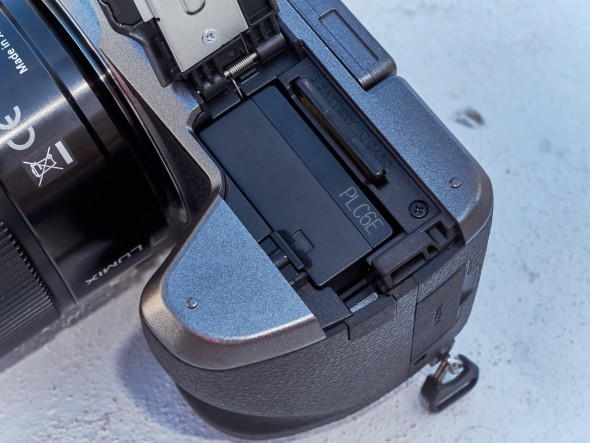 The camera uses the same DMW-BLC12E 7.2 volt 1200 mAh battery cell as the G6, so no new chargers or cells will be required by those upgrading. I found the battery lasted surprisingly well during an afternoon of shooting and reviewing, though users of the 4K Photo modes should recognise that their extra time lifting images from their footage will decrease battery life (as the rear display will be activated). Given the camera's serious emphasis on video, it's a relief to see a 'normal' 3.5mm microphone jack socket in use, and as with previous G-series cameras, the memory card slot is housed inside the battery compartment, which isn't always ideal for those who use a tripod for a lot of their work.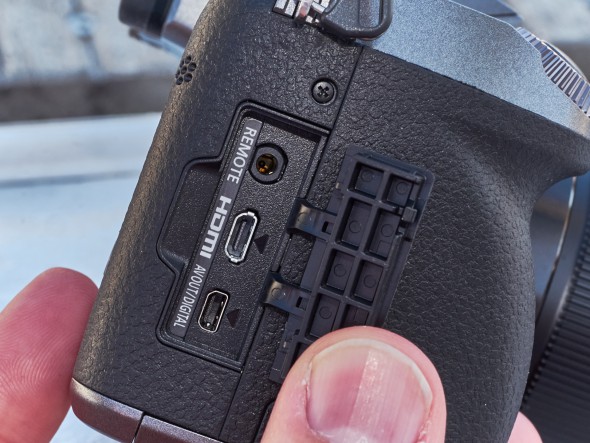 The camera is equipped with a mini-HDMI socket for streaming live-view images to a TV as well as for playing back stored pictures. This also allows 4K video to be stored directly to an external device, but the camera can't simultaneously store the same footage on a memory card.
Another notable feature is the vari-angle rear LCD screen. Hinged to face in almost any direction, the 1040k-dot panel features Panasonic's extensive touch functions such as Touch AF, Touch Shutter and touch control of almost any icon that appears on the screen. Those who appreciate touch controls will enjoy that the screen is touch-sensitive right to the edge of the screen, an area in which Panasonic is still ahead of the game, and those who don't like touch screens will find they have no need to use it as feature access is very well catered for with the normal body buttons.
Principle specifications
The headline feature of this new camera in Panasonic's eyes is the 4K video mode. Not everyone is interested in video though, but the ability to record 8MP images at a rate of 30 frames per second will be useful to stills shooters who open their eyes to the possibilities. The company has incorporated three modes so that non-video fans can make use of 4K shooting to capture still images that would be impossible with normal single shot modes.
Carried over from the GH4 is 4K Photo mode that allows snapshots of video footage to be broken down into individual frames that make good quality 8-million-pixel stills. You don't need computer software to make the most of it either, as the stills are extracted on the back of the camera as we shift frame-by-frame through the footage – it is easier and quicker than it sounds. There are two modes that allow 4K footage to be recorded in this way – one that records while you hold the shutter button down and another that starts recording with one press and stops with a second press. Both of these modes can record just less than 30 minutes of footage at a time, though in most cases we're need clips of less than a minute each.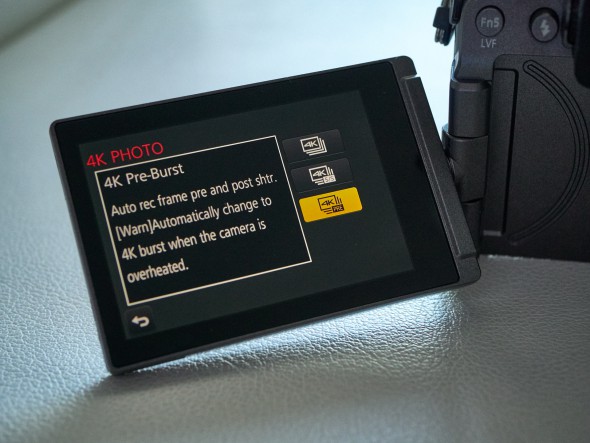 An incarnation of a similar mode has been carried up from the Lumix DMC-CM1 smartphone too, that records a second's worth of frames before and after the shutter is pressed – so that every time you take a picture you have 60 frames to pick your perfect moment from. All of these modes require some use for familiarisation, and all offer a degree of surety that if a perfect moment occurs we will capture it and be able to make a print of it.
There is a slightly new implementation of the playback method for these clips that allow us to view chunks of the footage in isolation or play back the whole clip with a finger half on the pause button ready to grab a still frame. The stills appear to be at least as good as those I've drawn from the GH4 and LX100.
The 4K video offering is not far behind that of the GH4, making the camera an ideal second body for GH4 users as well as a gateway to 4K shooting for those who don't need professional movie-making controls and functionality. The G7 doesn't offer variable frame rates and doesn't have quite the same degree of fine control of settings, but for most of us it offers as many options as we are likely to need. The G7 shoots UHD (3840×2160 pixels) but doesn't offer the 4096×2160 cinema 4K mode of the GH4, but it does offer flat profile shooting modes as well as the shadows/highlights S curve adjustment. This allows us to make the most of the sensor's dynamic range and suit our contrast to the scene or mood of the shoot.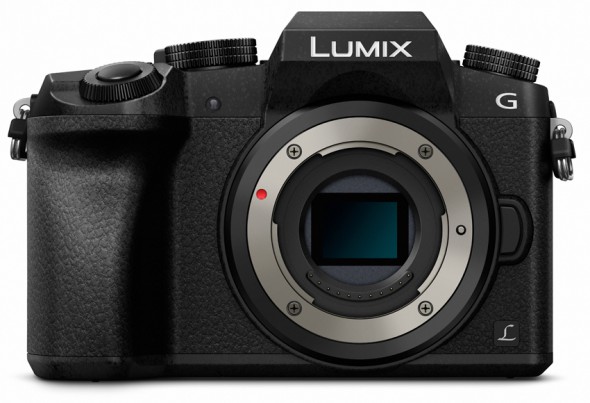 Significant improvements for straight stills workers include a new top shutter speed of 1/16,000sec that allows wider apertures on a sunny day. We still don't have an ISO 100 setting, but the introduction of the more powerful Venus Engine 9 with the GX7 sensor delivers about one stop's worth of better noise reduction.
A feature borrowed from the GH4 is in-camera raw processing, and although the order of controls isn't perfect (if I'm being picky) the level of control and the quality of the outcome is really first class. The camera has also adopted the GH4's DFD autofocusing system, which performs as well in the G7 as it does in the top end model. Static and moving subjects are acquired and tracked with speed and little fuss – I found the tracking AF feature especially useful when shooting 4K Photo clips.
We also have extensive AF setup options now, with the usual single point, multi-point and auto settings joined by the customisable AF point array that is used in the GH4 and LX100. This allows a collection of AF points, lines, patterns and shapes to be created by the user to cover specific situation requirements – such as when you don't know which of two branches a bird will land on, for example.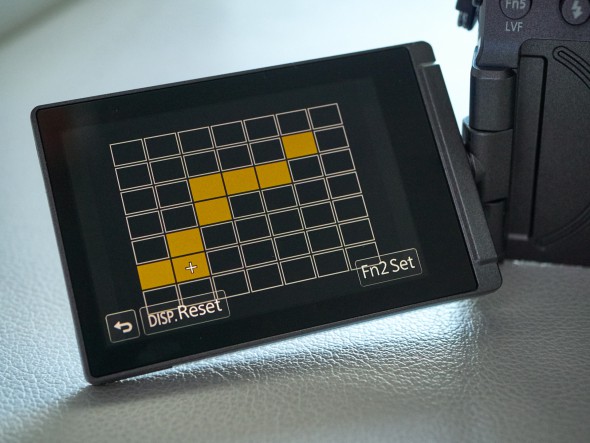 An interesting addition is something called 'diffraction compensation' which Panasonic claims allows improved image quality when using small apertures. The micro four thirds system suffers sometimes as its small sensor and relatively wide angle lenses mean even apertures of f/11 require extremely small physical openings in the lens – which can cause loss of best sharpness and resolution earlier than with full frame systems. This feature is designed to combat that effect, but more testing will be required to gauge its effectiveness.
Image quality
Although the unit I was using for this hands-on review was a pre-production model, I thought it performed very well indeed. Image quality seems at least as good as that we expect from the GX7 – in fact, I found the characteristics of the images to be very much the same. The quality from frames drawn from the 4K Photo modes is also very impressive, with seemingly little compromise to ultimate stills quality in exchange for the convenience and utility of the feature. I found the AF to be extremely good – at least as good as the GH4 – and the speed of operation for processing and being ready to shoot is excellent.
Conclusion
The Panasonic Lumix DMC-G7 seems to be a thoroughly enjoyable and capable camera. There is no doubt that the 4K shooting abilities will attract plenty of attention and new users, but those who prefer to work in single-shot mode will find an extremely well-equipped machine that offers an astonishing amount of control and useful technology.
The reworked handling and additional access points mean we never have to be far away from our favourite functions and we need never miss a shot because we're constantly stuck in the menus. It used to be that we would say of Compact System Cameras that they offered almost-DSLR-like levels of control, but bodies like the G7 offer what a DSLR offers with plenty more on top.
In this model Panasonic has brought its mainstay G-series cameras right up to date, and is offering the cream of its technology and innovation at a very affordable price point. I'm really looking forward to seeing a full working model so we can put it through its paces.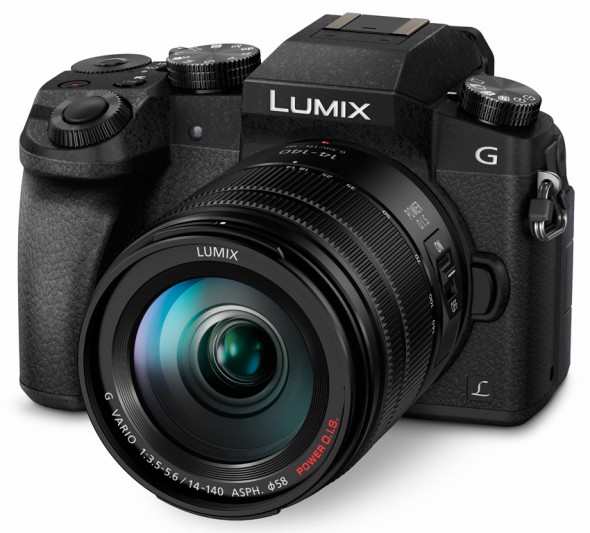 Panasonic Lumix DMC-G7: Key Specifications
• 16MP sensor
• New Venus Engine image processor
• 4K Video, 4K Photo, Full HD video up to 50/60p
• Silent shooting mode
• 8fps burst shooting
• 3in touch-sensitive display, 1.04m dots, fully articulated
• 2.36m-dot electronic viewfinder
• 3.5mm microphone socket
• Built-in Wi-Fi
• Hotshoe
• SDHC/SDXC slot
• 410g (body only)
Related articles