The Panasonic LX100 brings the company's Micro Four Thirds sensor and 4K video recording into a compact body. Damien Demolder digs deeper in his Panasonic LX100 review.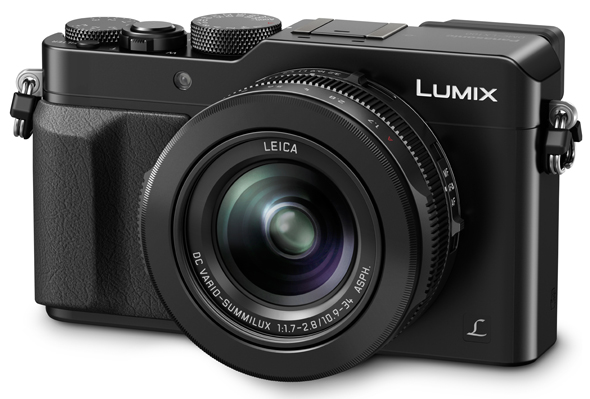 You might think, and quite naturally so, that the Panasonic LX100 is very closely related to the previous model in the LX range, the 10MP Panasonic LX7. Yet, the two cameras have hardly anything in common, other than their name and the fact that they are classed as high-end, non-interchangeable-lens compact cameras.
The LX100 represents a giant technological leap, not only for the LX series but for compact cameras in general. Not only does it feature a large imaging sensor, but also a high-quality zoom lens and many of the handling and control features of the company's G-series Compact System Cameras. The result is a highly desirable camera that has attracted a great deal of attention from the photo press and photographers since it was announced at last year's photokina show.
Features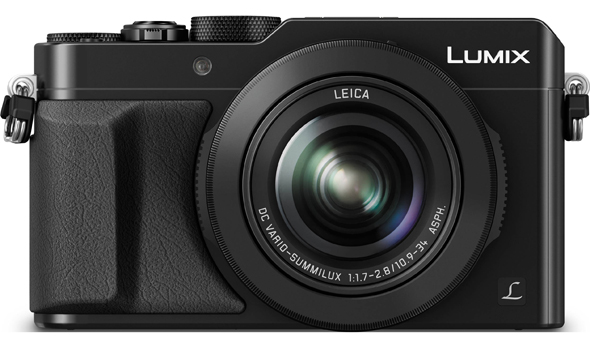 The principle features of this model are its Micro Four Thirds-sized sensor and the 24-75mm f/1.7-2.8 lens (in 35mm terms) in front of it. In case you are not aware, the sensor of the LX7 was the standard 'large compact' size of 1/1.7in, as is housed in most high-end compact cameras, so the jump to a Micro Four Thirds-sized sensor is quite something. The increased size should allow much better image quality at all ISO settings, but especially those at the higher end of the scale.
The lens is significant for its wide maximum aperture of f/1.7-2.8. In practical terms, what this means is that it is capable of letting in plenty of light to allow the camera to cope more easily with dim conditions, and that it gives greater control over depth of field. Specifically, it allows for shallow depth of field, where the subject is focused and standing out from a blurred background – a critical feature for creative photography.
Although the 16MP sensor is the same as that inside some of Panasonic's Lumix G cameras, the LX100 only uses a maximum 12.5MP for imaging. The slightly smaller imaging area is a compromise Panasonic has made to maintain the fast maximum aperture of the lens while keeping the lens barrel a manageable size. The number of pixels in use naturally varies according to the picture format selected, with the camera offering aspect ratios of 4:3 (12.5MP), 1:1 (10MP), 16:9 (11MP) and 3:2 (12MP).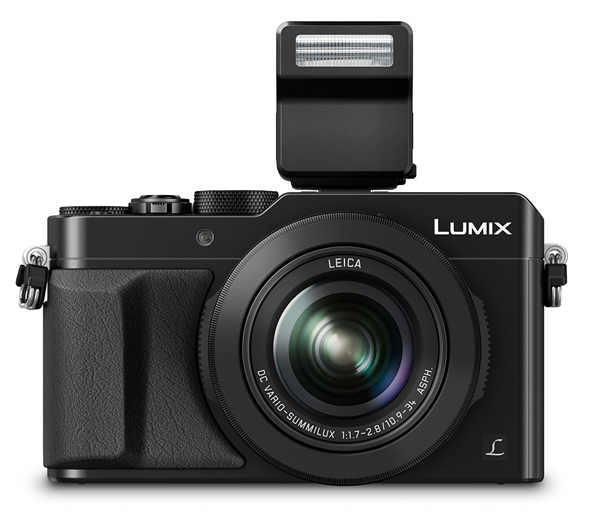 Video enthusiasts will be excited to know that the LX100 is capable of shooting 4K resolution footage at 30fps. Even if you aren't into making home movies, you might be interested to know that the camera offers the facility to lift 8MP still images from movie clips using the 4K Photo mode. Instead of relying on your reactions to press the shutter button at the decisive moment, you can record a video clip and extract the decisive moment from it later.
While the Lumix LX7 had no built-in viewfinder, the LX100 has an electronic viewfinder (EVF) with a 2,764k-dot resolution and 100% coverage of the scene you are about to shoot. The camera's 3in, 921k-dot rear display is very good, but on a very bright day the EVF makes easier viewing (and actually many photographers simply prefer using one to a rear display).
Design and handling
The control layout of the LX100 is very much the same as that of Panasonic's G series cameras, with buttons on the rear of the body placed in the same areas and the menu and Quick menu systems practically identical. The camera is somewhat larger than the Lumix GM1 and GM5 (but not quite as big as theGX7) and offers an excellent grip for the right hand, with a heavily protruding rear thumb rest for stability. The top plate has a very retro feel, with a traditional shutter speed dial for speeds of 1-1/4000sec, together with an exposure compensation dial and a hotshoe for the supplied miniature flash unit (or one of Panasonic's three DMW–FL flashguns).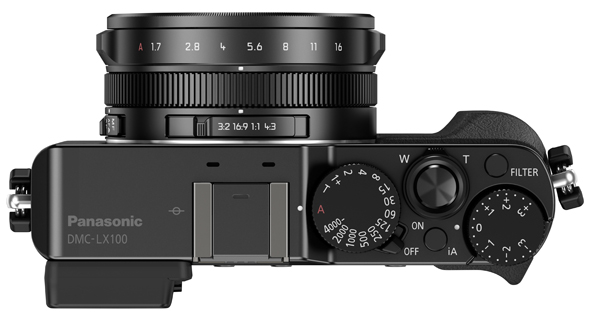 The real surprise for G-system owners will be that Panasonic hasn't included its touchscreen technology in this model, so there is no touch menu, touch AF nor touch shutter. This is a shame, as these touchscreens have almost become Panasonic's signature feature. I got around the lack of touch AF by customising the Fn1 button to give direct access to a live and ready-to-move AF point in single-point AF mode. As with the G-series cameras you can still change the size of the AF point, and once the AF point is selected it is quick enough to shift across the screen. If you like to customise your AF point formation you'll love that the LX100 allows you to create a custom AF area in any shape you want – blocks, lines or even a disjointed collection of points to match where you think your subject will be (see image below). I don't think I've seen that feature in any other camera.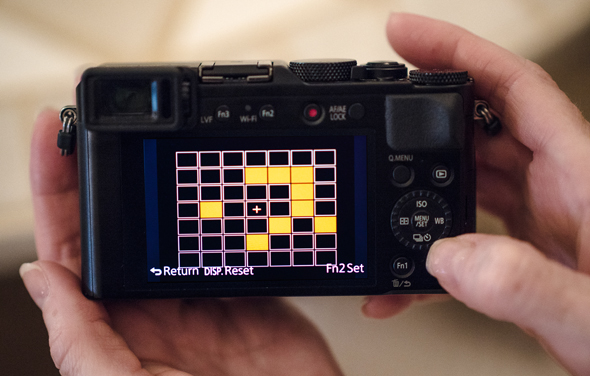 Somewhat compensating for the lack of a touchscreen is the delightfully clicking aperture ring around the front of the lens, and a control ring between that and the body that can be customised to adjust the zoom, ISO, exposure compensation, white balance or the Creative Filters. A nice touch is the option of either smooth zooming or a zoom that stops only at standard focal lengths – 24mm, 28mm, 35mm, 50mm, 70mm and 75mm – which is the way I used it for the majority of the test. It's also good to see that the LX100 has inherited the electronic level display of the G-series cameras, so horizons can be kept nice and straight.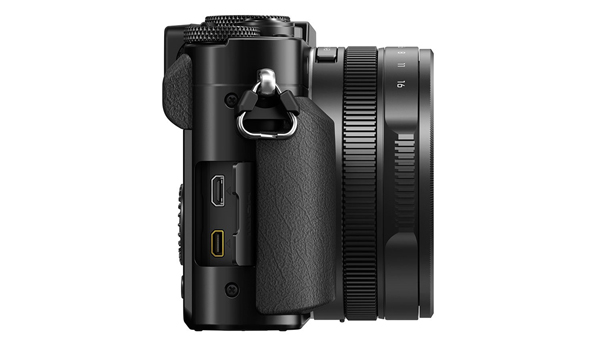 The menu system of the camera is very straightforward, but if you feel it too complicated you can load the features you like to access into the customisable Quick menu and work only from that. I found that once I had set up the camera to work the way I like I had very little need of the menu, as the principle settings that I change most often all have dedicated external control buttons. I was at first concerned that the exposure compensation dial might turn by accident in my pocket, when being held or when being taken out of a bag, but Panasonic has managed to allow it to protrude just enough so it can turn with ease, without it being so lose that it will turn by accident.
Although the Lumix LX100 has a host of advanced controls to suit the DSLR user on a day off, it also has the completely automatic (and surprisingly reliable) iA intelligent Auto setting for those who prefer to point-and-shoot operation.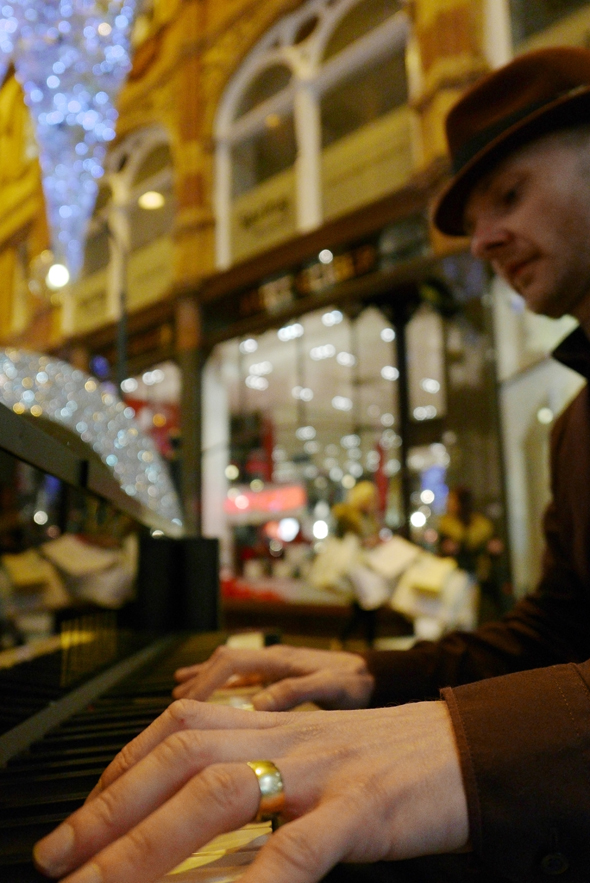 Performance
For me the most important elements of a camera's performance are autofocus speed and accuracy, together with the ability to store images quickly so I can carry on shooting. I wasn't sure how autofocus speed would fare with the LX100, but I needn't have worried as it is fast and sure in its hunting out of subjects, helped by the same Depth From Defocus (DFD) system found in the top of the range Lumix GH4. During this test I worked a lot in low-light conditions and in areas with low contrast, but the camera didn't seem to find it difficult to work in either.
I was also able to shoot extended sequences of people approaching the camera, or walking across the frame, with the autofocus tracking the subject nicely and the buffer clearing images to the card as quickly as they were being shot, thereby freeing the camera for the next picture. Despite the lack of touchscreen I was able to move the autofocus point around reasonably quickly, and the camera almost always responded with an accurately focused image – even finding subjects accurately behind glass.
Those who like viewfinders of any sort will be pleased with the EVF of the LX100 – and not just because there are so few compacts with viewfinders these days. The screen presents a nice clear view with plenty of sharp detail and the eye-relief makes life easy for glasses wearers, who will be able to see the whole screen without having to shift their eye position. There is some mild colour drag in the screen when the camera is panning, but on most situations during this test it, thankfully, didn't appear.
The rear display is also very good and if you can do without the stability and clarity the EVF provides, it presents a good way to get pictures from unusual angles. I think some people will be disappointed that the screen is fixed and not on a hinge, but I found it didn't really need to flip out as the viewing angles are good enough in most cases.
Image quality
I'm really quite taken with the LX100's picture quality. Compact cameras tend to go for punch and impact, creating too much contrast and bright bold colours at the expense of reality and even tonal distribution, but whoever designed the image characteristics of the LX100 had taken a good long look at the GH4 and tuned the camera to turn out moderate contrast by default, nice believable colour and an overall professional feel to the output. JPEGs are print ready but Raw images are in a good starting state for further processing where required.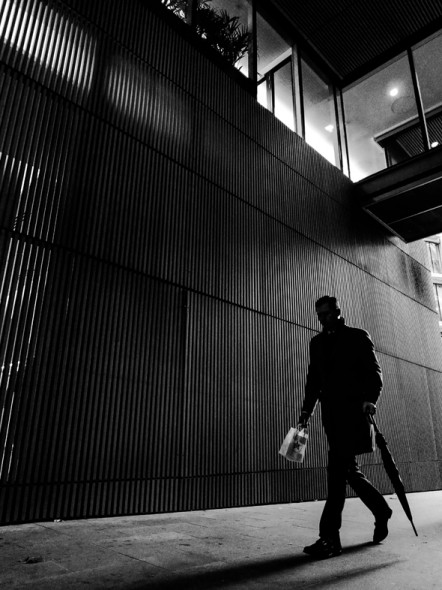 I've also been quite impressed with the detail the camera can produce, even at higher ISO settings. Although those looking closely enough for it will see noise in all images from ISO 400 upwards, I didn't find it too much of an issue until sensitivity settings reached beyond ISO 3200.
The camera's light meter is about as accurate as we'd expect, and will guide most people to images that are pleasing to the eye. For the more picky among us, -0.3EV as a standard position produces more saturated colour and fewer burned-out highlights.
However impressive a compact camera's lens sounds from the specification, it's rarely a match for DSLR lenses for sharpness, even illumination and maintaining straight edges and lines close to the edges of the frame. This one, however, is quite an exception, with very good resolution and surprisingly well-corrected curvilinear distortions that don't bend our subjects, even at wide angles. I had expected some barrelling at the 24mm end of the zoom, and the usually face-thinning pincushion at the 75mm end, but neither exists in any noticeable form.
The lens is not naturally at its sharpest when used with the aperture wide open, but it's more than good enough to be used that way without serious loss of quality. This means we are free to enjoy the shallow depth of field it can produce, without smeared image details at the same time.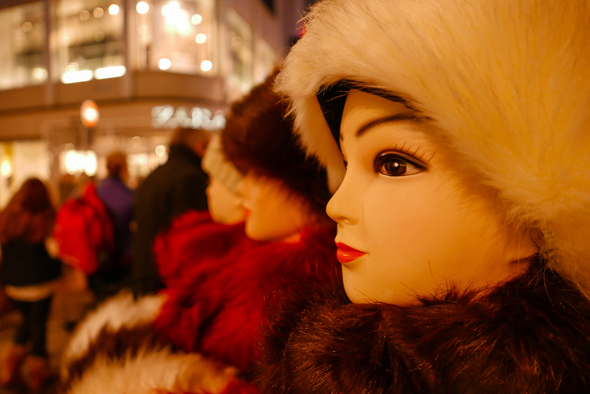 I was interested to see the quality of the images produced from the 4K Photo mode – I found that even when shot in low-light conditions, the 8MP images that are pulled from the footage via the in-camera function are really rather good (below). I tried the process of lifting stills with Adobe's After Effects too, and obtained images that were not noticeably different from those grabbed by the 4K Photo function. Obviously, these grabbed images are saved as JPEG files, so they don't have the flexibility of a Raw file, but they hold together well – as long as you don't try to process them heavily.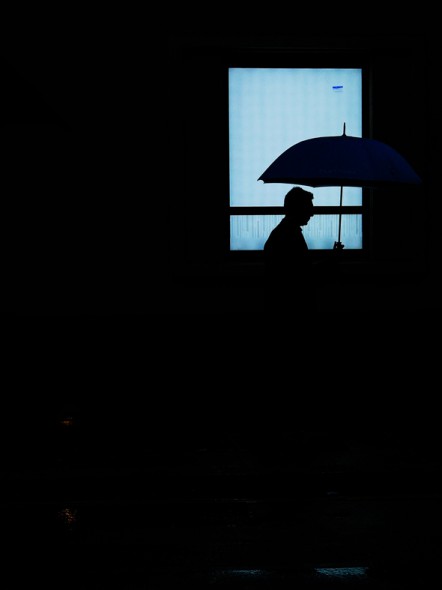 The camera also offers in-camera Raw processing, which is a lot of fun as well as being useful for quick access to finished images when you aren't near a computer. The processing system is identical to that in the Lumix GH4, and although, to my mind, the tools aren't placed in the right order, the results are excellent and the flexibility is more than sufficient.

Verdict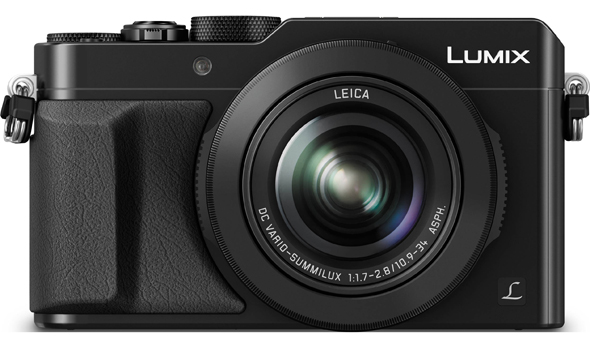 The Panasonic Lumix LX100 is a thoroughly good compact camera, one that works very nicely in all conditions and which is capable of producing DSLR-quality images without the hassle of carrying heavy and bulky kit. In many ways we are buying the lens, and I suspect that is where most of the price ticket goes, but it is certainly worth the investment for the characteristics of the images it can produce. Some will be disappointed that the images are less than 16MP in resolution, but, in truth, 12.5MP is good enough for most compact camera tasks. Even the 8MP files from the 4K Photo mode are surprisingly sufficient for what most of us do with our pictures.
The lens is no good on its own and Panasonic has provided a very nicely made body that seems built to last and which handles extremely well, offering flexibility to the advanced photographer and simplicity to the beginner. This isn't a cheap camera, but if you want a model that can go everywhere with you and turn out high-quality images, this may well be a very good choice.
Pros:
Nicely made, well laid-out body
Excellent, fast-aperture lens
4K video with 8MP still-grabbing mode
Large sensor with Micro Four Thirds performance
Cons:
No touchscreen
Lens protrudes quite a lot when zoomed out
Maximum resolution is only 12.5MP
Panasonic Lumix LX100: Key specifications
16.84MP Micro Four Thirds sensor, 12.5MP effective
Leica DC Vario-Summilux 10.9-34mm (24-75mm) f/1.7-2.8 lens with Power O.I.S.
Venus Engine processor
ISO 200-25,600 (expands to 100-25,600)
60-1/4000sec mechanical shutter, 1-1/16,000sec electronic shutter
4K video at 25p, 1920×1080-pixel at 50p
11fps burst mode (full resolution), 40fps in slow-motion mode, time lapse
49-area contrast detection AF system
4K Photo mode, 8MP images
Bundled external flash ([email protected] 100)
2764k-dot EVF, 100% coverage
3in LCD, 921k dots
In-camera Raw processing
393g (including battery and card
114.8 x 66.2 x 55mm
About the Author
Damien Demolder is a independent photographic consultant and former editor of Amateur Photographer magazine. Damien also runs a number of photographic events and courses for photographers of all abilities. For more information visit his website.
Related articles