Great black and white conversions don't need to be complicated; Geoff Harris shows you how to process your images using Adobe Lightroom in just five minutes.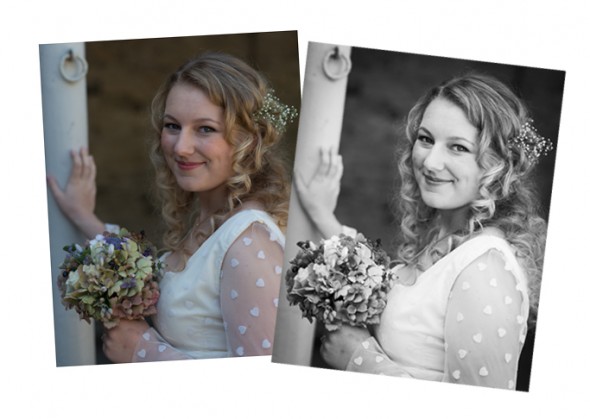 If you've ever felt like you have become more of a computer operator than a photographer, this is the tutorial for you. While even the most technically accomplished photographer will have to spend some time editing images on the computer – especially when shooting Raw – it's possible to keep your editing time to the minimum and still get good results.
Here we will show how you to do a speedy but effective black and white conversion in Adobe Lightroom in less than the time it takes to make a sandwich and a cup of coffee. We're using Lightroom as it's powerful, great value and serves as a useful organisational and workflow tool as well as a Raw editor. Read on to learn how to spend less time pushing sliders around, and more time out in the fresh air taking photos!
1. Open your image
First, choose your Raw image. Not everything will work in black and white, so choose something with good contrast and tonality that isn't colour dependent. Then make sure it's open in the full Develop module of Lightroom. With the clock ticking down, the first step is to crop the image, as obviously there is no point working on areas that won't make the cut. We're cropping to the classic 8×10 format, which we select from the Crop tool menu on the right. You can also use the Angle tool to straighten the image at this stage, or click in the area outside it and move as appropriate.
2. Tweak exposure and convert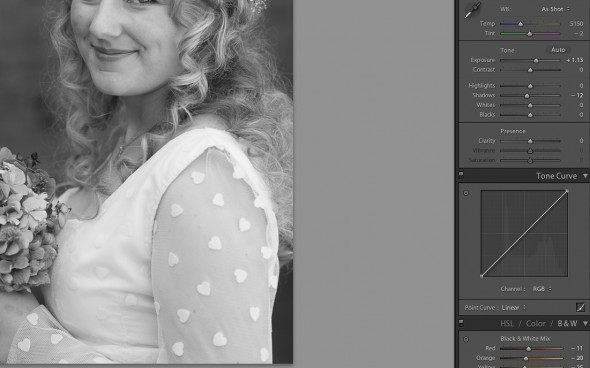 While this image is plenty sharp enough around the eyes and not too noisy, it's more underexposed than we'd like. There are several ways to skin a cat in Lightroom, but in the interests of speed, we are just going to drag the histogram over to the right to improve this. You can also move the Exposure slider as required, but moving the histogram just seems more intuitive. Then simply click Black and White in the Basic panel to lose the colour.
3. Fine tune the conversion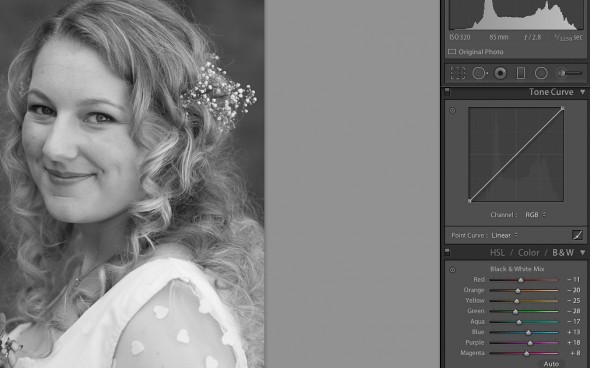 This is black-and-white conversion at its crudest, so you will need to tweak the individual colour sliders for best results – or apply a Lightroom or third-party black-and-white Preset to save even more time (the Tri-X presets from VSCO are particularly good for portraits). We don't want to get too bogged down with the sliders, so we take down the yellow to darken the background, take down green to darken the bouquet leaves, gently push up purple and magenta to lift the main subject and her dress, and so on. See what works best for your image.
4. Clarity and tone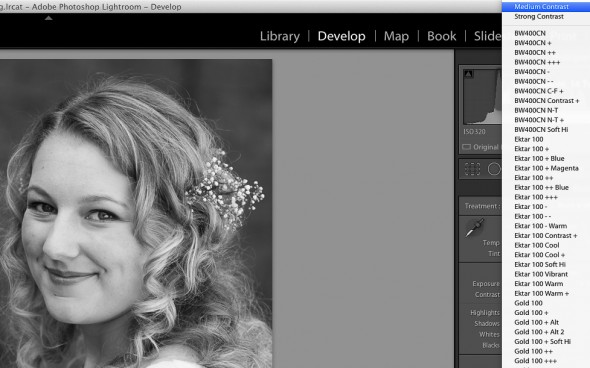 Wow, is that the time already? OK, now is the time to gently push up the Clarity slider for some useful edge contrast where needed. You can also add a gentle 'S' shape to the Tone Curve for nicer tones and contrast, or simply select Medium Contrast from the Custom drop-down menu under the curve. The art with all these option sliders is to increase the adjustments gently. As Photoshop guru Scott Kelby puts it, it's like a guitarist turning up their amp louder and louder – they don't notice until somebody comes in the room and gets deafened!
5. Quick adjustments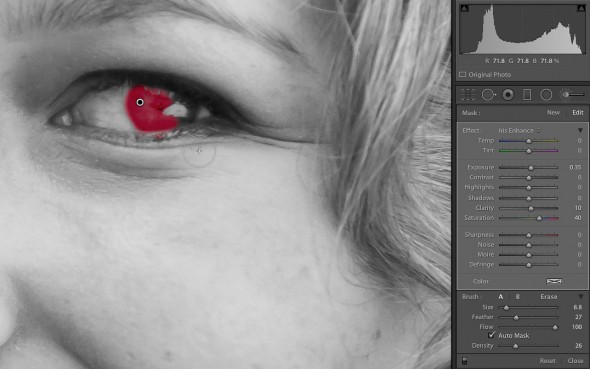 It's now worth spending a bit of time with the Adjustment Brush (under the Tools menu), one of the most useful tools in Lightroom. The Adjustment Brush comes in handy when working on the eyes, so after sharpening the iris using the Iris Enhance tool, we can then gently whiten the eyes using the Teeth Whitening option – obviously, this handy shortcut is great for whitening teeth too! Finally, we can use the Dodge (Lighten) Adjustment Brush to ease back some of the shadows on the subject's face, although make sure to select a small brush size and zoom in for precise control. The Radial Filter tool in Lightroom 5 is a handy way to lift unwanted shadows on faces, too.
6. Sharpening and noise reduction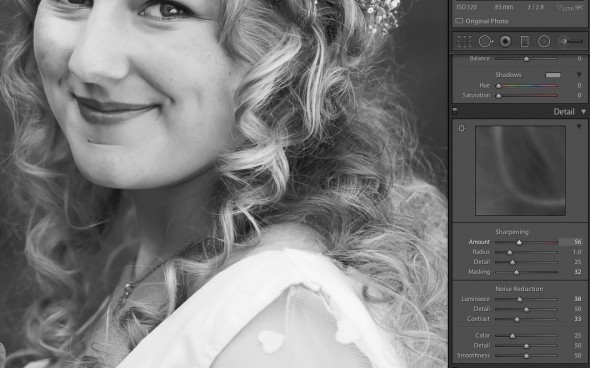 As we are working on a Raw image, no in-camera sharpening has been applied. So a bit of sharpening is now called for; although as the original image was pretty crisp from the camera in this instance, not too much is needed. The same goes for noise reduction, although we did have to fix some underexposure, which can create noise. The importance of 'sharpness' is often banged home in portrait photography, but don't use this as a reason to push the sharpness and noise reduction sliders too far. You can easily get an unrealistic, waxwork-like look, or tell-tale signs of over-sharpening that will stick out like a sore thumb. Furthermore, some wedding photographers don't apply sharpening at all, even to Raw files, as they like a slightly softer, dreamy look (though good ones never use this as an excuse for poor camera technique).
7. Lens Correction and Vignette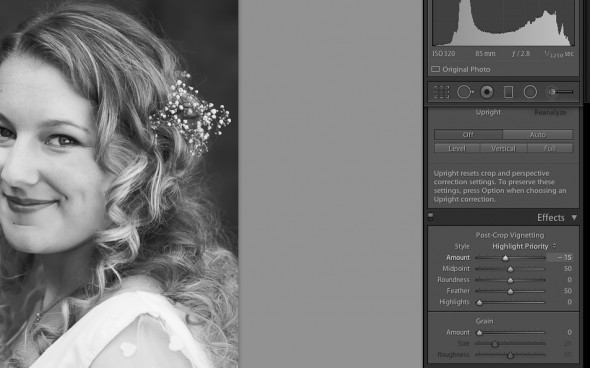 Almost there. Don't forget to check out Lightroom's Lens-Correction option if required, as the tools within it are good way of fixing distortions and constraining the crop. Click on 'Manual' and you will see some tools for straightening horizontal and vertical distortions, which come in very handy when shooting buildings, boxes and so on. We used a quality prime lens to capture the image, so there is little lens distortion to worry about. You can also add a vignette, effectively darkening the corners to focus attention on the subject. Vignettes don't work all the time but, used subtly, they can help to prevent backgrounds from becoming distracting.
8. Export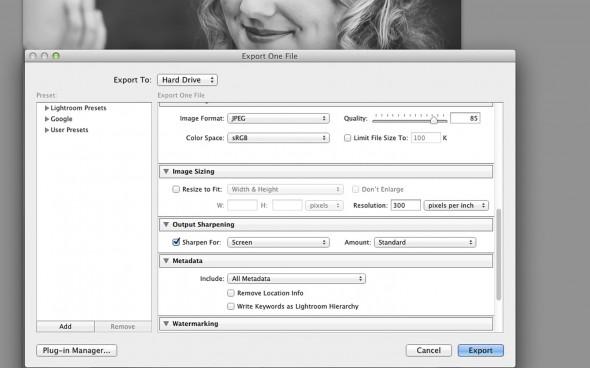 The final step is to navigate to File/Export and choose the format in which to save the Raw file – JPEG, TIFF, etc. We are saving our image as a JPEG at 300dpi, which is more than big enough for a typical printing job. If you wish to keep the file size down, setting the JPEG quality to 85% rather than 100% can help. Within the Export dialog box you can also add extra sharpening, depending on whether the image is going to be printed or simply viewed on screen. Obviously, with more time there is more we could have done to this image, such as lifting the bags under the subject's eyes, removing blemishes or even zapping the slightly distracting ring on the post, but for these more complex editing tasks, you are better off using the full version of Photoshop. Hopefully, though, you have seen just how much you can achieve with Lightroom in just five minutes!
Related articles