Every October, wildlife photographers across the country start to get excited as they know this is the time of year is when one of the greatest spectacles in British wildlife takes place: the deer rut. I love October - the shorter days, misty mornings and great lighting provide excellent opportunities for the wildlife photographer, especially if you have a well-prepared plan for your photographic goals. The following guide will ensure you get the best from this year's rut.
Location
Location is everything when photographing wildlife, but you don't need to head up to Scotland and off over the glens to find deer in the rutting season; there are numerous Royal Parks and country houses around the country that have large herds of deer. Most of these estates and parks have open access but do remember to check before you go. If you don't have any idea of where to find deer close to your home, have a look at this page on the British Deer Society website.
Shot list
Capturing a stag at sunrise can be one image you may to put down on your shot list.
Before heading off in search of your subjects, take some time to decide on the types of image you want to produce. Sitting down and sketching out images on a notepad can really help focus your creative vision, leading to better images in the field.
Following a story with your images can also be an excellent way to go about developing a more meaningful project. To produce an effective narrative, you'll need a selection of images that, when viewed together, visually represent the events that unfolded before. Think about what you need to capture, with the story having a beginning, middle and end.
Here's an example of how this could work:
Beginning - Wider image of hinds in a field, images of 1-3 stags on there own.
Middle - Stags bellowing, hinds looking towards camera, stags fighting (wide and close up).
End - Stag running away, portrait of the victor, stag and hinds together.
This simple structure would form the basics of a shot list, which will allow you to spend your time more efficiently when out on location, rather than trying to develop a project as you go.
Weather conditions
Weather conditions can add an extra dimension to most wildlife images and the deer rut is no exception. Planning in advance and reacting to the forecast can help you to produce images that stand out from the crowd.
Conditions that often make for some of the best images include mist and rain. The second is not the hardest to forecast, but preparation will be needed in order to make your trip a success. One part of the rut that is excellent to photograph in the rain is that of fighting stags. The driving rain can really add to the drama of the image, with the droplets being shaken off as the stags do battle.
Rain can provide brilliant photographic opportunities, but it's most enjoyable if you're well prepared. Make sure you are wearing good waterproof clothing and boots, and make sure you have a cover for your camera. There's nothing worse than being soaked through and still having a long journey home, so be sure to take some spare clothes and a towel!
Stags fighting for the right to breed
Misty mornings are excellent for photographing deer, but getting the conditions perfect can be a challenge; what you're looking for is a cold clear night with little to no wind, and then a clear morning to follow. In these conditions the ground cools rapidly and the surrounding air reaches its dew point. As the sun rises in the morning the ground temperature increases, resulting in mist forming before eventually disappearing.
When I'm trying to predict for misty mornings I often find the Met office website very helpful, as I can view cloud cover and temperature charts that make predicting ground level conditions far more accurate. Getting the conditions right can transform your images, so take your time and plan carefully. Sometimes for the best images you'll need to make last-minute decisions and head out on location at a moment's notice, so keep your bag packed and ready in order to react to unfolding events.
Equipment
A 70-200mm or 300mm telephoto lens allows you to keep your distance from your subject
With deer being some of our largest UK mammals, photographing them does not necessarily require huge lenses. Having a telephoto of around 200-300mm should be perfect, with a zoom such as a 70-200mm being preferable for compositional changes. Having said that, wideangle images can also work very well to give a sense of the environment, so don't always reach for your longest lens!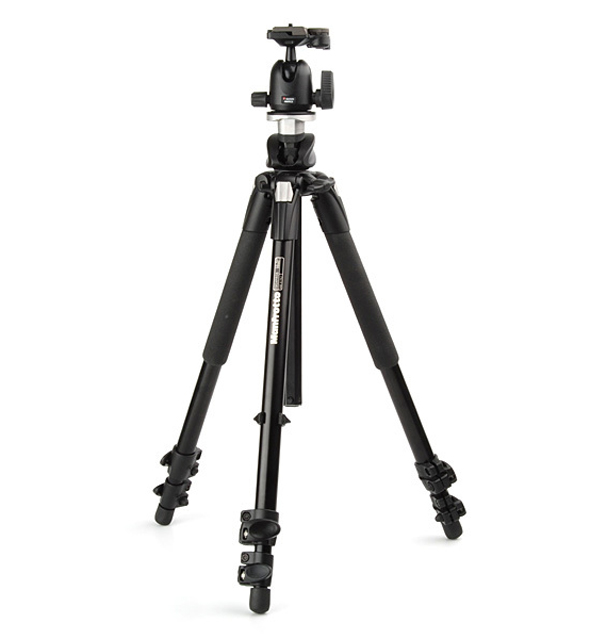 A tripod will help with stability and also force you to think more carefully about composition
Always take a tripod as it allows you to use slower shutter speeds and reduce camera shake when using long lenses, something which is very handy if you're working in the early morning. Another benefit of using a tripod is that it slows you down, making you think before you press the shutter release; ultimately, this will result in better images.
A waterproof cover can protect your gear should the weather turn for the worst
Other accessories that are useful include a kneeling pad to sit on and remote release for greater shooting flexibility. Make sure you have a waterproof cover in case your weather predictions are not spot on, and dig out your alarm clock because you're likely to be up early!
Safety
A large stag watches over his hinds
A quick and important note on safety: deer are wild animals and even in parks and gardens they can still be very dangerous. NEVER get between a stag and his hinds, or two stags sidling up to each other - if in doubt, move away. Its' never worth getting hurt for an image and a stag (even a small one) can do some serious damage.
Make sure to look out for others too, as some people may not be aware of the dangers associated with shooting deer. Last year I found myself running across Richmond park in order to move a child away from a stag, as his mother thought that the deer posed no threat, even going so far as to encourage her child to try and stroke the animal! I don't think I've ever run as fast in my whole life. Be safe and be a good citizen, because there would be no worse way to end a day than either getting hurt or watching someone else get into any danger.
The deer rut is a magical event in the wildlife photography calendar and having a well-thought-out plan can truly make your photographic endeavors even more rewarding. Hard work, good planning and persistence should result in a set of images that you'll be proud to have captured. So be safe, be prepared and enjoy the rut!
About the Author
Tom Mason is an up and coming wildlife and nature photographer based in Hertfordshire where he frequently visits a number of local nature reserves including Rye Meads and Amwell. You can see more of his work on his blog.
Related links