Festival season is upon us! Take to the fields this summer and capture your best live music images yet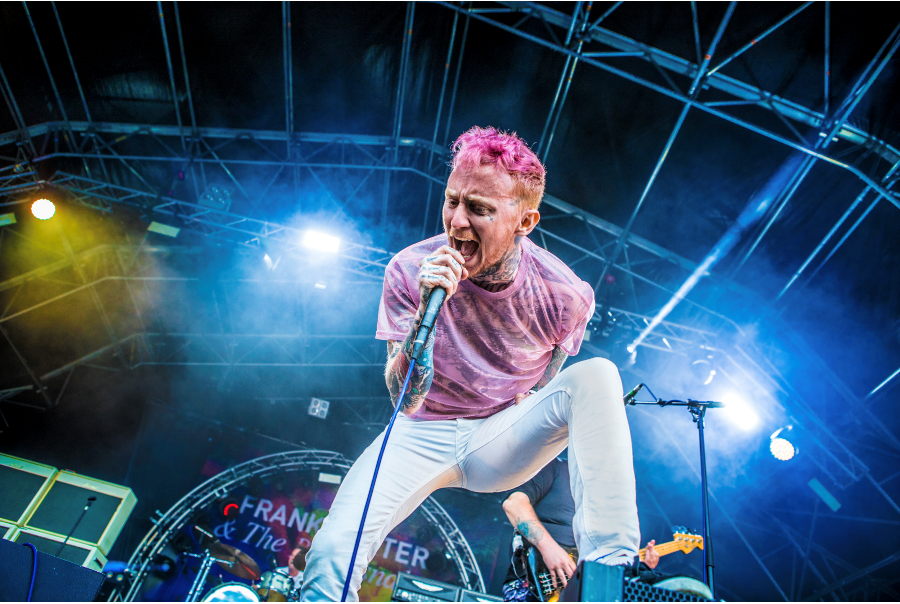 With over four million fans attending in excess of 1,000 events in the UK last year, it's clear that we Brits love a good music festival. Turning quiet, rural pasture into a hubbub of activity, festivals transcend the day-to-day and offer guests an exciting escape into another world. This plethora of interesting subjects, colours and lights offers photographers the opportunity to capture hundreds of exciting images.
In this guide, I'll be sharing some advice on how to start photographing festivals, and how you can take some great photos when you get there.
Gaining access
While some smaller festivals might allow anyone with a ticket to bring a professional camera along, most will require photographers to be accredited with a photo pass. Sometimes this is handled by the festival's organisers and sometimes by an external PR agency. You'll usually find contact details for press access on the festival's website, in the FAQ or contact sections.
The success of your application will depend on a few different factors including who you're shooting for, the size of the festival and the demand for photo passes. While smaller festivals and PR agencies may allow some photographer's without an affiliation to take photos, most will require you to represent a publication, an established website or an agency. Those who have previously photographed similar events, the event itself or any of the performing artists, will probably stand a better chance of obtaining a pass. For this reason, it's a good idea – if you haven't done so already – to build a portfolio of live music images and a relationship with both relevant publications and PR agencies by photographing smaller concerts.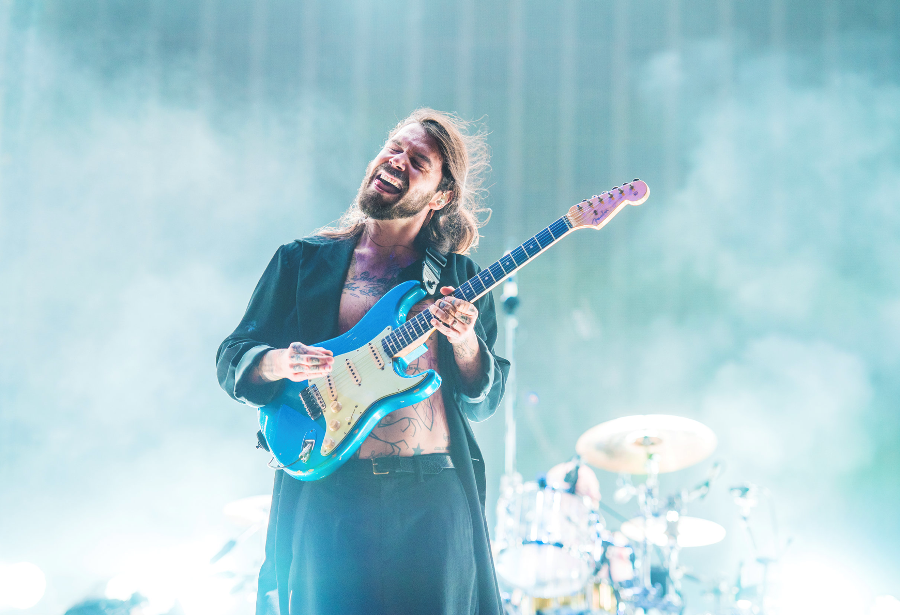 Camera
While you don't necessarily need a specific camera for shooting festivals, there are a few desirable features that make some cameras better suited to the job than others. Good low-light ISO and AF performance, coupled with a good battery life and weather sealing make them some of the most popular choices among music photographers. Thankfully, many modern full-frame DSLRs boast these features, including Nikon's D750 and D850, or Canon's 6D Mark II and 5D Mark IV. The Nikon D5 and Canon 1DX Mark II are also fantastic models for those who can afford them, while Sony's full-frame A7 line is offering some increasingly interesting options too.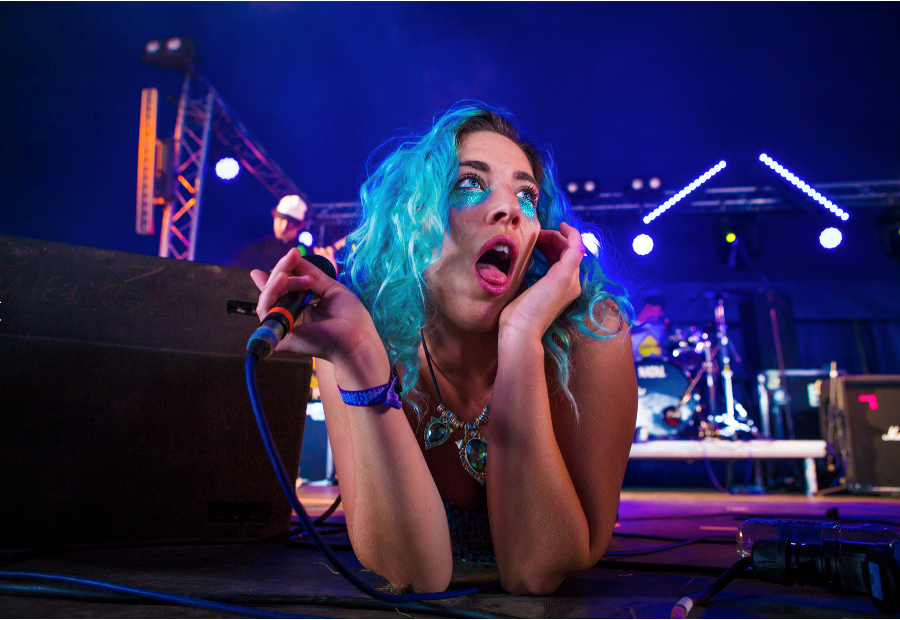 Lenses
Your lens choice should really be dictated by the size of the festival and whether stages are inside or outside, or a mixture of both. You'll want to take the optics you need and no more. Remember, whatever you take you'll be carrying on your back. Generally speaking, I'll travel with the following three lenses…
24-70mm f/2.8 standard zoom: Ideal for smaller outdoor stages and those within tents, as well as portraits of people in the crowd and band members.
70-200mm f/2.8 telephoto zoom: The stages at big festivals can be up to 8ft tall, so you'll be grateful for that extra reach.
50mm f/1.8 prime: This fast prime can get you out of a jam in particularly tricky, low-light situations.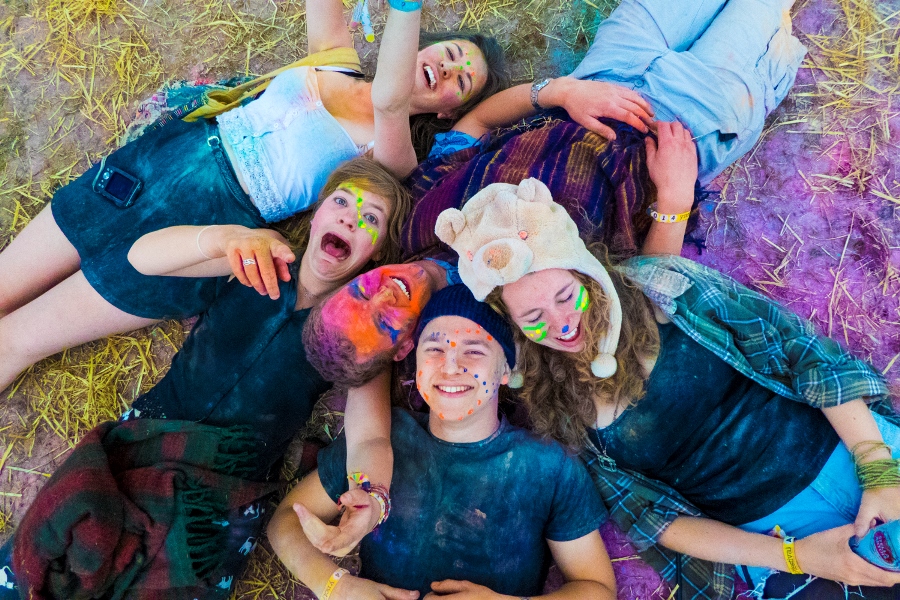 A festival gear checklist
You've got the accreditation for your festival confirmed, but what should you be taking with you? Below are the essentials that I'm never without…
Waterproof camera bag: Often festivals are missing secure places to leave your equipment when not in use. This means that whatever you take, you'll have to carry throughout the course of the day, between stages that seem miles apart (made worse if it's muddy…). For this reason, the right camera bag can make your time on-site a whole lot more enjoyable. I normally opt for something like the Lowepro ProTactic 450 AW. This backpack offers good back and shoulder support, it has a rain cover, and offers easy access to a large and padded storage area.
Waterproof cover: No matter the time of year or weather report, there's always a chance of rain when it comes to British music festivals. I've seen more than one photographer fighting with their lens, after it has stopped functioning in a sudden downpour. If you don't want to suffer the same fate, ensure you pack a waterproof camera cover and lens covers. Asides from being a good precaution to keep in your bag, covers are lightweight and don't have to be expensive either. OpTech's Rainsleeves will often do the job, while thicker covers by manufacturers like Wildlife Watching are the next step up.
Memory cards: It's not unusual to shoot eight to 10 bands in a day during a festival. If you take 150 images per band, you could easily take 1,500 shots. If the festival lasts three days and you don't intend to back-up as you go, that could mean storing 3,500 shots on memory cards! I'll normally take my entire SD card collection to an event, which comprises several 64, 32 and 16GB cards with fast write speeds. That way, I have enough memory to store my shots, plus spares should I need them.
Spare batteries: Places to charge camera batteries aren't always a given at festivals, so you'll need to take along plenty of power for each day's shooting. Consider how many images you think you'll take, work out how many batteries that should amount to and pack double the amount!
Lens cleaning cloth/kit: Whether it's knocks, drops, mud, dust, rain or beer, your equipment is going to take a battering at festivals – if you manage to keep your front element clean for the entire time, you'll have achieved a small miracle. A basic lens cleaning kit will ensure that when the inevitable happens, you'll be prepared and after a quick fix, you'll be ready to keep taking dust-, smudge- and smear-free images.
Printed clashfinder: With so much going on, navigating your way around a festival and making sure you're at the right stage at the right time requires a bit of planning. Clashfinders are a timetable of what's happening and when – they're a great way of organising your day. For years, I've been using clashfinder.com. Once a UK festival releases performance times, Clashfinder's community quickly develops a table. If you end up using the website, you can also drop it a donation to say thanks.
Water and snacks: Time flies when you're dashing from stage to stage, and it's easy to forget the basics. Chuck a bottle of water and some snacks into your bag, that way, when you realise you haven't stopped for a drink in six hours and on the hottest day of the year, you'll be covered. It's no good having the access and gear you need for great shots if you're fatigued and ready to pass out!
Earplugs: If you're spending an entire day standing directly in front of festival speakers, it's sensible to protect your hearing. If you're shooting live music regularly, it's essential. A set of noise-reducing earplugs will not only keep you more comfortable, it'll minimise the risk of developing tinnitus.
Optional extras: If the agency or publication you're shooting for needs a quick turnaround, you might want to pack your laptop so you can edit and upload/send your images quickly. A second camera body can minimise lens swaps, while providing a backup should anything happen to your main device. Finally, shooting with flash isn't normally allowed in the press pit (a cordoned off section in front of the stage), but it can prove useful when photographing the crowd or portraits of band members after the sun has gone down.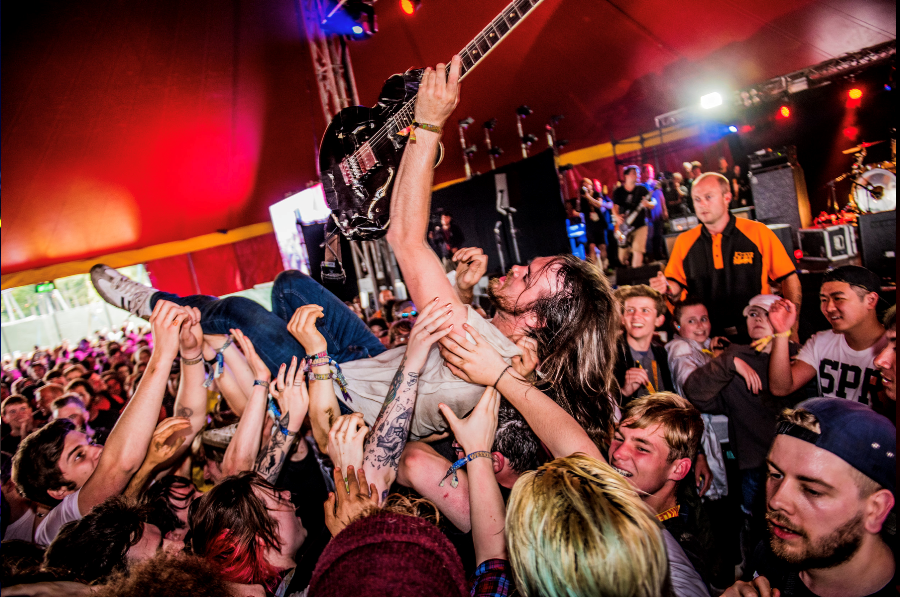 The four main shooting environments
The arena: Whether you have full accreditation, a photo pass that only allows access onto the festival site or a normal ticket, the festival arena is often the best place to grab some fantastic portraits of festival goers and shots of the electric festival atmosphere. With roaming performers mixed with fans clad in fancy dress and striking festival attire, food stands, art installations and fairground rides, you don't need to be in the press-pit to get some of the best images.
Look for interaction between laughing friends, wider festival scenes as the sun sets and humorous instances, and you'll be well on your way to building a portfolio of colourful images that perfectly encapsulate the feel of a good festival. I'd normally opt to use a 24-70mm lens for these shots.
Small tents: Alongside the main stages, most festivals have an assortment of smaller stages, often in tents. Tents can present the trickiest light conditions, but allow you to get closer to the artist(s) for more intimate shots. As with most concerts, if you have a photo pass, you'll probably be allowed into the press pit for the first three songs. Flash use is almost always banned and if the lighting is particularly difficult, I'll use a 50mm f/1.8 prime to make the most of the available light.
If the lighting is reasonable, a 24-70mm f/2.8 provides more flexibility for a variety of compositions. With the lens' aperture set to f/2.8, use the lowest ISO level possible that will enable you to maintain a shutter-speed of at least 1/200sec. This shutter-speed will be fast enough to freeze most normal movement sharply, although you may need to increase your shutter-speed for particularly active artists.
Large tents: Stages inside larger tents tend to be better lit, but will often be raised up to 8ft off the ground. If you don't want images taken from an unflattering angle (looking straight up an artist's nose) a 70-200mm f/2.8 lens will allow you to stand back for a better angle, with the reach needed to fill the frame. Your camera settings will probably be similar to those used in the smaller tents, but depending on the available light, you might want to consider opening up your aperture slightly for a larger depth-of-field, increasing the shutter-speed to freeze faster movement or decrease your ISO for improved image quality.
Outdoor stages: While some festivals do have smaller outdoor stages, almost all major festival have their main stage out in the open. This means you'll have the benefit of shooting with good natural light during the day, but will have to consider the elements a little more in order to protect your equipment. You'll still probably want to use a 70-200mm lens to give you the reach needed to stand back a bit, with a tall stage in front of you, but even in overcast conditions, natural light will mean that you can normally use much lower ISO levels, faster shutter-speeds and narrower apertures, until it gets dark. In strong sunlight artists can move quickly between parts of the stage in shadow and full-glare, so keep a watchful eye on your exposure settings.
About the Author
Matt Higgs has worked for Practical Photography and Digital Photo magazines, and his live music images have been featured in numerous respected music publications including Rock Sound, Guitarist, Guitar Techniques and Akustik Gitarre. www.matthiggsphotography.co.uk.
Related articles