Do you fear flash? Not sure how best to use it? Geoff Harris runs through the main options and techniques to help you get started.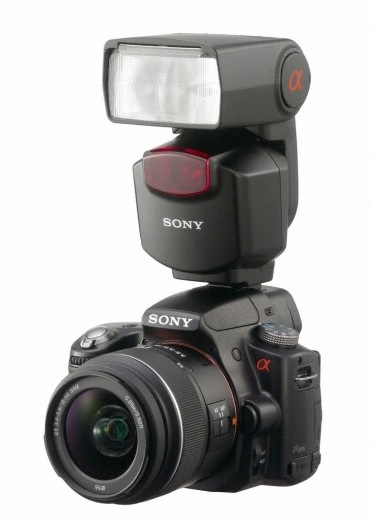 Few things divide opinion in photography more sharply than flash, which is odd when you think how long flashguns have been around. There is a school of thought that questions why a creative photographer would ever want to use flash; French documentary legend Henri Cartier Bresson once referred to resorting to flash as the "horrific massacre" of an image. I prefer to take a more balanced view, and while there are times that you should definitely not use on-camera flash, there are also times when it comes in useful, particularly with portrait work. Read on for some practical on-camera flash ideas you can try today!
Fill-in flash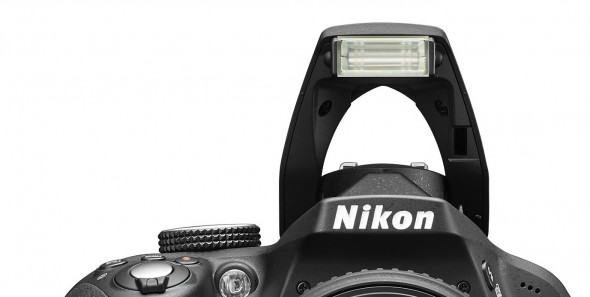 Most consumer-level cameras have some kind of built-in flash, and they even appear in professional models such as the Nikon D810. While the power output of a pop-up flash is pretty puny, they are better than nothing for filling in shadows caused by harsh sunlight.
This technique is called 'fill-in flash' and here's how it works: pop up the flash and take a portrait as you normally would using the Aperture Priority mode. You can adjust the flash exposure compensation in a similar way to normal exposure compensation. More power will be needed if you are shooting outside in bright sunlight and you are some distance away from your subject, and you should decrease the power level if you are shooting in the shade and closer to your subject.
Using external flashguns for fill-in flash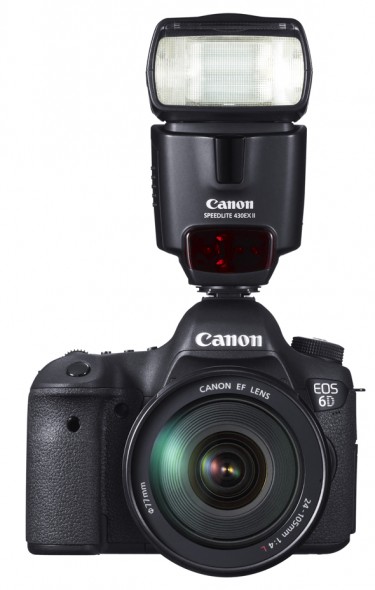 The next step up from your camera's pop-up flash is a dedicated flashgun. They're not particularly cheap but they will make a huge difference to your photography as they can be used both on and off camera. You will nearly always see press photographers turn up on a sunny day with their flashguns attached, as, again, they are using fill-in flash to help avoid harsh shadows.
Fill-in flash can help to boost colour saturation, too, although it's important to balance fill-in flash with the available ambient light. As well as giving you much more powerful flash output, external flashguns also offer a much higher degree of control over your lighting.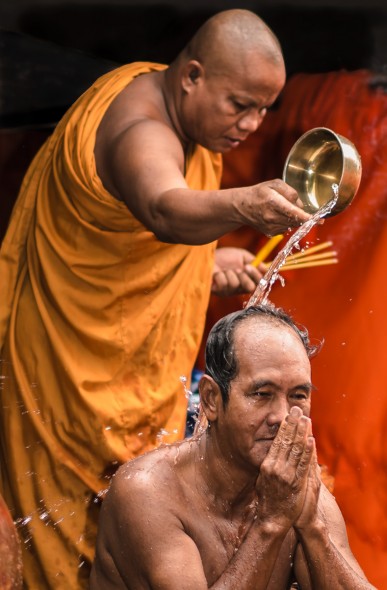 Dedicated flashguns have a greater power output, and many more adjustment options. A quick burst of flash outdoors can help to freeze the action, as with this Buddhist ceremony in Cambodia
TTL or Manual?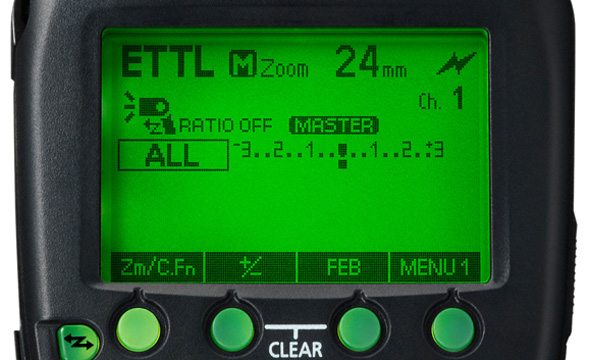 There are two main ways, or modes, of controlling a dedicated flashgun. TTL (Through The Lens) is essentially an automatic mode whereby the flashgun sets its own power level after analysing the light reflected by the subject. As with automatic or semi-automatic exposure modes, when using the TTL mode you are letting the camera and flash do a lot of the work.
TTL comes in very handy if the distance between you and the subject keeps changing (say when you are doing quick candid shots of weddings guests, for example). Problem is, TTL sometimes gets confused, which is why more experienced flash users prefer the Manual mode. Here, you set the power level, which can range from 1/1 to 1/128. While it's sometimes a case of trial and error, you are in complete control.
The importance of diffusion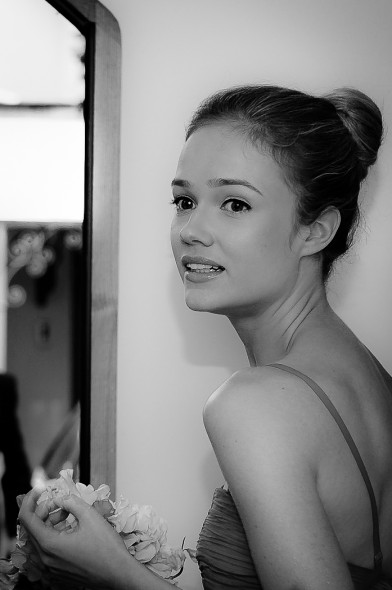 A nice wedding portrait, but notice how the undiffused flash has created a distracting shadow against the wall
While flashguns are powerful and handy devices, there is a price to pay for all that flash power, especially indoors. If you simply attach a flashgun to your camera and take a portrait of somebody you often get the dreaded 'custard pie' effect; their face is harshly illuminated (like they have been hit by a 'custard pie' of light) and even worse, there is likely to be an ugly shadow behind their head or under their chin.
Diffusers spread light which help to create more flattering results
Rather than reducing the power output of the flash, the answer is to soften and spread (diffuse) the light. There are several ways of doing this. One of the most effective is to attach a simple plastic diffuser to the flash head (don't worry if one didn't come with your flash as these are very cheap). It's possible to get quite advanced and expensive diffusers that act like mini-softboxes, but simple is often best.
The importance of angles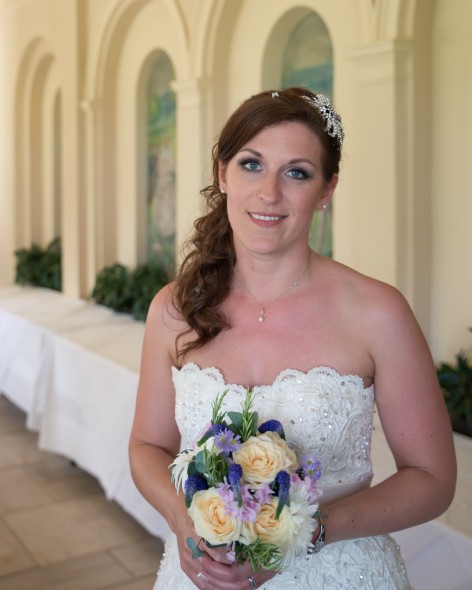 Used correctly, bounce flash should lift the colours and shadows and add a nice catchlight in the eye, without making the subject look obviously flashed
Ok so you have got your speedlight and diffuser, and are ready to start using them indoors. While the light sensitivity (ISO) of modern cameras has got a lot better, a bit of restrained flash indoors can still help to freeze the action and make colours pop, which is why you see a lot of wedding photographers sticking with flash. You also get a nice catchlight in the subject's eye.
To get the most from the diffuser, try angling the flashgun so the light bounces off a pale or white-coloured wall or ceiling (around 45 degrees is a good angle to start, and decent flashguns often have angle indicators on the body to help you). Get this bounce flash right and you should see all the benefits of flash without too much custard-pie lighting and ugly flash shadow. Remember, try to bounce off white or pale surfaces to avoid colour-casts creeping in.
Creative flash effects
As well as standard flash, you can also get interesting results with a couple of creative modes, namely slow-sync and rear-curtain sync. These sound complicated but are quite straightforward. Slow-sync flash is often used at night when you want the background and foreground to have a balanced exposure (thereby avoiding the dreaded brightly-lit subject but gloomy background you see in snapshots). Since a longer shutter speed is being used to balance the background, you may need to use a tripod for this.
Arguably a more interesting creative effect is rear-curtain sync, where the flash goes off at the end of the exposure, rather than the beginning. Consult your manual about how to activate this, as on Canon SLRs, rear-curtain sync is activated on the flashgun, while on Nikon SLRs it's done in camera.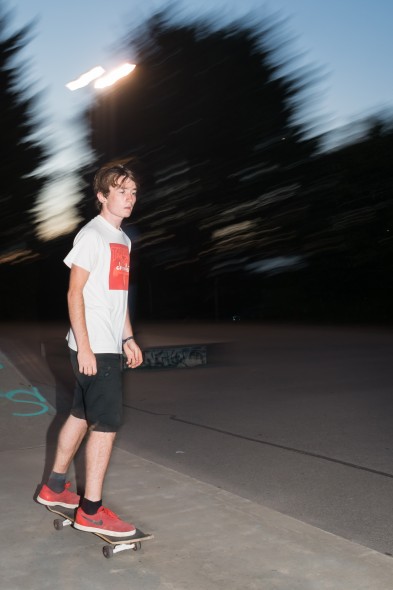 Here I used rear curtain sync with a slow shutter speed to get some interesting effects at a skatepark at dusk
Since the flash is firing at the end of the exposure, you can get some cool creative effects with rear-curtain sync, particularly if you deliberately set a slower shutter speed. Try doing this with fast-moving subjects, such as traffic at dusk or action sports. Traffic in particular will give you interesting looking light trails, and this, combined with a blurred-out background, gives you a great sense of movement and speed. It's a great technique to try on holiday with colourful-looking tuk tuks or cycle taxis. Use rear-curtain sync with action sports too. Although the subject may not be entirely sharp, enough of it should be to create a sense of dynamism (remember, a totally static and totally sharp subject looks as if it's standing still rather than moving).
So when shouldn't you use flash?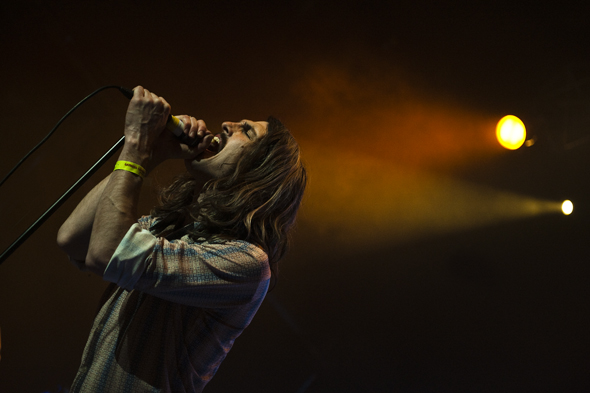 Hopefully you have now got much more of a sense of the creative possibilities afforded by your flashgun, but there are definitely times you should turn if off. Flash is not usually welcome at gigs and other live performances as it can distract the performers, so you'll have to rely on higher ISOs and wider lens apertures to deal with the constantly changing light.
Many churches and historic buildings ban flash too, so again, quality lenses with wide apertures that let in lots of light, and cameras with high ISO capabilities, are the answer. It goes without saying that most wildlife photographers avoid flash, as it's a great way of scaring off the animals, while many travel and documentary photographers also eschew flash as it distracts their subject.
About the Author
Geoff is a highly experienced photography journalist, and recently stepped down as editor of Digital Camera, the UK's best-selling photography magazine. He now writes for a range of publications. Geoff is a keen travel and portrait photographer, and a Licentiate of the Royal Photographic Society.
Related articles