The capital's parks offer a wealth of opportunities for wildlife photographers. Tom Mason goes exploring
All images by Tom Mason.
London boasts amazing locations for shooting all kinds of images, from street shots to architecture and everything in between. As a wildlife photographer, I find the UK's capital also has some gems for my line of work, with London's parks in particular offering some truly wonderful wildlife to seek out.
London's parks cover an impressive area and offer a variety of wild subjects to focus your lens on. Home to red deer, fallow deer, squirrels, a wide array of birds and more, the parks are teeming with perfect subjects for urban wildlife photography. The woodlands also hold a lot of photographic potential for landscape and floral images, plus there's a wide range of fungi in the autumn.
The locations are accessible and within easy reach by car or public transport, making them excellent places to get started as a wildlife photographer if you live in and around the city. These are a perfect escape for a few hours of photography indulgence, so let's dive in.
Richmond
One of my favourite places to visit, Richmond Park is host to a huge array of subjects to photograph. The park is not only a great open space, but is also London's largest specialist area of scientific interest, covering 2500 acres of grassland and woodland habitats. The site is a top location for ancient trees, hosting some incredible oaks, and it's a habitat and home for hundreds of species of mammals, birds, insects and plants.
Richmond Park can be found in south west London, south of the M4, off of the south circular. Parking is excellent and available at numerous points within the park. The park is also accessible by train, with Richmond station being a 20-minute walk away.
Richmond: Deer
Probably what the park is most famous for is its deer. Both red and fallow deer can be found in the park, numbering more than 350. In late summer the fallow deer rut in the deep woodland patches, while in the autumn it's the turn of the reds. When large male stags stake claims to groups of hinds, they can often be seen strutting around protecting their females.
Often you'll be able to catch the battles between rival males as they fight for the right to breed. The deer are wild in the park, so being respectful is of the upmost importance – keep a good distance from the deer, especially when they are locked in battle, and never get between a male and his hinds.
Look for the deer in the early morning or late evenings, especially when the light is low. Misty mornings offer fantastic chances for the classic silhouette shot, as well as giving you the opportunity to capture the misting breath of the deer as they bellow.
Be sure to try different compositions – if you work from the wooded areas you can catch glimpses of the deer between trees, making for some interesting shots. I'd generally recommend a longer lens, with a 300mm being ample for getting portraits of the deer. Just be sure to take your time and carefully approach to minimise any disturbance.
Richmond: Little owls
With its huge population of ancient oaks the park is also a perfect location for Little owls. Introduced back in the 1800's and breeding for the first time in 1879 they have grown to be a well-loved member of the UK's fauna. These charismatic owls are great fun to photograph but can be tricky at first.
In the park, look along the fence lines around the trees, as often the owls will perch on these when they are surveying the ground to feed. In the spring they will come to mature oaks in search of locations to breed, tending to favour deep holes in the trunk where a tree limb has snapped off.
Often you may spot one when driving through the park, so be sure to note the location for when you're walking back. The owls will often return to known hunting grounds.
In order to get close, move slowly, and look for the tell-tale signs that they are alerted to your presence. Often they will lock eyes on your position and move their head from side to side or bob up and down. If you're spotted, just settle down and don't move, give the owl time to assess you and get back to looking for food.
If you do find a nesting hole be sure to be careful when working in position, and consider taking along a bag hide to try and reduce your disturbance of the owls going to and from the nesting site.
Often for the owls you will want a focal length of at least 400mm to really fill the frame, with a 500mm being optimal. There is also of course the use of a teleconverter and APS-C type sensor for the additional crop factor.
If you can't find an owl, do be sure to spend some time photographing the oaks, as these ancient trees are truly beautiful in Richmond. Some of them are over a thousand years old.
In late June through to August, keep your eyes open for stag beetles, as the park is an excellent location for these large bugs! You might hear the males thundering about as they try and find females.
Richmond: Fungi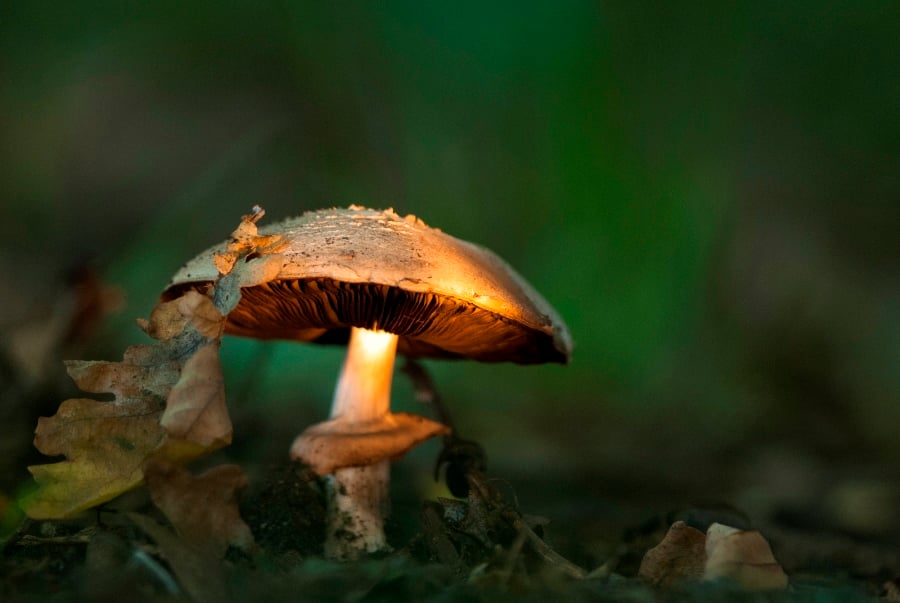 In the autumn, as well as the deer, Richmond is also a super location for photographing fungi. The park plays host to more than 250 species, making it a cracking spot for some macro photography.
The grassland areas boast excellent numbers of large field mushrooms, while the woodland plays host to bracket fungi, as well as some of the smaller and more intricate varieties.
When working with fungi you'll likely want a true (1:1) macro lens, but if you don't have one then think about some extension tubes or simply using a long lens to create clean portraits of the larger subjects. Get down low on the ground and use a tripod or beanbag to support your lens. For optimum sharpness, working with a remote release and mirror lock-up will ensure you can remove all vibrations and get the sharpest of images.
Richmond: Planning
One of the best things about Richmond is due to its location and facilities you really can make a full day of it. Arriving early allows you there best chances to miss the crowds, especially in the winter months, making it easier to find and discover the fantastic wildlife.
After a long morning you can then head back to the café and enjoy a cup of coffee (or two) as well as a bacon sandwich (or your preferred vegetarian and vegan options), giving you time to assess your images so far and plan for the rest of the day. Often you'll find you will want to be there from dawn till dusk so be prepared for a full-on day of photography. Be sure to pack your favourite chocolate bars for that much-needed afternoon boost!
Regents Park
Regents Park is another great location for wildlife photography in London. Far more central, it's easily accessible via tube and it offers some great opportunities for wildlife photography, especially birds.
The park is a short walk from the tube station: simply cross the main road and head straight to enter the park. Follow the path left and you'll soon come to the lakes, which are probably one of the best locations for photography. Among of the best subjects to photograph are the grey herons. These large birds make excellent subjects and are fairly approachable. They will often sit alongside the paths as well as around the area where people tend to feed the ducks, picking up scraps of food.
Regents Park: Herons
In the early part of the year the park plays host to a sizeable heronry, with the birds building large nest in the weeping willow trees that can be seen close to the band stand. The birds fly to and from the trees with sticks, offering a great opportunity for some flight images. Given that they are large birds, you don't need a huge lens – something in the focal range of 70-200mm is excellent for a host of compositions.
Watch the birds as they court in the trees and later in the spring look out for the young herons in the nests. As you can get close to the birds, think about alternative images, such as close in detail shots of feathers, or simply focusing in on a headshot.
Another way of working is to put them in the urban environment and showcase them with people walking past or building behind.
Regents Park: Waterfowl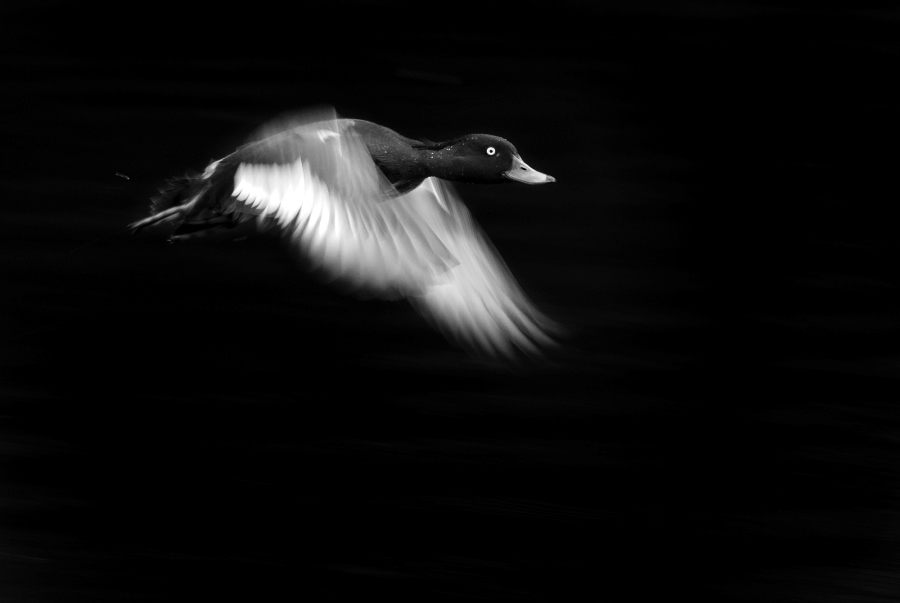 In addition to the herons the park is also a great location to photograph other waterfowl. The ponds have a good range of birds, with the likes of tufted ducks, pochards and great crested grebes offering good photographic opportunities. To make the best of the location, get there early, not only for the best light but to beat the crowds.
With the ducks frequently coming and going it's a great location to work on some flight images. When working with waterfowl, if you slow your shutter down to a 1/60sec rather than the more common 1/1000sec often used for flight images, you can add some blur into the wings, adding drama to your shots. A great location for repeatedly practicing, it will help you to get used to tracking, locking focus and shooting at the decisive moment. After a long day's shoot, the surrounding area has a host of restaurants and bars – a perfect place to chill out and avoid the evening rush hour!
Other parks
As well as the two locations mentioned above there are also a whole host of other parks and outdoor areas that are great to explore in the London area for wildlife photography. Bushy Park, Hyde Park, the London Wetland Centre and RSPB Rainham Marshes all offer great alternatives for a variety of wildlife. If you work or live in town, you'll always be close to some top-class locations to get your wildlife photography fix!
For more information on any the locations above, check the links below. Enjoy getting out and photographing some wildlife in the capital's urban green spaces!
Click here for information on the Royal Parks (Richmond, Bushy, Regents)
About the Author
Tom Mason is a wildlife photographer and journalist, and is also the host of our Life in the Wild series. Keep up with him on Twitter, @TomMasonPhoto, or visit his website for more.
Related articles