LaCie Rugged Secure USB 3.1 - 2TB
This product is currently out of stock. Order today and we will place you on a waiting list fulfilled first-come, first-served when stock is received. No payment will be taken until the item is in stock and ready to be despatched.
Full details »
Legendary rugged toughness meets USB-C compatibility, blazing-fast Thunderbolt speeds, and optional SSD performance of up to 110MB/s. Thanks to USB-C, you can connect to both USB 3.0-compatible computers as well as to USB-C (and Thunderbolt 3) ones. It features an integrated Thunderbolt cable and IP54-rated resistance to the elements. More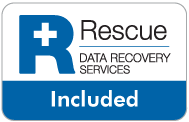 Rescue Data Recovery Included. VIEW
1x LaCie Rugged Secure USB 3.1 - 2TB Sorry, there are no more available.
Product Code: 1651355-wex
Manufacturers Part Number: STFR2000403