Full-frame doesn't have to mean full-price. Here we pick some of the best sub-£1000 lenses available for the Sony A7 III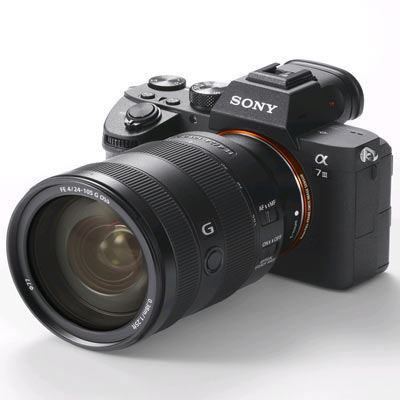 If you're using the Sony A7 III then it's safe to say you're serious about your shooting. This full-frame mirrorless camera is one of the best in the business, capable of producing sublime images and exceptional videos in all sorts of different conditions. It's the all-rounder of the series, less resolution-oriented than the A7R III and less video/low-light focused than the A7S II.
While it's not a cheap camera, there are plenty of lenses available for it that don't cost the earth, so if you're looking to save some money on glass for your A7 III, it's well worth taking some time to shop around. Here we've made that task a little easier for you by collating our list of our favourite affordable lenses for the Sony A7 III. We've arranged our picks in rough price order so you can find the level that's appropriate for your budget – so scroll on to find your next favourite lens for the Sony A7 III...
Let's start with a capable nifty fifty, a do-it-all lens at the popular focal length, great for street shots, documentary, portraits, and really whatever else you throw at it. The images it produces are crisp and clear, while the body is both lightweight and strong for portability and durability. A quick, efficient lens that does everything you need from a 50mm prime – it's hard to say fairer than that, especially at this price!
Go a little wider with this wonderfully versatile prime lens, sporting not only an f/2 maximum aperture but also a 9-bladed aperture to produce brilliant bokeh effects. Thanks to its prime focal length, the Sony FE 28mm f2 Lens is able to incorporate advanced optics to ensure pin-sharp images right through its focal range, whether you're working close up or at a distance. It also weighs just 200g, so won't weigh down your setup and leave you free to shoot at length without getting fatigued.
It's always worth looking at third-party optics if you've got an eye on saving some cash. The Samyang 14mm f2.8 ED AS IF UMC Lens boasts an optical construction featuring 14 elements in 12 groups, and all its elements are Ultra Multi-Coated (UMC) with the highest-quality, new-generation, anti-reflective layers, so you can be sure you're still getting a premium lens for your Sony A7 III.
Sigma's "Art" label denotes a range of lenses designed with the ultimate in artistic expression in mind, and this 50mm f/1.4 optic for Sony E-mount is no exception. Its large maximum aperture is perfect for shooting in low light, and it also produces excellent images right across the frame. Hyper Sonic Motor autofocus is snappy and accurate, meaning it's a good choice for weddings, gigs and other situations requiring quick shooting.
If you plan to shoot portraits with your Sony A7 III then this is definitely a great choice, with a perfect mid-telephoto focal length and a generously large f/1.8 maximum aperture. Create spectacular portraits, pin-sharp and full of contrast, with aesthetically pleasing defocused areas and beautiful bokeh – the Sony FE 85mm f1.8 does it all, and for a pretty great price too. Now that's tough to argue with!
This workhorse zoom from Tamron is a great way to cover your bases without having to commit to a more expensive 24-70mm professional optic. It's still a great lens in its own right, boasting an RXD stepping motor autofocus unit that is fast and silent, and with a minimum focusing distance of just 0.19m. All this gives it really strong versatility as you might expect, allowing you to be confident that you and your A7 III will be able to handle any shooting situation you encounter.
We're moving up in the world now – here's a premium prime that'll help you really make the most of your A7 III's remarkable full-frame sensor. The Sony FE 35mm f1.8 boasts quiet and reliable autofocus tracking that makes it as capable for video as it is for stills, while its design is also resistant to dust and moisture, so it's a solid choice for outdoor work. All that and it only weighs 280g!
Alternatively, try this optic from Sigma, boasting the same focal length, but with a little larger aperture for your buck. This really opens up your options in low light, and given that this is another Art lens, you can be sure that your images are going to look fantastic from edge to edge and corner to corner. If you love shallow depth of field, this is a really strong pick for your Sony A7 III.
Incorporating superb optical design from Carl Zeiss, the Sony FE 55mm f1.8 ZA Carl Zeiss Sonnar T* Lens is an uncompromising prime for those who live and breathe sharpness. Also built to be resistant to dust and moisture, it's a truly strong choice for lots of different types of photography, while that f/1.8 maximum aperture is nothing to sneeze at.
Finally, get the signature Zeiss look with this superbly engineered prime lens from the makers themselves. It's designed specifically for close focusing, able to focus on subjects at distances as short as 24cm, and it features an OLED display with range and depth of field information for high-definition zones. The Zeiss T* anti-reflective coating is present and correct, ensuring superb images with minimal flare and ghosting.
About the Author
Jon Stapley is a professional journalist with a wealth of experience on a number of photography titles including Amateur Photographer, Digital Camera World and What Digital Camera. See more of his writing at jonstapley.tumblr.com
Related articles