Keep your camera safe, secure and accessible – and for a bargain price! These are our picks of the best affordable camera straps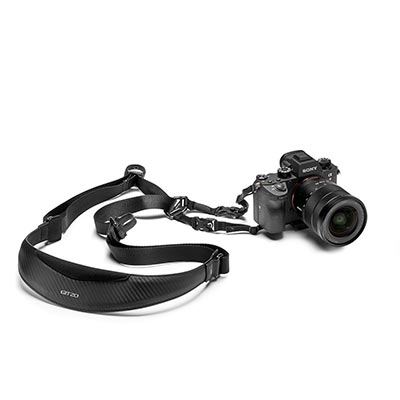 Some photographers upgrade cameras regularly, but a good strap that's well cared for can last a lifetime. A quality camera strap is a photographer's best friend, allowing them to keep their camera safe and secure, but also within arm's reach at all times, ready for that perfect split-second moment.
There are plenty of different types of strap out there – here we've focused on sling, neck and shoulder straps to give you a range of options. The best part is that you don't need to spend a fortune on a great camera strap, as there are loads available from reputable manufacturers at fantastic prices. We've compiled a list of the best affordable straps out there right now, and ordered it by price so you can select the appropriate level for your budget.
So, let's get cracking. On with the straps…
Camera straps under £20
This strap is designed for users of mirrorless cameras and other lightweight setups. It's made with Manfrotto's customary attention to quality and detail, constructed from high-quality fabrics and equipped with adjustable webbing that allows it to be precisely adjusted to your preferred length. Also, handily, an extra pocket on the side allows you to store your lens cap while shooting (up to 58mm in diameter), and there's a battery holder for an extra battery. All this for less than £10 is an absolute steal!
Manfrotto Street CSC Strap
Functioning as a neck or shoulder strap, this stylish choice from Calumet is a great shout for all sorts of photographers, including both mirrorless and DSLR users. It's fully adjustable to fit all body shapes and sizes, and features include a neoprene pad, 3/8" connectors and quick disconnect attachments, just in case you need them. It sits well on the neck and shoulders, comfortable to wear for long periods, and makes it easy to swing a camera into action at a moment's notice.
Calumet Classic Strap Black
Large DSLRs and heavy lenses need a strong and comfortable strap to hold them, and the OpTech Pro Loop Camera Strap is a perfect choice in this regard. OpTech's patented weight reduction system will evenly distribute the weight of the camera across the length of the strap, reducing strain and user fatigue. There's also a Non Slip Grip for extra security, and a choice of colours for those who like a little style in their photo accessories (though we have a soft spot for classic black).
OpTech Pro Loop Camera Strap - Black
Camera straps under £50
Need to make sure your gear is safe? Heading to an area where you might run the risk of theft? The Optech Urban Sling Black is the strap for you – it may look ordinary, but running through it is a cut-resistant stainless steel cable that'll ensure no opportunistic thief makes off with your camera. A quick-adjust system also allows you to instantly cinch the camera into your body if it's dangling, and comfort isn't forgotten about either, with a multi-layered neoprene/elastic/high-tech memory foam pad cushioning the strap against the shoulder and ensuring it can be worn for long periods.
It's an unfortunate truth that camera straps can get pretty funky and unpleasant in hot weather, especially when you're carrying heavy gear. The Crumpler Convenient Disgrace Camera Strap counteracts this perfectly, with extreme moisture-control neoprene materials that are extra-perforated to deal with sweat more effectively. The material is heavy-duty polyester for extra security, and the strap is also equipped with quick-release clips, meaning you can easily swap cameras without removing it. A great choice for enthusiasts and pros alike.
Crumpler Convenient Disgrace Camera Strap
Camera straps under £100
Comfortable, strong, secure. The Joby Pro Sling Strap is everything a DSLR user needs and more, streamlined and durable with quick-draw functionality, and designed to give a comfortable fit with anti-slip grip. It's designed specifically for higher-end DSLR users, able to handle a pro DSLR with a zoom lens and battery grip attached, so if you've been worrying that straps on this list might not be strong enough for your setup, here's something that'll fit the bill.
Joby Pro Sling Strap (L-XXL)
Super-versatile, the Peak Design Slide Camera Strap can be worn as a neck, shoulder or sling strap. It has dual quick-adjusters to make adjustment and reconfiguration quick and easy, and its nylon webbing is dual-sided – with a smooth side for gliding over clothes, and a grippy side designed to be easy to hold. It uses Peak Design's Anchor Link system, which features multiple connection points to keep your camera extra secure, and it has a new silicone grip.
Peak Design Slide Camera Strap - Ash
This beautiful premium Gitzo strap is crafted from authentic Italian leather. It uses a standard 1/4-inch tripod secure to keep the camera secure, and its cross-body design makes it both comfortable and convenient to use. Equipped with the Gitzo GS5370SDR quick release plate, it's a tool that allows you to be always ready to shoot within seconds, and to look stylish while doing it too, whether you're shooting with a mirrorless camera or a DSLR.
Gitzo Century Sling Strap
About the Author
Jon Stapley is a professional journalist with a wealth of experience in a number of photography titles including Amateur Photographer, Digital Camera World and What Digital Camera. See more of his writing on Jon's author page.
Related articles