Get a bargain on a sturdy camera support with our picks of the best affordable photo tripods available right now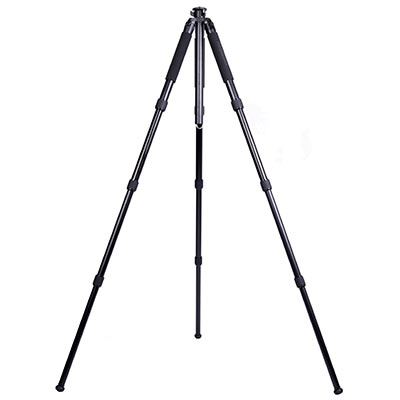 A tripod is one of the most valuable, life-altering accessories a photographer can buy. A good tripod opens up opportunities and shooting possibilities in all sorts of different directions, allowing you to experiment with new techniques such as panning and long exposures, as well as improving your options in low light.
So which tripod to choose? You can spend a significant sum on a professional-grade tripod – but you don't have to. There are loads of amazing tripods available from reputable manufacturers at fantastic prices, and we've compiled the best ones here.
Let's take a look at some of the best affordable tripods available right now…
Tripods under £100
This tripod from Velbon includes an incredible amount of functionality for its price. The five-section legs allow for huge latitude of height adjustment, and it packs down incredibly well – when folded it's roughly the length of an A4 piece of paper. This means that it's not beyond the realms of possibility to transport the Velbon UT-3AR Tripod Kit by clipping it to your belt or something like that – something that would definitely not be possible with a chunkier pro tripod (seriously, try it). The head also has an Arca-Swiss quick-release plate, rounding out a solid tripod kit that's available at an amazing price.
The 3 Legged Thing Punks Patti Tripod has a number of interesting features that set it apart from other similar tripods. For starters, its central column is entirely reversible, allowing you to create some truly unique and unusual camera angles – which makes it especially useful for macro photography and creating interesting close-ups. Its legs use rugged and hard-wearing flip-locks, as opposed to the twist-style locks favoured by many similar tripods, and it's built with the durable construction that 3 Legged Thing are known for. This version also comes with the AirHed Mini, a straightforward ball head that's easy even for new users to get to grips with.
3 Legged Thing PUNKS Patti Tripod and AirHed Mini Head
Tripods under £150
Providing a great deal of stability, with an 8kg maximum payload that's perfect for DSLRs and mirrorless cameras alike, the Benro iFOTO Aluminium Tripod Kit is a portable and strong solution for travel shooting. Benro have a great reputation in the world of camera supports, and this well-built tripod illustrates why. Its central column can be detached and combined with one of its legs to create a monopod, further expanding the user's options and making this an indispensable photographic companion for all kinds of different shooting adventures.
Benro iFOTO FIF19AIB0 Aluminium Tripod Kit + IB0 head
Another tripod that's perfect for the travelling photographer, the Manfrotto Befree 2N1 Lever Travel Tripod is designed to be quick to deploy, with a small and intuitive head that makes camera movement easy and precise. Reaching a maximum height of 150.7cm and packing down to 40.6cm, the Manfrotto Befree 2N1 Lever Travel Tripod is versatile and ideal for all sorts of photography – it also converts to a monopod for quicker shooting in tighter spots. The maximum load of 8kg (down to 5kg for the monopod) means the Manfrotto Befree 2N1 Lever Travel Tripod is suitable for the vast majority of mirrorless and DSLR setups.
Free Backpack worth £97
Manfrotto Befree 2N1 Lever Travel Tripod
Tripods under £200
Supporting a whopping 15kg of gear, the Calumet CK7200 4-Section Aluminium Tripod is a surprisingly compact and lightweight system considering. It's constructed from solid aluminium, weighing just 2.1kg, and has useful extra features such as a bubble level and grippy rubber feet, as well as an integrated full-size monopod. The centre column also has a hook, meaning that if you need to add a sandbag or rucksack to give it some extra ballast and stability, you can. Whatever kind of photography you want to pursue, the Calumet CK7200 4-Section Aluminium Tripod is an excellent choice of companion.
Calumet CK7200 4-Section Aluminium Tripod
Tripods under £250
If you can spring for a carbon fibre tripod, it's worth doing. Though supports constructed from this material tend to be more expensive than their aluminium counterparts, they are also both stronger and more lightweight. The Vanguard Alta Pro 2+ 263CB 100 Carbon Fibre Tripod with Alta BH-100 is perfect for getting shots quickly and efficiently – it's designed to be easy to deploy and support swift camera movements, so if you're shooting sports or events you'll find it hugely useful. Two bubble levels, an Arca-Swiss release plate, anti-slip rubber feet – the list of features goes on and on. It's a hugely impressive bargain for the price.
Vanguard Alta Pro 2+ 263CB 100 Carbon Fibre Tripod with Alta BH-100
Globetrotter is an apt name indeed – this tripod travels extremely well, thanks to a reverse folding design that allows it to fold up extra small. It's constructed with a premium finish, its twist locks made from anodised aluminium with deep ridges for an extra-solid grip. The tripod can also be converted to a monopod by combining one of its legs with the central column, while the premium titanium finish of this particular model – well, it just looks good, doesn't it?
MeFOTO Globetrotter S Carbon Tripod - Titanium
Tripods under £300
Finally we have another carbon fibre model – the Manfrotto Befree GT Carbon Fibre Tripod Kit is one of the most affordable professional tripod kits around. Measuring only 43cm when folded but able to support up to 10kg of kit, it features an ergonomic leg-angle selector that's designed to be usable for left- and right-handed people, and it also has Manfrotto's Easy Link functionality for the simple attachment of other accessories. The advanced 496 aluminium Centre ball head (MH496-BH) also provides smooth and reliable camera operation, making this kit a truly versatile option for any photographer.
Free Backpack worth £97
Manfrotto Befree GT Carbon Fibre Tripod Kit
About the Author
Jon Stapley is a professional journalist with a wealth of experience in a number of photography titles including Amateur Photographer, Digital Camera World and What Digital Camera. See more of his writing on Jon's author page.
Related articles