We sort through the best portrait lens for different models and makes of camera – find the best lens for photographing people!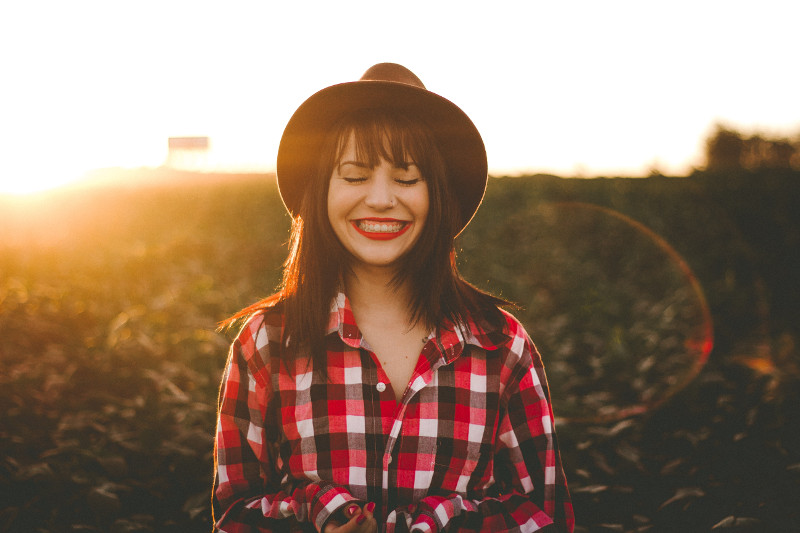 The best lens for portraits needs two main qualities. It needs to have a wide maximum aperture, as this will allow you to create a shallow depth of field in your portrait images – meaning a sharp main subject and a blurred background. This is how you ensure that your portrait keeps the viewer's attention where it's supposed to be: on your subject.
The second ideal quality that the best lens for portraits needs to have is a decent mid-telephoto focal length. You don't want the lens to be too wide, as this can exaggerate your subject's features to create an unflattering portrait; however, you also don't need the bulk and expense of a long lens as most of the time you're going to be close to your subject. A focal length of around 85mm is ideal, though be aware that the focal length of a lens can change depending on the size of your camera's sensor – if you're using a camera with an APS-C sensor, for example, you want to use a lens of around 50mm or so to achieve an equivalent effect.
If this sounds a bit daunting then fear not – we've assembled a list of the best portrait lenses available right now for all the major systems and lens mounts. Take a look through to find the best lens for portraits that suits you!
Best Canon lens for portraits
This is an excellent portrait lens for Canon DSLRs, with the perfect 85mm focal length and edge-to-edge sharpness right across the frame of an image. The maximum aperture of f/1.8 means you can create images with shallow depth of field and vivid bokeh, producing a dreamy blur that makes for perfect portraits. It also has a moisture-resistant construction for all-weather use, making it a great choice for outdoor work, and it's available at an amazing price.
Also consider: The Samyang MF 85mm f1.4 Lens, which is an inexpensive mid-telephoto for the Canon RF system of full-frame mirrorless cameras.
Tamron 85mm f1.8 SP Di VC USD Lens - Canon Fit
Best Nikon lens for portraits
Nikon DSLR users should consider this Nikon own-brand optic for portrait work – a fantastic 85mm optic that once again boasts that f/1.8 maximum aperture. Its Silent Wave Motor ensures autofocus that is not only fast and accurate but also quiet, so it won't distract your subject, and the lens produces astounding results even in low light, so you don't always have to be shooting under glaring studio lamps to get a fantastic result.
Also consider: The Nikon Z 85mm f1.8 S Lens, which is the equivalent portrait lens for the full-frame mirrorless Nikon Z system.
Nikon 85mm f1.8 G AF-S Lens
Best Sony lens for portraits
For Sony's E-mount mirrorless cameras, you want lenses that will give you the best of the best, and this super-sharp mid-telephoto prime is a solid pick. High-performance optics produce images with incredible clarity, and the generous maximum aperture is ideal for vivid bokeh. The optical design compensates for multiple kinds of distortion and aberration, ensuring that the images you produce will be technically flawless.
Also consider: If you use Sony A-mount DSLRs, try the Sigma 50mm f1.4 DG HSM Art – it's best for the APS-C models, but the focal length can also serve for full-frame portraits.
Finance Available
Sony FE 85mm f1.8 Prime Lens
Best Fujifilm lens for portraits
As Fujifilm X-series cameras use an APS-C sensor, this 56mm optic is an ideal choice for your portrait work, producing an equivalent focal length of 85mm. It's also got a fantastically wide maximum aperture of f/1.2, allowing you to produce vivid images with a razor-thin plane of focus and fantastic bokeh. The advanced optical design features 11 elements in 8 groups, and Fujifilm's proprietary HT-EBC coating reduces flare and ghosting to ensure that you can shoot great images even in challenging backlit situations.
Fujifilm XF 56mm f1.2 R Lens
Best Micro Four Thirds lens for portraits
The Micro Four Thirds system gives you access to loads of different lenses to choose from, but for a balance of price and quality we'd recommend this 45mm optic from Olympus. The smaller sensor size of Micro Four Thirds means it provides an equivalent focal length of 90mm, which is ideal for creating flattering portraits, and you're further helped by the wide f/1.8 aperture.
Also consider: If your budget can stretch, try the Panasonic 42.5mm f1.2 ASPH Leica DG Nocticron OIS Lens, which gives you a wider f/1.2 aperture to work with.
Olympus M.Zuiko Digital 45mm f1.8 Digital Lens - Black
Best Pentax lens for portraits
For users of Pentax K-mount DSLRs, this 70mm lens is a solid choice for portraits. On APS-C its focal length equates to about 107mm, which is a little longer but will still flatter your subjects, and the fact that the lens isn't too bulky or expensive is a bonus. High Definition coating ensures premium sharpness in all situations, while the round-shaped diaphragm is optimal for producing beautiful bokeh.
Pentax 70mm f2.4 DA Limited Lens - Silver
Best medium-format lens for portraits
Medium-format cameras have a sensor that's larger than full-frame, so in order to get the optimal focal length you need to use a lens that's a little longer. The Hasselblad 135mm f2.8 XCD Lens is a great choice, equating to about 105mm in full-frame terms – it produces fantastic images to match to high resolving power of the Hasselblad X1D. With edge-to-edge sharpness and a compact build, it's a seriously impressive lens.
Hasselblad 135mm f2.8 XCD Lens
Best specialist lens for portraits
If you want to create stylish images with a distinctive look, try the Lensbaby Velvet 56mm f1.6 Lens. This allows you to introduce vivid, filmic images with a distinctive look, perfect for injecting a little vintage style into your portraits. It sports a unique maximum aperture of f/1.6, allowing you to produce vivid bokeh, and is available in a wide selection of mounts, including Canon EF, Nikon F, Micro Four Thirds, Fujifilm X and Canon RF.
Lensbaby Velvet 56mm f1.6 Lens - Canon EF Fit
About the Author
Jon Stapley is a professional journalist with a wealth of experience on a number of photography titles including Amateur Photographer, Digital Camera World and What Digital Camera. See more of his writing on Jon's author page.
Related articles