Looking for a great gift for a budding photographer? We pick the best mirrorless cameras for beginners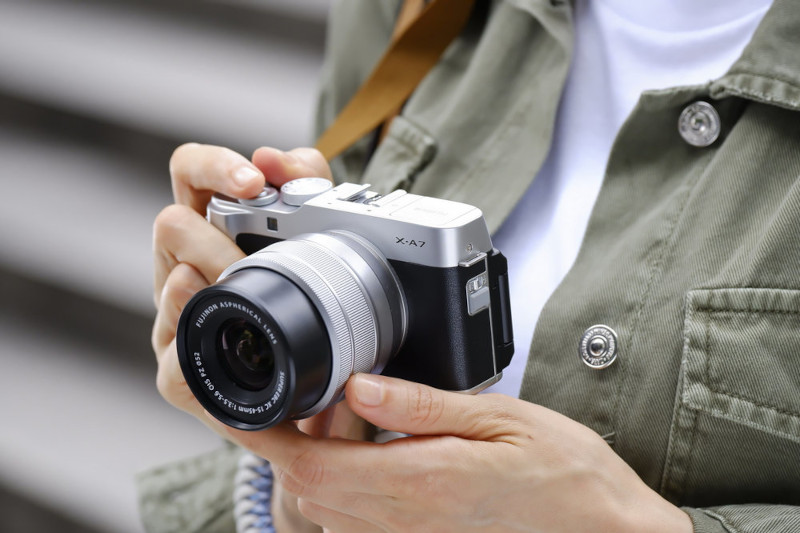 If you're looking to buy a gift for a beginner photographer or videographer, then a mirrorless camera is definitely a fantastic choice. The best mirrorless cameras for beginners provide a superb balance between functionality, portability and ease of use. They tend to be smaller and lighter than DSLRs, and also often offer handy features like silent shooting or high ISO settings for shooting in low light.
Video is also a huge factor in mirrorless, and most of the best mirrorless cameras for beginners will shoot 4K video, or at the very least will produce great-looking Full HD. This makes them great for aspiring social media creatives or those looking to work in both stills and video.
What are the best mirrorless cameras for beginners?
When there are loads to choose from, how do you pick the best? Well, we've compiled a fresh list for 2020 that includes loads of different models from different manufacturers. We've picked models in a range of sizes and at a range of price points, as well as different models for different purposes. So we've got the best mirrorless cameras for vlogging as well as the best mirrorless cameras for travel photography and lots more besides.
We've also made sure that each of the cameras listed comes packaged with a lens, meaning that the user will have everything they need to start shooting from the moment they open the box.
While we've updated this list with the freshes models from 2020, we've also included a few older cameras that are still available for fantastic prices, so you can be sure you'll be getting a good deal. No matter whether a camera is ten years old or ten minutes old, if it's a good choice for beginners, we'll recommend it.
We've a mix of newer and older models here too, and every one is available for a fantastic price. So let's get started with the best mirrorless cameras for beginners!
1. Fujifilm X-T200 Digital Camera with XC 15-45mm Lens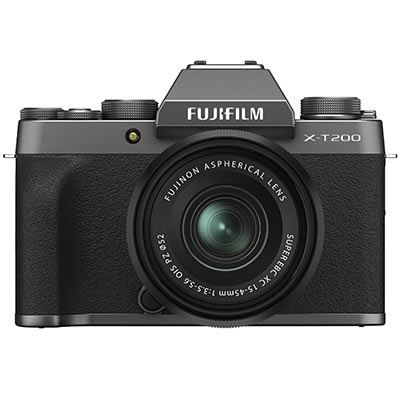 Lightweight but powerful in imaging terms, the Fujifilm X-T200 is a great choice of camera for a huge variety of users, especially those upgrading to mirrorless cameras for the first time. It's easy for new users to get to grips with, while also offering room to grow and become a better photographer as you get a feel for how the camera works.
The X-T200 uses an APS-C 24.2-Megapixel CMOS sensor with copper wiring that provides high-speed performance and reponsiveness. As well as producing fantastic crisp images with punchy colours, it can also shoot 4K UHD video as well as HDR video, giving video shooters a fair few interesting options. We've selected the X-T200 bundled with the XC 15-45mm lens, a high-quality kit zoom that covers a useful focal range for both landscape and portrait photography.
Stylishly designed as all Fujifilm X cameras are, the X-T200 also offers a bright electronic viewfinder and a useful touchscreen. There's even a new firmware update that allows the camera to be used as a webcam, so it can be plugged in with a USB cable and used for your remote meetings!
2. Panasonic Lumix GX880 Digital Camera with 12-32mm Lens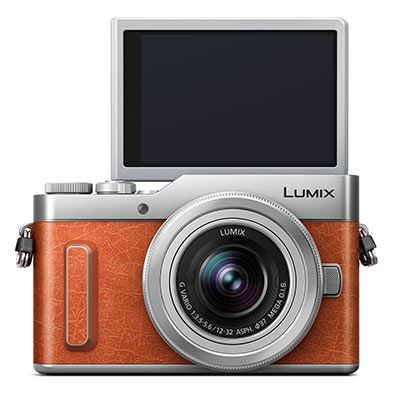 Travel cameras need to be small and light while still offering good enough image quality to be worth using over a smartphone. For fulfilling these criteria, we recommend the Panasonic Lumix GX880. It's a diminutive, pocketable camera with a flip-out screen that shoots high-quality images and gorgeous 4K video – and what's more, the user also benefits from Panasonic's 4K Photo modes, which allow for the extraction of high-quality stills from 4K video footage.
We've picked a version that comes packaged with a useful 12-32mm zoom (equivalent to 24-64mm in full frame terms), that is physically small for easy transportation and produces images with a pleasing level of sharpness and detail. The two make a perfect pair for any travelling photographer or videographer.
What's more, the GX880 also has Face- and Eye-detecting autofocus, which can acquire focus accurately in as little as 0.07 seconds. Thanks to the latest Panasonic technical wizardry, you can even use Post Focus mode to select a focus point after a shot has been captured!
3. Panasonic Lumix DMC-GX80 Digital Camera with 12-32mm Lens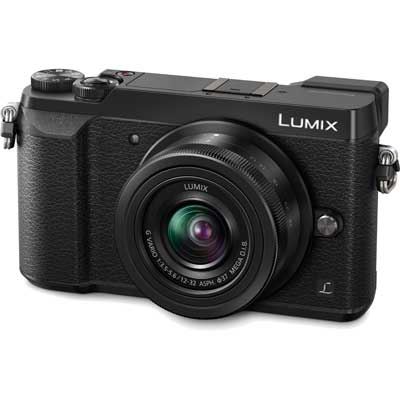 If your budget can stretch a little further, consider upgrading to the Lumix GX80, which offers all the functionality of the GX880 but brings a few extras into the mix. Chief among these is it low-light capabilities – with a maximum ISO level of 25,600, it can hold its own in the dark and produce fantastic images of night-time scenes.
This is also aided by Panasonic's 5-axis Dual Image Stabiliser, an amazing piece of technology that makes it possible to shoot at slower shutter speeds without the need for a tripod, monopod or other kind of support. This makes the overall setup more nimble and much more versatile.
Its 4K video is also sublime, and like the GX880, it comes packaged with the 12-32mm lens that covers a broad, useful zoom range that's perfect for travel. However, it's worth noting that this camera (like all Panasonic Lumix G cameras) has a Micro Four Thirds mount, meaning there's a huge range of lenses available. This makes it a great camera for a user who wants to learn to develop their skills and progress.
4. Nikon Z50 Digital Camera with 16-50mm Lens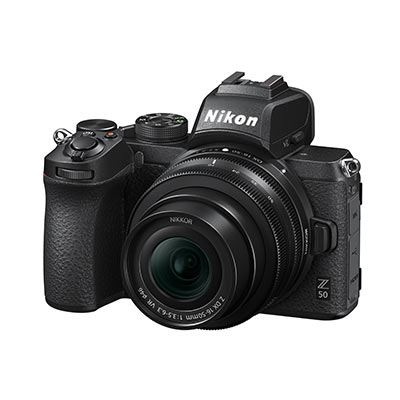 If the more budget-focused Panasonic Lumix cameras don't quite seem powerful enough for what you have in mind, then why not try this entry-point into Nikon's trailblazing Z system? The Nikon Z50 uses the powerful combination of a 20.9 megapixel DX-format CMOS sensor and an EXPEED 6 Image Processor to deliver a super-fast imaging experience.
With an ISO range of 100-51,200 for low-light shooting, and a 209-point Phase Detection and Phase Contrast autofocus system, the Z50 blows many comparable cameras out of the water with its impressive specs. It's also pleasingly solid and robust, with satisfying DSLR-style handling that eliminates the fiddliness that can plague some smaller mirrorless cameras.
We've included here the version fo the Z50 that comes bundled with a highly capable 16-50mm lens. If you are buying for someone who already has a collection of Nikon DSLR lenses, you may want to get the bundle that includes the FTZ adapter, which will allow them to use their old lenses on their new camera.
5. Panasonic Lumix G100 Digital Camera with 12-32mm Lens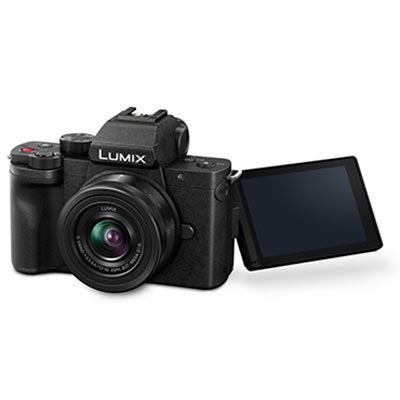 One of Panasonic's newest G cameras, the G100 is an amazing piece of kit that's specifically designed for vloggers and vlogging. If you're looking to get a mirrorless camera for an aspiring vlogger or YouTuber, then this camera and lens bundle is definitely a great choice!
The 4K 30p video recording on this camera looks great and can be kicked up to the next level with the 12-32mm zoom lens (covers an equivalent focal range of 24-64mm when paired with this camera's Micro Four Thirds sensor). A 3.8mm audio jack input also allows the user to rig up an external microphone and ensure that their video's sound quality matches its visual brilliance. Although if you don't have access to an external mic, the G100 uses Nokia's OZO audio to make its on-board mics as good as possible.
With a frame marker for social media upload and a vertical recording option, the Lumix G100 is the ideal tool for the modern creative with a focus on video.
6. Sony Alpha A6000 Digital Camera with 16-50mm Power Zoom Lens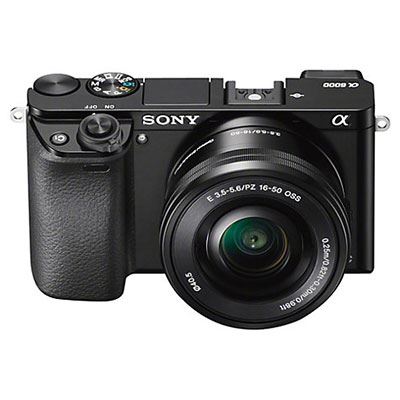 While it's an older camera in its series, the Sony A6000 is still widely available for a great price, precisely because it's such a a fantastic piece of technology. On release it was billed as having the world's fastest autofocus, and while it may have been superseded since then, its listed acquisition times of 0.06 sec are still, frankly, blisteringly fast.
This is all paired with 11fps continuous shooting, Full HD movie recording, built-in Wi-Fi, and a whole lot more. Sony has designed these cameras to be slim, svelte and speedy, and the A6000 nails this brief perfectly.
There's huge amount of functionality in a body that comes for beginner-friendly price – with a 16-50mm lens thrown in too. It's a combination that can stand up to many sophisticated DSLRs, but in a much slimmer camera that comes for a much lower price. And that is a very tough proposition to argue with!
7. Canon EOS M200 Digital Camera with 15-45mm Lens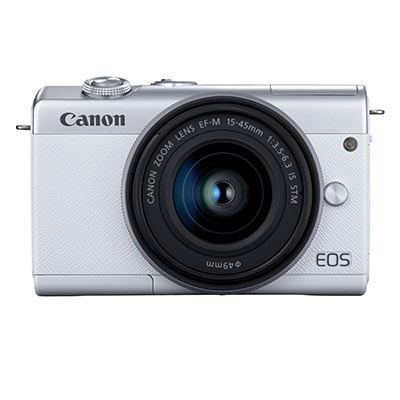 Even though Canon has released a full-frame mirrorless series of cameras specifically oriented towards pro photographers, its EOS M series demonstrates that it's still thinking about novice and amateur mirrorless users.
The EOS M200 is one of the more recent in the series, and it's a fantastically nippy mirrorless shooter that's got some serious video chops – able to record pristine 4K as well as Full HD in frame rates up to a super-slow-motion 120fps.
If you're buying a gift for an aspiring vlogger shopping for a mirrorless camera, this is an outstanding alternative to the G100. However, it'll also work really well as a travel photography camera. To be honest, it's good for most things – this is a real high-quality piece of kit.
8. Fujifilm X-A7 Digital Camera with XC 15-45mm Lens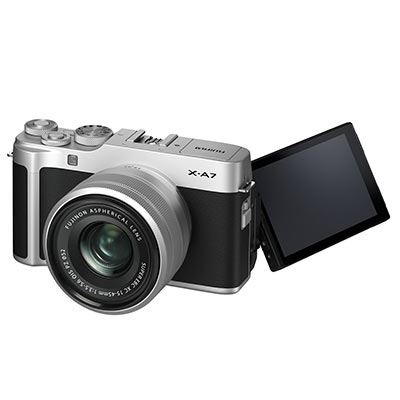 If you liked the sound of the X-T200 but are working with a lower budget, then the Fujifilm X-A7 is a tremendous camera to gift a starting user. You still get access to the tremendous catalogue of X-series lenses, and this version comes bundled with an XC 15-45mm lens to get started.
Light and compact at an incredibly slender weight of 320g, the Fujifilm X-A7 is perfect for throwing into a small bag or jacket pocket and taking out everywhere. It produces great images with its 24.4MP sensor, and composing images is easier than ever thanks to the 3.5-inch.
Video performance is really strong too, with the X-A7 capable of shooting 4K with no crop. It's a great camera for any all-around creative who wants to do a bit of everything!
About the Author
Jon Stapley is a professional journalist with a wealth of experience on a number of photography titles including Amateur Photographer, Digital Camera World and What Digital Camera. See more of his writing on Jon's author page.
Related articles