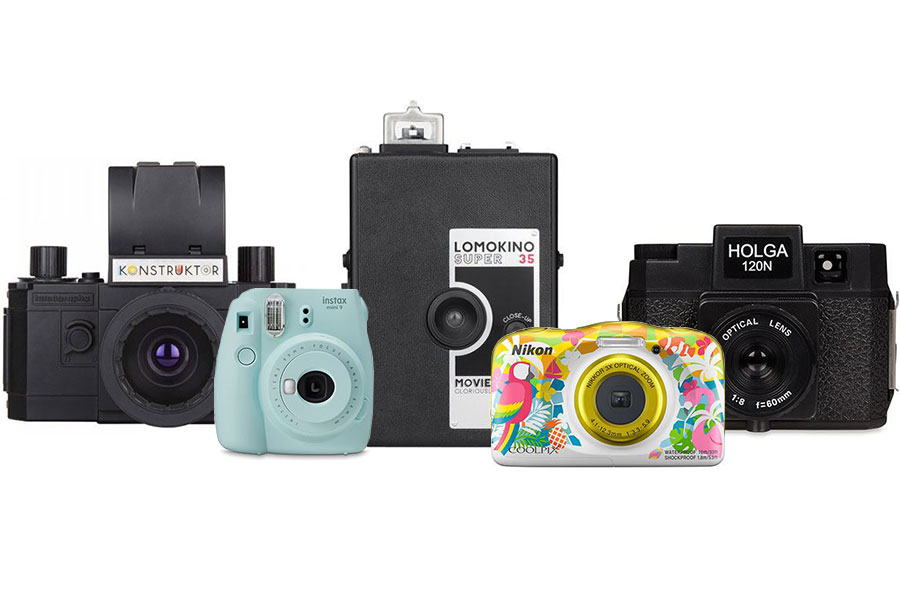 As much as I'm writing this article to advise on what cameras are cheap and easy to use for kids, I'm also writing this for myself. There is a nostalgic appeal to 'toy' cameras. I very much appreciate Lomography's mission to spread the love of analogue. What better way for impressionable tiny people, with a keen interest in photography, to learn about the topic than to experiment with rudimentary cameras. These explain how a camera works at its basic level and are super fun to use. I included photography film cameras, a moving image camera, and a digital camera perfect for kids with tendencies of breaking their parent's precious possessions. If you're reading this article for yourself, I just want you to know that there is no shame in that. I want to play with these as well. Just take my money Lomography.
1. Lomography Konstruktor Flash DIY SLR Camera

I absolutely love this camera, especially for kids. It is practically a toy and only costs £26.50. Not only does it actually produce decent images but your kid gets to build it gaining a sense of achievement, genius complex, and knowledge of how a basic camera works.
Lomography Konstruktor Flash DIY SLR Camera
The Lomography Konstruktor Flash DIY SLR camera is now equipped with a PC socket for flash photography (no flashgun is included). Have you ever wanted to learn and understand how an analogue camera hangs together? The Konstruktor Do It Yourself kit includes all the camera parts you need to assemble one together from scratch. This camera is the world's first 35mm plastic SLR and is packed with features, such as a top-down viewfinder, multiple exposure function, bulb setting for long exposures and a detachable 50mm f/10 lens - taking your analogue experience to new creative heights. The camera kit includes: camera parts, stickers, a screwdriver and an instruction manual.
£29.00 View
2. Holga 120N Film Camera

Holga is another very cheap film camera under £30. It is easy to use and requires no batteries.
Holga 120N Film Camera
The Holga 120N Black Camera is equipped with a 60mm optical lens, two functional apertures (f/8 and f/11), a hot shoe for attaching external flashguns, B (Bulb exposure) for experimenting with long exposures, a standard tripod mount and an optical viewfinder. It uses a 120 roll of film and comes with two different film size masks, 6 x 6 and 6.4 x 5 so that you can take both traditional and square format pictures. No batteries are required.
£29.99 View
3. Fujifilm Instax Mini 9 Instant Camera

The Instax Mini is an obvious choice. It is small, cute, and doesn't require that much supervision. It is straightforward to use, although the adult should probably load the film before handing it over. Available in plenty of colourful and stylish designs this one is definitely one to check out.
4. Lomography Lomokino Movie Camera

When talking about cheap cameras I can't help myself but mention the adorable Lomokino! This one is definitely for older kids and would require some help from the adult. It is super fun to use and it is a great way to teach the very basics of how film and moving image works to kids. These could also make for a fun school project for GCSE Media Studies. The camera can record 30 seconds of film and works by cranking the attached handle. Frames per second are very much dependent on how fast one cranks. The extremely low price is also very appealing.
5. Nikon Coolpix W150 Digital Camera – Resort

Not to discriminate against digital compact cameras – Here's the Nikon Coolpix W150 in a funky, bright tropical design. Digital cameras are of-course more expensive but don't require film which although cheap has to be re-purchased not to mention the cost of developing the film. This is a fantastic, robust, and water-proof travel companion that your kids will have a hard time breaking. It also comes at a reasonable price. If you fancy a different design, don't fret, there are more available.
Film for Cameras

For the Fujifilm Instax cameras, there are a lot of fun frame choices. As an example, I picked the original film for the Instax Mini that is the most widely used. To mix things up keep an eye on exclusive releases such as the Taylor Swift one. This type of film is super easy to use although, depending on the age of the child, you might have to help them out with the loading of the film (which is also very easy and quick).
Fujifilm Instax Mini Colour Photo Film 20 Shot
Combining versatility and technology, this Fujifilm Instax Mini Colour Photo Film is an instant colour film of a very convenient size 54 mm x 85 mm. It has an exposure rating of ISO 800 which delivers fine grain quality and is small enough to be carried in a wallet or pocket. Compatible with all Instax Mini cameras, it is perfect for portraits and snapshots for documentaries or archival purposes.
£14.99 View
Lomography cameras are a lot of fun to use and so is their 135mm film selection. There is plenty of different colour film to experiment with such as the Colour Negative, Lady Grey, and the very popular Purple Film. With this type of film, an adult should supervise especially when loading the film. As a responsible human in charge of an apprentice human, you should also take care of developing the film. The results are fun and it's always great to teach younglings about analogue. You never know – one day they might become a renowned photographer because of a passion you started. I also included a cheaper film version just in case.
Lomography Colour Negative 100 135 Film 3 pack
Perfect for sunny outdoor photos, Lomography Colour Negative 100 Film is an ISO 100 film that provides an impressive fine grain structure and great hues, resulting in remarkable photos. It is compatible with all 35 mm cameras and uses the standard C-41 development process. It enhances the colours and offers exceptional sharpness along with the ability to perform well indoors as well.
£33.00 View
Lomography Lady Grey 400 135 Film
Lomography Lady Grey 400 is a black and white film designed for mixed-lighting conditions. It has an exposure rating of ISO 400 and delivers a high-resolution and smooth grain structure with a stunning tonal range. It is perfect for capturing fast-action shots and produces deep black, white, and grey middle tones. Add elegance to your B&W low-light shots with this Lomography film.
£22.50 View
Lomography Lomochrome Purple XR 100-400 135 Film
The all-weather Lomography Lomochrome Purple XR 100-400 Colour Negative Film is a boon for all creative photographers. It creatively renders false colours and creates a majestic colour palette filled with infrared hues. The blue becomes green, yellow becomes pink, and green becomes purple. Red tones stay the same to keep a natural look for skin tones and can be used at ISO 100- ISO 400 setting.
£16.90 View
Ilford FP4 Plus 35mm film (36 exposure)
Ilford FP4 Plus 35 mm film is an ideal choice for both professional and amateur photographers due to its superb exposure latitude and can be both push- or pull-processed. It is an ISO 120, all-purpose black and white film with exceptionally fine grain, sharpness, and medium contrast. It is sensitive to over-processing and excels at highly detailed subjects in both indoor and outdoor conditions.
£6.70 View
About the Author

Patrycja Reimus is a Norwich based horror artist and an award-winning filmmaker. She is also our Technical Copywriter who frequently enjoys writing for our blog. For more information about her work please visit patrycja-reimus.squarespace.com. You can also follow her wonderfully weird and obscene imagery on Instagram @reimuspati_art or stalk her personal life @patrycja_reimus.