The theme of our April competition, 'black and white', proved very popular, with a broad range of creative entries featuring a variety of subjects. Read on to find out if yours was among the winning images…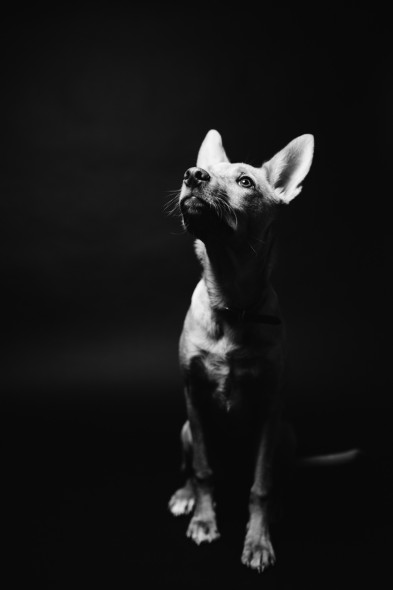 Image: Benjamin Piper
First Place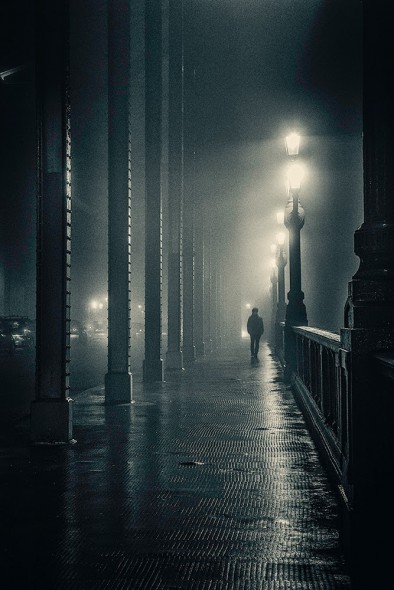 by Alan Wallace
Alan Wallace takes first place in this month's competition with this black-and-white street scene. We love the filmic composition of the shot – the silhouette of the lone figure makes a great point of focus, while the halo of light adds an eerie feel.
Alan talks us through his image:
'Into the Clag' was shot on a foggy December night in Newcastle upon Tyne. I love a foggy scene and the silhouette opportunities that it presents, so I raced down to the quayside to capture some 'fog-on-the-Tyne' shots. I ended up on the Tyne Bridge and captured the people as they disappeared 'Into the Clag'.
I used a Canon EOS 6D with the Canon EF 24-105mm f/4 L USM lens at 73mm with an aperture of f/14. I set the exposure time to 1/3sec and an ISO of 1000.
For more of Alan's photographs, visit his Facebook page.
Second Place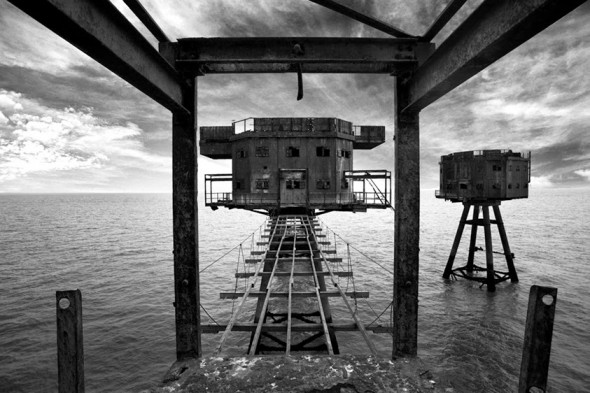 by Chuck Douglas
Second place goes to Chuck Douglas. Chuck's architectural seascape is well composed, giving the shot an almost symmetrical look, whilst the two pillars perfectly frame the central building. The exposure of both the sea and sky really complement each other and add a stunning background to a great scene.
Chuck talks us through his shot:
Dotted along the Thames Estuary, these Maunsell Forts once formed much-needed anti-aircraft defences during World War II. Once decommissioned in the 1950s, they were simply abandoned to the elements. A good friend and I had the rare opportunity to accompany Project Redsand volunteers, who work tirelessly to restore the fort's towers. This image depicts what remains of one of the bridges connecting the decaying towers, where potentially no-one has set foot in nearly 70 years! We were advised to be very wary of where we step as some of the floors are the consistency of flaky pastry and it's a rather long drop if you fall through!
For this shot I used my Canon EOS 5D Mark II with the Canon EF 17-40mm f/4 L USM and Polarising Filter
Visit Chuck's Flickr page to see more of his photography.
Third Place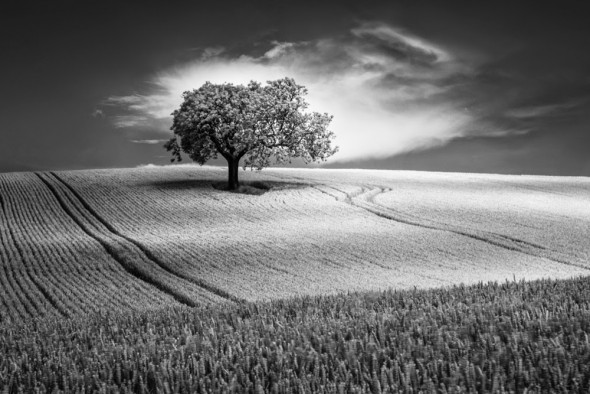 by Justin Minns
Third place in this month's competition goes to Justin Minns with this beautiful rolling landscape. Justin's shot is made up of leading lines and a great point of interest. His use of the infrared technique made his image really stand out from others in this competition.
Justin talks us through his shot:
I've driven past this tree a couple of times on my way to Luton Airport, of all places, and have never had the time to stop. This time as I passed it looked perfect for infrared with blue skies, fluffy white clouds and shadows moving over the landscape – so I made time to stop.
This was shot with a Fuji X-Pro 1 with a Canon FD 50mm f/1.4 lens. For the infrared, I used a Hoya R72 infrared filter and used an exposure time of 2 seconds with an aperture of f/8 and an ISO of 200.
You can find more photographs from Justin on his website.
Thank you to everyone who took part in our April competition! Visit our Google+ page for details of this month's contest.