Compact cameras are perfect everyday companions for photographers who want to shoot any time and any place. To help you make the right choice when buying a compact, we've compared some of the most popular models.
If you're looking for a take-anywhere camera, something considerably smaller than a DSLR but still feature-packed, a compact camera could well be for you. Compacts come in a range of capabilities: some specialise in toughness; some have super-zoom lenses that can get you extremely close to your subjects; others are just good all-rounders. As with all styles of camera on the market these days, there are almost too many different options to choose from – a process that can be easier said than done. In this round-up, we're comparing a number of popular models with similar specifications, taking a look not just at their key features, but also at their design and suitability for certain tasks.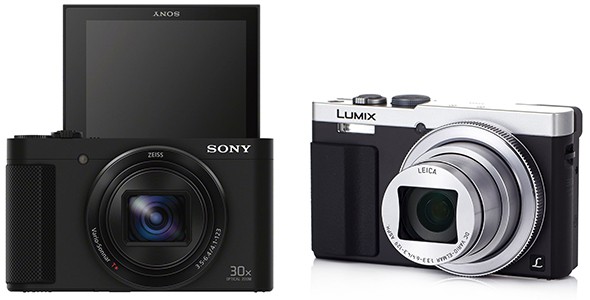 Sony's offering stands as the world's smallest camera in its class and, like the TZ70, comes equipped with a 24-720mm 30x optical zoom. Low-light photography isn't a problem, thanks to 5-axis image-stabilisation technology and a 3.0in LCD screen in each case. The HX90V has the megapixel advantage – 18.2MP vs 12.1MP – along with a maximum sensitivity of ISO 12800 as opposed to the Panasonic's more modest ISO 6400.
Clearly, both cameras will appeal to those of you who enjoy travelling. If overall size is a main consideration, the HX90's slightly lower pocket-sized dimensions win the day, although aesthetically, the understated looks of each are very similar (which in itself is never a bad thing when enjoying a spot of tourism in busy cities).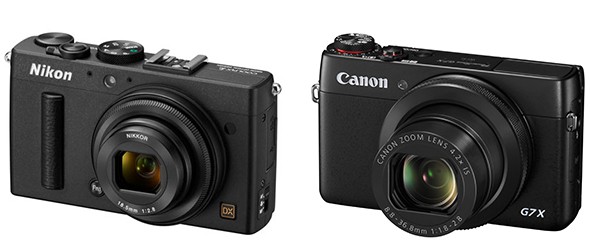 A powerful CMOS sensor sits at the heart of both cameras here, offering 20.2MP (Canon) and 16.2MP (Nikon). One of the biggest factors to differentiate these two is the lens fitted – the G7 X sports a 24-100mm f1.8-2.8 optical zoom, whereas Nikon has chosen to offer a fixed wide-angle 18.5mm f2.8 (equivalent to 28mm). Full HD movie capabilities come as standard in each case.
If you happen to have a preference for either Canon or Nikon, you will be well catered for with these two. Regardless, a key decision will be whether you plump for the versatility of the zoomable G7 X or embrace the more traditional fixed-focus lens design of the Coolpix A. If in doubt, you might want to err on the side of caution and pick the Canon.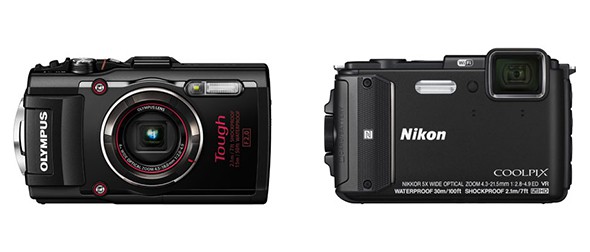 Waterproof to a depth of 15 metres (Olympus) and 30 metres (Nikon), shockproof and fitted with bright, versatile optical zoom lenses (TG-4: 25-100mm, AW130: 24-120mm), these cameras also feature GPS, built-in WiFi and time-lapse movie. If you prefer to shoot RAW, go with the Canon, as its competitor only supports JPEG.
If you're someone who has an action-packed life and enjoys recording your adventures in the great outdoors in all weathers, give these two some serious thought. Rugged design mixed with a wide range of features makes them the perfect tools for the job. You also get a choice of colours, including camouflage (AW130). The models are very closely matched in spec and appearance, but the Nikon has the edge on price.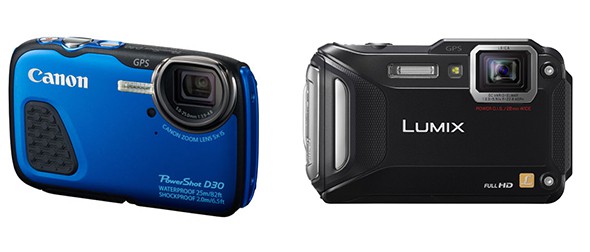 Again, another couple of models aimed predominantly at outdoors aficionados. Offering many of the same features as above, the D30 does fall down a little on resolution – just 12.1MP versus the Lumix's 16.1MP. The Canon PowerShot D30 does, however, have the edge on maximum shutter speed (an action-stopping 1/1600 sec as opposed to a still-impressive 1/1300 sec) and minimum focus distance (1cm compared to 5cm).
To look at, there's not a lot between these two. The D30 is slightly more rounded in appearance, with the Lumix sporting some harsher lines – so on that front, it's a matter of personal preference. If you intend to take your camera underwater, the Canon will give you an extra 12 metres of depth to play with (down to a depth of 25m).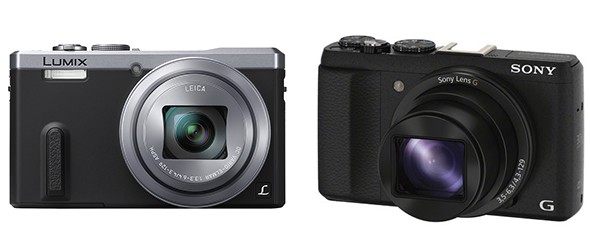 If getting close to the action is the aim of the game, the 30x zoom on each of these compacts fits the bill nicely. As you'd expect, they're packed with features, although the Sony offers more scope for low-light photography with a range of ISO 80-12800 compared to the Lumix's ISO 100-6400. For situations where a little additional lighting is required, a built-in flash is on hand in each case.
The physical dimensions of these cameras are very similar, but at 214g (as apposed to 272g), the Panasonic Lumix TZ60 has the edge. If you're a fan of traditional dials, you'll like the Sony, which has two on top – one of which offers the ability to quickly set exposure compensation.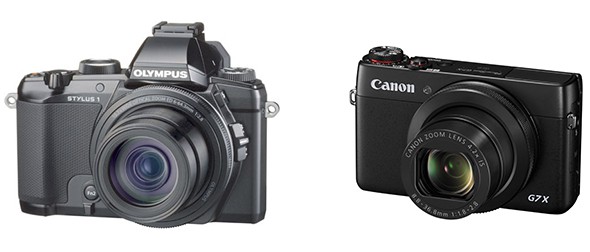 Both models here have a moving 3-inch screen, but the big difference between them is that the Canon's screen is designed to be flipped up to face the subject, making it perfect for photographers filming themselves or regularly shooting selfies. Whilst a pop-up flash is featured, the Stylus 1 is a better bet for those of you who want to experiment with additional lighting, thanks to its ability to take a hotshoe-mounted flash gun.
Given that the Olympus has a more 'DSLR-style' look to it, the Canon might be considered a more portable take-anywhere camera. It is also lighter (279g versus 402g) and, combined with impressive specifications, its black, slim finish will appeal to photographers who prefer the understated look.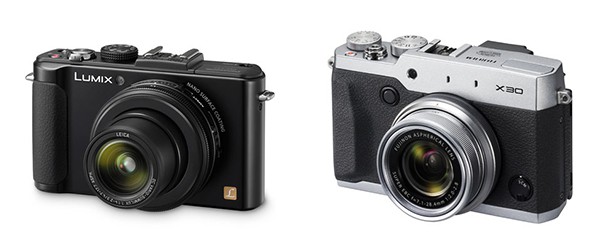 Following the successful X20, the Fuji X30 again offers a bright 28-112mm f2.0-2.8 lens coupled with the X-Trans CMOS II sensor. With 12MP of resolution, it nudges ahead of the 10.MP Lumix, but both cameras are perfectly suited to anyone wishing to progress from the limitations of more basic point-and-shoot models. The LX7 features a crisp f1.4 Leica lens and an internal neutral density (ND) filter – perfect for cutting down light to allow longer exposures in brighter conditions.
Notwithstanding the technical features of our comparisons here, if you're a fan of a retro-look camera reminiscent of rangefinder design, the Fuji is for you. By contrast, the Lumix is somewhat more slick, which may appeal to users who want to carry around a less intrusive camera.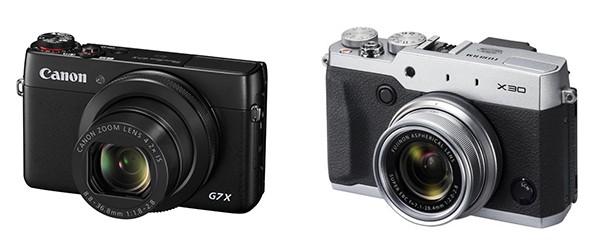 A very close match, right down to their ability to shoot RAW and JPEG files simultaneously, both cameras also feature image-stabilisation technology to help you produce sharp pictures in low-light situations. The G7 X offers a higher resolution of 20.2MP (versus 12MP in the X30), but sensitivity ranges are well matched at ISO 125-3200 on the Canon and ISO 100-12800 on the Fuji. A newly developed Real Time Viewfinder in the Fuji is a step up from its predecessor's Advanced Optical Viewfinder, whilst the Canon displays technical information on its tilt-up LCD touchscreen.
As discussed above, the Fuji is more hefty in appearance. Weighing in at 383g (vs 279g) and with greater overall dimensions, again it is perhaps better suited to those who are not so concerned with space-saving or choosing the smallest possible pocket-size camera.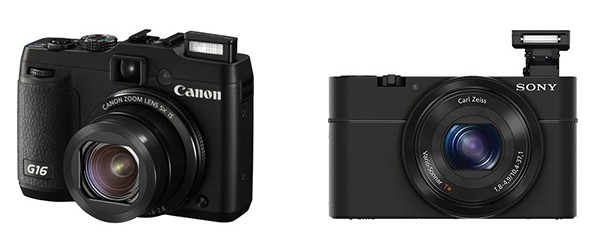 The G16 offers many of its predecessor's main features; and fast-paced action is well catered for thanks to 9.3fps continuous shooting. Not to be outdone, the RX100 is equally capable, offering 10fps. The Sony features a unique Control Ring surrounding the lens, allowing quick adjustment of zoom, exposure, creative picture effects etc. Full HD movie capture comes as standard, with the Canon delivering 60fps in stereo.
With the sort of buttons and dials familiar to DSLR users, the G16 has a solid, 'hands-on' feel. By comparison, the RX100 is a rather more streamlined affair, which some may feel makes it better suited to slipping in a jacket pocket, and so perfect for quick candids (such as at parties or in the street).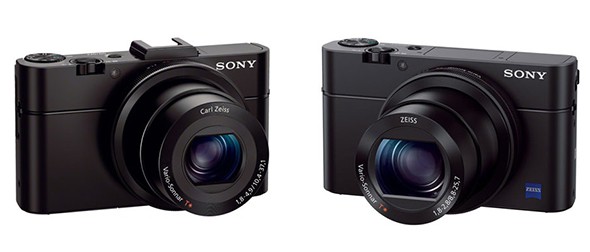 An update to the RX100 II, the Sony Cyber-Shot RX100 III is Sony's first NFC-enabled model offering shutter release remotely from a mobile device and then instant upload to social-networking sites. For the extra investment, additional features of the RX100 III include a faster and wider lens in the shape of a ZEISS Vario-Sonnar T* 24-70mm f1.8-2.8. Whereas the II version features just a tillable LCD screen, its successor includes an OLED Tru-Finder electronic viewfinder – a first in the RX series.
As you might imagine, there's not a lot to tell the two of these apart. As such, they are both incredibly versatile, capable of offering excellent picture quality in a travel-friendly package. As with other models outlined, both models are very subtle, making them equally suitable for discreet snapping. If an electronic viewfinder is a big selling point for you, go for the RX100 III; if not, save some money and pick its equally capable previous incarnation.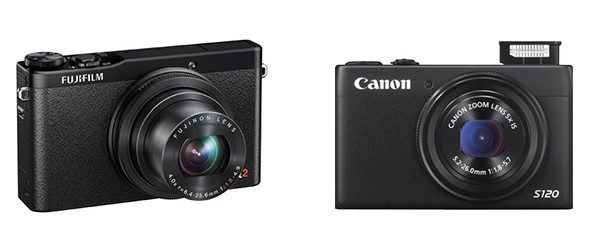 The smallest in Fuji's range of X-Series cameras, the Fuji FinePix XQ2 uses the same high-powered X-Trans CMOS II sensor and EXR Processor II as features in the higher-level X20 and X30 cameras. It features a fast, bright f1.8 lens, as does the S120 – perfect for low-light shooting. The Canon's touchscreen offers simple, intuitive handling and, on the subject of convenience, users will appreciate the XQ2's in-camera RAW-to-JPEG file conversion.
With similar price points, both cameras are also closely matched in physical size and weight. They are fairly angular, but with nicely rounded corners, offering snag-free access from pockets. The XQ2 has a faster top shutter speed, so would be the best choice for capturing action.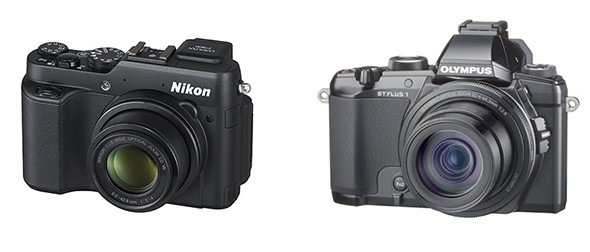 DSLR performance in a more compact body – that's the message with these two models. If you're a fan of scene modes, the Nikon offers more than the Olympus (31 compared 12). The Stylus 1 does, however, offer a slightly wider zoom range of 28-300mm as opposed to 28-200mm. When it comes to LCD screens, the Nikon arguably has the edge, offering a vari-angle TFT LCD 100% frame coverage – perfect for lining up selfies and talking to camera in movies – whereas the Olympus' tilting screen does not offer such versatility.
If you favour a camera that looks and handles more like a DSLR, pick the OM-D-styled Stylus 1. If you prefer what looks like a more traditional robust compact, the Nikon is your friend. Either way, both cameras are feature-packed and offer high-end performance in a more travel-friendly package.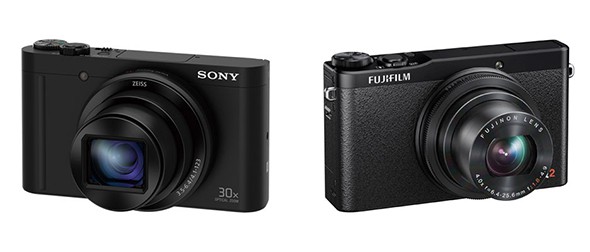 As with the XQ1 before it, Fuji's XQ2 also uses the X-Trans CMOS II sensor, delivering 12MP of resolution. By comparison, Sony's Exmor R CMOS sensor offers 18.2MP. If a big zoom is your priority, the WX500 fits the bill with its 24-720mm – increased pulling power compared to the XQ2's more modest 25-100mm. That said, the latter is a faster lens, with a maximum aperture of f1.8-4.9 – perfect for those lower-light situations. Both cameras offer multiple creative settings, such as nine film-simulation modes in the Fuji and Beauty Effect in the Sony, which allows you to enhance portraits in-camera.
The fashion-conscious amongst you will be pleased to hear that both cameras are available in a range of colour options to suit your sensibilities. That aside, they are near identical in physical size, each one perfectly suited to everyday use.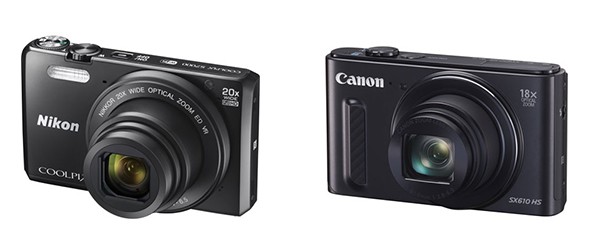 Boasting a 20.2MP sensor, the Canon PowerShot SX610 HS sneaks ahead of Nikon's 16MP offering here. Both cameras are equipped with the indispensable exposure-compensation function, giving the user +/- 2 EV of fine-tuning in 1/3 stop increments. In back-lit or fading light situations, a built-in flash can be used; the SX610 HS favours a pop-up design above the lens, whereas the Nikon's is offset on the front of the camera.
To look at, these two might be described as no-frills models, offing practical features in a simple, thoughtfully laid-out design. As with our previous comparison, these models come in a range of colours – black, gold, pink or white (Nikon) and black, red or white (Canon). Comparable in their compact physical dimensions, they nestle perfectly in the 'take-anywhere' category. If cloud storage of your images is a factor in your photography, give the Nikon Coolpix S7000 some serious thought as it comes with 20GB of space on the Nikon Image Space storage and sharing site.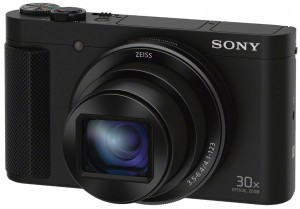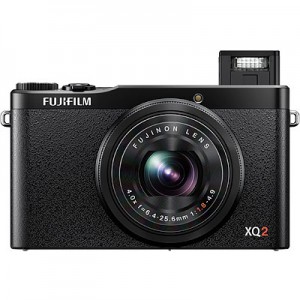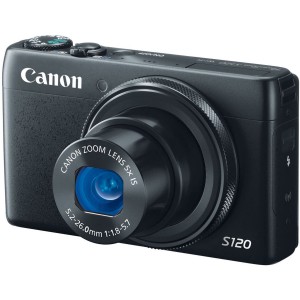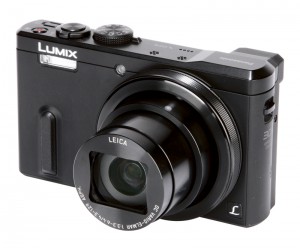 About the Author
Giles Babbidge is a commercial and editorial photographer based in Hampshire. He travels all around the UK and works with a wide range of clients – you can find out more about his day-to-day activities over at his website.
Related articles