In this week's Story Behind the Photo feature, lighting expert Steve Aves joins us again, along with his son (and fellow photographer!) Peter Aves with their studio portrait featuring the colour red. Hopefully it inspires you to check out the British Heart Foundation's (BHF) Red for Heart photography competition – all you need to do is snap a photo that incorporates the colour red too!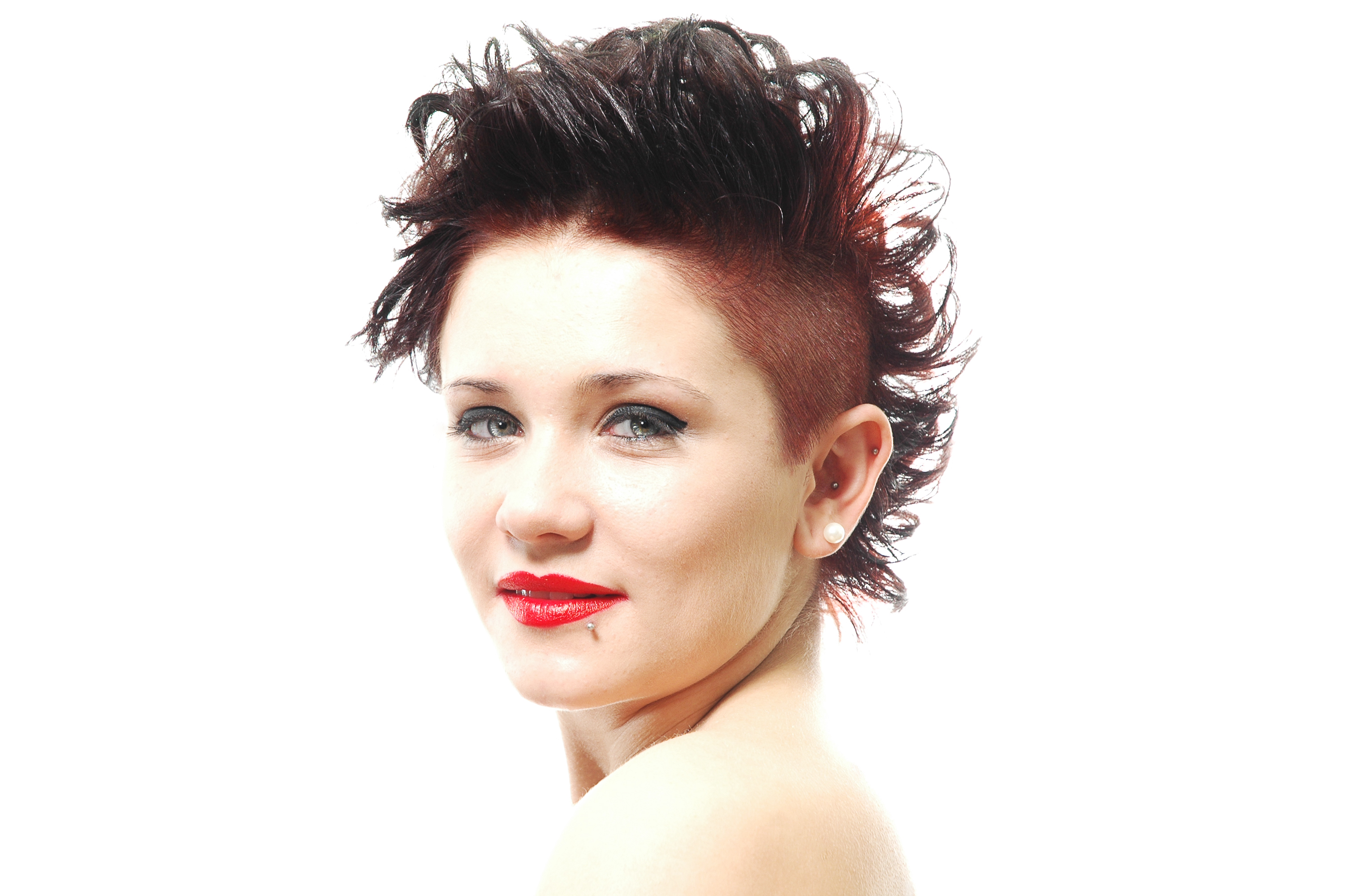 When and where was this photo taken?
Steve: My son Peter was asked to take some shots recently for a local hairdresser. When the owner Paula found out that Peter was studying photography at college she was keen to get some new shots for the window. Peter had planned the shoot with Paula and they had decided that the easiest place to shoot the models was in the actual salon. We arrived on the day and met Paula the hairdresser, the models and the make up artist and while they got to work, I helped Peter set up the lights and background.
What kit was used to create this image?
The salon was not very large inside so we had very little space to put everything. Peter and Paula thought that the images would look best shot against a Hi Key white back ground. I don't actually have a white back ground so I used my Lastolite light grey mottled 6x7 back ground with a train. Its very easy to light, and we used two Bowens Gemini 250R's, one from each side, each one with a Bowens High Performance reflector to get that nice seamless white look that was required. To light the models, we used a Bowens 500R with a Bowens Softlite reflector, the ideal accessory that gives nice clean skin tones and bright round catch lights. I also got another Bowens 250R ready on a stand with a Bowens Grid reflector and the smallest honeycomb in case we needed to light the hair.
I'll let Peter tell you about the camera and lenses he used and to answer the other questions.
Peter: Firstly I used my wonderful Nikon D70 with my prime Nikon 50mm lens F1.4, in addition to the Bowens lights I also used a Bowens Pulsar to trigger the lights rather than a lead because of the lack of space available. To get started, I took some meter readings of the flash with a Sekonic L308 flash meter. It's a great tool to get everything right and to get all the lights adjusted properly before you actually shoot.
What effect do you think using the colour red has had on this image?
I think that the vibrant red lipstick makes the shot come to life. The contrast between the lips and the over exposed skin compliment her soft coloured hair and bright blue eyes. The use of red in this portrait gives a sense of seduction and lust. The lighting is spot on and the Softlite reflector really does capture the skin tones well, especially the lips.
What do you like about this shot?
I like everything about this shot and so does Paula. It captures the hairstyle on the model beautifully and shows the creativity of her salon. By the time I took this shot, the model was completely at ease and we were really working well together, I think it shows in this image and I just love the pose. Using that 50mm lens allowed me to get as close as I needed and the lighting on the background and on the model is just right.
What (if anything) would you go back and change if you could take this photo again?
I think that's a difficult question to answer, I'm always my harshest critic. I took a lot of shots that day, working with three models, each with a different hairstyle. I had my share of failures to be honest, models laughing, blinking when the flash fired and shots where the poses and lighting were not quite right. I worked hard on this particular shot to light the hair and the background evenly, and I think I got the balance and composition just right. So because this is one of the better shots of the model that I took on that shoot, I wouldn't change anything.
If you missed them, you can find the previous week's Story Behind the Photo posts here:
To find out more about the Red for Heart photography competition visit bhf.org.uk/redphotos
Steve Aves has worked in the photography industry for over 30 years and is an expert in studio flash equipment and other studio related products. Steve is running a Beginners Guide to Portrait Lighting seminar in Norwich on 5th February 2011, visit
Warehouse Express
to find out more and to book your ticket! Peter Aves is currently studying photography at college.