We chat to David Hopley about his using the DJI Phantom 3 to create striking landscapes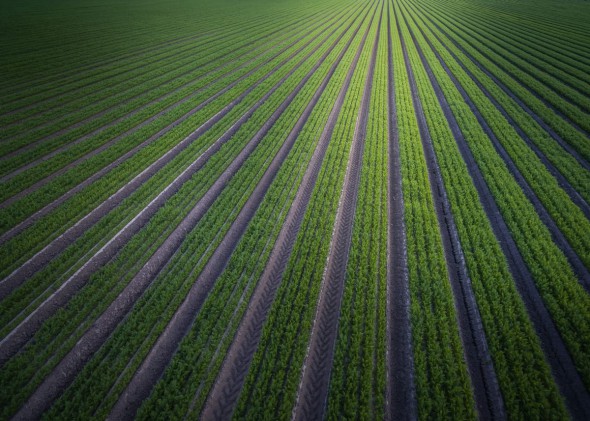 "I posted a shot a few weeks ago of this field with the fleece covering the seedlings. We had a cycle past the field at the weekend and it had developed into this, looks like carrots?!" [all images and captions by David Hopley]
All the landscapes on this page were taken by David Hopley, using his DJI Phantom 3 drone. A self-taught and award-winning photographer who has been interested in the practice since he was a child, David has discovered a new outlet for taking pictures in the form of his flying camera.
"The more I started to look into this top-down stuff, the more I started to see other compositions in the landscape which were impossible to see otherwise," he says.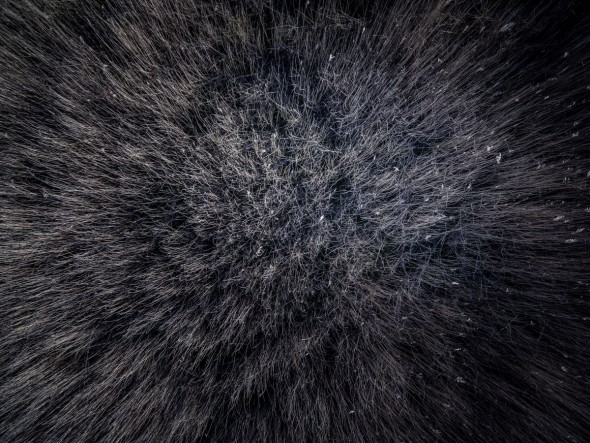 "Shot with my Phantom 3 in a long grass-seed field adjacent to the canal. Got quite a few from this field, this is the first."
"I like it. It's all quite unique – I could be anywhere, and I just fly to find something. Of course quite often I'll go somewhere thinking it'll look great from the top and it just looks very ordinary, but other times I'll be flying around thinking there's nothing, and then I'll see something. That's what I like about it."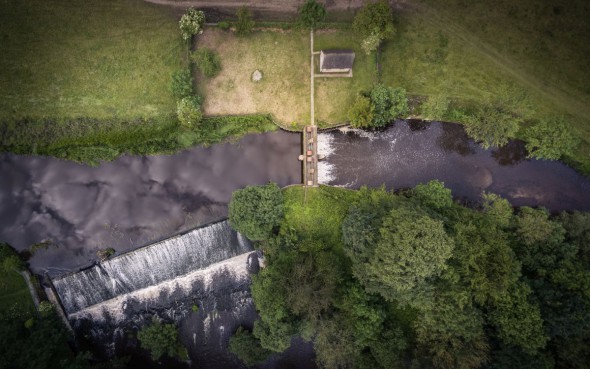 "An eight-shot top down panorama shot with the drone (what else). I went to Kirkham Priory to shoot the remains but the weir adjacent was much more interesting from the above!"
Though David is relatively new to the world of drones, he's been using remote-controlled devices as well as cameras since he was young, and he reckons that experience stood him in good stead to upgrade to the drone.
"As a kid I used to race remote-control cars, and then I got an aeroplane, so I've always had radio-controlled things. But I do think this is quite new because there are lots of factors in a drone setting, there's a bit of working out what it all means."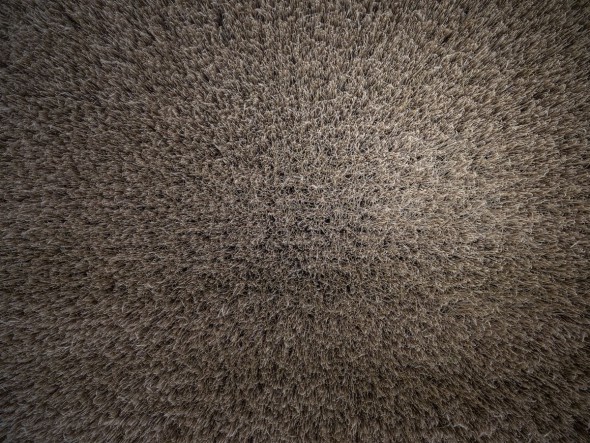 "Went to shoot a medieval village at Wharram Percy, came back with this!"
"In terms of flying I found it quite easy. I first had a tiny quadcopter, I got it for my birthday last year, which I flew around, and even though the DJI Phantom is quite easy to fly anyway, that experience did help. There's a lot of co-ordination with the two sticks and four directions."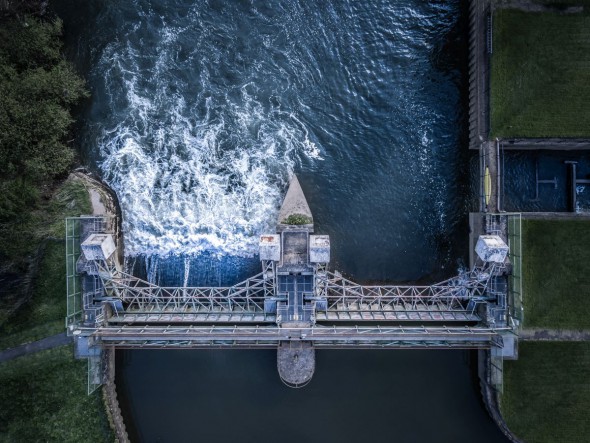 "Weir on the River Derwent at Sutton Upon Derwent"
"There are occasions when I've taken off and there might have been a bit of metal in the ground or something, and when it's taken off it's confused the GPS. If that does happen it's useful to be able to react quickly and regain control and have experience in all these little things first, your muscle memory might be sharper to react."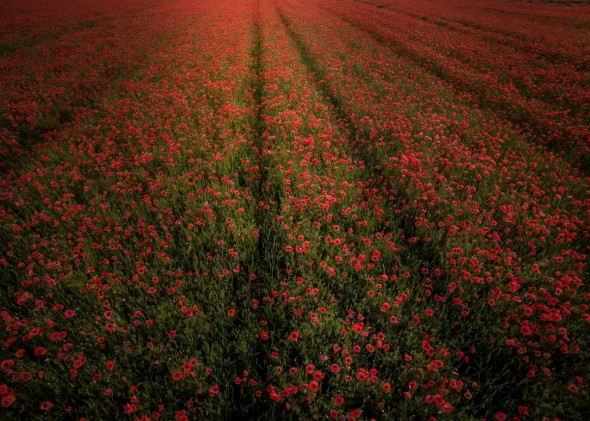 "I passed this field drenched in poppies on the way to Howsham Mill. I don't normally do seasonal shots but couldn't resist. Glad I had the drone in the boot of the car!"
Drone photography is still in its relative infancy, and it can be difficult to know where to start in finding and executing good compositions. For David, the key is scouting your locations first and keeping things simple.
"I don't actually do that much flying around," he says. "I just take it up fifty or sixty metres, point the camera straight down and try to find things. Being able to see what the drone sees on the iPad makes it easy to find unique points of view."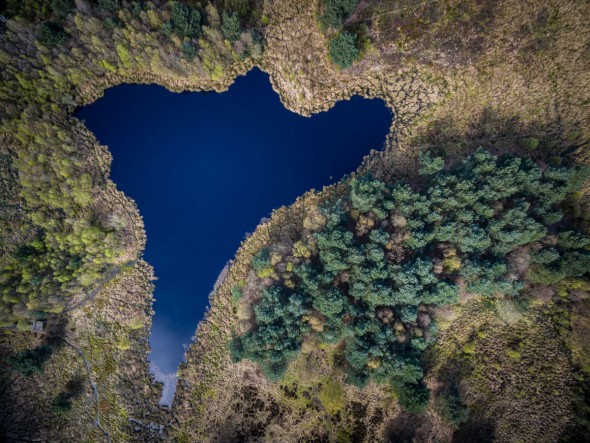 "I doubt this is called Ghost Lake but maybe it should be?! Taken with the drone at Skipwith Common."
When dealing with drones, you of course have to be cognizant of the rules and boundaries that govern drone use, which are extensive.
"I try to be sensible," David says. "One of the rules is you can't fly within fifty metres of a 'structure'. Now a structure could be anything, it could be a wall – I'm not sure of the definition of the rules. But I try to keep away from people and particularly occupied buildings."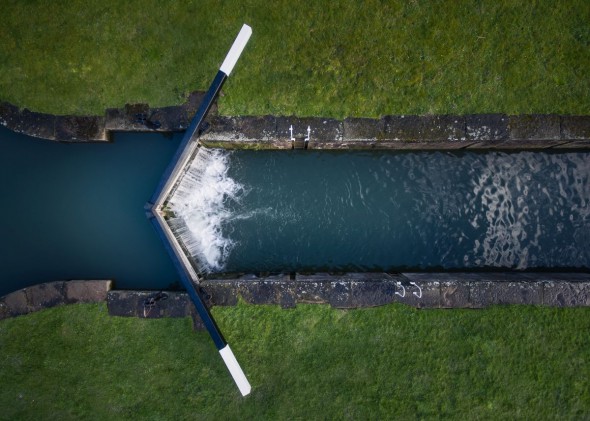 "Headed over to Canal Head after work this evening to have a look at the locks here. Pretty much the same design as the others as it turns out!"
"The laws apply to a drone with a camera, so I'm not entirely sure whether it's a safety issue that you can't fly it near structures, or it's a privacy issue. I find it quite interesting, because I could be in the countryside or on the street with a 70-200mm lens and nobody would bat an eyelid, but as soon as you get a drone with a camera it seems to be a different story."

"Found a breaker's yard when looking for aerial photograph opportunities on Google Maps. Turns out it is only 5 minutes drive from home! Had a chat with the owner who gave me permission to fly around to get some shots. I got quite a few, this is the first!"
"One of the problems is that as soon as people see the drone they all flock to it, while I'm trying to keep away from them! Down on a canal shoot once I saw somebody walking a dog, so I flew the drone back to me to land it, but the dog just came up and ran around me while I was trying to land!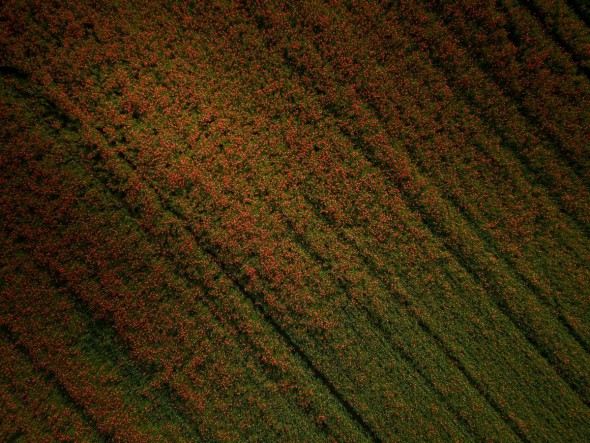 "Second shot from yesterday's evening shoot of a poppy field."
Errant dogs notwithstanding, David is having a ball with his drone, and has plenty of plans for images to capture in the future (he mentions a field of wheat mid-harvest as being his next goal). We're looking forward to seeing them!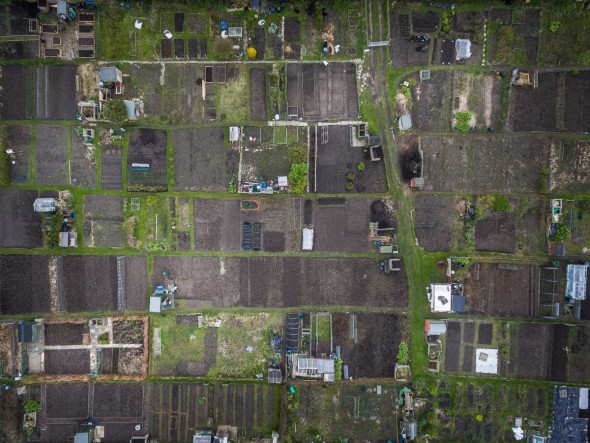 "Copmanthorpe allotments, taken at lunchtime from 60 metres up in the air. See if you can spot me! I'm going to have another bash when it's sunny to see how much difference shadows will make."
About the Photographer
David Hopley is a York-based photographer with a background in architecture and graphic design. He's on Twitter as @David_Hopley and his website is drawswithlight.co.uk.
Related articles