Here are the basics you need for successful light painting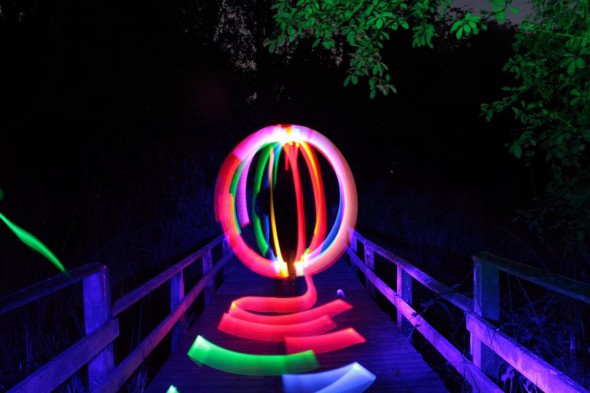 The nights are slowly pulling in again, and before long it will be the time of year astrophotographers and light painters enjoy the most! Long, dark nights! If you want to try a bit of light painting yourself this year, then now is a really good time to start!
Light painting is fun to do with your friends or by yourself, and it is great to practice when you're waiting for the clouds to clear at night. To light paint you do not need expensive kit, just anything that lights up! Half the fun of light painting is experimenting with making your own kit.
Kit
To light paint you will need to place your camera on a tripod with a shutter release (either cabled or wireless will do; I personally find the wireless remote more convenient).
All you actually need to light paint is a source of light – torches, sparklers, kids' flashing toys, anything. There are even apps you can download which can be used for light painting and writing.
I am going to recommend some of my favourite equipment and the tools I regularly use, all of which should fit in a single bag for easy transportation.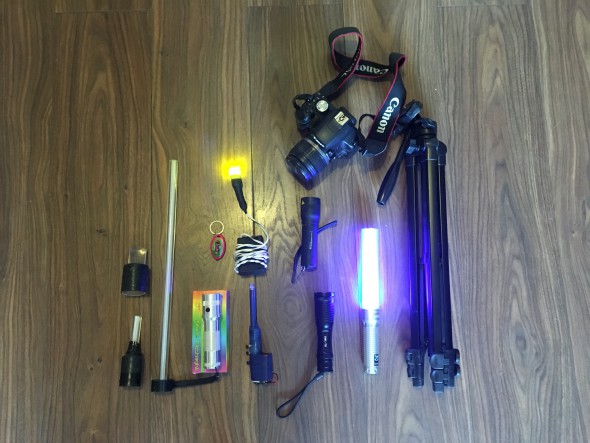 Basics:
A good colour-changing torch. The Lenser P7QC is a good choice (costs around £60), as is an LEF RGB 10 colour-changing torch (available for approximately £20 online).
Small torch for light writing and drawing (LED keyring torch is a good choice and readily available for about £1)
Optional extras:
Orb tool. You can make your own basic orb tool relatively easily, as I demonstrated in a recent blog post.
Plastic rods of different sizes to fit your torches to make them into Star Wars-esque lightsabers (I explained how to make these in another previous blog).
Any children's toys that light up. Halloween and Bonfire Night are great times to stock up on cheap toys, normally on sale at displays and winter illuminations.
Cellophane sweet wrappers. These will give your torches colour.
Sparklers. Again, stock up near Bonfire Night while they are readily available.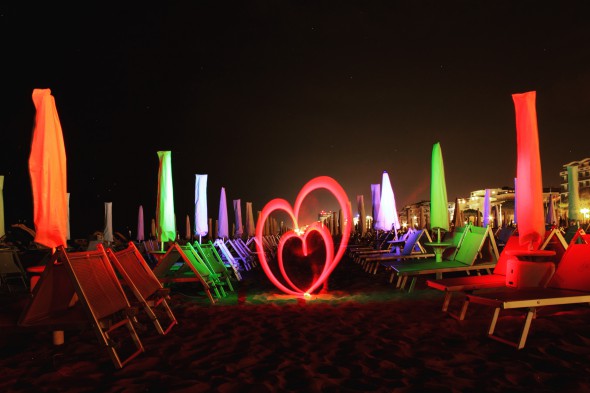 Setting up your camera
Set your camera up on your tripod and connect the shutter release. Set your camera to manual and into Bulb mode, I normally start with settings of f/9 and ISO 200, then adjust if needed.
To focus your camera in the dark, shine a bright torch on the location where you will be carrying out your light painting, then focus your camera on that spot. To do this I flick my lens to autofocus mode, autofocus on the point the torch is shining, then once focused flick the lens back to manual. I then do not need to re-focus unless I move my camera.
Writing with light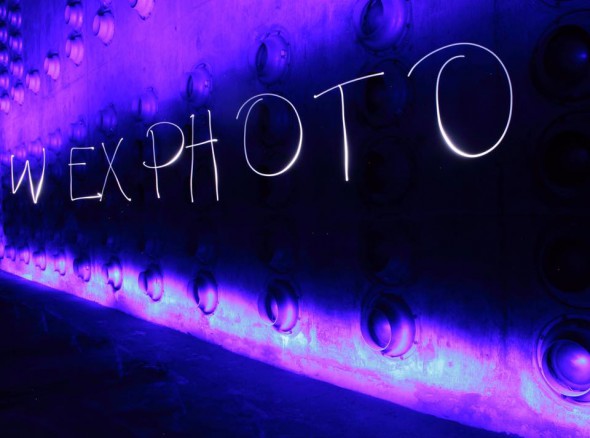 Writing with light can be quite difficult to master, mainly because you have to write backwards, but once you've made a couple of attempts and you've gotten the hang of it there will be no stopping you!
All you need to write with light is anything with a single LED bulb, anything much bigger can bleach out your photos or make your writing blurry, I recommend using a little keyring torch, I have a cheap one with my name on I purchased in a gift shop, these keyring torches you can find almost anywhere from gift shops to outdoor stores to your local pound shop.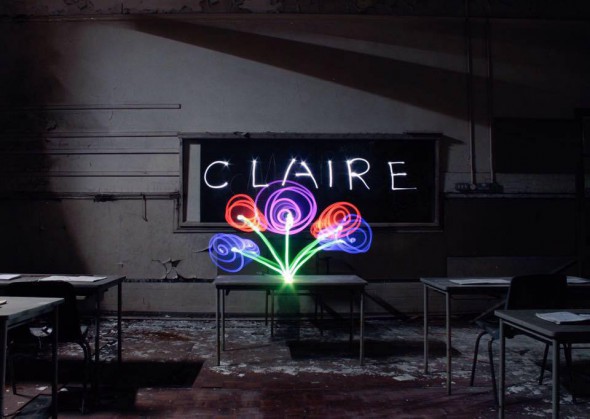 With your camera set up, stand in front of it. Open the shutter with the remote release, and start writing, remembering to write backwards from right to left – this can take a little practice. It's also worth remembering that you can always 'flip' your photos using editing software or even on your phone if writing backwards is difficult to start with.
Drawing with light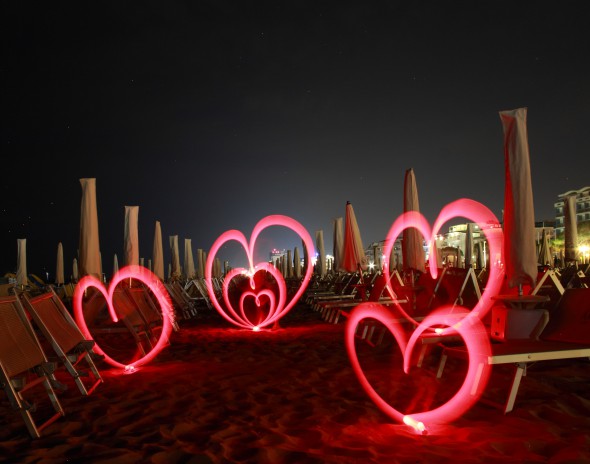 The drawing possibilities are endless with light painting, I've always been quite arty, I think that it's one of the reasons I love light painting so much.
I mainly use my 10 colour torch which I purchased from eBay (I have 3 of these now) with various homemade attachments. This torch is perfect for light painting: not only does it have ten colours, it also has various modes, including two strobe speeds and two multi-colour change functions.
Acrylic rods attached to the torch projects the light along the rod giving you an effective lightsaber – when moved around in front of the camera it makes nice sweeping colour, when pointed directly at the camera it gives clear neat lines. The effects can be spectacular. I use rods of different sizes to achieve different results.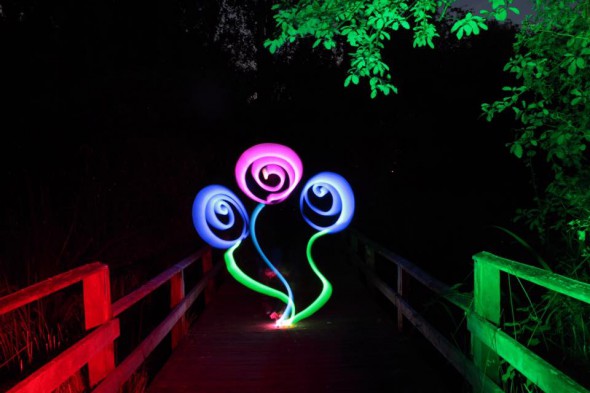 Remember though, as I mentioned above, you can use anything that lights up to light paint. Your keyring torch can draw with a lot of detail, 'finger lights' (available online and in gadget shops) come in red, green and blue and are an easy way to draw and write in multiple colours.
Drawing massive artworks can be quite tricky at first; it's rather difficult in the dark to remember where you have already drawn. It takes practice and a lot of trial and error.
As a general tip, start nice and simple – hearts, flowers, easy shapes like that will all work well.
Draw a flower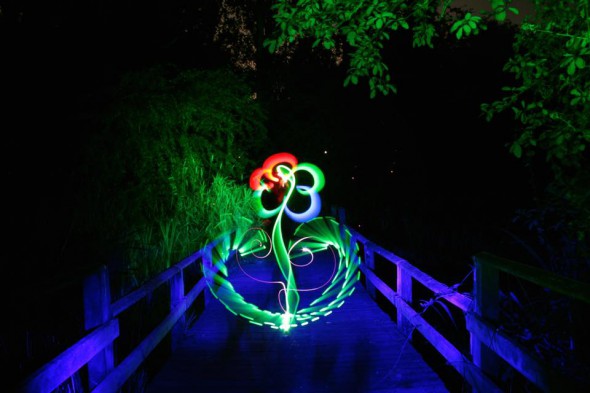 Flowers are a firm favourite of mine, and they're really simple to draw. Here's a quick guide to how to do it:
Step 1: Position yourself facing the camera at the point where the lens is focused.
Step 2: Holding your mini torch or multi coloured torch and rod, pointing at the camera, open your shutter (if using a cabled shutter release rather than a remote one, you will need to do this before Step 1).
Step 3: Starting on the floor, turn your torch on and select colour (if using colour torch).
Step 4: Moving the torch / torch and rod, draw leaves then from same point move upwards to do stem.
Step 5: Flick the torch to a different colour (using the change button on the 10 colour torch) to draw the petals, turn off torch when done.
Step 6: Close shutter.
Step 7: Check the back of screen and admire your work.
As a general hint, drawing spirals instead of petals is really simple and effective. Also, slightly lighting up the foreground and background with either a white or colour changing torch can add depth to your work. I highly recommend the Lenser P7Qc for lighting up backgrounds and foregrounds.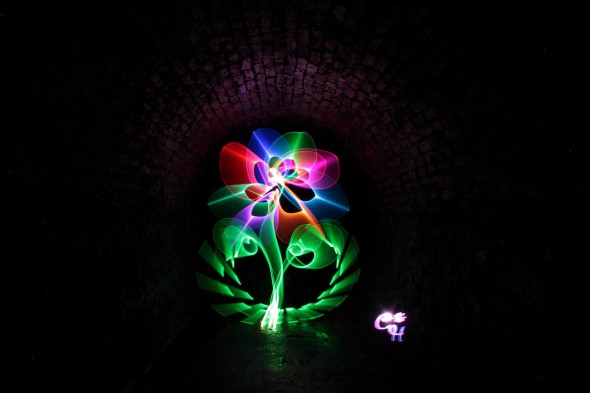 We would love to see your light painting results on social media: you can send them to Wex using the #WexPhoto #WexLightPainting on both Instagram and Twitter. And why not enter your light painting into the weekly #WexMondays competition also on Twitter? Just enter a photo taken the previous week by using the #WexMondays tag.
I personally would love to see your light-painting photos as well, you can find me on Twitter and Instagram, both @ClaireHarpz, and also on Facebook.
About the Author
Claire Harper is a photographer, tour guide and light painter. Follow her on Twitter @ClaireHarpz
Related articles